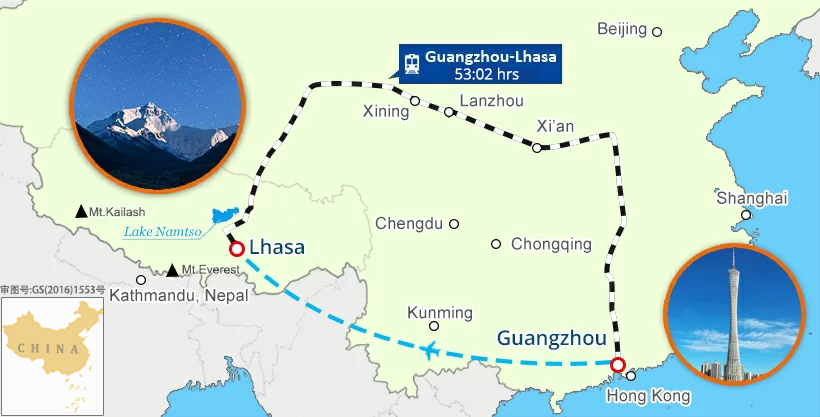 GUANGZHOU & TIBET TOURS
The proximity to Hong Kong and surrounding harbors makes Guangzhou one of the easiest gateway cities for international tourists to enter mainland China, only next to Beijing, Shanghai.
In addition to easy transportation, you can enjoy the exciting city life and gourmet Cantonese cuisines in Guangzhou. The vibrant economy and revolutionary history of Guangzhou reveal the prosperity and legendary past of this cosmopolitan city. Besides, you will love the cozy sunshine and diverse fruits in Guangzhou.
As a pioneer of Tibet inbound tourism, we would like to facilitate your Guangzhou and Tibet tour by offering services ranging from Tibet Travel Permit application, Tibet train and flight booking and hand-picked Guangzhou-Tibet tour packages, and plenty of useful insiders' travel tips. So far, taking Tibet train or domestic flight to Lhasa are the two major ways to reach Tibet.
Note: With a distance of 3724km, Guangzhou is the farthest major city in mainland China to enter Tibet. For budget travelers, taking Guangzhou-Lhasa train is the best choice. However, you need to endure the long ride in the next 53:20h; since there is no direct flight from Guangzhou to Lhasa, the flights from Guangzhou normally stop at Chengdu or Chongqing and en route to Lhasa, Tibet.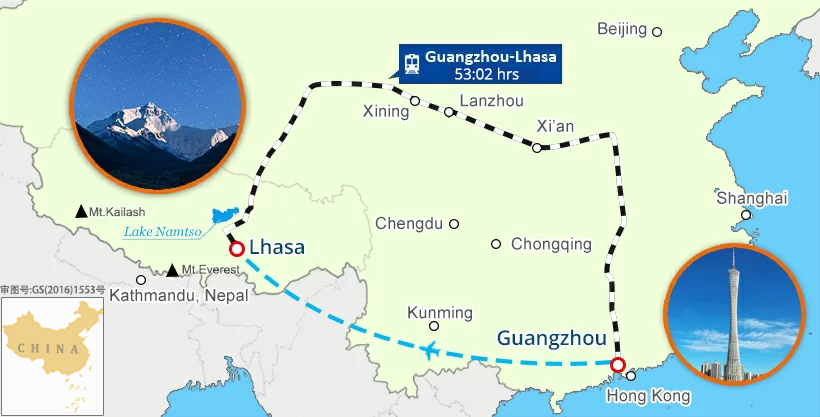 Most Popular Guangzhou Tibet Tour Itineraries
How to Get to Lhasa Tibet from Guangzhou
To the hardcore railfans, enjoying the longest Tibet train ride all the way from coastal Guangzhou city to Lhasa on lofty Tibetan Plateau offers a huge treat. Guangzhou-Lhasa train (Z264/ Z266), measuring 4980km, proves to be an epic train journey that will cover 9 provinces and involves massive terrains of China in 53:20 hours. It's advisable to book a soft sleeper that promises better comfort and privacy for the long ride. Not much recommended for young kids and the elderly. The highlights of scenic train ride centers from Golmud to Lhasa part.

If you have a tight schedule and have little interest for having a long ride, flying from Guangzhou to Lhasa is the right decision. You can easily take Guangzhou Metro Line 3 to reach Guangzhou Baiyun International Airport. Over 6 major airlines in China run flights from Guangzhou to Lhasa. However, there is no non-stop flight. The plane from Guangzhou will make a brief stopover in Chengdu, or Chongqing and keeps flying to Lhasa. The direct flight takes around 6:20 to land in Gonggar International Airport. Since Guangzhou only has an average altitude of 11m, whereas Lhasa has an altitude of 3658m. it's advisable not to rush to visit attractions in Lhasa shortly after you arrive in Lhasa. Otherwise, it's likely to trigger acute altitude sickness due to bad acclimatization.

Guangzhou to Xining by Flight and Take Train to Lhasa

During peak travel season in Tibet when Guangzhou Tibet train or direct flight is not available, flying from Guangzhou to Xining and later taking Xining-Lhasa train to Tibet become a great option. It's very convenient to take Guangzhou Metro Line3 to Guangzhou Baiyun International Airport. And the flight from Guangzhou to Xining takes about 3:30h. Later you are on your way to take Xining-Lhasa train to Tibet. The scenic train ride will last for 20:55 hours. You can experience the stunning snow-capped peaks and vibrant prairie in Qiangtang Reserve and amazing sunset of shimmering alpine lakes on Tibetan plateau. The highlights of Tibet train tour start to unfold from Golmud and end up in Lhasa Railway station.
Note: In addition to train and flight booking from Guangzhou to Lhasa, we also offer bookings from other major cities to Lhasa, such as Kathmandu, Beijing, Shanghai, Xining, Chengdu, Yunnan, Xi'an, etc. For budget travelers, you can sign up for a variety of small group tours in Tibet. Not only can you enjoy relatively cheaper tour price, but also will make friends with global tourists within a group. To family travelling with kids and elderly or other clients with special preference, you may work with us to customize your Tibet tour.
How to Get Tibet Permit When Traveling to Lhasa from Guangzhou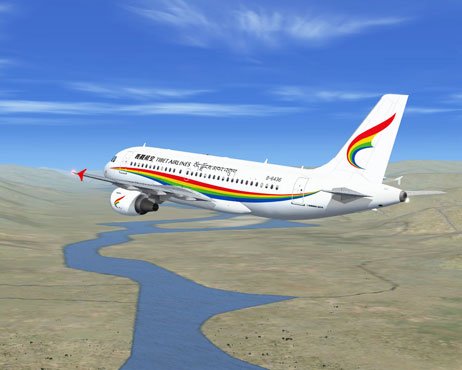 As a common practice, we will deliver your Tibet permit to your hotel in Guangzhou by express, 1-7 days prior to your departure for Lhasa. It is common to get the permit even the night or a couple of hours before your departure to Tibet. In some extreme cases, our staff in Guangzhou will deliver it to your hand before departure at airport or railway station. As the leading local travel agency that has organized global tourists to Tibet since 1984, we have never failed to get and deliver the Tibet permit to our clients. Please feel rest-assured.
If you take a flight to Lhasa from Guangzhou, the original copy is required, while if getting to Lhasa from Guangzhou by train, a printed copy is enough. Your travel consultant will handle with it perfectly according to the situation.
Why you can't get the permit much earlier?
The Tourism Bureau only accepts the permit application that is used to arrive in Tibet within 20 days. Generally, it takes 6-12 working days to issue the permit after we get the photo copy of your passport and Chinese visa. The application time depends on where you travel in Tibet, about 8-12 days to get the permit if heading to Mt.Everest and Mount Kailash, and just 6-8 days if you only travel in Lhasa City.
After we get the permit in Lhasa, we will deliver the permit to you immediately by express, and it takes around 6 days to arrive in Guangzhou. Therefore, you will only be able to get the permit within 1 to 7 days before your departure for Lhasa.
However, your personal consultant usually asks you to confirm the tour much earlier, because the earlier you provide all the required documents, the earlier we can submit to Tibet Tourism Bureau and wait for your turn.
We promise to nail visa to Tibet for every of our clients with 100% guarantee.
Advantages about Booking a Guangzhou and Tibet Tour Together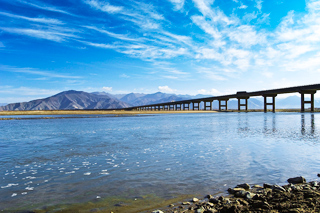 Enjoy the Epic Tibet Train Ride
If you happen to be a huge fan of Tibetan train and are keen to enjoy the massive land of mainland China, then choosing Guangzhou as your entry city to Tibet would be the perfect choice. Though 53:45h's train ride may seem daunting for young kids and the elderly, the true railfans will relish the rare opportunity to experience the once-in-a-lifetime ride from coastal city to soaring Qinghai-Tibet Plateau. The epic 4980km-long train ride is the longest railway route amid Tibetan trains. You will pass 7 provinces and enjoy numerous incredible window scenery along the way. The soft sleeper cabin is highly recommended for the long ride. We offer Guangzhou-Lhasa train booking.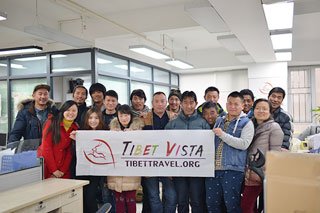 Travelling with Tibet Vista, Your First Guarantee of Lifetime Experience in Tibet
As the trailblazer of Tibet inbound tourism since 1984, Tibet Vista is a well-established Tibet tour operator, based in Lhasa. All your service in Tibet is provided by our hospitable and seasoned Tibetan staff. We are the first Tibet tour operator to run Join-in Small Group tours for budget travelers and at the same time offer private tour for tourists with unique preferences. Tibet train tour and 100% Tibet Visa application are our specialties. Over the past decades, we successfully organized more than 100 thousands tourists to visit Tibet. Now, with 8,000 clients world-wide each year, Tibet Vista is undoubtedly your top priority of Tibet tour operator for your travel. In addition, our diverse tour products and considerate tour service and travel tips will meet the demand for tourist of all ages.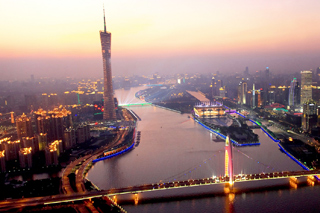 Closeness to HK, the Pearl of the East
Apart from Beijing, Shanghai, Guangzhou, HK is also a major city for international tourists to enter mainland China. And the proximity between Guangzhou and HK makes sense for those who want to visit HK first and further travel from Guangzhou to Tibet. After you tour in shopping paradise in HK, you can take Kowloon-Guangzhou train from HK to Guangzhou in in around 2h. The colonial heritage, tasty Cantonese dishes and unique excitements in these two places will bring you ultimate ecstasy.
Travel Tibet from Other Cities of China
Tailor-made your Own Tour within
24 hours

.

Simply express your tour needs, we'll customize a trip plan for you. No deposit is required until you are totally satisfied with the trip plan.

Tours departure 365 days a year !

Start Customizing Now!