10 Interesting Facts about Mount Everest: What Makes It So Special to Visit
Nestled in the Himalayas, Mount Everest, the towering colossus of rock and ice, has long beckoned to explorers, mountaineers, and adventurers from around the world. Yet, its allure extends beyond its elevation and challenges. In this journey, we unravel the intriguing facets of Mount Everest, discovering why it remains a symbol of fascination and wonder.
1. Mount Everest is thought as the Goddess Mountain of Tibetan
Mount Everest, affectionately known as the "Goddess Mountain" by Tibetans, transcends the realm of mere rock and ice. In Tibetan folklore, it stands as a revered legend among the five Tibetan goddesses, symbolizing the grandeur of the Himalayas. Named "Mount Everest" or "Saint Mother" by Tibetans, it embodies the nurturing spirit of our planet.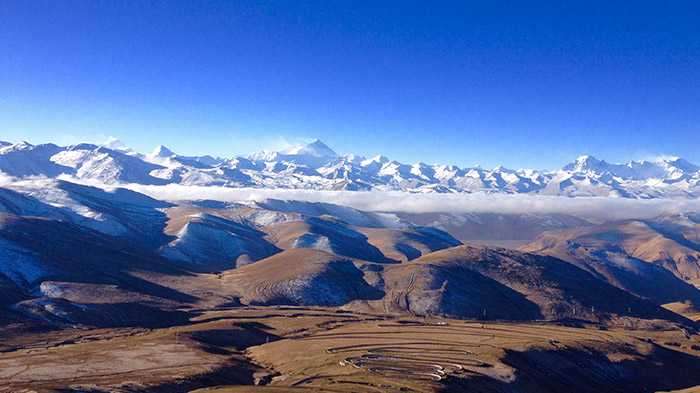 See Mount Everest with other high mountains of the Himalaya from Gawula Pass in Tibet.
For an unparalleled view of these Himalayan goddesses, visit the Gawula Mountain View Deck along the trip to Everest Base Camp in Tibet. It unveils a panoramic view of the highest peaks of the Himalaya, including Mt. Everest (8848m), Mt. Makalu (8463m), Mt. Lhotse (8516m), Mt.Cho Oyu (8201m), Mt. Shixiapangma (8012m), Mt.Zhangzifeng (7543m), Nuzi Peak (7855m), Pumori Peak (7145m), and Gezhong Peak (7994m).
Answer the call of the Goddess Mountain and embark on a pilgrimage unlike any other. As you ascend these towering heights, you won't merely reach the summit; you'll touch the heavens.
2. The Name 'Everest' was named after a British Surveyor
The name 'Everest' is a tribute to British surveyor Colonel George Everest, a historical twist to Mount Everest's nomenclature. Despite its Tibetan and Nepali names, 'Chomolungma' and 'Sagarmatha,' the British christened it 'Everest' in honor of Colonel George Everest, who led the survey. Interestingly, Colonel Everest remained remarkably humble and perhaps even a bit surprised by this gesture.
In 1865, a mountain previously called 'Peak XV' became famous as 'Mount Everest.' This moment started a fascinating history that still excites explorers. The mountain's story is connected to scientists and the mathematician Radhanath Sikhdar, who first found it to be the world's highest point, although it took a while for everyone to agree with him.
3. Mount Everest is the highest point on Earth
Mount Everest, at an astonishing 8,848.86 meters, proudly reigns as Earth's highest peak amidst the Himalayas.
In a world filled with extremes – the deepest, the hottest, the coldest – Everest remains a tantalizing allure for both mountaineers and adventurers. Scaling Everest isn't just about conquering a mountain; it's about reaching the pinnacle of one's life.
But Everest's appeal isn't reserved for climbers alone. The Himalayas, her magnificent domain, invite travelers from all walks of life. You, as a common traveler, can tailor a Tibet tour to stand at her base and witness her majestic presence up close.
In essence, Mount Everest, our planet's zenith, forever imprints itself on the souls of those who dream of reaching Earth's ultimate heights.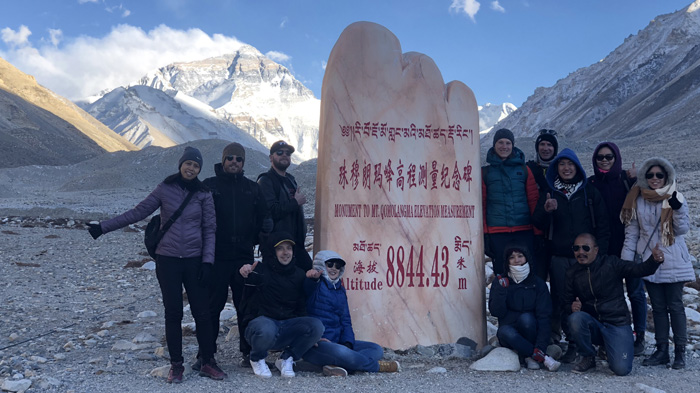 Witness the world's highest peak - Mount Everest from the northern base camp in Tibet.
4. Mount Everest has been summited over 9,000 times since 1953
Mount Everest is the highest climbable peak in the world and has been successfully climbed more than 9,000 times by more than 5,000 people. The climbing routes of Mount Everest have been operated by several mountaineering companies for decades, and climbing Mount Everest has become a very mature commercial project.
Whether from the northern slopes of Tibet, China or the southern slopes of Nepal, hundreds of people successfully climb Mount Everest every year. If you are a mountaineering enthusiast and have endless yearning to climb the world's highest peak, you can try to use the assistance of commercial companies to try to climb Mount Everest.
Of course, you have to deal with the high cost of climbing Mount Everest, as well as any accidents that may occur, such as altitude sickness, low temperatures, strong winds, avalanches, ice cracks, etc.
The best time to climb Mount Everest is May, during the transition period between the rainy and windy seasons in the Everest region. The weather will be calmer in May. So almost all climbing teams will choose this time to climb to the top.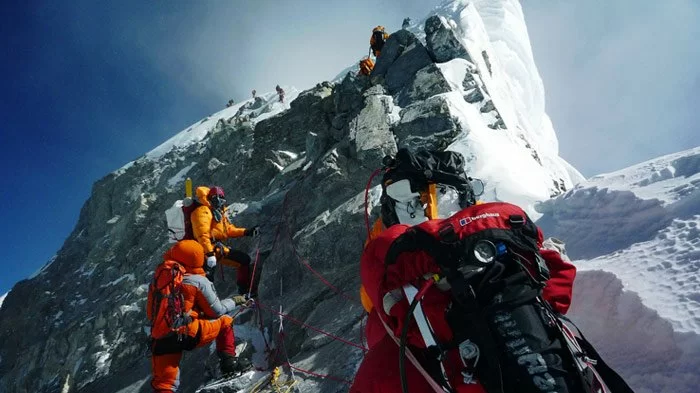 Mountaineers from around the world line up at hillary step to scale Mount Everest.
5. The huge pyramid-shaped peak of Mt.Everest is visible from Tibet, China without the need for climbing
The majestic pyramid-shaped summit of Mount Everest, located in Tibet, China, offers a mesmerizing view without the need for a challenging climb. This grand mountain's magnetic charm is irresistible and attracts travelers with its awe-inspiring presence.
For regular tourists, you can see the world's highest peak from the northern side in Tibet, China, without having to climb to the very top. The 8-day Lhasa to Everest Base Camp tour lets you explore the highlights along the way. As you embark on this popular journey to Everest Base Camp in Tibet, you'll visit historical monasteries, serene lakes, and ancient glaciers.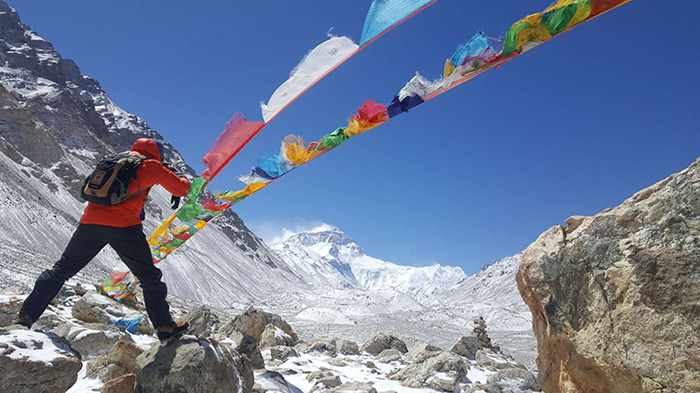 See the Peak of Mount Everest in Tibet Everest Base Camp.
Upon reaching the base camp, you'll be able to see the world's summit right in front of you. As you gaze at the distant silhouette of Everest, you'll imagine your own adventure in this rugged terrain. This expedition deepens your connection with the environment.
Take in the colossal Everest on the horizon and immerse yourself in the incredible stories that await you in this remarkable region. With each step, your journey to visit Everest Base Camp in Tibet becomes an unforgettable experience.
6. Mount Everest can be visited by flight from Nepal
Unlike the trip on the Tibetan side, the visit to Everest Base Camp in Nepal can be done by flight. There are helicopter trips to the base camp at 5,545 meters above sea level. The helicopter to Mount Everest can take up to 6 people. You can take a private helicopter tour to Everest, or join in a group tour if you travel alone.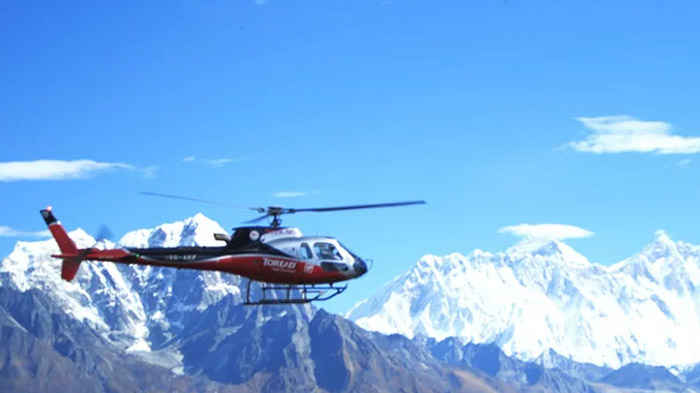 Mount Everest Helicopter Tour in Nepal
Also, there is a scenic flight to the Everest region in Nepal. The daily flight departs from the Tribhuvan International Airport in Kathmandu. During the 1-hour flight journey towards the Everest Region, you can enjoy the great Mount Everest from an aerial perspective.
7. The north and south sides of Mount Everest Offer Different Views
Mount Everest is situated on the border between China and Nepal, with its northern slope in Shigatse, Tibet Autonomous Region in China, and its southern face in the Solukhumbu region of eastern Nepal.
The south slope of Nepal is influenced by the southwest monsoon from the Indian Ocean, with abundant precipitation and maritime monsoon climate characteristics. The northern slope of Tibet has sparse precipitation and a continental plateau climate. The different climatic characteristics have created completely different landscapes on the north and south sides of Mount Everest.
What to See When Visiting Everest in Tibet
There is only one route to visit Everest in Tibet which is the classic overland journey from Lhasa to Everest Base Camp at 5,200m above sea level.
During the Lhasa to Everest Base Camp tour, you'll relish panoramic Himalayan views from Gawula Pass (5,210 m) within the Mount Everest Nature Reserve. A visit to Rongbuk Monastery, the world's highest temple at 5,154 meters, is a highlight. Accommodation is available at the guest house in Rongbuk Monastery, though it's basic with a limited number of double and quintuple rooms. Facilities like separate toilets or showers are lacking, but electric blankets are provided; however, the rooms are not heated.
While at Everest Base Camp, the pristine night sky offers a breathtaking celestial display. The sunrises and sunsets at Everest are equally spectacular, best enjoyed from Rongbuk Monastery during the spring and autumn seasons.
See what you can experience in our popular 8-day Lhasa to Everest Base Camp tour
What to See When Visiting Everest in Nepal
The Everest Base Camp in Nepal is in Sagarmatha National Park. There are more Everest trekking routes in Nepal than in Tibet. You can choose a suitable trekking route according to your physical level, or just choose the one with the scenery you like. All the trekking routes provide a close view of Mount Everest, as well as other major high mountains in the region.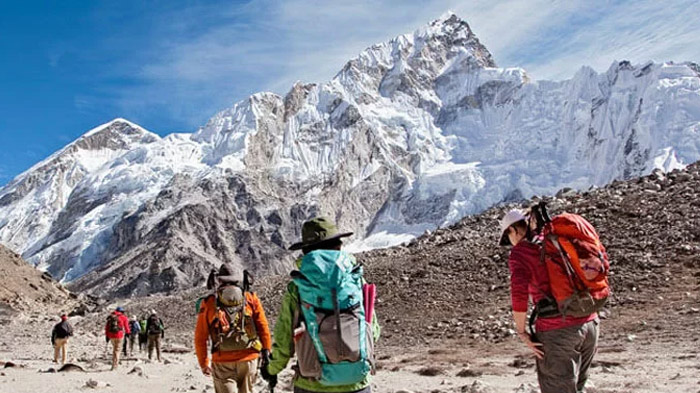 Everest Trek in Nepal
8. One of the world's most beautiful valleys lies hidden on the eastern side of Mount Everest
In fact, besides the famous northern side and the southern side of Mount Everest, there is another side of Mount Everest that tourists can visit - the east slope of Mount Everest.
Hidden on the east slope of Mount Everest in Tibet is the Gama Valley, one of the most beautiful valleys in the world. Gama Valley is formed by erosion of snow-capped mountains and rivers, with a total length of 55 kilometers at an altitude from 2100 meters to more than 5000 meters.
During the Gama Valley trek, you can see steep canyons, lush forests, and clear springs which are rear to see in other parts of Tibet. You can also witness the east slope of Mount Everest, the world's highest peak, and Mount Makalu, the fifth highest peak in the world, from the north slope.
9. What you can find in Mount Everest is more than SNOW
Mount Everest is renowned for its towering presence, but beyond the snow lies a treasure trove of remarkable discoveries. Unearth ancient marine fossils from a time when Everest was beneath the ocean's depths, offering a glimpse into our planet's prehistoric past.
Ascend to the world's loftiest monastery, Rongbuk Monastery, perched at 5,009 meters above sea level, a testament to human resilience and devotion in a harsh environment.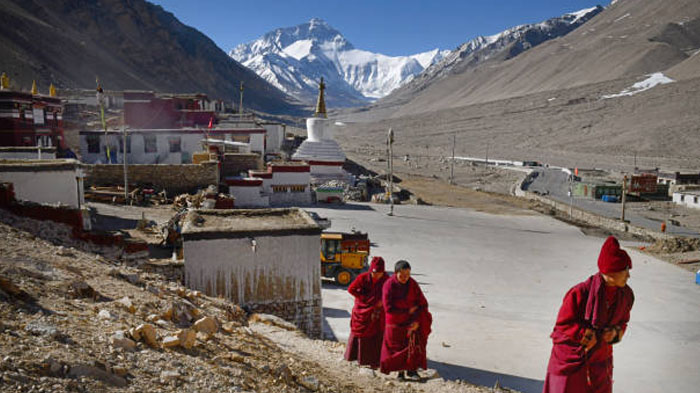 Next to the base camp is the Rongbuk Monastery - the world's highest monastery.
Discover the world's highest post office at Everest Base Camp in Tibet, where you can share your elation with postcards. It's a heartwarming tradition that bridges the gap between mountain peaks and distant hearts.
Beyond the snow and ice, Mount Everest beckons with its rich tapestry of stories, offering a glimpse into Earth's incredible history and the human spirit's indomitable will. Stand before this iconic mountain, and remember there's more to discover than meets the eye.
10. Mount Everest is an ORDINARY site for all Tibet Nepal Overland Tour
While Mount Everest may seem mysterious and out of reach, it can actually be visited as a regular sightseeing spot during a Lhasa to Kathmandu tour or vice versa via the Sino-Nepal Friendship highway.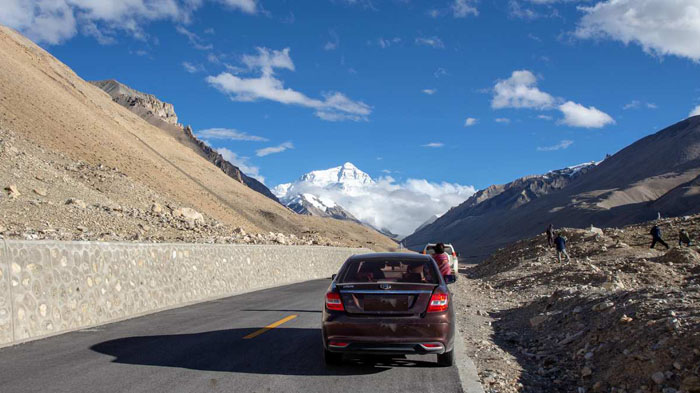 The Sino-Nepal Friendship highway from Kathmandu to Lhasa via Tibet Everst Base Camp.
The base camp in the northern side of Mount Everest in Tibet is only a shot distance (less than 100 kilometers) from the main trunk of the Sino-Nepal Friendship Highway. The road to Everest Base Camp is good and it only takes half a day to reach the foot of Mount Everest.
Explore Mount Everest with us, you can enjoy an affordable and unforgettable journey to the north slop of the Everest.
Conclusion
As we come to the end of our journey through these interesting facts about Mount Everest, it's clear that this iconic peak is more than just a mountain; it's a symbol of our enduring human spirit for exploration and adventure.
No matter you dream of reaching its summit or simply yearn to admire its grandeur from a distance, Mount Everest's allure is timeless.
So, whether you're an adventurous thrill-seeker or a curious armchair explorer, the call of Everest continues to beckon, offering an irresistible charm that captivates us all.
Most Popular Tibet Tour Packages