Visiting Tibet from China: Ultimate Guide to How to Visit Tibet from Mainland China
Traveling to the Tibet Autonomous Region from mainland China has always been the most popular route for tourists to the plateau region, and remains the best way to get to Lhasa and the rest of Tibet.
With more options for getting to the plateau from dozens of major cities across the country, not to mention the ability to spend some time in China visiting some of the amazing attractions of this vast country, there is no better way to travel to Tibet.
In order to help you prepare better for the epic adventure that awaits you, our expert travel advisors can give you all the information and advice you need to know to make this the best vacation ever.
Best Way to Get to Tibet from Mainland China
Your Best Option: Visit Tibet from China by Tibet Train
The best option for getting to Tibet from mainland China is to travel by train. China has seven gateway departure cities that have dedicated trains to Tibet, running from Guangzhou, Shanghai, Beijing, Chengdu, Chongqing, Lanzhou, and Xining, as well as being able to get a train that passes through Xi'an during the low season. The train run daily from most of the departure cities, and every other day from the remainder, and can take from 22 hours to 53 hours to reach the plateau capital.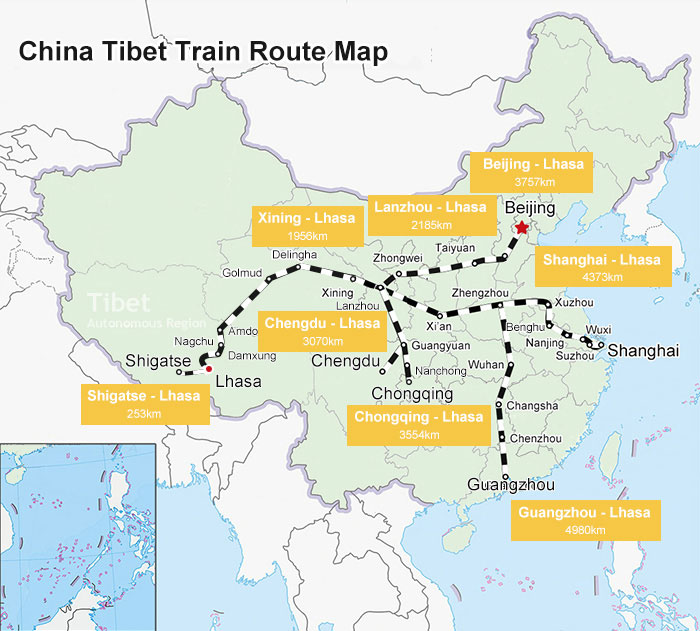 (Simple click to enlarge the map)
China Tibet train map
While this may seem like a very long trip, this epic adventure takes you through some of the world's most spectacular landscapes, much of which most tourists never get to see. The trains all pass through Xining, in Qinghai Province, and ride up to the plateau over the Kunlun and Tanggula Mountains, two of the most scenic high mountain ranges in western China. With such stunning views, which include the vast Changtang Prairie and the world's highest railway pass at Tanggula Mountain Pass, there is no better scenic route in the world. - Check the Tibet train schedule and fare to Lhasa.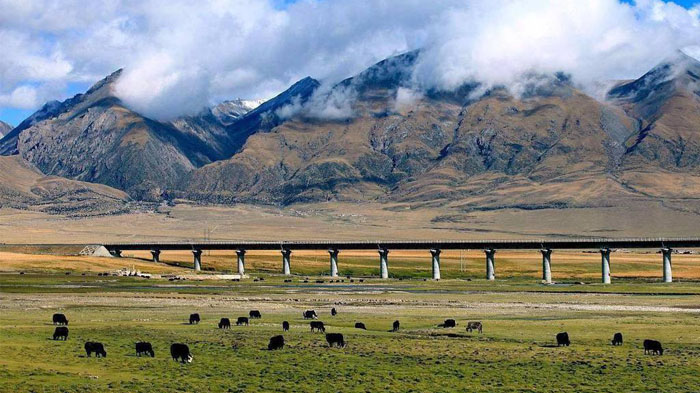 Qinghai Tibet Railway is no better scenic route in the world.
The trains are also very punctual, always traveling on time and give you a tour experience you are never going to forget. And the cost of the trains, even if you are traveling First-Class, are always cheaper than flights to Tibet from the same city. With comfortable beds to sleep in for the 1-3 day trips, and amazing views out of the huge windows, as well as delicious food and all the tea you can drink, the trains to Tibet make this amazing vacation on the Roof of the World even more outstanding.
Pressed for Time: Visit Tibet from China by Flight
If you are short on time for getting to Tibet, and the long train journeys are unsuitable for your trip, then the best option is to take a flight from one of the many airports across China that have flights direct to Lhasa. Direct flights to Tibet run from more than two dozen cities across China, including Beijing, Shanghai, Chengdu, Chongqing, Xi'an, Shangri-La, Kunming, and others.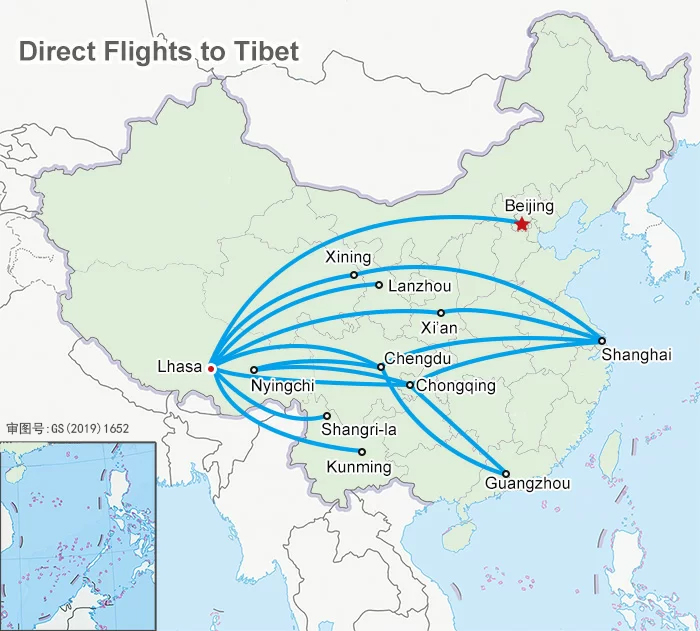 Direct airlines that fly to Tibet from other cities in China
Flights from Beijing run several times a day, and cost from around 400 dollars per person for the five-hour flight. Flights from Shanghai cost around 400 dollars for the 6-9 hour trip, and you need to make sure your flight is direct, as most are not from Shanghai. From Chengdu, a flight leaves every hour throughout the day, and cost around 230 dollars per person, taking just 2 hours 30 minutes.
Flights from Shangri-La, Kunming, Chongqing, and Xi'an also run daily, and the number of flights per day does depend on the season, with more flights in the peak months of tourism in Tibet. Flights cost from between 150-250 dollars per person, depending on the airport, and it is best to book early in the peak season.
For Adventure: Visit Tibet from China via G318 Highway from Chengdu
If you want to experience the world's most amazing road trip, then the epic journey from Chengdu to Lhasa via the G318 Sichuan Tibet Highway, is the most outstanding journey on the planet. The trip by car along some of the most beautiful areas of the lower plateau takes from 11 to 15 days, depending on where you want to stop along the way, and passes through some of the remote eastern areas of the Tibetan area, including eastern Nyingchi and parts of Sichuan Province and Chamdo Prefecture.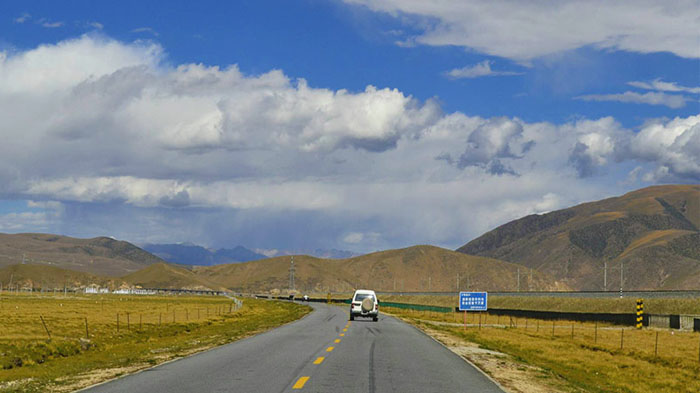 Get to Tibet by Sichuan Tibet Highway
The trip to Lhasa from Chengdu covers a distance of more than 2,100 kilometers, and you actually have a choice of two routes to take, one which is better for road conditions and one which is less well-paved but much more scenic. You can also take this same trip by bicycle, traveling along the highway from Chengdu to Lhasa in the most epic adventure of your lifetime. Cycling along the Sichuan Tibet Highway to Lhasa takes around 23 days, and you do need to be pretty fit, as you will travel over high passes with some very steep climbs. But there is no better view of the eastern Himalayas than when riding a bike along the mountain roads and through the lush scenic valleys.
Best Cities to Enter Tibet?
Entry to Tibet can be done from a huge number of cities across China, though there are some that are more popular with tourists to the region. The most popular cities from which to travel to Tibet include Chengdu, Beijing, Guangzhou, Xi'an, and Xining.
For the best railway experience, you can take the train from Xining, as it is the shortest of all the train trips. Starting from the beginning of the famous Qinghai Tibet Railway, in Xining, the seat of Qinghai Province, this shorter trip gives you the best daytime views of the high Tanggula Mountains and the vast open grasslands of the plateau.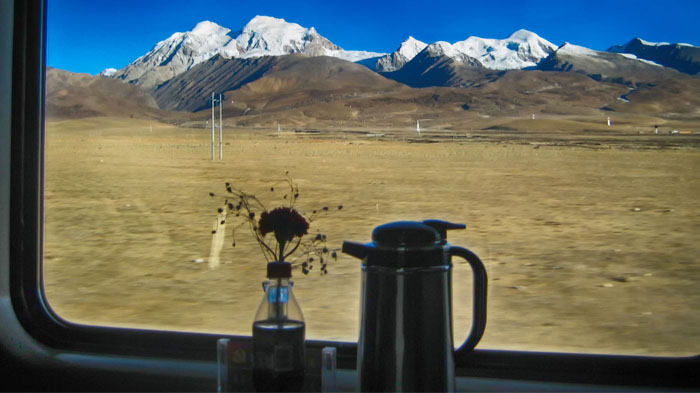 Enjoying the enchanting scenery along the Qinghai Tibet Railway.
The ride from Guangzhou is the longest of all the trips, and is popular with railway enthusiasts, who can spend almost three days traveling on the punctual and well-kept Chinese railroads. A trip from Beijing or Xi'an makes the journey much more enlightening, as you will be able to spend time in either of the cities before departing. Beijing and Xi'an are two of the main cultural hearts of China, with thousands of years of ancient history to explore and discover.
If you love the idea of spending a day or two visiting the giant pandas that are famous around the world, then Chengdu is the place from which to depart. The homeland of all giant pandas, Chengdu is host to four separate panda care and breeding sanctuaries, which are some of the most popular tourist attractions in China, even for local domestic tourists. You can spend the whole day touring around the famous Chengdu Panda Center, before heading off to Tibet.
Best Itinerary of Visiting Tibet from China
There are seven most popular China Tibet tour routes as following:
> 10 Days Images of Tibet and China Tour
(Beijing - Xi'an - Lhasa - Shanghai)
> 13 Days All Around China and Tibet Discovery Tour
(Beijing - Xian - Lhasa - Chongqing - Yangtse River - Yichang - Shanghai)
> 12 Days Shanghai Xi'an to Lhasa by Flight and Train
(Shanghai - Xian - Lhasa - Shigatse - EBC - Lhasa)
> 13 Days Shanghai Chengdu Lhasa EBC Tour by Train
(Shanghai - Chengdu - Lhasa - Everest Base Camp - Gyirong Border)
> 12 Days Tibet Tour from Chengdu by Train
(Chengdu - Tibet Railway - Lhasa - Namtso - Shigatse - Lhasa - Chengdu)
> 12 Days Hongkong to Tibet Travel through Nyingchi with Low Altitude
(Hongkong - Chengdu - Leshan - Pomi - Ranwo - Basumtso - Lhasa (Namtso) - Hongkong)
> 10 Days Xining and Tibet Natural Scenery Tour by Train
(Xining - Qinghai Lake - Lhasa - Namtso - Shigatse - Mt.Everest)
For cultural tour: Beijing, Xi'an to Lhasa by Tibet train or flight
If you are into the culture of the Chinese and Tibetan people, then the ultimate cultural tour would be to spend time in both Beijing and Xi'an, before traveling on to Lhasa, the heart of the Tibetan culture. Beijing the Chinese capital, is one of the most beautiful cities in the world, and with the amazing Great Wall being so close to the north of the city, it is a great place to get more information on this iconic man-made structure. Xi'an is renowned for its Terracotta Warriors, but was also once capital of China, in ancient times, and was the seat of one of the strongest dynasties in Chinese history.
>> Check details of 10 Days Images of Tibet and China Tour
Sightseeing and Side Trips: Chengdu/ Xining to Lhasa by Tibet train or flight
If you love sightseeing, then Chengdu and Xining are ideal for those that love to take snaps of everything you see. Chengdu, renowned for its giant pandas, is also an amazing city, and lies in one of the most beautiful basins in China. Surrounded by a wealth of natural and man-made attractions, it is fast becoming one of the most popular tourist cities in China. Xining, in Qinghai Province, is another great place for sightseeing. From the beauty of the Qinghai Lake to the Ta'er Monastery, one of the oldest in China, this small city is a delight for snap-happy travelers, with so much more to see and do than you would have thought possible.
>> Check details of 12 Days Tibet Tour from Chengdu by Train
For Tibet train journey: Xining to Lhasa by Tibet train
Xining is also the start of the Qinghai Tibet Railway, and the shortest train journey to Lhasa. Covering almost 2,000 kilometers, the tracks to Lhasa from Xining, which opened for passengers in 2006, cross the stunning mountains around the north of the plateau and the vast plains and prairies, to give you the most outstanding journey to Lhasa. Most of the trip through the mountains and prairies is done in the daytime, and you get to see more parts of Tibet than most tourists ever will. And at a journey time of just 22 hours, it is the fastest way to take a train to Lhasa.
>> Check details of 10 Days Xining and Tibet Natural Scenery Tour by Train
To avoid acute mountain sickness: Chengdu to Nyingchi by flight; Nyingchi to Lhasa by tour vehicle
While the myth of acclimatization on the trains to Tibet may just be a myth, there is a way to acclimatize more slowly on the trip to Lhasa. Flights run to Nyingchi's Mainling Airport daily, and you can book a tour from Nyingchi to Lhasa, traveling slowly up to Lhasa and ascending at more regular intervals to aid in acclimatization. Climbing more than 1,000 meters from Nyingchi to Lhasa, this drive is done over 2-3 days, allowing you to arrive in Lhasa fully acclimatized to higher altitudes, and ready to explore the City of Sunshine.
>> Check details of 12 Days Hongkong to Tibet Travel through Nyingchi with Low Altitude
Travel Documents for Tibet Visit from China
For any trip to Lhasa from mainland China, you need to have certain documents before traveling. As well as having a visa to enter China, you will need to have the Tibet Travel Permit in order to enter Tibet and travel in the area around Lhasa. This is obtained by us once you have booked our trip, using a scanned copy of your passport and visa. Processing can take up to 15-20 days, so it is best to book early, and once approved, we will deliver the permit to your hotel in China ready for your trip to Tibet.
Best Time to Visit Tibet from China
Best time for the view: April, May, and early June; Sep to Oct.
If you are looking for the best time to travel from China to Tibet, then the spring and autumn months are your best option. Spring, from April to early June, and autumn, from September to October, are when the weather in both mainland China and Tibet are best for combined travel. The weather is generally warm, but not too hot, and with little to no rain in both locations. This allows for the best views as you travel up to the plateau.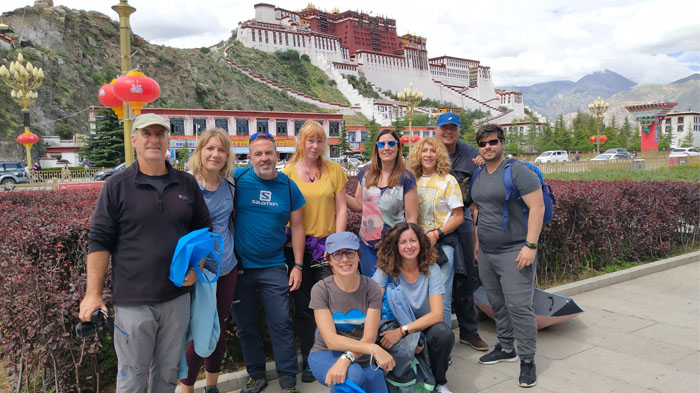 June is one of the best time to visit Lhasa, Tibet.
Best Time for Traveling on a Budget: off-season of Tibet travel
If you are more into budgeting your trip, then the best time to travel is in the low season for tourism in Tibet. The low season generally runs from November to March, although the plateau region can often be closed to international tourists from around mid-February to the end of March. - See more detailed information about Tibet winter tour here
Low season prices are a real steal in Tibet, for both accommodation and travel, as there are fewer tourists traveling to the region in the winter months. While you may not be able to get out to Mount Kailash in the farthest corners of Tibet, this is a great time to visit Lhasa, Shigatse, and even EBC, as the weather is dry and pleasant if a little chilly.
Altitude Change from China to Tibet
Most of the cities that have departures for Tibet are at low altitudes, often below a few hundred meters. Meanwhile, Lhasa lies at an altitude of 3,656 meters above sea level, and altitude sickness is a common concern for tourists to Tibet. There are ways to help counter this, which include stopping at cities with an intermediate altitude and acclimatizing there first.
This allows you to continue on to Lhasa partially acclimatized, which reduces the risk of altitude sickness when you arrive. The best places to do this are in Xining and Nyingchi, which are at altitudes between 2,500 and 3,000 meters, the perfect elevation for intermediate acclimatization. - Follow the experts' advice to avoid altitude sickness in Tibet.
Conclusion
With dozens of cities from which to start your journey to Lhasa, China is the best option for most travelers to the Buddhist landscape of Tibet. Flights, trains, and overland drives are all great ways to reach this unique and stunningly beautiful land, where mountains abound, lakes are dotted all around, and the people are waiting to give you the friendliest of welcomes.