History of Trekking and Exploration in Tibet
Until the early 18th century, only few Europeans had ever traveled in Tibet. By the dawn of the 20th century, fewer than 2 dozen foreigners, most of them missionaries, had visited the Holy City of Lhasa. Natural and political barriers were equally formidable, sealing off Tibet from most outsiders.
Europeans first learned of a distant land called "Tubbat' in about the 9th century from Arab traders who plied the silk routes. Marco Polo traveled near Tibet in the 13th century on his journey in Central China.
2 centuries later, 2 Jesuit priests, Father Andrade and Father Marques, disguised as Hindu pilgrims, set off to cross the Himalaya near the Ganges River source. They were to become the first Europeans known to enter Tibet. Soon the Jesuits penetrated Central Tibet, and in 1661 Fathers Gruber and d'Orville became the first Europeans to reach Lhasa.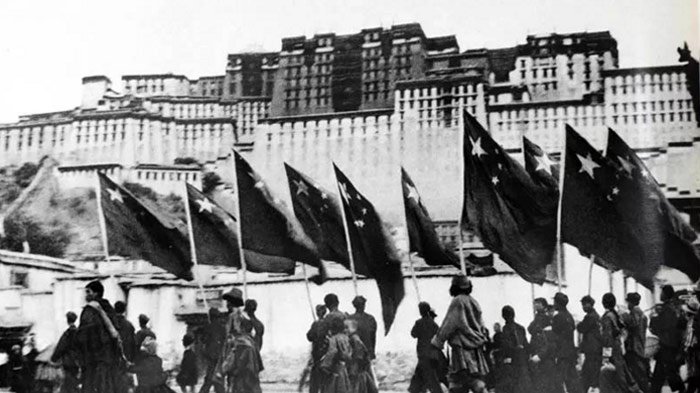 Old picture of the Potala Palace in the 1950s.
British Indian had just begun sending trade representatives to Tibet in the late 18th century when war broke out between Nepal and Tibet in 1791, promoting a large army to advance on Kathmandu. After withdrawing from Nepal, the army remained in Tibet. India's support of this closure eventually set the stage for a new generation of "unofficial" trekker: adventurous European travelers, sans Bibles, on hunting trips over the Himalaya from India. Travelers from many countries all tried their luck reaching Lhasa, but only Ekai Kawaguchi, a Japanese Bhuddhist who traveled in disguise as a Chinese monk, was successful.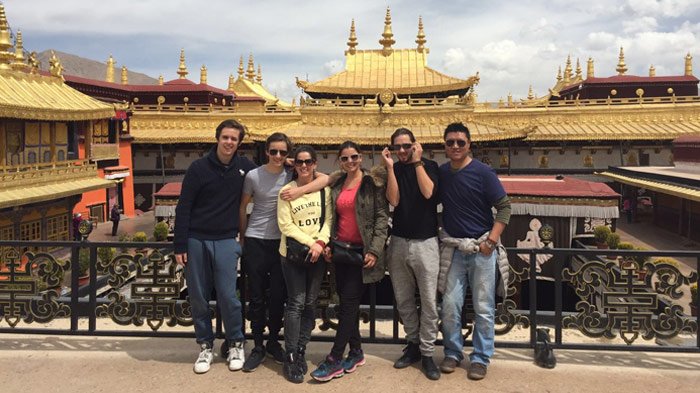 A group photos of our foreign tourists in April.
The Change of Policy for Foreigners Tibetan Visit
Although foreign tourists can visit Tibet by group tour with the help of Chinese travel agencies, there is a long history of change of policy for foreigners to visit Tibet. In August 1904, Lhasa was forcibly unveiled by an invading British army, which forced the Tibetans to sign a treaty that prevented them from dealing with other foreign powers. Once the British army returned to India, the Chinese emperor enforced the policy to prevent further unauthorized visits to Lhasa and Tibet.
After 1911, the strict closed-door policy toward foreigners was relaxed and the 1st climbing expeditions were soon permitted to enter Tibet. The British organized 7 expeditions to Mt. Everest between 1921 and 1938, all of which failed to reach the summit. During this time, dozens of intrepid travelers, official and unofficial, made their way into Tibet.
From 1950, about 3 decades from then on, Tibet was closed to foreigners and climbing expeditions, encouraging British and Swiss climbers to approach Everest via a newly opened route through Nepal. In 1953, the British successfully placed Edmund Hillary and Sherpa Tenzing Norgay on the summit using this approach.
Government-organized tours were the only way to trek in Tibet until Sept. 1984, when Lhasa was officially opened to individual travelers. Suddenly the Tibetan countryside was open to anyone keen enough to carry a backpack and set off into the mountain.
Since then, Chinese economy has brought many changes to Tibet, including a new railway link from mainland China to Lhasa, and with it a booming domestic tourism trade. In 2007, official government figures announced nearly 4 million Chinese tourists visited Tibet, dwarfing the number of foreign tourists.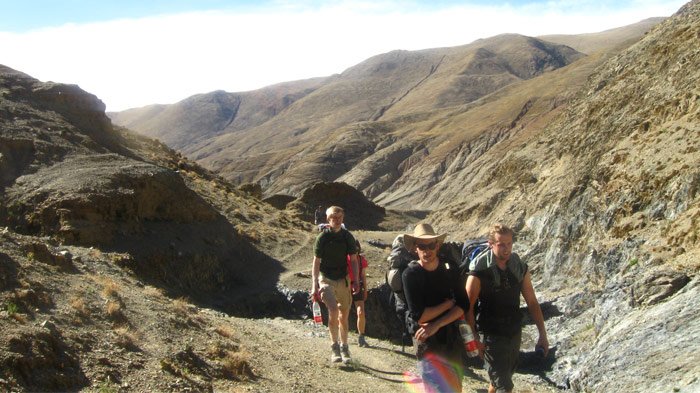 Our foreign clients are trekking in Tibet.
Now foreigners can either do a private tour with a Tibet travel agency or join in a commercially organized group tour when traveling to Tibet, because only the travel agency can get the Tibet Travel Permit for foreign travelers.
Before foreign travelers go to Tibet, they need to contact a Tibet tour operator first to confirm everything in advance. The travel agency will process the Tibet Travel Permit and will give you the permit (copy or original). If travelers take a train to Tibet, they only need the permit copy; if by air, travelers will need the original one.