How to Prepare for Trekking in Tibet
Treks in Tibet not only embrace authentic natural beauty, but also are attached with religious sentiments. But when do preparation for the trekking, many tourists will feel frustrated by the high altitude, complex terrain and cold weather there. Here we sum up the most important things you need to consider before trekking. Just follow our insider tips to prepare for your trek journey in Tibet.
Decide the Best Time for Trekking in Tibet
Trekking can be done all the year round in Tibet, while the best time could be in spring and autumn, which are from April to May and September to October.
In spring, the weather in Tibet becomes warming up, many routes that are frozen in winter are ready for trekking, such as the road to Namtso Lake and Mount Kailash. You will no longer feel freezing cold. The wilderness scenery is also great at this time of year, with blooming flowers readily visible along the roadside.
In the fall, the summer heat just recedes, and the temperature turns pleasant. Also, there are less chances of encountering heavy rain on the trail. Often the sky is clear and you can see the mountains far away. This is also a great time to see Mount Everest, and photographers can capture stunning shots.
Choose a Trekking Route by Difficulty & Time
For different trekking routes in Tibet, there are different demands on difficulty and time. Thus, it is important to opt for a proper route according to your own situation.
1. Ganden to Samye Trek (Moderate, 4-5 days)
The Ganden to Samye trekking route in Tibet is considered to be the most popular. It is a beautiful route beginning from Ganden Monastery, one of the famous Gelugpa Monasteries and ends in Samye Monastery. The trekking route includes beautiful alpine scenic views, with various lakes, nomads, birds and even green meadows.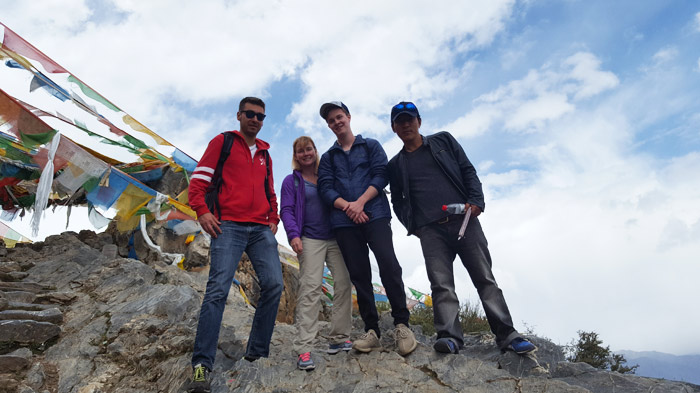 Ganden to Samye Trek
The journey usually continues for four to five days. It begins at an altitude of 4180m in Ganden Monastery and passes over altitudes like 5250m in Shogu-La pass. Ultimately it reaches at the altitude of 3540m at Samye Monastery. This ascent and descent in the trekking route makes it relatively challenging. The best time to do the trekking is from mid-May to mid-October.
The trek can be followed accordingly:
• Travel from Lhasa to Ganden. Then from Ganden visit the Tsubshi village. Arrange for yaks and set off to Yam-Do by trekking. The time required is two to three hours and the journey comprises of 7km.
• From the above location, trek to Tsotup Chu Valley. The distance is about 10km and the time taken is five to six hours.
• From there, trek to Herder's camp. The distance is 14km and the time taken is five to six hours.
• From there trek to Yamalung. You can also see Yamalung hermitage and Changtang village. Distance covered is 39km. Time required is about six hours.
• From there visit the Samye monastery.
> Join in our classic 9 Days Ganden to Samye Trek Trip
2. Shalu to Nartang Trek (Easy, 2-3 Days)
Shalu to Nartang trek route is the best short trekking route in Tibet. The journey gets easily completed in two to three days. The journey starts from the historically famous Shalu Monastery and ends in Nartang Monastery.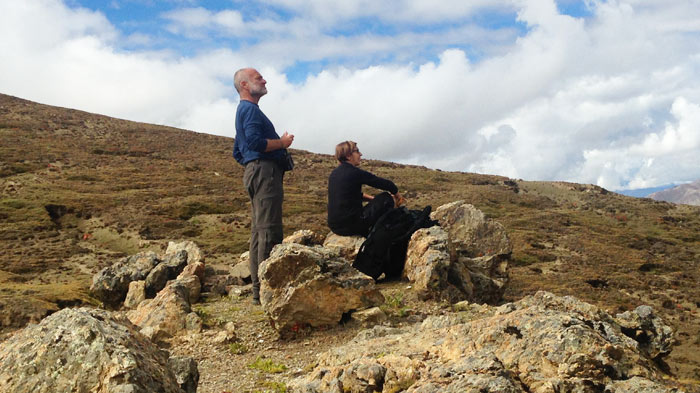 Shalu to Nartang Trek
On the way various villages and monasteries like Ngor monastery can be witnessed. It also covers Upper Lungsang. The journey starts at an altitude of 3980m and reaches finally at an altitude of maximum 5000m. On the way, you will also come across dry uninhibited canyons. The best time to trek this route is the beginning of April to end of October.
The trek usually consists of the following paths:
• First travel from Gyantse to Shalu. Camping is done over here.
• Trek from Shalu to Upper Lungsang. Trekking involves 12km distance and the approximate time required is five hours.
• Then trekking is continued towards Ngor monastery from Upper Lungsang. Then continue from Ngor monastery to Nartang monastery. Distance travelled is 14km and time taken is six hours almost.
• The return journey takes place as is planned by the tourist guide.
> Join in our classic 8-days Shalu to Nartang Trekking Tour
3. Old Tingri to EBC Trek (Moderate, 4 Days)
This famous trek begins at Old Tingri (4400m) and ends at the Mt. Everest Base Camp (5200m). It is a challenging one, considering the high altitude. But the trek allows you to explore valleys and glaciers below the massive north-face of Mt. Everest.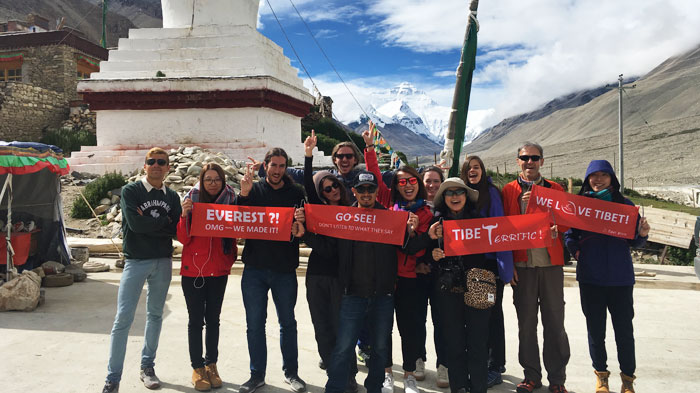 Mount Everest Base Camp Trek
The Everest Base Camp is currently the nearest place to observe Mt. Everest, and offers a good view of this majestic world-famous mountain. Trekking to EBC can be a different journey for those who want to experience more nature scenery and wild adventure. You will also visit the world's highest monastery - Rongbuk Monastery.
April to October is considered to be the best time to do trekking in this route. The itinerary normally starts from Lhasa, and only two-days' driving can get you to the starting point of trekking, old Tingri. Then take four days to do the trek, cross plains and valleys, as well as mountains as you advance. It will be a great achievement to complete the trek.
> Join in our 12-days Tingri to Everest Base Camp Trekking Tour
4. Mount Kailash Trek (Moderate, 3 Days)
The Mount Kailash trek is also famously known as the kora journey. The trekking in Kailash draws as many trekkers and hikers as pilgrims, sometimes the latter being more in number. Though it is a mesmerizing trekking tour, it is equally difficult and challenging.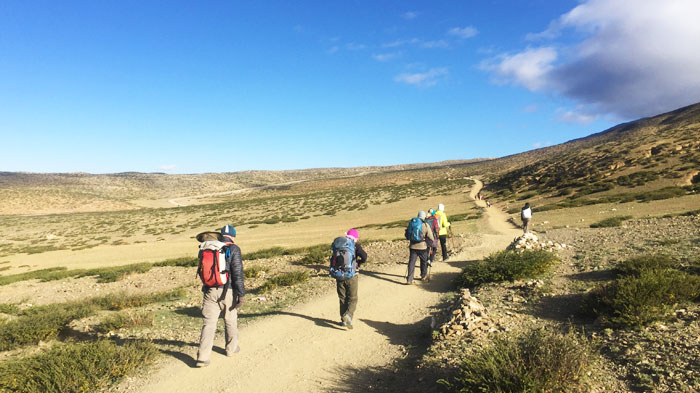 The Mount Kailash trek is famously known as the kora journey.
The average altitude of this trekking is almost 5000m. On the trekking route you will witness about five temples around Mount Kailash. The best time to do the trekking is May to October, when temperature remains usually high and the climate is warmer.
The itinerary for the route is simple as directly from Lhasa, Mount Kailash can be visited by four day driving. Then the trekking starts and the kora is also famously known as the 'Char Dham Yatra'. You have to be very careful about your health. It is in total a 52km circuit that might take 3 days to complete the journey.
> Join in our 15-days Mount Kailash Pilgrimage Tour
5. Everest Advance Base Camp Trek (Strenuous, 5 Days)
The Everest Advance Base Camp trek is a world class trek. The trek includes five days of trekking. The whole trek involves a very high elevation and a harsh weather. The Everest Advanced Base Camp is situated at a high altitude of 6500m. The high altitude therefore makes it a very challenging trekking tour. For the high altitude, it is also known as the highest trek in the world.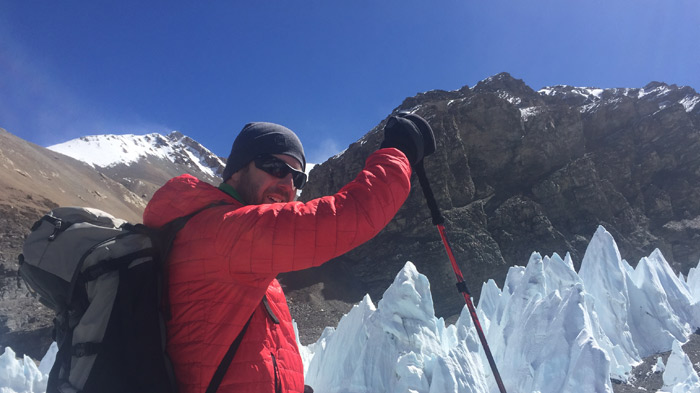 Everest Advance Base Camp trek is a world class trek.
It is suggested to stay in Lhasa for minimum three days in order to acclimatize the body for this high altitude trek. You can visit various spots of tourists interest like Potala Palace, Sera Monastery, Drepung Monastery, Barkhor Square and the Jokhang Temple.
The possible itinerary for the trekking is -
• First drive from Lhasa to Everest Base Camp and stay overnight at Rongbuk Tent Guest House.
• Trek from Rongbuk Monastery to EBC. It's 4km for you to warm up.
• Trek from EBC to Camp 1 (5460m). Go through Rongbuk Glacier along the way. Time taken will be five to seven hours, distance being 5 km.
• Then trek to Interim Camp (5760m). It is about 6 km and time taken will be 6 to 7 hours.
• From Interim Camp trek to Camp 2 (5970m). Ascend farther to meet up with the Changste Glacier. Time taken will be 6 hours and distance is 5 km.
• Finally trek to ABC (6500m), and return to Camp 2. The journey of the day's trek will be 6 km, and takes about 9 hours.
• Drive back to EBC and then return to Lhasa.
> Join in our 15-days Challenge to Everest Advance Base Camp Trek
6. Gama Valley Trek (Moderate, 8 Days)
The Gama valley trek is considered to be the favourite of an adventurous trekker. Located on the eastern slope of Mount Everest, Gama Valley along with Gyirong Valley, Zhangmu valley and Ya dong valley is known as the 'four great valleys'.
It is extremely appealing because of the orchard valley, situated within it. While trekking this valley, the trekkers will also get a chance to view Mount Everest. The best time to trek this valley is from April to June and September to October. The highest point in the trek is Shauwala Pass at 4900m.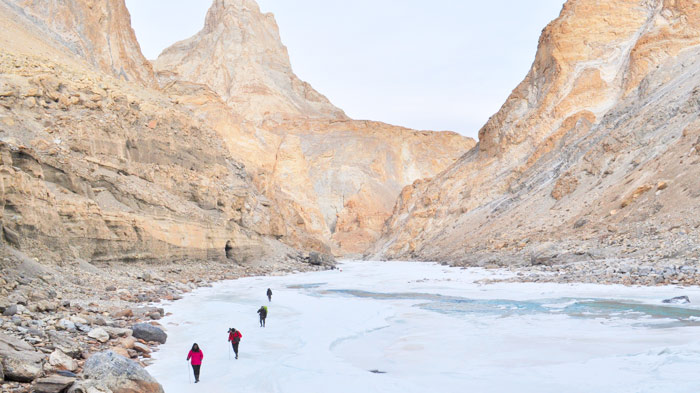 The Gyama Valley trek is considered to be the favourite of an adventurous trekker.
The trek takes almost eight days to get completed. The possible itinerary is -
• First drive to Tingri from Lhasa, which will take eleven to twelve hours. Travel to Youpa Vaillage, and prepare for the trekking.
• Trek from Youpa Village to Showo-tso pond. It's a 10km's trek, with a total of 900m ascent.
• From Showo-tso, trek to Dolshang Valley via Showala pass. Dolshang Valley is the initial part of Gama Valley. The distance is 14 km.
• From Dolshang Valley, trek to Tsonang-tso Lake, then to Xialong Pasture, and ends in Tangsung Viewing Platform. It is about 12 km.
• From the above location, continue to trek to Paltang. Distance of the trekking is 11km.
• Trek from Patang to Eastern Slope of Everest Base Camp, where to gaze at the little-known Mt. Chomo Lonzo (7804m). Then travel back to Paltang.
• Follow the same route and trek back to Tangsung Viewing Platform.
• Trek to camp site of Tsosho-rim, following a distance of 11km.
> Join in our 16-days Gama Valley Trekking in the Eastern Slope of Mt. Everest
Pack Necessary Items for Trekking in Tibet
Trekking Permits in Tibet
The most important requirement for Tibet tour is the Tibet Travel Permit. Unlike visa, it does not have a date of expiry, but your Tibet tour itinerary is well written on it. All people are allowed to have a Tibet Travel Permit except journalists, government officials and diplomats.
For getting the Tibet Travel Permit, you need to prepare several documents: your Chinese Visa and passport that is valid for six months; a properly scanned copy of the passport with the photo, date of issue and passport number; a properly scanned copy of the Chinese visa; the itinerary of the travel sites and trekking points (a tentative itinerary will also do).
Besides the Tibet Travel Permit, you may need other travel permits. For example, camping at the base of Mount Everest requires Alien's Travel Permit. If you want to do Mt. Kailash kora, apart from the Tibet Travel Permit, Military Area Entry Permit is also needed.
* So long as you book our Tibet tours, our travel consultants and Tibetan guides will help you get all the above three travel documents, for free.
Trekking Clothing
• Enough warm clothes and woolen clothes.
• Casuals should also be taken and preferably of cotton.
• Trekking trousers and trekking shoes.
• Polar fleece sweater, wind fleece gloves also ensures absolute protection.
• Rain proof coats and trousers.
• Scarf and woolen hats.
• Cotton socks as well as woolen socks.
• Gloves.
• Windproof jackets and trousers.
• Thermal inners as well as casual inners.
• Gaiters.
• Synthetic or down insulated jacket to sustain -7 degree centigrade.
Trekking Gear and Accessories
• Sunscreens of SPF 35 (minimum) and sunglasses.
• Moisturizers and lip balms.
• Torch or head lamp.
• Trekking sticks if possible.
• Umbrellas.
• Money pouch which is safer than wallets for keeping passports and important documents.
• First aid box which must include bandage and antiseptic cream, including other necessary items.
• Tissue paper(enough).
• Water purification tablets.
• Plastic bags (enough).
• Camera and spare batteries both for camera and the torches.
Personal Items
• A set of two towels.
• Wet tissues.
• Sachets of shampoo and soap.
• Toilette kit containing toothbrush, tooth paste and comb.
• Sewing kit (if possible).
• Medicines of all types.
• Nail clippers.
• Cotton plugs.
Prepare a Good Health Status and Avoid Altitude Sickness
You don't need to be particularly strong to trek in Tibet, but you do need to be physically fit. Trekking in Tibet will let you face high altitude, thin air, harsh and changeable weather. So it is recommended to take some regular exercise like jogging, several months before you arrive in Tibet.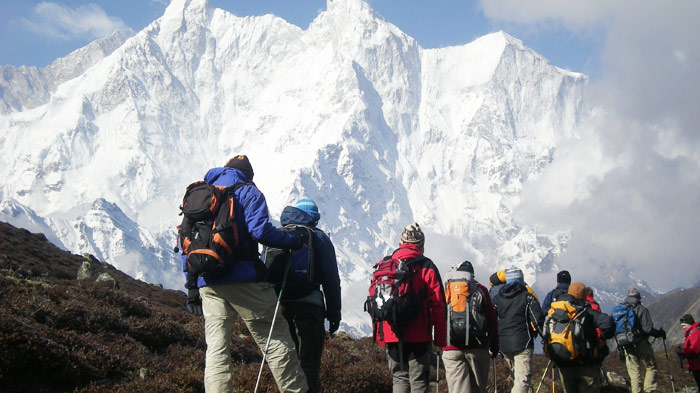 One needs to have a good health for trekking in Tibet.
Actually, physical fitness is not a major issue, as the hardest part is the altitude. Whether you have been to Tibet or not, you'd better pay attention to high altitude sickness. Before ascending to higher places, it is suggested to stay in Lhasa for a couple of days for altitude acclimation, even if you just take a light trek in Tibet.
Find a Reliable Tibet Tour Agency
Traveling in Tibet involves contacting a local tour agency to arrange your tour, and so does trekking. A high-quality and reliable tour agency can make your trekking trip in Tibet much safer and smoother.
As a leading tour operator based in Lhasa, we organize well-designed trekking tours for tourists. Our local Tibetan guides are well knowledgeable for each and every trek route. We also offer sufficient oxygen supply, trekking gears rental services to ensure you trek safe and light on the plateau.
Conclusion
Trekking is not a tough thing in Tibet as long as you make good preparations. Choosing a proper route that meets your physical strength, packing the required gears and clothing, avoiding high altitude sickness, also contacting professional team like us to handle your journey, then you can easily enjoy your trek trip. For more questions about trekking in Tibet, please feel free to contact us or leave your comments below.
Most Popular Tibet Tour Packages