Tibet Trek Map
Trekking "the roof of the world" is one of the most challenging things to do. The altitude, weather and rugged terrain present significant opportunities for trekkers. If you're up to it, hiking past nomad tents to remote settlements will surprise you.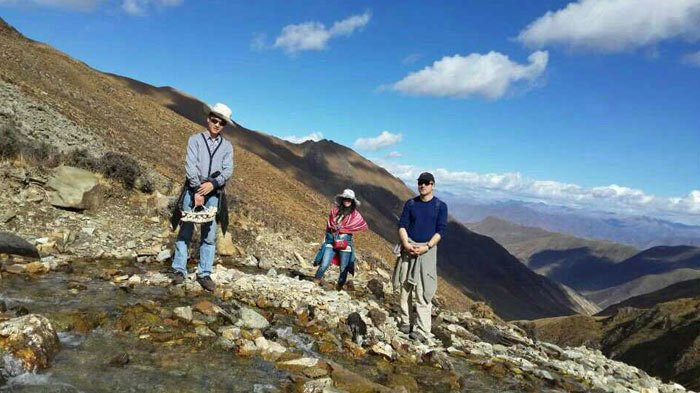 Trekking becomes a tour must during travelling in Tibet.
Tibet trekking routes with trek maps listed below are the most popular itineraries in Tibet, among which Ganden to Samye trek and Tsurphu to Yangpachen trek are relatively easier. As for the most intoxicating pictureasque scenery, Mount Everest to Gama Valley trek and Nyenchen Tanglha to Holy Lake-Namtso trek are highly recommended. It's more challenging to do Mt. Kailash trekking and Everest ABC trekking.
Old Tingri to Everest Base Camp Trek
Walking in the shadow of iconic Mt. Everest provides a heady mix of solitude, wildlife sighting and physical challenge. You might even get lucky and see a Tibetan brown bear rambling in the pastures. If you want to travel to Tibet, Old Tingri to Everest Base Camp trek is the one that you don't want to miss.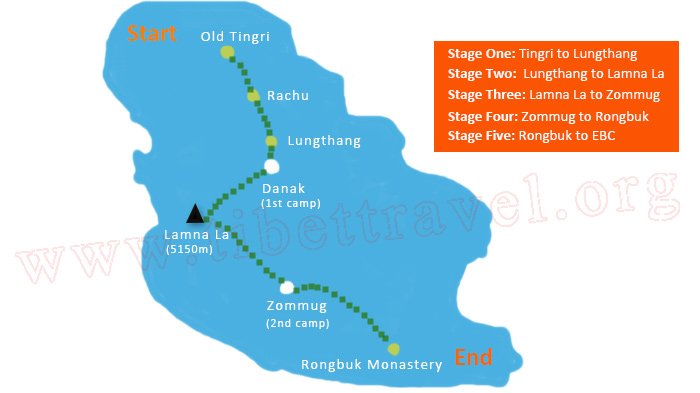 Everest Base Camp Trek Map - from Old Tingri to Everest Base Camp (70km)
The trekking season in the Everest region extends from April to late October. This is a difficult high-elevation region with altitudes ranging between 4400m and 5400m, and one high point is at the beginning of the trek! Careful preparation and the right fear are imperative.
Ganden to Samye Trek
Ganden to Samye Trek has much to offer: lakes, beautiful alpine landscapes, herders' camps and sacred sites, as well as two of Tibet's greatest centers of religious culture. With too much to offer, its popularity is understandable, but you should not underestimate this walk. Only those with experience hiking and camping in higher-elevation wildernesses should attempt this trek unsupported.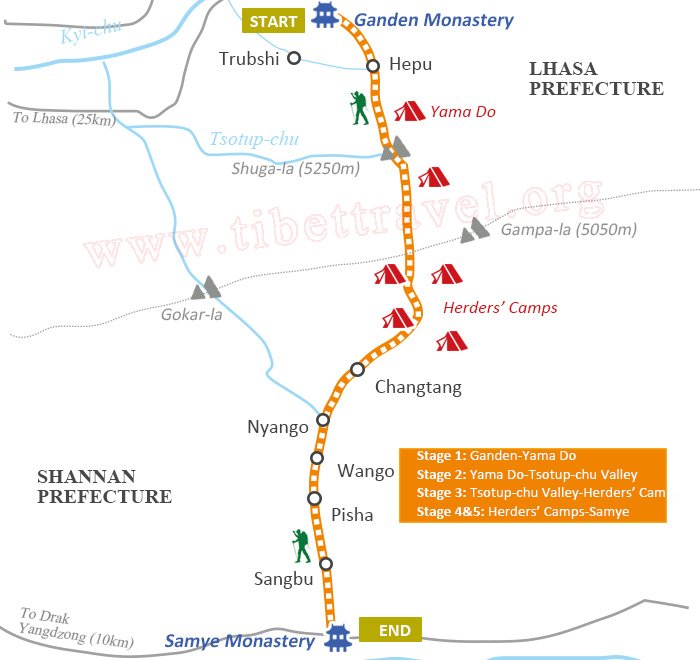 Ganden to Samye Trek Map (80km)
Lake Manasarovar Kora Trek
Although there is now a road all the way around Lake Manasarovar, this is still a very lovely walk. Fortunately, the road can be avoided for much of the 110km mostly level route. Lake Manasarovar reflects the most lucid shades of blue imaginable. If represents the female or wisdom aspect of enlightment.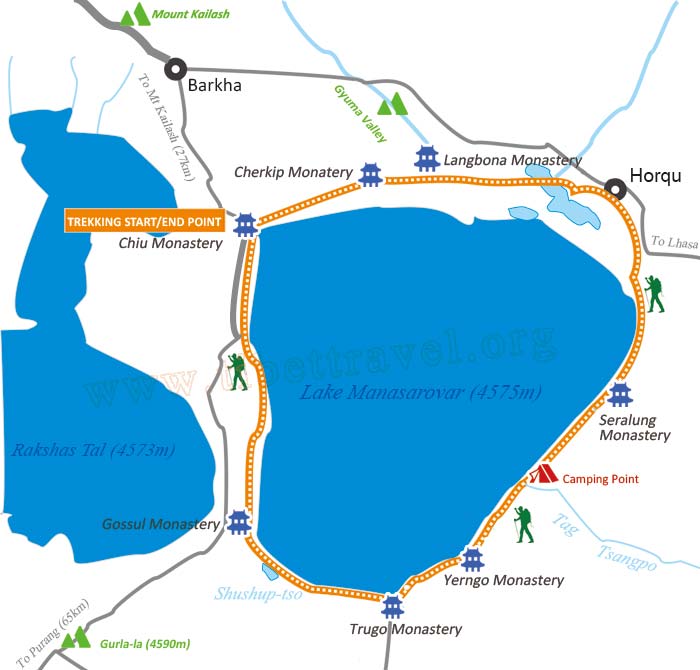 Lake Manasarovar Kora Trek Map
In addition, it is a symbol of good fortune and fertility. That's why Tibetans are always very eager to circumambulate it. There are 5 Buddhist monasteries along Lake Manasarovar Kora. Public buses now ply the north side of the lake. Horses and guides can be hired in Hor Qu and at Chiu Monastery, the town on the northeastern side of the lake.
Mt. Kailash Trek
The age-old pilgrims' path around Mt. Kailash is one of the world's most great pilgrimages, completely encircling Asia's holiest mountain. With a 5630m pass to conquer, this kora is a test of both the mind and the spirit.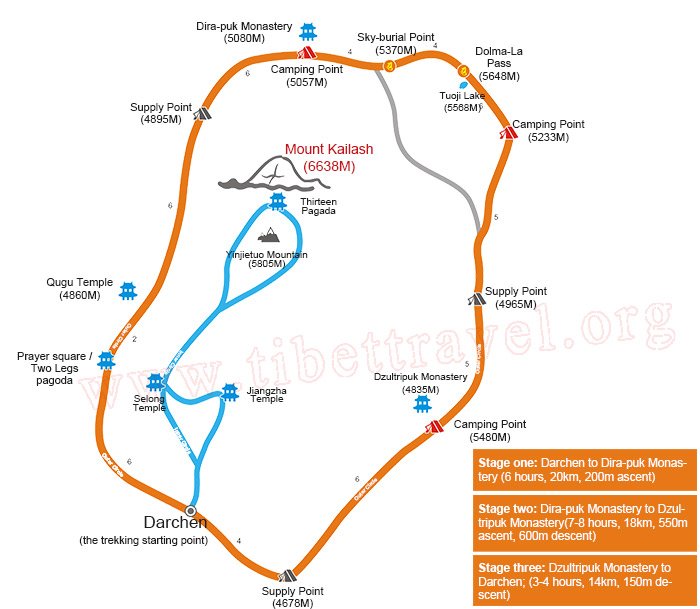 Mt. Kailash Kora Trek Map
There's some gorgeous mountain scenery along Mount Kailash Kora trek, including close-ups of the majestic pyramidal Mt. Kailash, but just as rewarding is the chance to see and meet your fellow pilgrims, many of whom have traveled hundreds of kilometers on foot to get here.
Apart from local Tibetans, there are normally dozens of Hundus on the kora during the main pilgrim season (June to September), normally on horseback, with yak teams carrying their supplies.
Shalu to Nartang Trek
This trek follows the old trade route between the great Buddhist centers of Shalu and Nartang, marking a glorious chapter in Tibetan history. Treading the ancient trail you can almost feel the caravans that once passed this way during Shalu to Nartang trekking.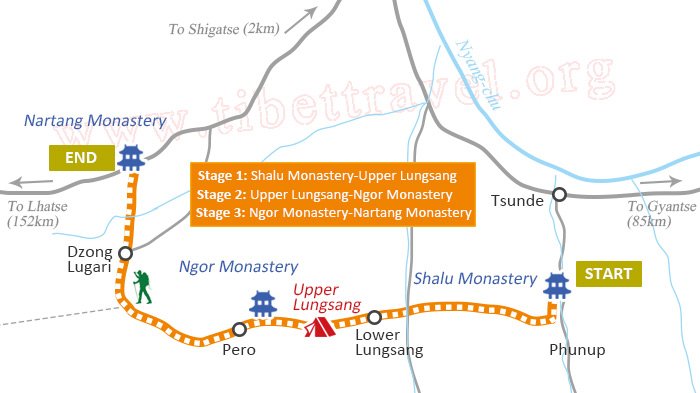 Shalu to Nartang Trekking Map
Tsurphu to Yangpachen Trek
This Route begins at Tsurphu Monastery and crosses several high valleys before coming into the broad and windswept Yanpachen valley, ends at Yanpanche Monastery. It combines alpine tundra, monasteries, hot springs, nomads, and remote nunnery. Tsurphu to Yangpachen trek perfectly balances cultural and wilderness activities, available from mid-April to mid-October and late June is the best time to do the trek because of the flourishing grass and wildflower in grassland.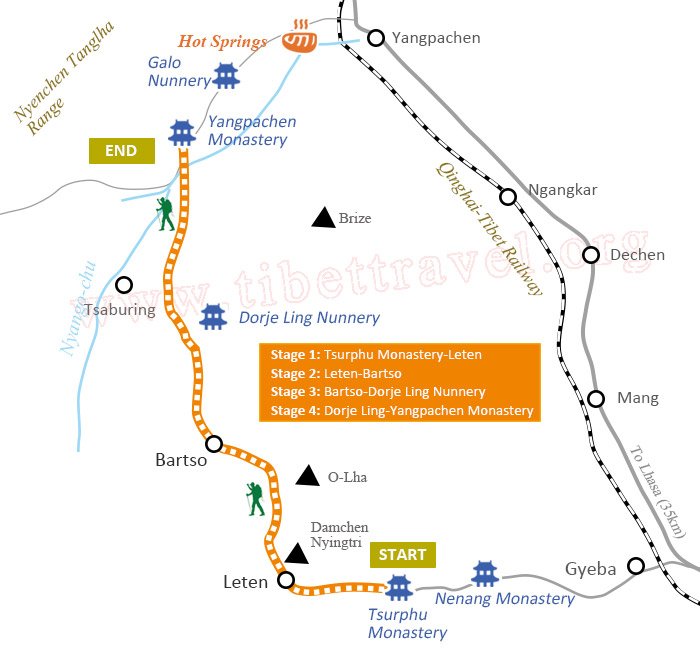 Tsurphu to Yangpachen Trek Map
Nyenchen Tanglha to Holy Lake-Namtso Trek
The start point of Nyenchen Tanglha trek (Damxung to Namtso) is 160km from Lhasa. The route leaves the Damxung Valley and wends its way through a rocky defile, the gateway to a high-elevation forest in which dwarf willow and rhododendron are dominant species. A number of stream crossings aside you. Fantastic views of sparkling Nam-tso and Tashi Do are visible from many vantage points on the trail,also, the green grassland and colorful nomad camps along the way.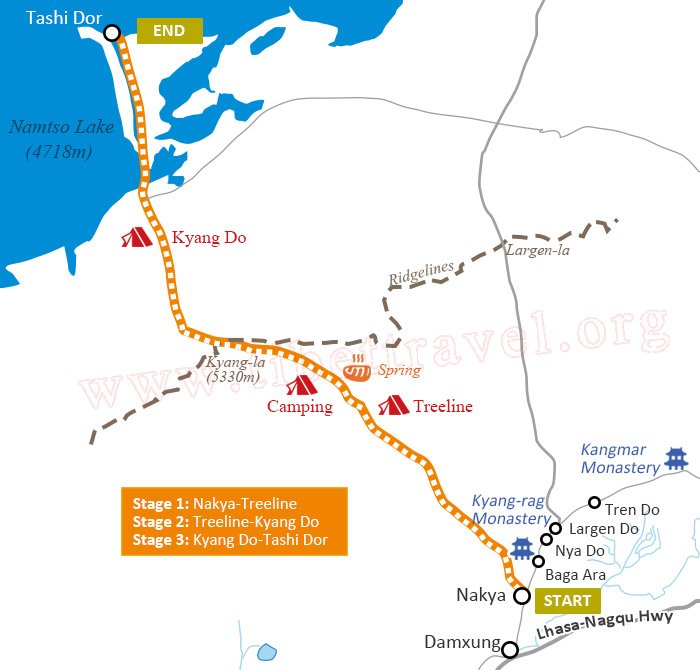 Nyenchen Tanglha Trek Map
Mount Everest to Gama Valley Trek
Eastern side of Mount Everest and Gama Valley were praised to be one of the "Top Ten Landscapes in the World", "the most beautiful valley in the world" and "one of the top ten classic trekking routes in the world" by American and British explorers last century. The whole Gama Valley trekking route is inside the Mount Everest Nature Reserve with overwhelming landscapes. You can appreciate Mount Everest (World first), Mount Lhotse (World fourth) and Mount Makalu (World fifth).

Everest to Gama Trek Map

Everest to Gama Trek Map
The whole valley is an untraversed region with a large area of virgin forest. You can appreciate rapid replacement of natural sceneries from river valley (in more than 2000 meters) to high peaks (in more than 8000 meters) from eastern side of Himalayas within dozens of kilometers. You can also see broad-leaved forest, needle-leaved forest, brushwood, Alpine meadow, Alpine desert, permanent snow zone, majestic snow-capped mountains and glaciers. See the detailed itinerary of the third trekking route.
Everest Advanced Base Camp Trek
The expedition crosses the Tibetan highlands and ventures into the Advanced Base Camp of Mount Everest (North side) via trekking which is 6340m high above sea level. It is also the world's highest Tibet trekking route that takes you as close to the summit of Everest as any non-climber can reach, with basic technical climbing gears and mountaineering skill.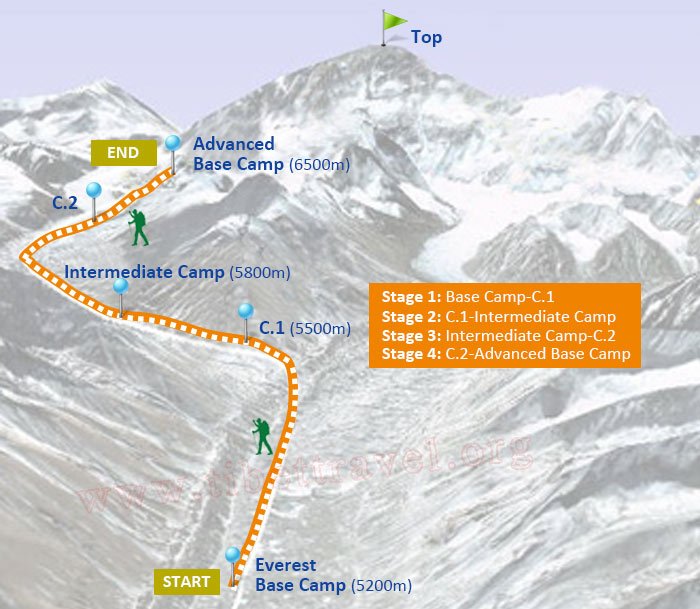 EBC to ABC Trek Map
The trekking takes around 4-5 days from Rongbuk monastery and the 28km trekking route starts with Everest Base Camp (5200m) and trekkers move upwards along undulating moraine hills beside the Rongphu Glacier. Tourists are able to appreciate the peculiar shape of glaciers and then reach the Intermediate Camp (5800m) and keep heading upwards by passing the East Rongphu Glacier till the final destination---Advanced Base Camp (6500m), located alongside the East Rongphu Glacier.