Ganden to Samye Trek Tips and Photos
Trek from Ganden Monastery to Samye Monastery is one of the most popular trekking routes in Tibet. Most of the route is located around 4000 meters above sea level, starting at 13,940 feet at Ganden, passing Shogu La at 17,220 feet and heading toward the first Buddhist monastery in Tibet, Samye Monastery. The trek is full of challenges.
But this trek also has much pleasure: blue lakes, high snowy passes and mountains, lush alpine meadows, nomad camps, tranquil villages and sacred sites. This must be an unforgettable experience.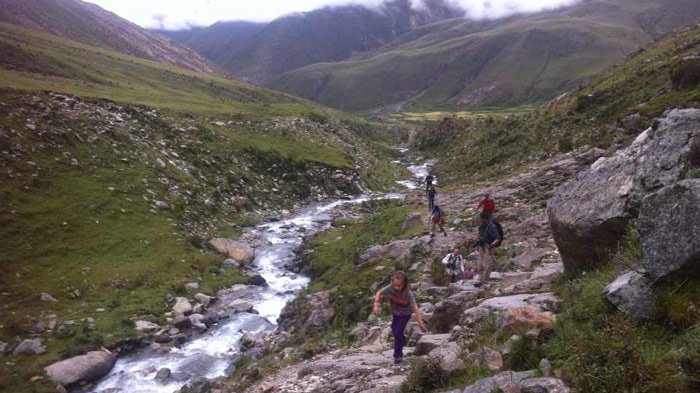 Our clients were trekking from Ganden Monastery to Samye Monastery.
On the way, you will find secluded valleys which inhabited by high-altitude nomads and their yaks. This trekking route is also famous as a pilgrimage route. Every year, hundreds and thousands of tibetans are willing to pay a visit to Ganden, the principal monastery of the Gelugpa, and Samye, Tibet's first monastery. And combination of the two visit is also a good choice.
The best time for this trek is from mid-May to Mid-October, and summer can be wet but the mountains are at their greenest and you can see wildflowers.This interesting trekking makes you fulfilling and pleasant.
Tibet Trekking Tips
In order to enjoy yourselves during Ganden to Samye trekking, you should prepare for this trek ahead of time. The high altitude and strange climate tell us only those with good physical condition are recommended to trek from Ganden to Samye. And it would be better for those with high elevation trek experience.
Clothing
1.Lightweight walking boots or hiking shoes, if you plan to buy a new pair, please wear them for some days at home to avoid blisters. Also bring several pairs of thin and thick woolen socks, spare laces and cotton shoe-pads. Women's sanitary pad is a very good material to put into your shoes to take the sweat away. A pair of normal walking shoes. You can wear them in the camp at night.
2.Warm jacket. Fiberfill or down should be adequate. If you trek is in April, May, late September or October, a down jacket is a must. Sometimes the temperature at night is Zero or even below Zero. A rain-proof jacket with hood or a poncho. Get one that is guaranteed waterproof.
3.Woolen shirts and thick sweaters, cotton T-shirts, and it is better to have one long sleeved-shirt for avoiding sun burn.
4.A pair of light weight trousers, the loose cotton pants are the best. Jeans are unsuitable to wear on treks. Windproof/waterproof trousers are necessary on all treks going above 10000 ft.
5.Wear warm trousers in the morning and at night.
6.Thermal underwear: these are excellent to sleep in at night. In the winter time thermal underwear are quite invaluable.
7.1-2 towels for removing the sweat on your back and head.
8.Wear a woolen hat in the morning and at night, especially in winter. A sun hat and ensure it has a wide brim to cover the face and neck.
9.A pair of gloves, sunglasses and snow glasses.
Gears
1.A thorough medical checkup is highly recommended before you start trekking in case of getting injury at the remote places of Tibet.
2.Camping gears like tent, sleeping bag and moisture-proof pad are necessary for camping outside in the trekking.
3.Cookware, canned gas, food and water are also necessary for this trek. As in the remote areas of Tibet, there are no restaurants or shops. The food must be adequate for two's consumption at least.
4.Day pack: this is a small rucksack to carry personal requirement for the day.
5. 2-4 large plastic bags to separate clean clothes from dirty ones. 6-10 smaller plastic bags to dispose garbage.
6.Toiletries with large and smaller towels. Toilet paper can be bought in Lhasa and some villages in the mountains.
7.Small headlamp or torch with spare batteries and bulbs, a box of matches or lighter to light the fire while cooking or burn the garbage.
8.A sewing box with needle and thread can help you sew something.
9.Camera, enough batteries, a note book, a pen, a pocket knife, a trekking map, GPS, etc are optional if you want to take them.
If you want to enjoy a relatively easy trek, you'd better hire a yak or horse porter. In addition, Tibet travel permit is necessary for trekking tour for foreign tourists who want to trek in Tibet.
Photos along the Route
Ganden Monastery
It will take about two hours from Lhasa to Ganden by car. Ganden is one of the three greatest monasteries in Lhasa, with Sera and Drepung monasteries. You can pay a visit the monastery in the morning and then start your trek in the afternoon.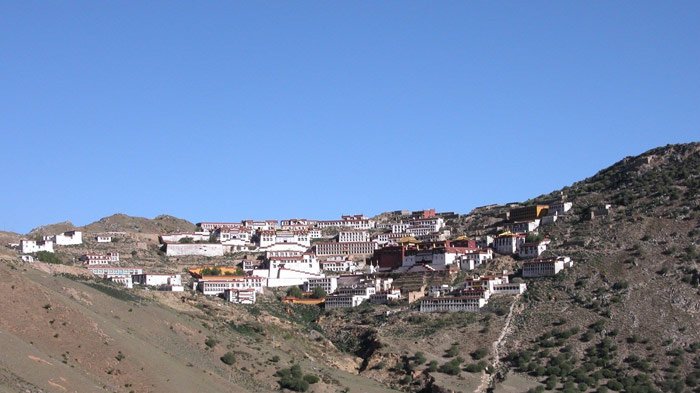 A Panorama photo of Tibet Ganden Monastery.
The admission fee for Ganden monastery is RMB35 per person. There are various Tibetan food, drink and snacks that are quite cheap and rich in energy. You can buy some for your trek.
Hebu Village
Your trek begins from Ganden kora. After leaving the parking lot at the base of Ganden, you can walk along a saddle trail south along the side of Angkor Ri, the highest point on the Ganden kora for 20 minutes. Then just keep ascending straight for 30 minutes. The Ganden becomes smaller and smaller in your sight, but a village will appear in front of you. After about three hours, you will arrive at the village, Hebu village where you can set up your tent and prepare to spend the night there. This is a very isolated village with around 30 houses and people there lead a simple but peaceful life: herding, growing crops and spinning. There is good camping to the south and west of the village for trekkers.
After have a good rest, you will start an arduous day. If you do not hire a yak or horse for carrying your bag. You'd better pick one in this village. Villagers charge around RMB35 to RMB40 per yak per day. Usually, herders feed themselves and take along with their own camping gear, but make this clear before you set out.
Shuga-la pass
From Hepu Village, it will takes about three and a half hours to climb along the trail towards Shuga-la pass at an altitude of 5256m, which is near your next camping site. It is quite hard to climb up to this pass along the rocky trail because of strong wind from the hill. Then you must walk downhill from the pass carefully and slowly. Any carelessness will make yourself roll down the hill.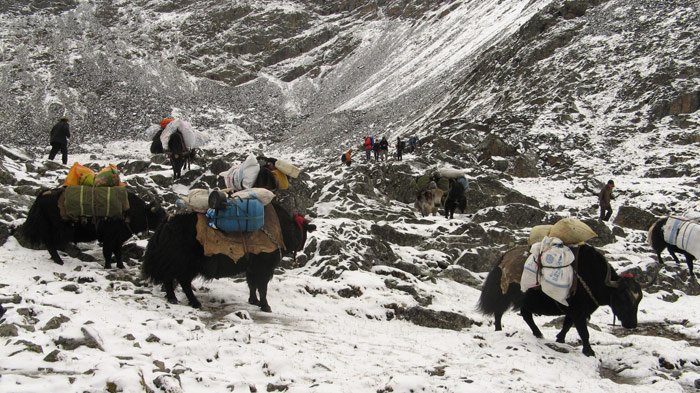 Tourists can rent yak to carry trekking gears across Shuga-la Pass.
Tashi-chu and Meadow
Walk west downhill and you will see a river called Tashi-chu. Near the confluence of Tashi-chu and another stream is a good camp site on the meadow. If you get spare energy, you can walk up further and reach another meadow. This is a place of heaven. All is silent. Yaks are everywhere on the hill.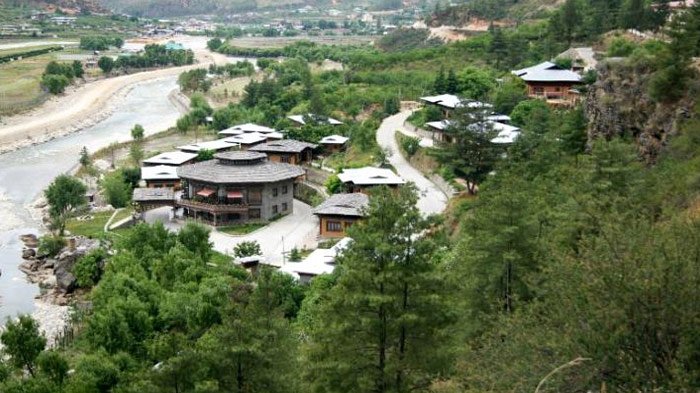 Beautiful landscape of Tashi-chu.
The light of the setting sun makes the alpine meadow very beautiful. Your tiredness would be taken away by the amazing sights around you. Just prepare a good supper and enjoy a wonderful night with your guide in the wild. However, keeping warm is very important here. At night, the temperature will drop rapidly.
In the morning, the air seems to be frozen before the sun rises. Serve yourself with some energy food and keep moving again along the mountain road on the left. Compared with our life in big cities, walking in the mountains covered by abundant trees and grass is a luxurious enjoyment.
After rising steeply for 30 minutes, finally reach the mouth of a large basin. The world in front of you is enlightened, all of a sudden. If after October, a frozen lake on the left is just like a silver mirror, gleaming in the sunshine, while a frozen river on the right like a Khata winds away.
Chitu-La Pass
After one night's acclimation to the high altitude, it is not particularly difficult to reach Chitu-La Pass at 5228 m (16,728 feet), marked by several large cairns. On the top of the mountain, there is nothing except black rocks. But after a short steep descent, breathtaking scenery rushes into your eyes. A white snow lake lies in the arms of the sophisticated mountains. It is so beautiful, just like a noble young princes.
Mist-shrouded Chitu-la Pass shows its mysterious veil due to high altitude.
Actually, here is a basin holding three small lakes. Meander through forest of shrubs and rhododendrons and reach the valley floor. A well–deserved camp is at your feet. This is your last camping of this trek. Make a campfire and drink a cup of hot tea, surrounded by rhododendrons and stars. What a nice night!
Village of Chantan and Samye
After over two days' hard trek, the trail is now wide and easy to follow. All the way along the valley, the trail is flat, under the guard of exuberant plants and clear rivers. About half an hour, the forest thins rapidly and you reach the first permanent village of Chantan (13,776 feet) after leaving Hebu Village. From here, basic roads on which tractors are transitable are found. And more people are seen on the way.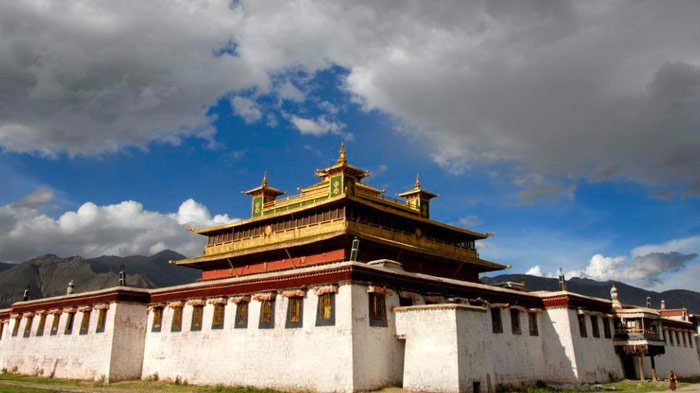 Samye Monastery is the first temple to be built in Tibet.
You can hire a tractor to take you to your final destination - Samye, the first temple to be built in Tibet. The price is at RMB80-100. This night, you won't need to sleep in the wild. If you still want to enjoy camping, set up your tent in the woods at back of the Samye.In this case, this trek ends and you can spent a few days here to visit the sites around this temple, like Tsedang and Qingpu meditation caves.