FAQs on Trekking in Tibet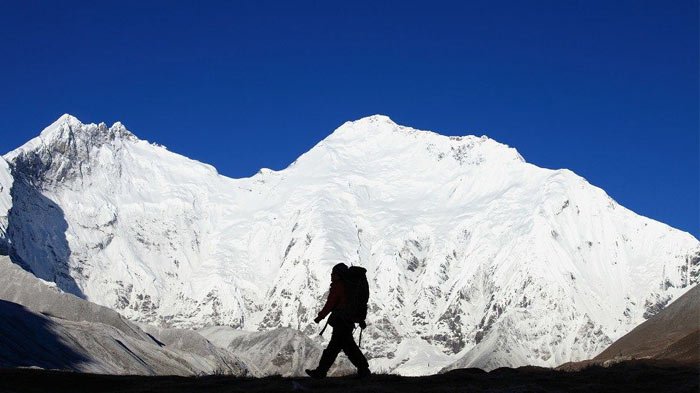 Trekking in Tibet should never be missed during Tibet tour.
1. When is the best time for Tibet trekking?
Travel is possible at all times of year but from April to October is the best season. Trekkers may think that it is best to avoid rainy season to trek in Tibet. Actually, rain is not a problem for trekking in Tibet as it is in rain shadow zone due to high Himalayas. Rather rainy season is the best time for trek, as the weather is mild and the ground in mountain valleys turn green and alpine flowers bloom in profusion. Generally, time without snow is the best time for trekking in Tibet. During the snowfall not only the mountains are inaccessible but the highways that take you to the trail heads are blocked.
2. What the highlights of Tibet trekking tours ?
Trekking on the roof of the world is a great experience you cannot get in any other place. The Tibetan plateau possesses uniquely beautiful landscape. Only by trekking, you can find the hidden surprises on the Tibet plateau. Your Tibet trekking tour is enhanced by frequent encounters with nomads, yak and sheep herds, and visits to ancient villages and beautiful monasteries, not to mention the spectacular mountains and serene lakes of Tibet.
3. Can I trek in Tibet individually?
For foreigners, individual travel is not allowed in Tibet at present. Foreigners are required to travel in Tibet with the company of local tour guide. Honestly, you are highly recommended to hire a tour guide even without this restriction for the geography of Tibet is very complicated and altitude sickness easily happen at such a high altitude place.
4. How to avoid altitude sickness while trekking in Tibet ?
The most important concern for trekking in Tibet is altitude sickness. Tibet is located at an average altitude over 4,000. Meanwhile, almost all treks involve high passes even higher than 5,000m. So you must have a full acclimation of the high altitude of Tibet before starting your Tibet trek tour. Tell your tour guide if you feel uncomfortable during trekking, like reeling, headache, vomitting, bad dreams, loss of appetite and sleeplessness appear. The best treatment for altitude sickness, once the symptoms appear is to descend down to lesser height.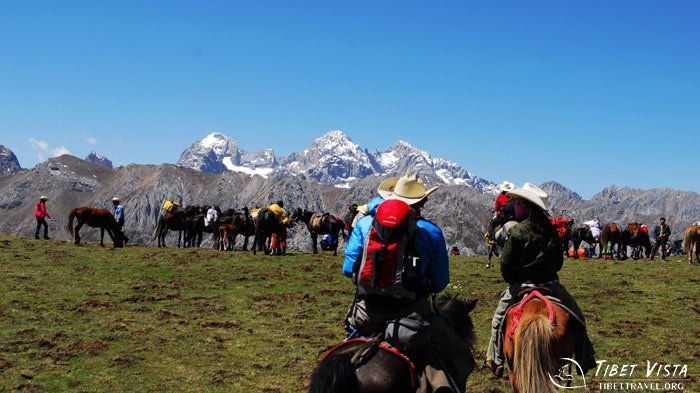 Our clients enjoyed their horse trekking during Tibet tour.
5. Where and what type of visas do I require for traveling in Tibet?
To visit Tibet, you need at least two visas, Chinese Visa obtained from Chinese Embassy in your home country, and Tibet entry permit issued by Tibet Tourism Bureau but applied through an authorized Tibet travel agency. Then if you trek to restricted areas of Tibet, Alien's travel permit and/or military permit are required. If you book tour from Tibet travel org, they can help you arrange all the documents.
6. What kind of clothing/accessories should I bring for trekking in Tibet?
From Oct. to March warm clothes are required due to cold and from April to September only light clothes will be enough. However, a jacket and a sweater are advised throughout the year as the weather may unexpectedly change at any time. The recommend items are: A domestic first aid kit, water purification tablets, toilet and tissue papers, flashlight, sleeping bag, comfortable walking shoes, dust masks, utility knife, sun hat, sun glasses, suntan lotion and a limited number of clothes.