Top 12 Things you Need to Know Before Trekking in Tibet
Taking a trek in Tibet is a perfect way to explore this remarkable region. Through this, you can immerse yourself in the stunning scenery of Tibet and gain a profound understanding of Tibetan culture. Before you go, here are the top 12 FAQs on trekking in Tibet you need to know.
1. When is the best time to trek in Tibet?
Trekking in Tibet is available year-round, but the best time to trek is from April to October. During this period, both spring and autumn offer favorable weather conditions for trekking. However, it's important to note that the rainy season in summer may present some challenges.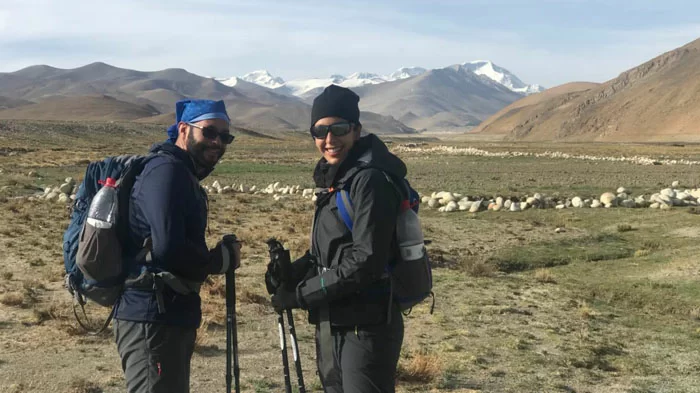 The best time trekking to Tibet is from April to October
2. What are the best trekking routes in Tibet?
For travelers seeking an authentic Tibet trekking experience, the following routes are widely regarded as the top choices in Tibet.
The Tingri to EBC Trek (Moderate, 4-5 days)
The trekking from Old Tingri to EBC is one of Tibet's most fascinating routes. It is around 70 kilometers long and takes 4 or 5 days to complete.
Going directly south from Old Tingri, you will go through the valleys that lead toward the Qomolangma National Park. Along the way, you will see various local villages and settlements, offering you a glimpse of the unique local culture.
The Gama Valley Trek (Moderate, 8 days)
The Gama Valley trek is renowned for its enchanting route, covering approximately 55 kilometers and spanning over 8 days.
Situated entirely within the Everest Nature Reserve, this trek allows you to explore the hidden natural treasures of the Gama Valley. Within this pristine paradise, you will encounter rare plant species, diverse wildlife, captivating wetlands, breathtaking waterfalls, and serene lakes.
An added highlight of the trek is the opportunity to interact with the Sherpas, who are not only born mountaineers but also experienced guides. Engaging with them will provide you with a unique and memorable experience.
Embark on the Gama Valley trek and immerse yourself in its scenic beauty, abundant wildlife, and the rich cultural heritage of the Sherpa community.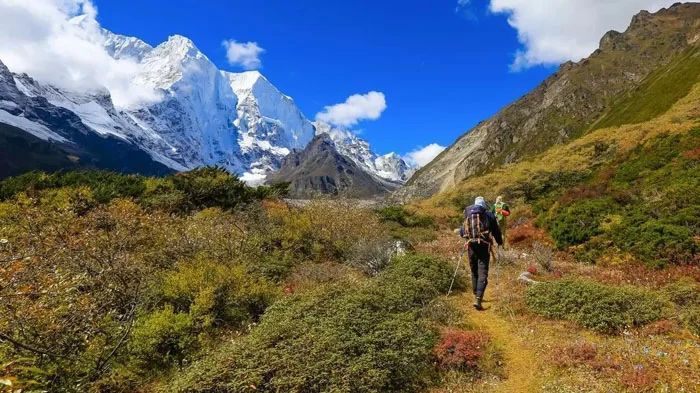 The Tibet Gama Valley trek tour
Ganden Monastery Trek (Moderate, 3 days)
The Ganden to Samye trek is a remarkable and popular trekking route that spans from the Ganden Monastery to the Samye Monastery. It covers a distance of 80 kilometers and usually takes 4-5 days.
This challenging yet rewarding journey covers diverse landscapes, including stunning alpine meadows, rugged mountain passes, and picturesque valleys. Along the way, you can witness the grandeur of the Tibetan plateau, visit remote villages, and immerse themselves in the rich Buddhist culture.
The trek from Ganden to Samye offers a unique opportunity to experience the serene beauty of Tibet while exploring ancient monastic sites and enjoying breathtaking views of the surrounding Himalayan ranges.
3. Are there any trekking routes in Tibet suitable for beginners or families with children?
Yes, of course. Taking into account the physical ability of beginners and families with children, we prefer to recommend two popular trekking routes.
The first route is the Drak Yerpa trek, which is a gentle trek located about an hour's drive from Lhasa city. It offers scenic views of the surrounding valleys and features ancient caves and monasteries that hold great cultural and historical significance.
The second one is the Pabongka Monastery Loop. This is a short and easy trek near Lhasa that takes you through beautiful landscapes and allows you to visit the renowned Pabongka Monastery. The trail is relatively flat and suitable for beginners and families.
In addition to the mentioned options, there are several other treks near Lhasa that offer a chance to immerse yourself in Tibet's breathtaking natural beauty and delve into its cultural heritage. Our team of local travel experts is here to assist you in arranging the perfect Tibet trekking experience tailored to the needs of beginners and families with children. Please don't hesitate to reach out to us for further guidance and to ensure a memorable journey through the enchanting landscapes of Tibet.
4. Is a permit required for trekking in Tibet, and how can I obtain it?
To visit Tibet, you will require two essential documents: a Chinese Visa, which you can obtain from the Chinese Embassy in your home country, and a Tibet Travel Permit issued by the Tibet Tourism Bureau.
However, it's important to note that the Tibet Travel Permit must be applied for through an authorized Tibet travel agency.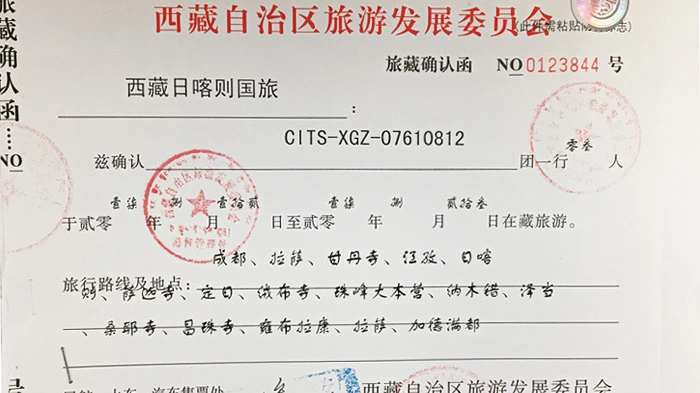 A Sample of Tibet Entry Permit
In addition, if you will trek some remote areas in Tibet, you will also need to apply for an Alien's travel permit and military permit. If you are not sure about this, you can always contact our travel consultants for advice.
5. What is the average duration of a trek in Tibet?
The average duration of a trek in Tibet can vary depending on the different altitudes.
For treks in low-altitude areas, the average duration may be shorter compared to high-altitude treks. The duration can range from a few hours to 1 to 2 days, depending on the specific itinerary.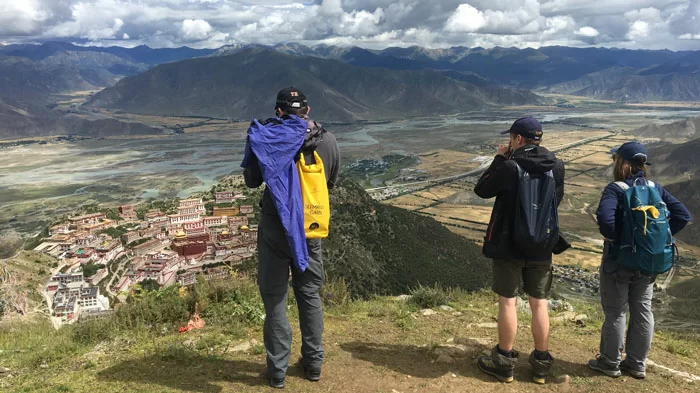 Lhasa to Gandan Manastery trek tour
These treks often involve exploring monasteries, national parks, and cultural sites. This offers you a glimpse into the unique Tibetan culture and a transition time to adjust to changes in altitude.
Trekking in areas above 4000 meters in Tibet requires more time to do careful acclimatization due to the thin air and increased risk of altitude sickness.
The average duration can range from 3 to 5 days, depending on the specific routes. These treks, while physically demanding, offer awe-inspiring views of snow-capped mountains, and high-altitude lakes.
6. How physically demanding are the treks in Tibet?
Trekking in Tibet can be physically demanding, especially in high-altitude areas. The rugged terrain, steep ascents and descents, and long distances are challenges for experienced trekkers.
Therefore, physical fitness, stamina, and acclimatization are crucial for tackling treks in Tibet. Please trek at a moderate pace, stay hydrated, and listen to your body's signals during the trip. These are essential for a safe trekking experience in Tibet.
7. How can I prepare myself for the high altitude conditions in Tibet?
To prepare yourself for the high altitude in Tibet, it's important to focus on several key aspects.
Firstly, engage in regular exercise to improve your overall fitness and endurance, such as Hiking, running, and cycling.
Secondly, do strength training exercises to build muscular strength and stamina. This will help you cope with the physical demands of trekking at high altitudes.
Lastly, stay well-hydrated, maintain a balanced diet, and take precautions against altitude sickness during your trip.
8. What type of accommodations are available during the trek in Tibet?
While trekking on the Tibet plateau, you'll find various accommodation options depending on your location. However, it's common to have limited choices in most places.
The Tibetan tent hotels are only available for the Everest Base Camp tour. These are typically open to tourists from early April to late October. They will provide related services, such as hot water, simple dishes, and an outside toilet.
Then, the accommodation that most people can find during the trek in Tibet is a guesthouse. These guesthouses, to put it bluntly, are quite basic, lacking amenities such as hot water and showers. Please be prepared for this situation.
If the guesthouse is not available, camping is the only option. It is terribly basic compared to the first two. Please remember to pack chocolates, cookies, and energy bars, to ensure you have an adequate and nutritious supply.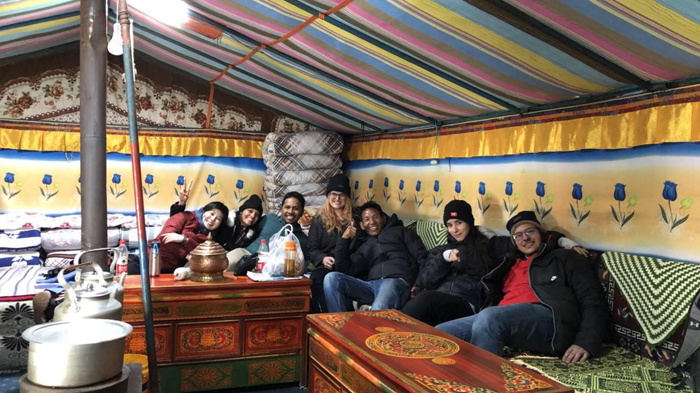 Everest Base Camp Tent Guesthouse
9. What should I pack for a trekking trip in Tibet?
From April to October, lighter clothes are usually sufficient, but it is still advisable to carry a jacket and a sweater throughout the year as weather conditions can change unexpectedly.
Make sure to pack essential items including a first aid kit, toilet and tissue papers, a flashlight, a sleeping bag, comfortable shoes, dust masks, a knife, sunglasses, and warmer clothes.
When embarking on the Kailash tour in Tibet, it's important to note that yaks and porters are available to assist with carrying your belongings. You can trek comfortably without putting your entire weight on your back.
However, it's still essential to pack efficiently and thoughtfully to ensure a smooth trekking experience.
You can hire yaks and porters for the Mount Kailash trekking.
10. Can I rent trekking equipment in Tibet, or should I bring my own?
To ensure a comfortable trekking experience, it's advisable to bring your own lightweight equipment. You can prepare a small backpack to carry necessary supplies such as a water bottle, energy bars, cash, and essential medicine.
In addition, we offer a rental service specifically for trekking in Tibet. For a small fee, you can access our range of trekking gear, including trekking poles, camping lanterns, portable chargers, rented tents, sleeping bags, oxygen supply, and more.
11. Are there any specific safety precautions to keep in mind while trekking in Tibet?
According to our experience, we list some specific safety precautions to keep in mind, as follows:
● Stay hydrated and nourished.
● Allow ample time for acclimatization before beginning your trek.
● Pack appropriate clothing to prepare for sudden changes in temperature.
● Carry a communication device to stay connected in case of emergencies.
12. Are there any opportunities for interacting with local communities or experiencing Tibetan culture during treks?
Yes, there are! It depends on which trekking routes you choose. If you are seeking a more cultural experience, treks such as the Ganden-Samye Monastery trek and the Mount Kailash Kora provide ample opportunities to engage with local communities, witness traditional ceremonies, and gain insights into Tibetan customs and spirituality.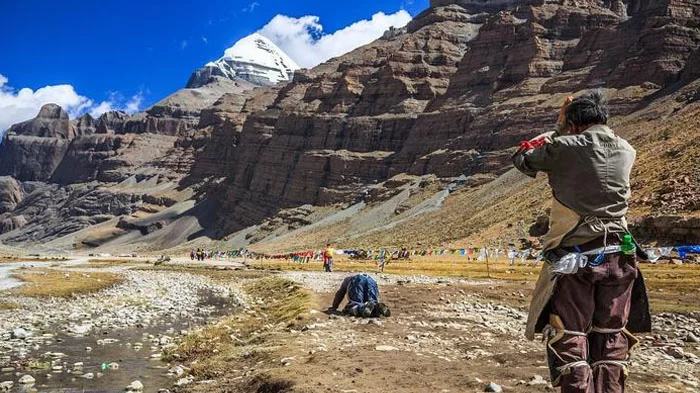 The local pilgrimage Tibetan in Mount Kailash.
However, if you shift your attention to natural scenery during the trip, the Everest Base Camp trek is an ideal option. Along the way, you can enjoy breathtaking views of Mount Everest and other majestic peaks along the Himalayas. This will give you a unique natural experience.
Conclusion
If you're planning a trek in Tibet, it's crucial to plan thoroughly and well in advance. Take the time to prepare by focusing on general trek preparation, itinerary planning, and assessing your physical fitness. Everything you do is essential to cope with the demanding conditions you may face during the trek.
Most Popular Tibet Tour Packages