Everest Trek in Tibet: Base Camp to Advanced Base Camp
Universally-recognized as "The Highest Trek in the World", Advanced Base Camp Everest Trek can be categorized as an expedition at an extreme elevation. Neither is the trek an elementary hike around the Ever Base Camp, nor is a daring attempt to conquer the summit of Mt.Everest through Everest Base Camp to Advance Base Camp Trekking Tour is a well-organized trek that allows the ordinary tourists to approach the Mt. Everest and fully experience the unrivalled highland scenery as well as the sweet and bitter of ascending the roof of the world. And the trek is definitely worth a try.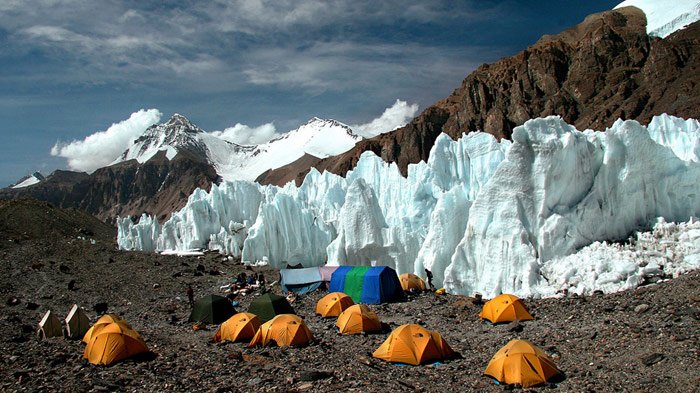 BC to ABC is the highest trek in the world.
The 28km trekking route starts with Everest Base Camp (5200m) and trekkers move upwards along undulating moraine hills beside the Rongphu Glacier. Tourists are able to appreciate the peculiar shape of glaciers and then reach the Intermediate Camp(5800m) and keep heading upwards by passing the East Rongphu Glacier till the final destination---Advanced Base Camp (6500m), located alongside the East Rongphu Glacier.
ABC is dotted with campsites of research and mountaineering teams of varied nationalities, and standing at such place enables tourists to have a brilliant panoramic view of East Route of Mt. Everest as well as the imposing North Col. As Mt. Everest enjoys an alpine ecosystem, the entire trekking route is truly an extraordinary expedition that features towing ice pinnacles, main Rongphu Glacier, snow leopard, highland goats, alpine meadow and shrub, etc.
Mount Everest is located between Nepal and China. When it comes to Everest Travel, People usually refer it to Nepal. Yet, Tibetan side of Mount Everest also has many areas to explore, the trip that is even more challenging and impressive for its special geographic features.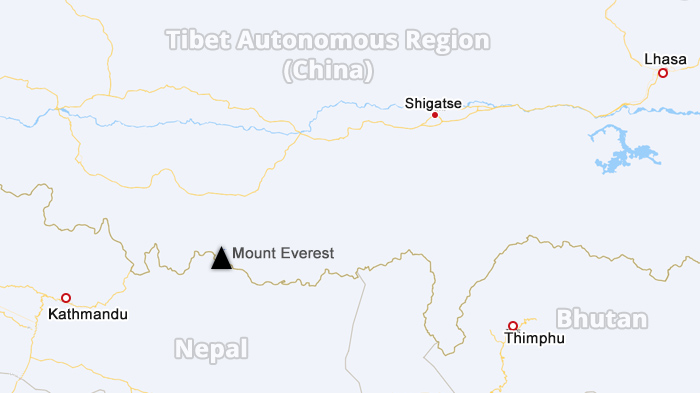 Mount Everest lies beteween Nepal and China.
Everest Tibetan side is never short of visitors. The sacred and lofty mountainous range keeps radiating its irresistible charm to various explorers. Due to its distinct geographical features, Mt.Everest abounds with untamed valleys, highland glaciers, towering mountains, rare wildlife, etc. Accordingly, Mt. Everest is often considered as one of the last paradise that can cater to the needs of all the adventurous minds.
Climbing to the summit of Himayala is not a task that everyone can accomplish, but BC to ABC trekking offers a great oppotunity for ordinary trekkers to chanllage themselves to the limit. Even though it is just the beginning and easiest section of the daunting journey to Everest submit.
Everest ABC Trekking Route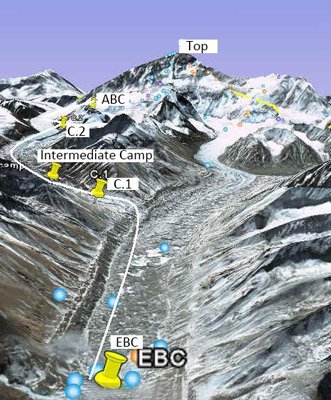 EBC(5200m) - Middle Rongphu Glacier - East Rongphu Glacier(5400m) - Intermediate Camp(5800m) - ABC(6500m)
The ordinary trekkers' journey ends at ABC, while professional challengers can keep ascending to North Col Camp(7028m,7500m,7900m) and Commando( or Front line) Camp(8300m) and all the way up to the peak of Mt. Everest(8844.4m).
Trekkers Itinerary
Day 1: Trek from Everest BC (5170m) to C.1 (5500m)
Day 2: Trek from C.1(5500m) to intermediate camp(5800m)
Day 3: Trek from intermediate camp(5800m) to C.2
Day 4: Trek from C.2 to ABC and return to C.2
Day 5: Return to Everest BC
There is no need to worry about altitude sickness. To better acclimatize high altitude, the pace of trekking is designed to proceed slowly and steadily. The only imperfection of this trekking route is that trekkers are not arranged to spend the night at ABC.
Highlights along the Route ( BC- ABC)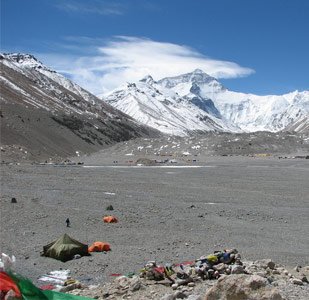 Everest Base Camp (5200m)
Everest Base Camp or BC is an area built for the protection of focal region of Mt. Everest. The camp, which is capable of accommodating thousands of people, has an altitude of 5170m and can be accessed by environmentally-friendly vehicles from Dza Rongphu Monastery. Its prime visiting season starts from April to October. Besides, BC is surrounded by plenty of Tibetan-run tea houses, offering accommodation, post and laundry services, etc.
In 2007, China Mobile set up a permanent operation station in BC that allows mobile transmission and signal to cover the entire BC, and further to part of the upper mountaineering routes.Tourists can pay a visit to Dza Rongphu Monastery, the highest monastery in the world and the prototype of the movie '2012'.
BC to Intermediate Camp (5800m)
Given the long distance from BC to ABC and the better acclimatization of the high altitude, tourists are advised to stay in Intermediate Camp as a buffer. Trekkers are expected to pass the main Rongphu Glacier that consists of Middle and East Rongphu Glaciers.
During this process, trekkers will trek on the moraine and appreciate the floating glaciers and towering ice pinnacles and the Serac Highway at an elevation of 5800m.
Theoretically, professional climbing gears like crampons, ice axe, and mountaineering boots are not a must.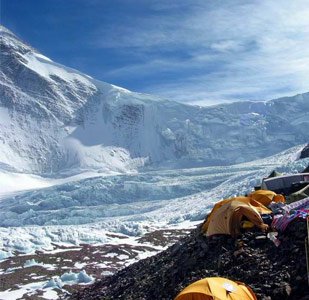 Intermediate Camp to ABC (6500m)
Advanced Base Camp lies below the east of North Col (around 6400m-6500m), the limit the yaks caravan can reach. The majority camps of foreign mountaineering teams are placed here while China's are at 6500m. To mountaineers, the importance of of ABC is not less than that of BC. The logistics supply here is mainly carried through yaks caravan and ABC, to a large extent, serves as the warehouse of mountaineering gears and other necessities.
Ascending to ABC gives trekkers an opportunity to view the imposing North Col and Kangshung face to the east ridge of Mt. Everest. Unfortunately, the peak of Mt. Everest is not visible for it is blocked by Mt. Changtse (7543m) and no mobile or radio communication is available at such altitude.
Tour to Everest Base Camp
Lhasa - Shigatse - Lhatse(Sino-Nepal Freindship Highway) - Tingri - Tashi Zong - Dza Rongphu Monastery - Everest Base Camp
(suggested 2 days road trip)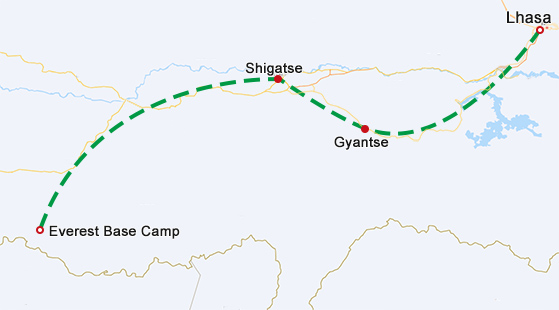 Day 1 Lhasa - Gyantse - Shigatse (350 km)
·Yamdrotso Lake
·Korola Galcier
·Gyantse Kumbum
·Shalu Monastery
·Tashilunpo Monastery
Day 2 Shigatse - Everest Base Camp (337km)
·Sakya Monastery
·Himalayas Lookout
·Rongpuk Monastery
Now, the road is available to the foot of Mount Everst, which makes it easier for normal tourists to travel to Everest Base Camp. Tourists may spend a night in Dza Rongphu Monastery and head for EBC next day which is 8 kilometers away from the monastery .
Necessary Training before Travel
You may plan your training programme ahead of time by increasing your hiking experiences in snow-capped mountains. Cycling, swimming and running are also practical ways to help you improve your fitness and retain the stamina needed for trekking at high elevation.
Prerequisite for Trekking at High Altitude
After you are physically qualified for high-land mountaineering and trekking, weather and oxygen are the two decisive factors to be considered. How to avoid altitude sickness is important to travel to high altitude places.
Weather
Mountaineering and trekking at extreme altitude largely hinge on a favorable weather. The chilly days that dominate April gradually begin to stabilize and become milder.Traditionally,the ideal time for mountaineering and trekking starts from April to May, and its prime time would be from September to October. The fine weather pattern for trekking from April to May normally lasts for 3-5 days and the interval between two ideal weather is about one week or so.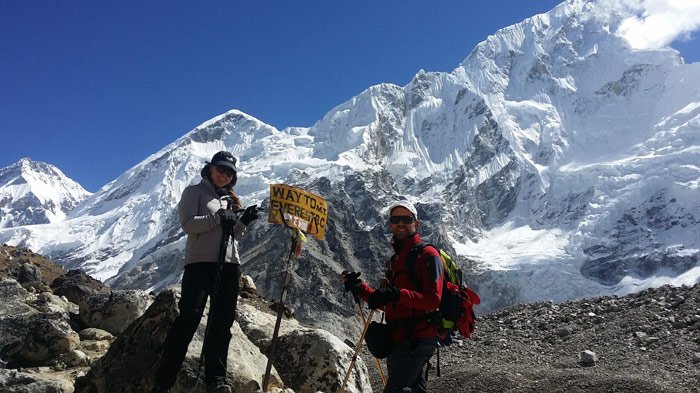 Tourist trek in Mount Everest in October.
Another distinct feature of trekking in Mt. Everest region is that the weather pattern varies as trekkers ascend to areas with different altitudes. As a result , an accurate and comprehensive analysis of the weather pattern to trekking destination becomes so critical ahead of the departure.
Oxygen
To mountaineers and trekkers in regions as high as that of Mt. Everest, the timely and steady supply of oxygen, to a large extent, is travellers' lifeline. Therefore, trekking teams shall have an adequate preparation of oxygen supply before departure. While trekking in mountainous regions, trekkers should properly place the oxygen mask or wind-proof goggles to a proper position, avoiding blocking one's sight. And do ask trekking coordinators to remove the frost on the oxygen mask if it interferes with your travel.
Trekking Gear
Trekking gear needed for travelling in Mt. Everest regions should be far better than those used for less challenging trekking routes. Following equipment and brands are recommended:
·Alpine Trekking Boots (such as Millet, La Sportiva)
·Down Jacket ( such as Mountain Hardwear, The North Face and Marmot)
·Hiking Poles and Crampons
·Hiking poles are needed for travelling below the snowline (no more than 6600m) and LEKI is a good recommendation
·Sunglasses and gloves
·Headwear
·Sleeping Bag and Moisture-proof Pad
·Headlight and Battery
·Thermal Flask
·Medicine
Packing List Tips
1. Small things like sunglasses and gloves might be easily gotten lost or be worn as travellers are supposed to stay in many campsites in Everest regions. Therefore, bringing a couple of more these stuff are advisable. Sunglasses are used to shield yourself from high-altitude sunlight while anti-fog goggles with sound air permeability are required in extreme weather. Besides, gloves should be wind-proof, filled with down.
2. One should prepare some personal medicines for altitude illness, diarrhea, and cold, and other medicines like painkillers, antibiotics, etc are also needed for precaution.
3. A thermal flask is an indispensable equipment for any mountaineers. A flask that can carry 800ml-1000ml will be appropriate.
4. One wool or down ski-style cap(or scarf) is needed for warmth and protection from strong wind.
5. Having a sound sleep is vital for a day's trekking at high altitude. One should prepare at least no fewer than 2 of them. Exped is a nice choice.
Mountain Guide, Coordination and Transportation and Communication
For mountaineering and trekking tourists, mountain guides and their coordination are the main source of help. And these professional guides mostly come from Nepalese Sherpas, Tibet Mountaineering School and Tibet Mountaineering Team. As trekking at extreme altitude requires sufficient logistics supply, yaks are widely used as major means of transportation, especially from BC to ABC.
In terms of communication, people can use mobile phones and send text messages at BC and walkie-talkies are available in both BC and ABC. To make sure the connection with the outside world and prepare for any emergency that might happen, BC and ABC are also equipped with satellite phones.
Trekking Permit
It is mandatory for trekkers who are bound for regions above 6000m in Tibet to get a Trekking Permit. Trekkers have to apply for the relative Tibet trekking permit in China Tibet Mountaineering Association (TMA). Meanwhile, an attempt to mountaineer mountains below 6500m has to be organized and conducted by licensed travel agency with professional mountaineering qualifications.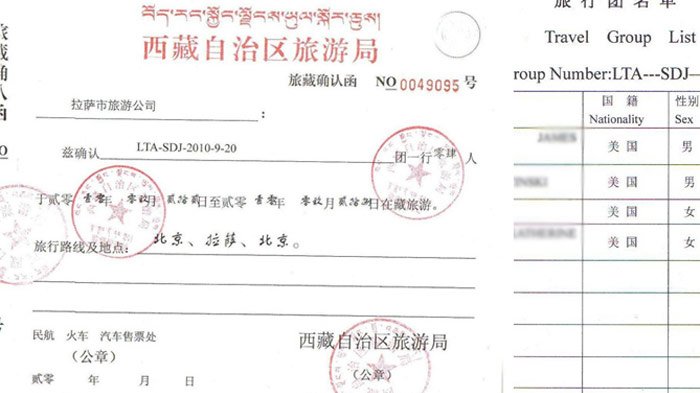 Tibet entry permit is necessary for foregin tourists to travel in Tibet.
Besides, TMA will send professional mountaineering guides and coordination personnel to ensure the safety and smooth conduct of the entire travel. Of couse you will need get Tibet Travel Permit before trekking permit, becasue this destination is in Tibet.
Choose Travel Agencies with Professional Mountaineering Qualifications and Services
Trekking in mountains with high elevation has to be organized by travel agencies offering a series of professional services. And such services are only available in a handful of travel agencies in Tibet. To give a brief explanation, a qualified Tibet travel agency should provide the following services:
a. Being able to provide seasoned mountain guides;
b. Providing hi-tech mountaineering devices, such as high elevation camping facilities, maritime satellite telephone;
c. Having rich rescue experience in high altitude trekking;
d. Above all, the agency itself must run efficiently and work out appropriate trekking itineraries and routes, making timely adjustment if it's necessary. In addition to professional mountain guides, the travel agency should be equipped with mountain chefs as well as coordination personnel to facilitate the expedition.
Ready to Make this Challenging Trek to Everest Advance Base Camp?
As a part of CITS Group, the largest tourism group in China, Tibet Vista enjoys a close and fine partnership with TMA(China Tibet Mountaineering Association ). Aside from that, as a well-established travel agency, Tibet Vista consists of experienced mountaineering teams and specializes in organizing mountaineering and trekking tour at extreme altitude. Please feel free to contact us for any help or professional advisory with regard to trekking from BC to ABC.