Trek Gear and Clothing for Trekking in Tibet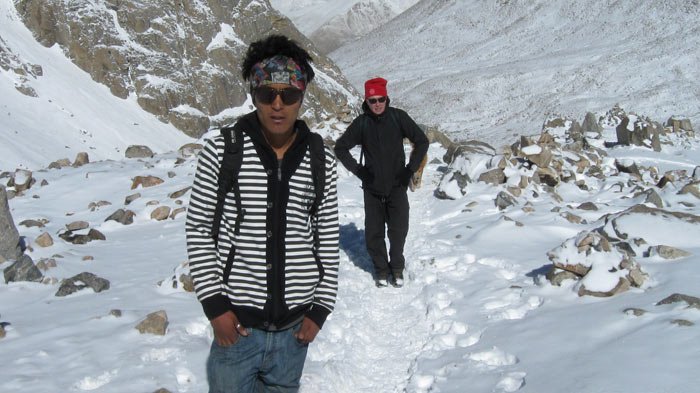 Tibet trekking tour is both fantastic and challenging experience, because it is well known for high altitude and high mountains.
Therefore, trekking in Tibet requires enough preparations. There are many things you should pack before your trip in order to better enjoy this lifetime tour. We categorize clothing and gear in the recommended list of items below.
Tibet Trekking Clothing
Tibet has a crazy temperature fluctuation among different areas. Particularly, in mountain areas, the temperature is generally lower than that in Lhasa city. And sometimes, at night, the temperature drops rapidly beyond your imagination.
Therefore, the key to better enjoy trekking experience is preparing with plenty of warm clothes but not too much. If you just want to trek at a lower altitude, fleece jackets and pants are enough. While for a higher altitude trekking, down jackets are necessary.
The following list of clothing depends upon the places you are going to visit and activities you are planning to do in Tibet.
● A woollen hat that can cover your ears
● Long sleeved cotton shirts/blouses
● Heavy woollen sweater/polarfleece jacket & lightweight wool sweater/polarfleece pullover
● Waterproof and wind proof jackets and pants for in some places the wind can be very strong and cold
● Synthetic or Down Insulated Jacket rated to at least -7 degrees C (approximately 20 degrees F)
● Light scarf or neckerchief
● Cotton walking shorts for hot days (knee-length or almost knee-length), one pair of polarfleece pants.
● A pair of cotton long pants and a long cotton skirt is recommended for women
● Trekking trousers should be light and quick drying.
● Gaiters
● Several pairs of underwear
● Long Thermal Underwear
● Woollen or synthetic gloves, preferably Wind Fleece Gloves
● Good quality socks, preferably woolen for your hiking boots, and also some thin cotton socks
Tibet Trekking Gear
The following trekking gear will make your trip convenient and comfortable.
● Good light-weight sleeping bag
● Sun glasses with UV protection and goggles for higher altitude
● Drinking water bottle
● Torch or headlamp with spare batteries and bulb
● Water purification tablets
● Water bottles
● Walking poles
● Sturdy and well fitted back pack and day pack with water proof cover
● First aid kit
● Lip and skin protection product
● A couple of small towels - the more absorbent the better
● Toilet kit: Just the essentials—toothbrush and toothpaste, comb, biodegradable soap,and small metal mirror
● Camera and spare batteries
● Journal,reading book,and writing materials for quiet moments
● Money pouch: Safer than a wallet for keeping your passport, money, and valuable papers
● Snack foods: Nuts, chocolate bars, dried fruit, hard candies, and beef jerky
● Sewing kit: For repair
● Gaiters: Good for winter treks or wet conditions
● Umbrella: For rain and hot sunshine
● Plastic bags
If you want to get more imformation about trekking in Tibet, you can ask our travel consultants or visit our websites. Hope you a wonderful trekking trip!