The Essence of Tibetan Culture Seen through The Attire and Accessories They Adorn
While traveling in Tibet, you'll certainly meet lots of Tibetans dressed in their traditional costumes. Unlike today's world of fashion, Tibetan clothing features unique design and styles, bearing silent witness to their rich culture and history. It shows the personal beliefs and the personality of the individuals wearing them. Read this article to know the distinctive charm of Tibetan clothing, and how Tibetan people wear differently from others.
Main Feature - Tibetan Robe is the Most Common Clothing
Tibetan robe is the most common clothing for Tibetan people. Generally speaking, it is characterized by big garment front, long sleeves, loose waist, and a large lapel. The Tibetan robes are rimmed with pulu, silk or other leather laces at the collar, cuff, front edge and lower hem.
The robes are very long, which need to be pulled up at the waist and tied with band. If it is hot, the wearer can bare his/her right arm or both arms (sometimes, it is said that they do like this for the convenience of working in the field). At night, the two sleeves will be taken off and the robe can be used as bedclothes. Within the robe people usually wear shirts.
Tibetan robes for men and women
The Tibetan robe style varies between men and women. While the men are seen wearing a high collared shirt and robe which is fastened with a cloth belt under the right arm, the women's robe bears a narrower cut with or without the sleeves. While the men stick to a white shirt, the women wear brightly colored clothes with turned down collars. The long sleeves are commonly tied together. But in big gathering or parties, they will let the sleeves fly when wearing Tibetan robe, just like a beautiful butterfly.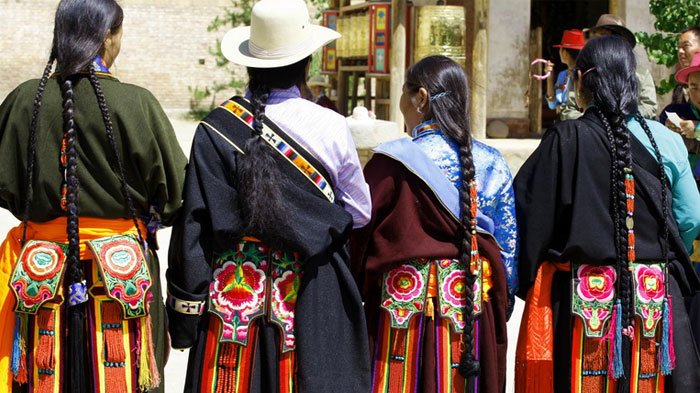 Tibetan robe varies in style between men and women.
Unique Feature - Various Accessories are Required for Tibetan Clothing
When it comes to accessories, the Tibetan folk pay keen interest in the way they project their rich culture in the form of art, clothing and accessories. Head wear including men's hats and women' headdress, belts, boots are always necessary. And various elegant ornaments will also be used to alter and modify their outfits.
The ornaments Tibetan people wear are usually golden and silver wares as well as jewelry made of amber, agate, jadeite, pearl and ivory. Women tend to wear earrings, necklace, bracelet and finger rings. Men like to carry sword and wear earrings and bracelets.
Tibetan Hats
Tibetan hats are in various forms. The men are known to wear cloth/felt hats; these sometimes come with tassels or even purplish decorations woven out of silk. On the other hand, women are seldom seen wearing hats during summers but are seen wearing hats made of white felt or white woollen rain coats with a hat during the monsoons. The winters due to the biting cold they face, individuals are seen wearing fox or sheepskin hats or scarves. The Tibetan hats not only help to keep warm, but also add beautiful decorations to the clothing they wear.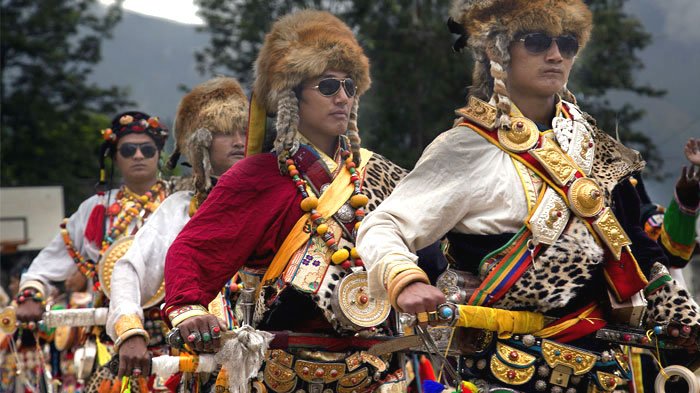 Tibetan hat of fox fur will be required during cold winter time.
Tibetan Women's Headdress
The well-known Tibetan women headdress are called "bazhu" and "baguo". The women decorate their hair with golden, silver or jade accessories and their bodies with "gawu", a kind of Buddhist box. The best time to understand their unique sense of style and fashion is during occasions such as weddings and festivals, making them a spectacle to watch and cherish.
Tibetan women are seen wearing different headdresses and jewelry as per the occasions, such as while mourning the loss of a loved one. Tibetan girls in their mourning period, for instance, are seen wearing green hair strings for the first year, pale red strings for the second year, and reused red hair strings for the third year. In different regions of Tibet, there are also different styles for the headdress of Tibetan women.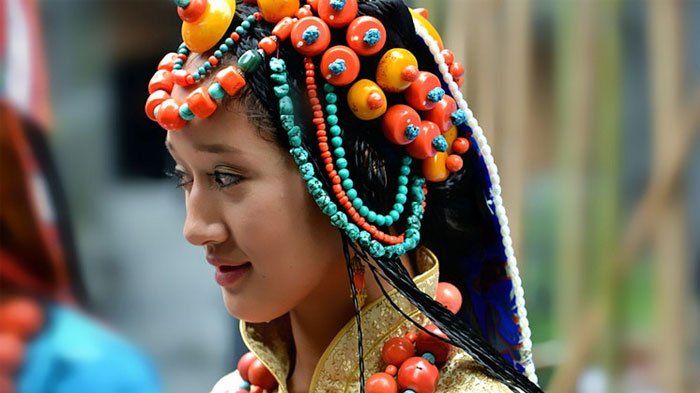 Women in Tibet will always wear beautiful headdress of various kinds.
Tibetan Women's Earrings, Necklaces and More
The women's earrings are typically made of metals such as silver and bejeweled with many gems. Their necklaces are finished with a high-value cat's eye, red coral and sometimes even pearls or jade. Bracelets and rings are prepared using amber and silver. Belts are made of expensive metals and jewels such as silver which are then gilded or inlaid with gems.
Women are also often seen carrying a needle bag hanging to their left side with a little knife to the right. Many women are also seen taking milk keg hooks, small stacks of salt to feed the cattle and sheep, and most importantly Erdo herding lashes.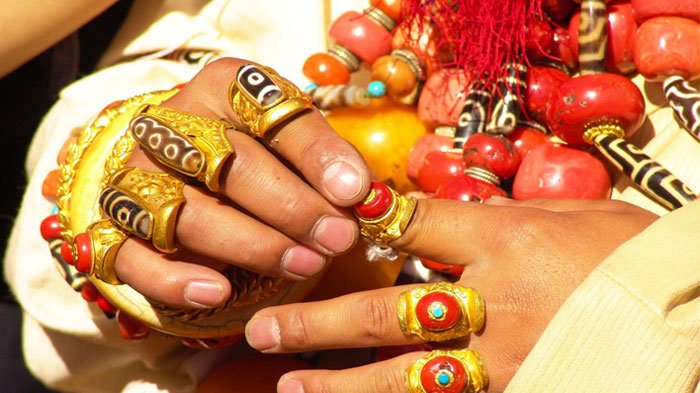 Women also wear sorts of beautiful finger rings.
Special Ornaments of Northern Tibetans
The people of northern Tibet also like to beautify their clothing with various ornaments. Men are seen decorating their horses and even carry knives and rifles reconstructed from traditional firearms. They are seen sporting pigtails ornamented with Lhayu jade, which is believed to represent the soul of the individual. This can also be complimented with tassels made from precious metals and fabrics.
Tibetan Clothing Varies in Different Regions
While travelling around Tibet, one can also discover styles of Tibetan clothing varying from one district to another. The variety of clothes is mostly based on Tibetan climatic conditions and the professions of the various regions. The land of Tibet is so diverse that while one region bears the brunt of the bitter cold, the other seems humid and warm.
Tibetan Clothing in Lhasa and Southern Tibet (Farming Areas)
In farming areas of Lhasa suburb and southern Tibet, the weather is warm and damp for the most year. Here, you will see the locals adorning clothes with hand-woven wool and tweed. The familiar thing you will notice is that the dress of both men and women are fastened by a button on the right, making it a telltale to spot a southern Tibetan.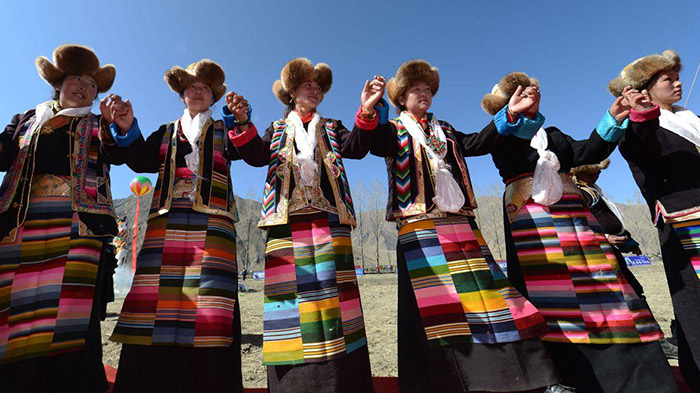 People of Shannan farming areas wear clothes made of wool and tweed.
The clothing of men is hemmed with an exciting and sometimes luxurious material such as silk at the collar, cuffs and even the front and lower edges of the robe. In summer days, one can see women wearing sleeveless shirts with the generally oversized and lengthy robes which are fastened at the waist with a belt.
Tibetan Clothing in Northern Tibet (Pasturing Area)
The weather in northern Tibet is known to be cold and harsh. Here you will see the herdsmen and others in the locality dressed as per the surroundings, wearing furred robes, to protect them from the biting cold. The robes worn by the adults are loose and bulky and can even accommodate a child inside to harbor warmth during the winters. Though the robe doesn't have any pockets, it is made in such a way that, it allows for necessary weapons and equipment to be stored, when in need.
Northern herdsmen tend to wear warm and thick furred clothing.
The herdsmen with their colorful clothing make for a perfect postcard image, in the midst of the scenic landscape. The clothes of the herdsmen are hemmed in with materials such as black velveteen, corduroy, or even woollen cloth at the front, lower edges, and even the cuffs. The women often wear aprons ornamented with bright fabric stripes, painting a picturesque backdrop. The herdsmen also make their boots, which are known to be brightly colored and unique in artistry.
Tibetan Clothing in Sichuan Tibet Inhabited Area
In western part of Sichuan Province, mainly referring to the Ganzi and Aba Prefectures, there are also a large number of Tibetans living for centuries here. The clothing people wearing in Sichuan Tibet inhabited areas are different, for some regions like Gyalrong areas, there is even a strong difference.
The Gyalrong Tibetans are mainly engaged in agricultural production, being an special local branch of the Tibetan people. The daily clothing of the Gyalrong Tibetans differs greatly between men and women. Men generally wear serge shirts with large collars or fabric shirts with large collars, and leather jackets in winter. Women wear a slightly shorter garment than the large-collared garment, with a wide lapel made of stitching or fabric and lace.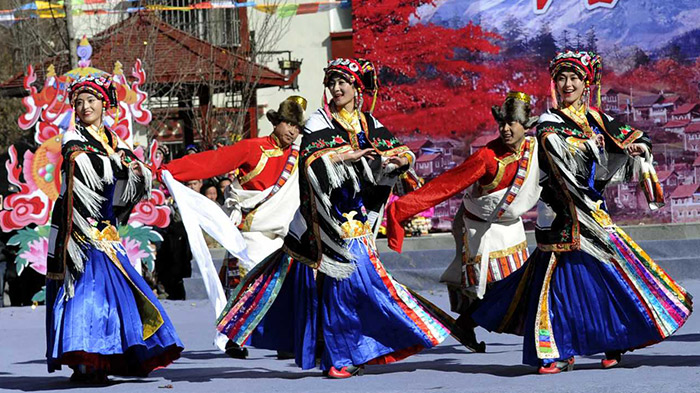 Women of Gyalrong Tibetan dress attend the local's festival.
The costumes in the Gyalrong region are also influenced by the customs of the Qiang tribe, and it is common for them to wear long shirts, mainly blue and black, with the lower body tied around the waist and a wide colored belt, and to wear sheepskin coats or collarless clothes made of wool in winter.
Tibetan Clothing for Lamas and Monks
In line with Buddhist rules, the lamas and monks of Tibet wear differently from the laymen. Generally, they wear purple and red skirt, which is quite long as to reach the instep. The undershirt is for upper body, along with a large and long purplish red kasaya (a patchwork outer vestment). Tibetan lamas wear special boots, some also being barefoot.
Different sects of lamas wear different colors of clothing. The monks who believe in Gelugpa sect wear red clothing, with yellow hat. While for the Nyingmapa sect, whose believers wear red hats. According to the provisions, monks should wear the hat in the chanting of the sutra. While they generally get rid of the hats while out of the temple.
Tibetan monks wear differently from the laymen.
Tibetan monk costume has a hierarchical boundary, regardless of style, color or quality, are based on the status of the decision. With higher status, the monk will wear satin on the waistcoat, and long skirts and kasaya made of wool. Shoes are also set with a piece of satin to show one's status.
What Do Tibetans Wear During Traditional Festival?
The clothing worn by the Tibetans vary drastically as per the occasion. During the festival pomp, Tibetan people will wear dress which are woven from silk or cotton. While their everyday use clothing are generally made from wool.
Festival dress are more splendid and ceremonious than the usual dress. On ordinary days, men's robes are mostly plain, with wide black edges, while the festival dress is to be worn with colorful edges; women's robes will be more colorful.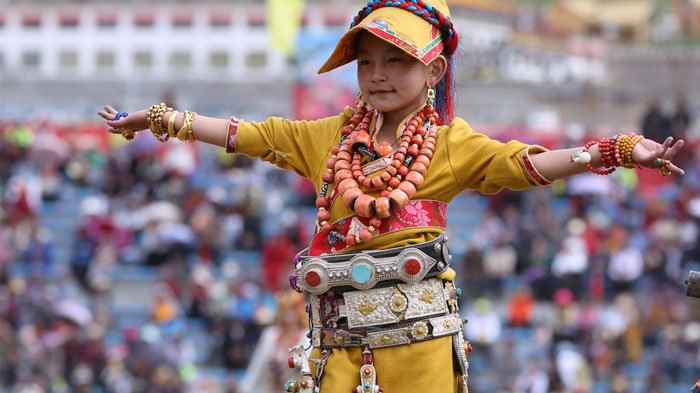 A dressed-up woman is dancing during the traditional festival.
Nagqu Town in northern Tibet holds a horse race annually where the Tibetans gather at this fair dressed in their best. Riders are usually seen wearing robes of azure, dark blue or pale green, with red knickerbockers or trousers and boots. The Tibetans are also known to like sporting thigh boots. This footwear is made with the sole made from yak leather and the bootleg is embroidered with intricate designs and colors.
Nowadays, Tibetans have experienced costume changes with emerging of sportswear, suits, jackets, down dress, sports and gym shoes. However, many people in the festival still wear the traditional dress.
Can I Dress Tibetan Clothing While Touring Tibet?
Yes, of course you can. Dressing the traditional Tibetan clothing like the locals is one of the best ways to enjoy their culture and traditions. And the elegant Tibetan clothing makes it a perfect photo with the breathtaking scenery.
During your Tibet tour, you can go to some top places to take photos with Tibetan dress. When you visit the city of Lhasa, you can stroll in the broad streets with the Tibetan clothing. You can also take some best shots outside the magnificent monasteries like Drepung and Sera. Norbulinka Palace and Yamdrok Lake are also good places to visit while wearing Tibetan dress.
For tourists who book your tour with us, we can help to offer the one-stop service of Tibetan clothing rental, photography etc., as per your needs. With professional local Tibetan guide, you will get the real and first-hand tips on how to wear the Tibetan dress, and where to take gorgeous photos with these clothing.
Where to Buy Tibetan Clothing?
If you are going to buy the Tibetan clothing as souvenirs or gifts for your Tibet tour, you can go to Barkhor Street and its surrounding areas. There are many fashion boutiques and clothing shops selling the authentic Tibetan dress. The price for Tibetan clothing will tend to be very high, so remember to make more comparisons among different shops. Also try to bargain, or ask your local guide for suggestions.
Conclusion
All in all, Tibetan clothing speaks volumes about the culture, art and history of Tibetan people. The style and fabrics of Tibetan clothing vary from men to women, and from one place to another. If you want to try this unique kind of costumes during your trip in Tibet, we can help to make it happen. If you still have any more question about Tibetan clothing, please feel free to leave your comment below.