Tibetan People

There are three major groups of people in Qinghai-Tibet Plateau, namely, Tibetan nomads, peasants and urban residents.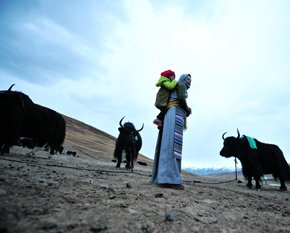 Tibetan Nomadic Family
The living style of Tibetan nomads hasn't changed a lot since the kingdom of Songtsen Gampo in the 7th century. They always wear Tibetan leather robes and lead a nomadic life in the northern Tibet. Many herdsmen have never been to the towns until their death. Their tanned skin, strong physique and noble manner remind tourists of American Indians. Women in grazing area usually comb their hair into many small plaits, then bundle them into a larger braid hanging after necks and decorate with colored stones. Some of them also cover their hair with a big patch of cloth sewn on copper-coins and shells. Every step they take, all the decorations clink together. As winter sets in Tibet, they head down to the valley of Yarlung Zangbo River and exchange for daily necessities like tea, barley, etc. With the first ray of spring, all the families move back to the north again.
Compared with Tibetans living in the south, shepherds have a wider choice in food. Domestic sheep, yak and antelope on the prairie provide them with plenty protein and fat. The fat is called as ghee, which plays a key role in making Tibetan butter tea. In addition to various sorts of meat, they also enjoy goat's milk and Tibetan yogurt freely. Having hundreds of sheep and yak, Tibetan nomads can live a self-sufficient life. How lucky they are!
Tibetan farmers often wear dark brown or grey robe made of Pulu (a woolen fabric). Relatively speaking, Tibetan peasants make a more stable life but have lots to concern. They can only produce barley, turnip and potatoes on this pool soil. Raising cattle has been their subsidiary business. However, cattles couldn't grow very well under such a harsh environment and what they can eat is straw. Thus, the limited milk, ghee and cheese become precious in Tibet farming area.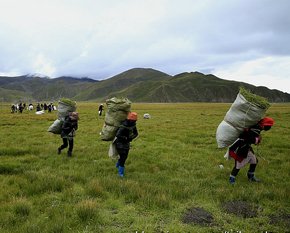 Tibetans are working in the field.
For most females, the ability to make Tibetan tea is an especially needed skill. And among all kinds of tea, Sichuan tea is Tibetan's favorite. They brew tea with soda in a small amount of water, then put together with ghee, salt and boiled water into a wooden barrel, and stir them vigorously with a long stick for about five minutes. Tea is not only regarded as Tibetan beverage, but also a staple food for Tibetans. As for many poor people, they think it's too luxurious for them to put ghee while making tea. Therefore, they only add a small slice of ghee in their cups and drink cautiously to blow the oil on the surface aside, finally mix with zanba.
Urban residents like businessmen, government officials and handicraftsmen pay more attention to their dressing. Males usually wear cotton or silk shirt in their robes. Poor or rich, they'll put a piece of turquoise on the right ear to show their elegance. Upon the arrival of Tibetan festivals, females in the urban area would dress in brocade clothes and rainbow aprons. Their leisure life can be described as follows: getting up at six to eight o'clock and then worshipping Gods. After washing hands, the host or hostess spring holy water around repeat "an-ma-yan" three times to purify environment. Finally, they sit down to chant Buddhist scripture.
All the Tibetan people can't live without three mascots, that is, Buddha, Buddhist teachings, and Tibetan monks (lamas), which are believed to bring them blessing and harmony. They also hold that Mount Kailash is the center of the world and all the lives are circling around the carriers of holiness. And those sacred carries can be mountains, lakes, stupas, temples, etc. That's the reason why you can see many pilgrims prostrating in front of Jokhang Monastery and circumambulating it day and night.
As the old saying goes, seeing is believing. Join our Tibet tour to know more about Tibet and people living here and uncover the great Himalayan mystery: the Yeti !
Just a Reminder
Joining in a small group tour is the very BEST way for solo travelers or traveling Tibet on a budget!
As the Pioneer of Tibet Tourism for global tourists since 1984, TIBET VISTA has been the FIRST TOUR OPERATOR of running join-in group tour business in local and with ability of organizing over 5000 visitors a year. For Tibet Vista's special contribution to Tibet Tourism especially to Mt. Everest Tour, we were the ONLY company awarded by Tibet Tourism Bureau Shigatse "THE EXCELLENT ORGANIZER OF MT. EVEREST TOUR "in 2015.
View our Tibet Small Group Tour