Tibet Traditional Wedding
Tibet Autonomous Region is an area where Tibetan people live in concentrated communities, constituting more than 95 percent of the population of the region. Tibetan people have many habits which are different from Han nationality. Today, let's talk about Tibetan wedding traditions.
Girls in Tibet are initiated ceremoniously into adulthood, selecting a 'lucky' date according to the Tibetan calendar. Her hair will be plaited from a single to many braids and she will begin wearing a colorful 'apron', indicating her availability for marriage and male friendships.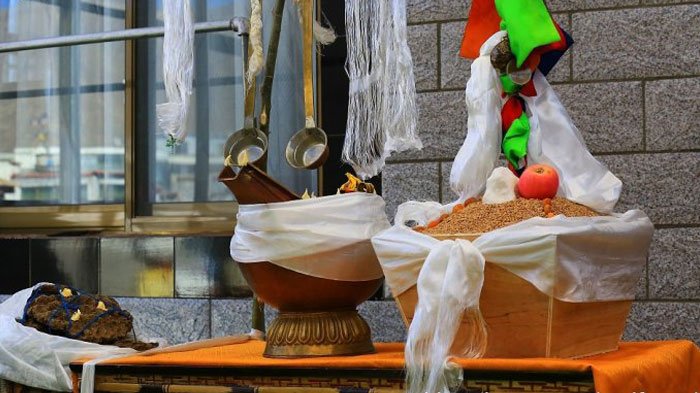 Tibetan wedding gifts from the groom's side
Public gatherings are considered appropriate occasions for boys to meet girls. Romantic bonfires in the moonlight draw boys and girls together to sing and to worship. After a period of courtship and permission to marry has been granted by each family, an elderly gentleman is asked to propose the marriage to the bride-to-be's parents. According to tradition, only the maternal uncle of the girl has the right to approve. Suitable gifts are presented to the bride's family once approval has been given.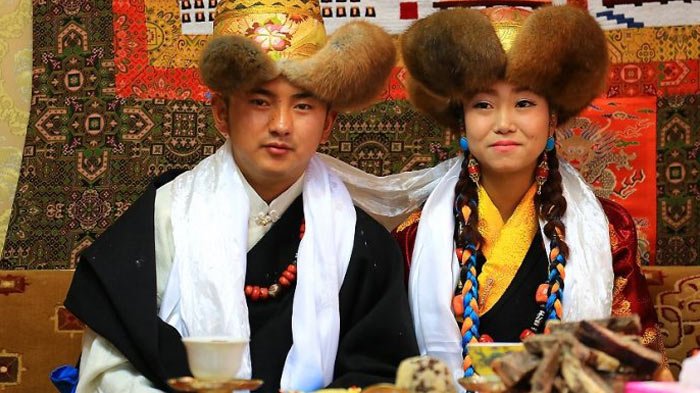 Tibetan wedding couple are receiving Khatags from family members.
The day before the wedding, the engaged are not allowed to see each other at all. During the day, monks pray for their marriage to dispel any bad luck. On the wedding day, a show man repeats Tibetan rhymed congratulatory words for the new couple. Then, it is the time for guests to show their best wishes to both the bride and groom by offering Khatags, or scarves. Then, the performances begin. During the show, the couple's parents and relatives toast with the guests. The evening ends with a toast made by the new couple.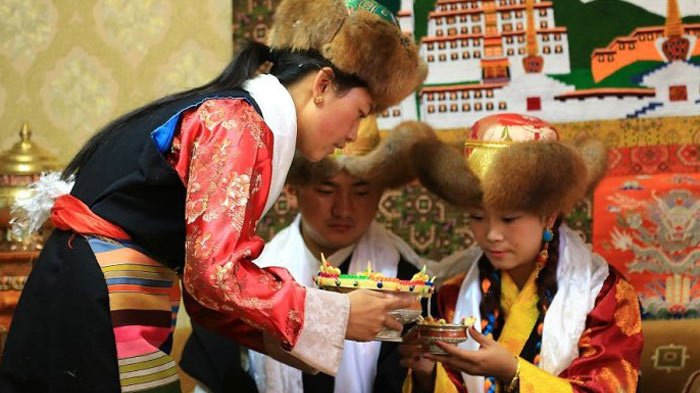 Toasting for happiness and harmony
After the wedding, all the relatives, friends, old classmates and colleagues gather at the new couple's home and celebrate until that late night. In Tibet, a new couple is not allowed to leave their home for three whole days—a test for both of them as to the strength of the marriage. If they persist, then Tibetans believe that their marriage will last forever.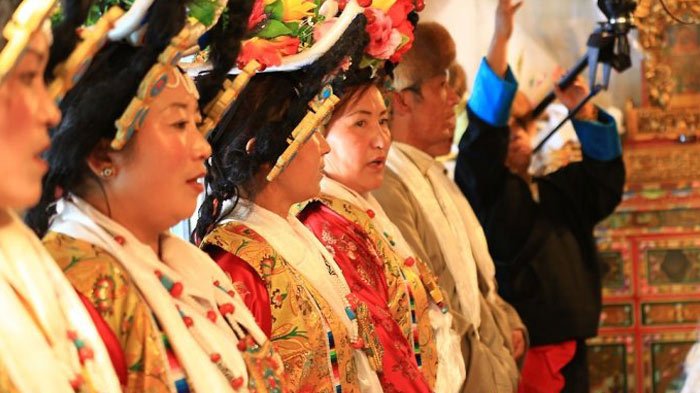 Relatives and friends are singing on the wedding ceremony.
Tibetan wedding ceremony is followed by a joyful wedding feast, which is liberally interrupted by many presentations of ceremonial scarves, blessings, and gifts — so many that sometimes the groom and bride are nearly buried beneath the large number of scarves tied around their necks!
And now more and more Han couples choose take wedding photos in Tibet, they think that a new kind of holy feeling. They also hope their marriage could blessed by god. If you are lucky enough, you can join a local wedding and celebrating with them.