Tibet Local Customs

Tibetan customs and traditions are inextricably interwoven with Tibetan Buddhism and unique Tibetan topography. While travelling in Tibet, you'll find out that Tibet customs are also greatly influenced by Tibetan Buddhism. A good case in point is Weisang, a Tibet local custom that is observed on occasions like weddings and funerals by burning pine branches, cypresses and other herbal leaves around temples and monasteries to pray for peace, good harvest and prosperity.
Mani stones in different sizes and colors with Buddhist themes on are common to see on Qinghai-Tibet Plateau. Local people circle around Mani stones in a clockwise direction to show their sincerity to the Buddha and hope their wishes will come true one day. It's been told that where there are Tibetans, there are prayer flags. And its history can be traced back to the Bon tradition.
As you tour Tibet, a vivid picture of Tibetan customs and local life unfold before your eyes. When visiting Tibetans' family, you will how important the wooden bowls, Tsampa, yak butter tea, gutu and sweet tea are in Tibetans' daily life and how great Himalayas, sacred Namtso lake and alpine pasture play a part in shaping distinct nomadic customs.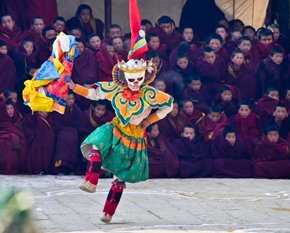 Dramatic Cham dance in Tibet
From the biggest celebration, Tibetan New Year (or Losar) festival to numerous religious and secular festivals like Shoton Featival, Saga Saga Dawa Festival, Tashilhunpo Thangka Festival, Yushu Horse Racing Festival, you name it, they will definitely deepen your understanding of Tibetan culture and history and refresh your impression of real Tibet.
Let's learn more about diverse Tibetan customs, etiquettes and sports, funerals and relevant taboos, and be a Tibetan cultural expert before heading towards Tibet.
Just a Reminder
Joining in a small group tour is the very BEST way for solo travelers or traveling Tibet on a budget!
As the Pioneer of Tibet Tourism for global tourists since 1984, TIBET VISTA has been the FIRST TOUR OPERATOR of running join-in group tour business in local and with ability of organizing over 5000 visitors a year. For Tibet Vista's special contribution to Tibet Tourism especially to Mt. Everest Tour, we were the ONLY company awarded by Tibet Tourism Bureau Shigatse "THE EXCELLENT ORGANIZER OF MT. EVEREST TOUR "in 2015.
View our Tibet Small Group Tour