Numbers in Tibetan Culture - Lucky and Unlucky Numbers
Numbers have different meanings in different cultures. For example, in Chinese culture, the numbers 6, 8, and 9 are believed to have auspicious meanings because their names sound similar to words that have positive meanings. Are numbers in Tibetan culture also classified into lucky and unlucky numbers? Of course, they are. For instance, 13 is a lucky and holy number for Tibetan people.
In Tibetan culture, the odd numbers are always regarded as auspicious number by local Tibetans. "6" is also considered as a lucky number for it is the multiple of "3". Tibetans would always deal with some important matters or travel to some place far from home on odd days.
If you are planning to present some gifts to Tibetan people, the number of the gifts should be odd numbers and never be even numbers. During the celebration of Tibetan New Year, the lamas in the monasteries would present gift bags (filled with various dried fruits) for the living Buddhas and some eminent Buddhists in the monastery. The number of the gift bags would always be odd numbers and never be even numbers.
Tibetan Number 3
Local Tibetans would always connect the nice things with "3", such as the 3 Buddhas, 3 monasteries, 3 tribes and 3 sages. They also use "3" to express auspicious or some other lucky symbols, especially in Tibetan Buddhism culture, a lot of nouns use "3"as their affix. For example, "3" was used to symbolize the sun, moon and star. In Tibetan Buddhism, the universe is divided into 3 parts, the sky, ground and underground. The 3 Buddhas of Longevity refers to Amitayus Buddha, Ushnisha Vijaya and White Tara.
Tibetan Number 9
The odd number "9" means everything for local Tibetans. "9 rivers" means the place of all the rivers collected together. "9 people" means all living creatures. "9 needs" means all the needs and "9 wishes" means all the wishes. In a word, "9" is always used to express "much" in Tibetan. Actually, the use of "9" in Tibetan is quite similar to the use of "9" among the ancient Han people. In ancient times, Han people would also use "9" to express the meaning of uncertain, much or endless.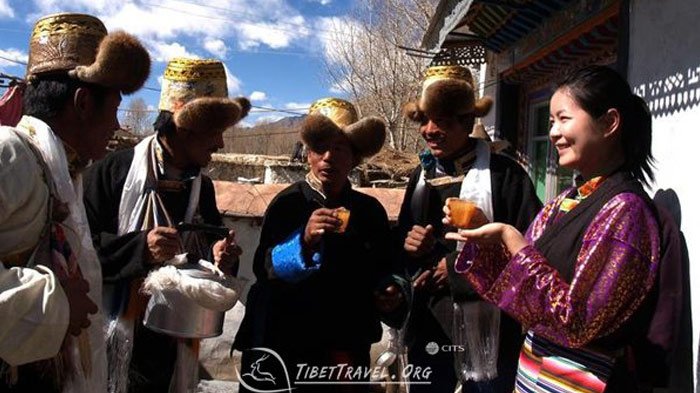 Tibetan think that 9 glasses of wine should be the basic respect between friends.
We can also find interesting numbers in Tibetan culture from the drinking customs of Tibet. Tibetan people would always clink their glasses for three times, three glasses of wine should be drunk after each clinking. Hence, they would always drink 9 glasses of wine once a clinking is proposed.
Tibetan Number 13
There is another interesting thing about the Tibetan number culture. In the West, the number 13 is regarded as an unlucky number, but in Tibetan culture 13 is an auspicious number, a holy number. In the ancient Tibetan fairy tales, the heaven is composed of 13 layers. The 13th layer of the heaven is said to be the desireless pure land described by Master Tsongkhapa. Hence, "13" is really a sacred and lucky number in Tibet. Besides, the devout pilgrims would always make Kora around Mt. Kailash for 13 rounds so as to pray for happiness and clean the guilty.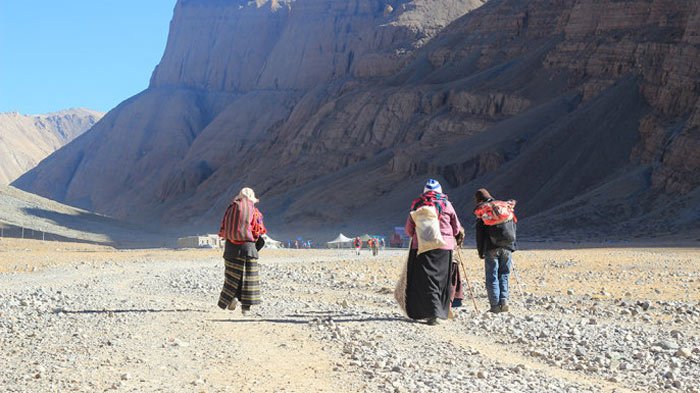 Sincere pilgrims are circling around the holy mount Kailash.
According to King Gesar, the world's longest epic, when Gesar was born he held 13 flowers in his hands, walked 13 steps and vowed to become a Buddha at 13. Indeed, when he was 13, he was victorious in a horse race, married and became king of the state of Ling. Also according to King Gesar, Gesar had 13 concubines and 13 Buddhist guardians, and in the state of Ling under his rule there were 13 snowy mountains, 13 mountain ridges, and 13 lakes.