Tibetan Momo, A Kind of Exotic Dumpling in Tibet
One Chinese proverb says: "Food is the first necessity of the people." That's exactly true. Food always best represents the real life and culture in a place and it also directly reflects the flavor preference of the natives, as the Sichuan people prefer spicy dishes, Hong Kong Citizens, sweet soups, etc. There is a kind of exotic dumpling in Tibet named Momo that meets with great favor in neighboring Nepal, the Kingdom of Bhutan and even New York City. Why does this ordinary Tibetan wheaten food become so popular overseas? What's the special unknown reason behind it? Is it any particular about the cooking, way to eat, ingredients or side dishes? Hereby, let's reveal the mysterious veil on this Tibetan cuisine.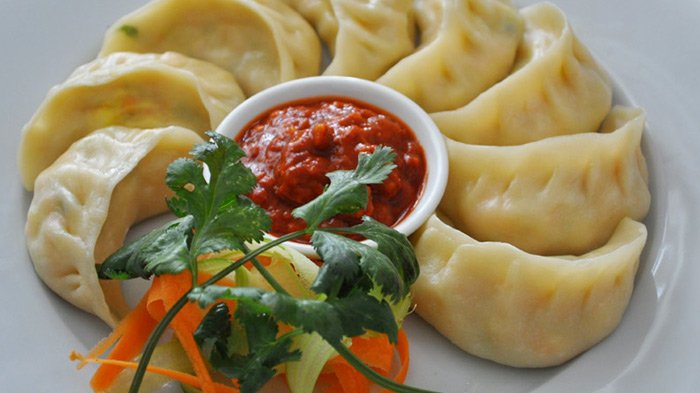 Tibet dumplings as Momo
What is Momo?
As a traditional wheaten food in Tibet, Momo may look like Chinese dumpling or Baozi. However, don't be cheated by its dumpling-like shape because it is different from dumpling. Momo derives from Tibet but it is even more popular in Nepal, which always misleads people to consider Momo originates from Nepal. Actually the majority of Tibetan momo is half-moon in shape, however Nepali one is normally round and filled with chicken, coriander, ginger, and Nepali spice. Momo can be cooked in various ways including steam, fry, and boil; therefore the different cooking methods will bring you different sense of taste. Just like that common Chinese dumplings dip in vinegar, momo usually dips in its special sauce, made of tomato sauce and mustard. Fried momo dipped with this sauce fantastically tastes like the flavor of curry. What an amazing magic! Since momo flavor is acceptable and loved by almost everyone from all the nations and regions and, its making and cooking method is not too difficult for ordinary people to try it in their kitchen. Then nowadays, it becomes so popular all around world that some American families even "invent" their own Tibetan momos at home. For this reason, let's have our momo DIY either and try to cook the Tibetan momo of our own.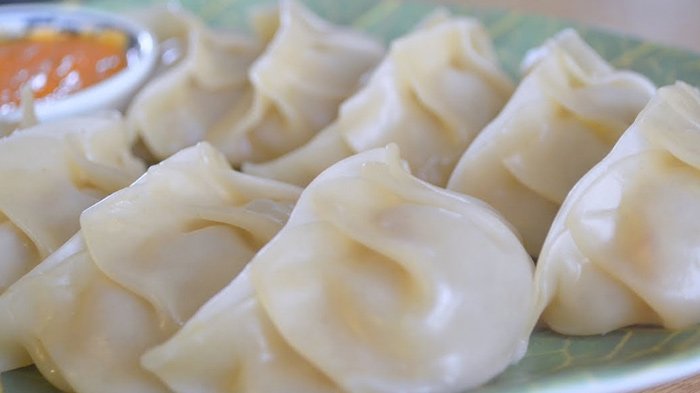 Steamed Momo
DIY our momo
Tibetan momo can be filled with pork, chicken, beef or mutton. Every Tibetan family has a slightly different momo recipe, with various theories on how to make them. Then we can give full play of our intelligence and create the unique Tibetan momo of our own.
1. Make the dough
Dough is the basic to momo as ABC to English. The dough quality will directly impact the momo flavor. So mix the flour and water very well by hand and keep adding water until you make a pretty smooth ball of dough. This is the first and very important step. Use about 2 cups of wheat flour and blend it with between 3/4 cups and 1 cup of water. Considering different types of flours, you don't need to measure this ratio too accurately. Then knead the dough very well until the dough is flexible. Now leave your dough in the pot with a lid or one piece of wet cloth on it while you prepare the rest of the ingredients because you should not let the dough dry out, or it will be hard to work with.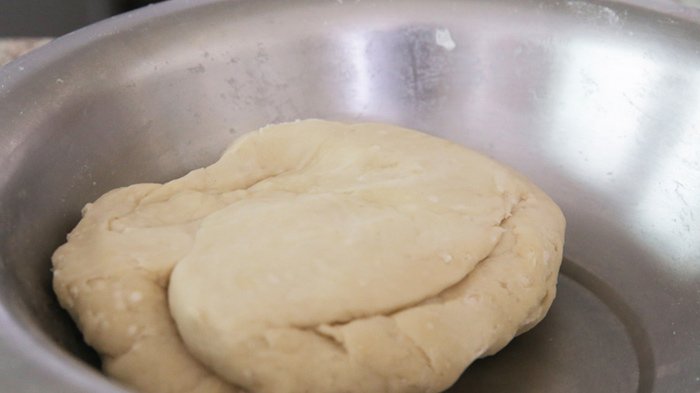 Make the dough of Momo
2. The filling
Momo can be filled with either meat or vegetable. In Tibet, people often use yak meat to fill momo, however for those who don't live in Tibet, they can also fill momo with beef, pork, mutton or chicken. For vegetable momo, chop all ingredients into very tiny pieces:
• Two onions
• Two or three cloves of garlic
• A bunch of cilantro
• One pound of cabbage
• One quarter pound of dark brown mushrooms
• Two tablespoons of soy sauce
• One teaspoon of chicken, beef or vegetable bouillon
For vegetable fillings, add about 2 pounds of minced meat. If you have enough time, you can also chop the meat with gingers and garlics that will bring you a better sense of flavor. Moreover, add one or two rough eggs in the filling will dramatically enhance the mouth feel.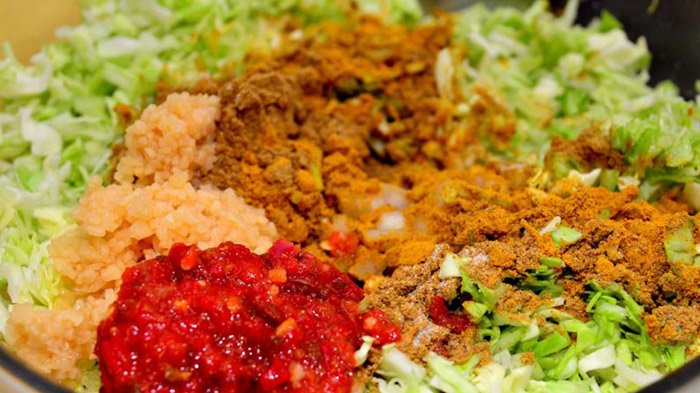 Make Momo fillings with different vegetables and meat
For both kinds of momos, put all the ingredients in a pot or big bowl, add a few salt or soybean sauce in accordance with personal taste and mix them thoroughly until every ingredient is mixing together very well. You can use a big spoon or fork or a pair of chopsticks for the blending, it is also acceptable to use your hand to mix it up if you are making meat filling.
3. Make the momo
As the dough and filling are both ready, it's the happy and magic time to make the momo. Place the dough on a chopping board and use a rolling pin to roll it out, be careful, don't roll it too thin if you are about to boil the momos. After the dough has been rolled out, you need to cut it into little round pieces for each momo. The easiest way to do this is turn a small cup or glass upside down to cut out circles about the size of the palm of your hand. If you feel too tough to roll the whole dough out, there is another option. Cut the dough into relatively small balls, and roll each ball in your palms until you have a smooth ball of dough, and then shape them into thin and slim cylinders by hands about 2 cm in diameter. Cut the flour cylinder into small ones with approximately 2 cm in height and roll each of them out for every momo.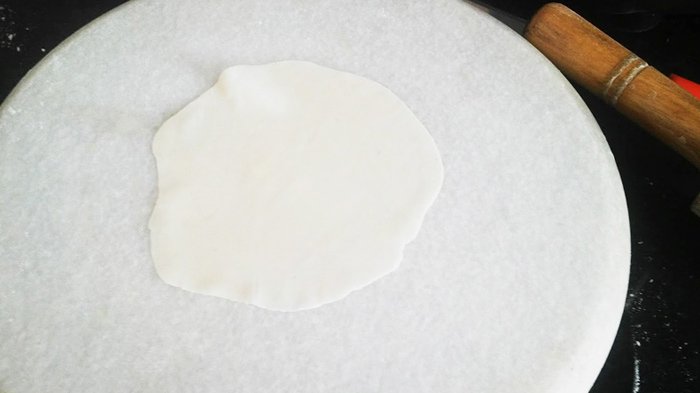 Place the dough on a chopping board and use a rolling pin to roll it out
Since all preparations are completed, now let's began to shape our momos. There are mainly two shapes of momo, round and half – moon. We are supposed to choose the second option as it stands for a more decent Tibetan style. Now hold the flat circular dough in one hand (left hand for major people) and put a tablespoon of filling in the middle of the dough. Then fold the circle of dough in half, covering over the filling and press together the two edges of the half circle so that there is no open edge in the half circle, ensuring the filling is completely enclosed in the dough. You can also make your momo prettier by pinching and folding along the curved edge of the half circle. Now a cute half – moon momo is born in your hands. How wonderful! Repeat this method for more momos and place them on a non-stick surface and put a damp cloth or lid handy on them to keep the momos you've made from drying out while you're finishing the others.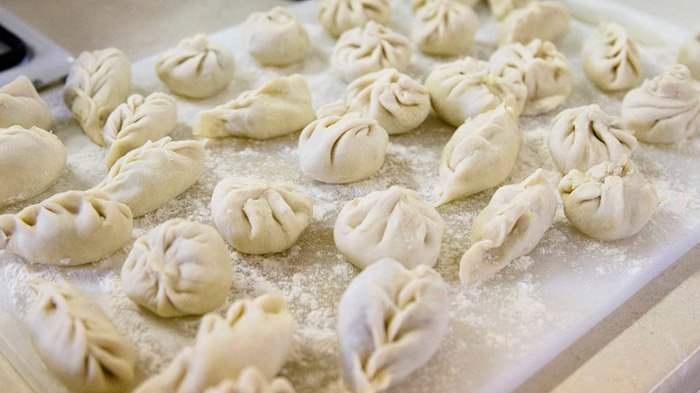 Shape the momo with hands before cooking
4. Cook the momo
As momo can be cooked in various ways, here we only introduce one popular and easy cooking method for both Chinese and foreigners: Fry momo.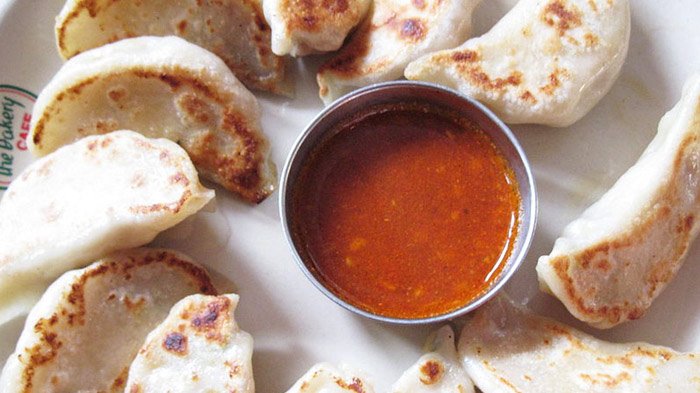 Fry momo also popular among people
Heat rape oil in a medium-sized pan over medium heat. Once the oil heats up, you should place some momos in the pan, trying to move them apart enough so that to prevent them from sticking together. Fry the momos for 2-3 minutes until the dough turn into light brown. Add 50 milliliters of water to the pan and heat it over high heat. Cover the pan and until the water was completely evaporated. Then, open the pan and turn the heat back to medium. Add some oil to the pan and fry them until they are crispy with golden brown bottoms. Once the momos were cooked, it is suggested to place them on a plate with a paper towel on it to absorb the excess oil.
5. Make Momo Dipping Sauce
Considering that momo can be paired with numerous sipping sauces and it will taste peculiar while sipping in different sauces, such as chili paste, curry sauce, lemon spices, etc. Hereby we only introduce the most popular sipping sauce in China, with two grades, the "simple "one and the "luxury" one. Combine soy sauce and vinegar blending with tomato sauce and curry. Then it completes the "simple" dipping sauce. For a "luxury" one, you can also add a few sugar, peppers, ajinomoto, sesame oil, shallots and garlic.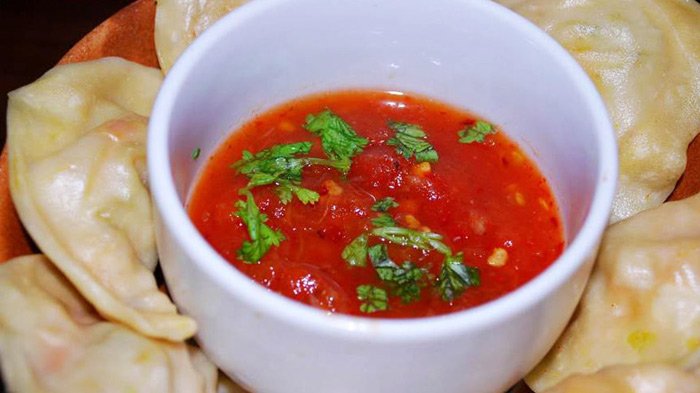 Momo dipping sauce with chili flavor
6. Eat the momo
Now pick one cute momo and sip it in the sauce and put it in your mouth. What an astonishing experience, isn't it?
Tasty momo for eating
So, make your move and start to DIY the momo special to your own. This unique flavor will fly you to Tibet in no time even though you are sitting beside your dinner table at home. Furthermore, don't forget to taste the authentic Tibetan momo when you are touring in Tibet.