Dive into the Featured Tibetan Food Culture
Seating on the Roof of the World, Tibet always fascinates people across the world. How are people there? What do they make a living? What do they eat for three meals a day? The Tibetans have their brilliant food culture.
It's the unique topography that shapes this particular Tibetan food culture. To defense against the cold, Tibetan people mainly eat yak meat, mutton, and dairy products, which are high in fat and protein. For more information about the culture of Tibetan cuisine, please keep reading.
How Does the Unique Topography of Tibet Influence Tibetan Food?
Tibetan Daily Diet is Influenced by the Unique Topography of Tibetan Plateau
Since the average altitude of Tibet is over 4,000 meters, food in Tibet must be high in nutrients to sustain the rigorous lifestyle of the locals. However, the harsh environment makes it difficult to cultivate vegetables and fresh fruits in Tibet.
To ensure energy supply, the daily diet of the Tibetan people consists largely of meat and dairy products, high in protein and heat. Highland barley is one of the few crops that can grow well on the high plateau, widely accepted as a staple food.
Flavors and Dishes Differ in Different Regions
Tibet is a vast land. Different regions have different dishes and flavors.
In Lhasa, you can find various types of dishes, authentic Tibetan cuisine, Western food, Sichuan food, Nepalese food, or Indian food. Lying in the west of Lhasa, Shigatse is most known for its dairy, so does Shannan located in the south of Lhasa.
Seating in the north of Lhasa, Nagqu is a meat-heavy region, and mutton and air-dried beef are the important specialties. Move westward to Ngari from Nagqu, fertile lands are found in Burang County, where vegetarians can expect veggie dishes. If you travel to Nyingchi in the southeast of Tibet, try the "chicken in the pot" and its regional wine.
Tibetan Nomad Food Culture
Tibetan nomads living in pasture areas basically eat meat, barley, and dairy products.
Eat Meat rather than Vegetables
With little vegetables available to grow in Tibetan Plateau, people here mainly eat meat to sustain energy supply. Meats include yak, button, and goat, all high in protein and nutrients to keep the body energized. Fish, a useful source of protein, is not on the menu as the fish in the lakes of Tibet is believed to be holy.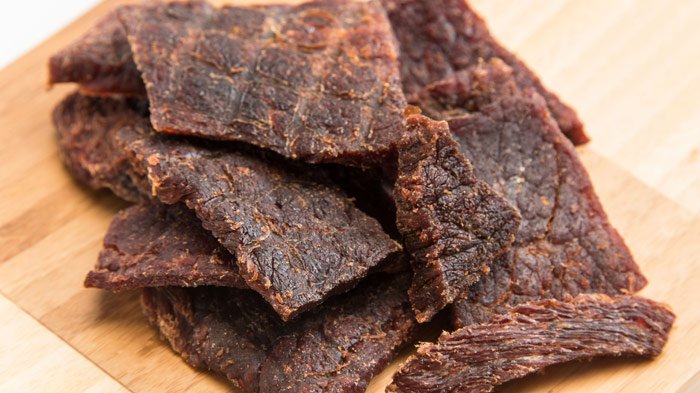 The air-dried beef is one of the major food in Tibet.
Staple Food is Barley, Unique to Tibet
Highland barley is easy to grow in most areas of Tibet. Made from toasted barley, Tsampa is the first choice for staple food. But in pasture areas with a height of over 4,500m, barley can't grow. To obtain barley, Tibetan nomads have to trade them through yak and mutton.
Dairy Product is an Important Supplement
Dairy products are important supplements to keep the body warm and protein levels up. The female yak, the dri, is the main producer of dairy products. Tibetan people use fresh yak milk to make yak butter tea, yogurt, yak butter, yak cheese, etc.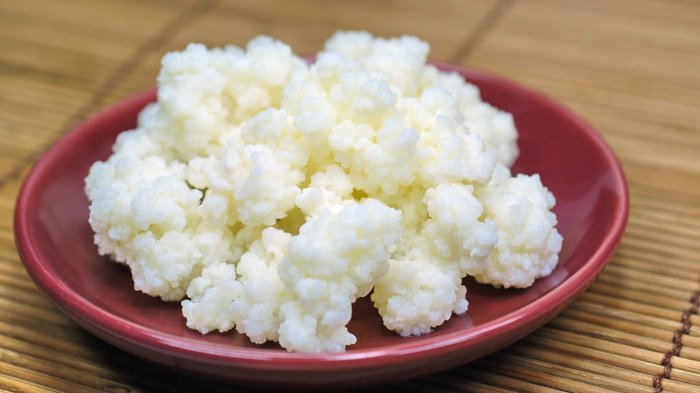 Yak milk mushroom is a featured dairy product in Tibet.
Tibetan Family Food Culture
The diet habits of Tibetan families living in cities are a little different from Tibetan nomads. They have a more various food to choose from.
Daily Diet of a Tibetan Family
As for staple food, except for Tsampa, Tibetan families in cities and towns have many other options.
Breakfast is the biggest meal of the day and Tibetans often eat porridge made of roasted barley flour. Balep and Sha Phaley are two types of bread with meat and vegetables filling in, which are usually offered for lunch. Dinner is always soup and Thukpa is a good choice that consists of meat, vegetables, and noodles of various shapes.
Tibetans Like to Eat with Family
Like most Chinese, Tibetans value their family members very much. In the Tibetan family, all members usually sit around the table to enjoy their meals together. This is a traditional custom that has been passed down for thousands of years.
Experience and Learn to Make Tibetan Snacks by Visiting a Tibetan Family
During your Tibet tours, you can take a day or two to visit a local family that is not far away from cities. Here you can have the chance to experience how to make traditional Tibetan snacks, like yak butter, cheese, and yogurt. Tibetan people are usually happy to share what they know with every guest.
More Important Themes of Tibetan Food Culture
Tibetan Tea Culture
For thousands of years, Tibetan tea has been integrated into the everyday life of Tibetan people. It's definitely an inseparable part of Tibetan food culture. Yak butter tea and Tibetan sweet tea are the most popular two types of Tibetan tea. Tibetans usually drink yak butter tea together with tsampa. Compared to butter tea, Tibetan sweet tea is more popular for foreign tourists.
After lunch, you can spend a whole afternoon staying in a traditional tea house to enjoy a pot of Tibetan tea, where you can see the locals sitting around and chatting. Except for the tea house, the Tibetan family is also a great place to experience the authentic Tibetan tea culture.
Tibetan Wine Culture
Tibetan wine is also an important part of the rich Tibetan food culture.
Most areas of Tibet are cold, so Tibetan people need to drink wine to warm their bodies. Tibetan barley wine is the most popular alcoholic drink in Tibet. As the name shows, barley wine is made of barley, sometimes rice or millet. With a low amount of alcohol, Tibetan barley wine is suitable for the male and female of all ages.
Barley wine is a necessity on celebrations like festivals, weddings, or other gathering occasions. People often propose a toast starting from the elder and to the other people clockwise. When proposing a toast, people need to take over the wine bowl with both hands firstly, then hold up the bowl by the left hand and dip the wine with your right-hand ring finger, and then flick your finger.
Unique Parts of Tibetan Food Culture: Traditional Tibetan Tableware and Cookware
Traditional tableware and cookware also reflect the culture of Tibetan food. With particular cookware and tableware, housewives cook unique Tibetan food.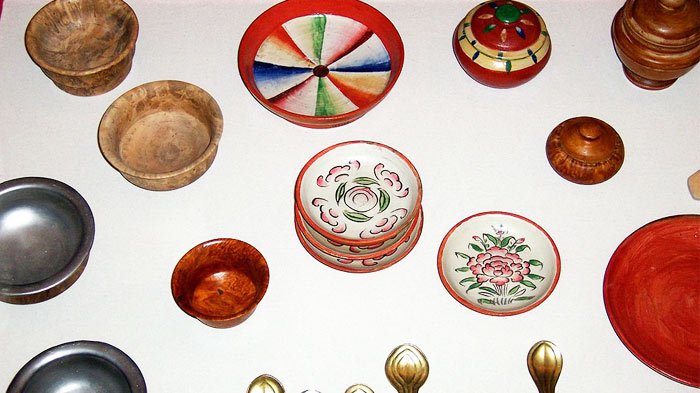 The traditional Tibet cookware is a part of Tibetan handicraft.
Tibetan Cookware
Tibetans use pots, pans, cans, steamers, and boxes of various sizes as cookware, often made from different materials. The most common cookware is made of pottery, which has a history of over 4600 years in Tibet. Butter barrel is indispensable cookware in Tibet, usually used to make yak butter tea.
Tibetan Tableware
Tibetan tableware, including plates, bowls, and teacups, usually made of birch by cutting and polishing. Wooden bowls are used for drinking buttered tea, eating tsampa, storing food, spice, and condiment. Rich families also use jade, golden and silver tableware.
Conclusion
Tibetan food and dining are influenced by the high altitude and extreme climate. People living in Tibet need meat and dairy products that rich in protein, heat, and nutrients to keep energy. Highland barley is one of the few crops that can grow in Tibet and it's their main source of carbohydrate.
This is a brilliant adaption to nature! Hurry up and rush to Tibet to experience the exotic Tibetan food culture.