The Most Significant Tibetan Culture: Sweet Tea House in Lhasa
Sweet tea to Tibetans is just like coffee to Westerners. Most Tibetans get used to making a sip of sweet tea in the morning and their dinners are paired by sweet tea either, and some of them even don't drink water but only sweet tea. In Lhasa, the sweet tea house is not merely ordinary tea house, in a large sense it's a place for information collection, socializing, moreover it also serves as the local news forum.
History of Tibetan Sweet Tea
Sweet tea doesn't originate from Tibet. About one century ago, some Islamic business persons who shuttled from Nepal and India to Tibet brought the sweet tea in and some riches and politically influential families in Tibet for the first time tasted it. Ever since then,Tibetan aristocrats have been found of sweet tea and some of them even hired special cooks from Nepal or India to make sweet tea for them, therefore, this kind of beverage was soon popular among the Tibetan aristocrats and the act that treat the guests with sweet tea became a representation of the hosts' hospitality. Until 1920s, only nobilities, riches, and aristocrats were allowed into sweet houses in Lhasa.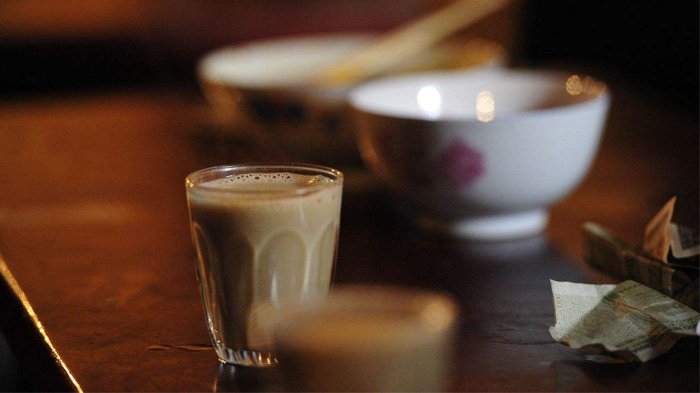 Tibetan Sweet Tea
In Tibet, females are usually more skillful of making sweet tea and even every woman in Lhasa knows the sweet tea making method, ironically, before 1980s, women were not allowed into sweet tea houses, which was a total forbidden place for them, at that time if a woman ever entered a sweet tea house, rumors will immediately spread all over the city and her family members will be suffered and ashamed of this movement either.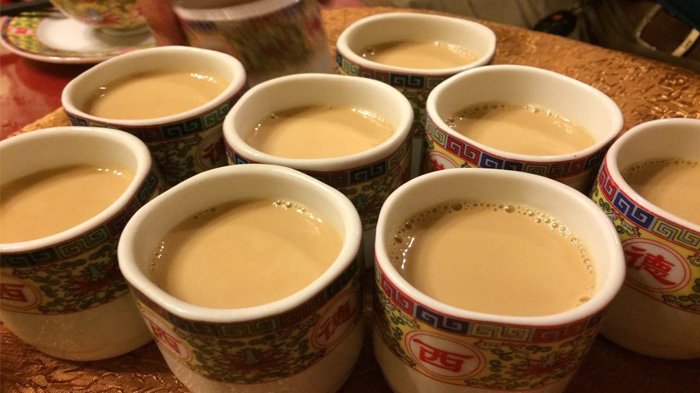 Tibetan Sweet Tea
Another decades passed, sweet tea houses can be found everywhere in Lhasa, their business was booming. As women have been acquiesced to enter sweet tea houses by far, almost every citizen in Lhasa likes to take a rest in sweet tea houses in afternoon. Now it has become a stylish popular scene in sweet tea houses that groups of young men, Tibetan Buddhists, senior citizens, women gather at each table, speaking the stories of their own. Nowadays, as Tibet continually opens up to the outside world and economy keeps souring, sweet tea, the once aristocracy privilege beverage, has become the drink for everyone. Today, for Lhasa citizens, sweet house is still the place for information exchange and it also provides Lhasa citizens a public cozy place of socializing. In sweet tea house, Tibetans casually spend their leisure time in the fragrant, aroma and sweet scent pervading from the pots of boiling fluid on ovens that has become an inseparable part of Tibetan lives.
Tibetans in Sweet Tea House
As the most popular Tibetan beverage and one of staple foods, sweet tea means "Qabadi" in Tibetan is made of black tea, mixing with milk and sugar, serving as refreshment. The fact that Tibetans are keen on sweet tea generates numbers of sweet tea houses in Lhasa, the capital of Tibet Autonomous Region. People in Lhasa always kill their leisure time in sweet houses. Though a panorama view in sweet tea houses, we can see: senior citizens are discussing family issues, echoed by laughters; groups of young men are playing Xiu, a traditional Tibetan dicing game, in which players can "kill" each other, lingering around excitement.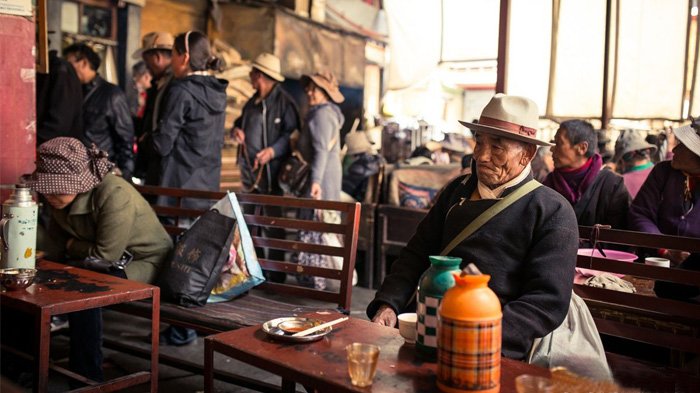 Tibetan Tea House
Sweet tea house also provides a rest area for Tibetan Buddhists. Lamas spin their prayer wheels in one hand while hold the tea cup in another murmuring the Buddhist texts and meditating ever now and then. In sweet tea house, costumers always put several small amount amounts of cash (usually 0.5 or 0.6 RMB) on the table and waiters will fill their cup accordingly. Everybody loves this public space, they discuss social news, beliefs, lives and business, the atmosphere there is lively, joyful, friendly and cozy. In Lhasa, the sweet tea house is not in a society, it is the tiny Tibetan society, and furthermore, it also symbolizes the slow and relaxed life style in Lhasa. People in the sweet tea house are all basking in their exclusive happiness. For this reason, tourists to Lhasa should never miss the sweet tea house.
Most Popular Sweet Tea Houses in Lhasa:
Most tourists cannot get used to the Tibetan buttered tea, but few to the sweet tea. We hereby recommend some popular and stylish sweet tea houses in Lhasa, and sincerely hope you can have a good and exotic charming time there.
1. CangGusi Sweet Tea House
As an authentic Tibet tea house, through the narrow gate, the suddenly enlightened backyard will immediately attract your interest. Though, CangGusi sweet tea house is small in size, it's always filled with local senior citizens, and the sweet scent diffuses from the tea pots on the kitchen oven, people's voices mingled with spinning prayer wheels sound create this tea house an astonishing static merry go around. Take your time, select a comfortable seat and taste a cup of sweet tea here, these agreeable moments will never be erased from your memory.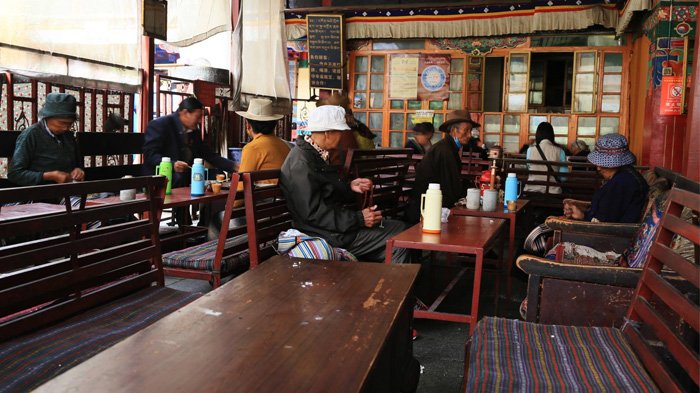 CangGusi Sweet Tea House
Tips:
No smoking in the tea house.
Specialties here include yak meat, Tibetan noodles, sweet tea, buttered tea, bean jelly, beef noodles.
2. Guang Ming Sweet Tea House
This traditional Tibetan tea house is hiding in the depth of an ally, composed of three parts, one outdoor and two indoor. There's nothing luxury, but natural and wild, old style tables and chairs silently recount all time washed stories, it's just like a time tunnel, through which you can suddenly escape from the fast paced life and immerse in the slow life featured with Tibetan style. Most costumers here are local males and they are all familiar with each other. For them, this sweet tea house serves as their information and news center that is just like in old days when government used to post their decrees in the tea houses so as to most effectively publicize the policy. Nowadays, if you understand Tibetan language, Guang Ming Sweet Tea Houses would also be the best access to the latest Tibetan news.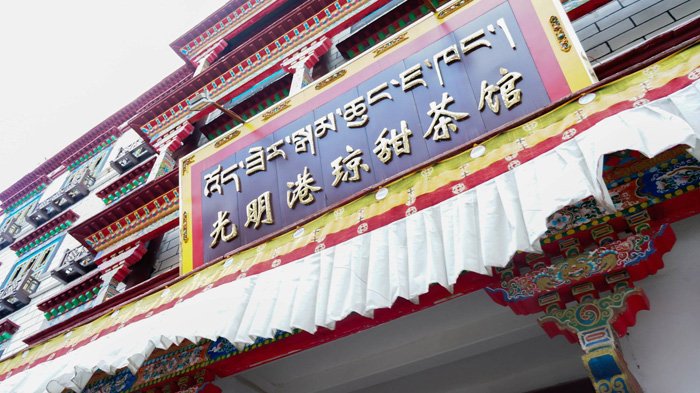 Guang Ming Sweet Tea House
Since there's no usher, costumers should take tea cups by themselves, and put 0.6 or 0.7 RMB on the table, waiters then will fill your cup accordingly, no conversation is in need, it's a kind of tacit understanding. Find a seat by the window and sit at leisure, watch pedestrians passing by outside, harvest a satisfaction in heart.
3. Luo Qu Sweet Tea House
Specializing in sweet tea and Tibetan noodles, Luo Qu Sweet Tea House is a popular place for local citizens. Before you are considering where to take the tea cup, the house owner has been greeting you with enthusiasm already. One smallest pot of sweet tea will only cost you 5 RMB and here is also the place suffused with authentic Tibetan atmosphere.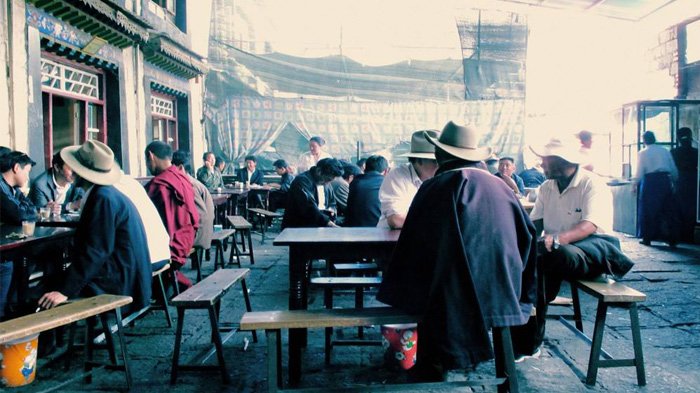 Luo Qu Sweet Tea House
4. Shan Dong Sweet Tea House
As it is located in a cave near the famous Potala Palace, many lamas and tourists will visit here after the shrine worship or palace tour. Besides its great geographic location, Shan Dong sweet tea house is also featured with special scenery, the cave, through which streams of gloomy, dim light penetrate from outside and caste on all kinds of faces, in the air, Tibetan conversations echo with boiled tea fluid purrs, composing a wonderful cozy leisure ambient.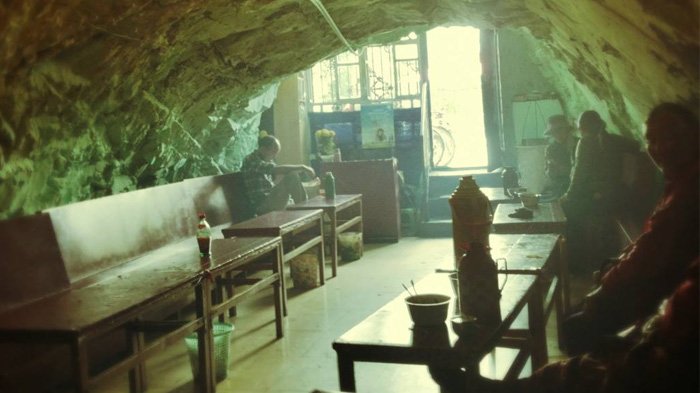 Shan Dong Sweet Tea House
5. Ni Ma Tea House
Featuring as one of local citizen's favorite tea houses, few tourists will appear in Ni Ma Tea House, therefore, here is one of the best places to experience the decent Tibetan lives and sweet tea culture. Despite the humble decoration, the authentic sweet tea flavor and Tibetan dessert will capture your mind through your stomach and let you forget you are traveling here. Ni Ma Tea House also provides decent Tibetan noodles; hence you win a chance to taste the ingenuous Tibetan food here.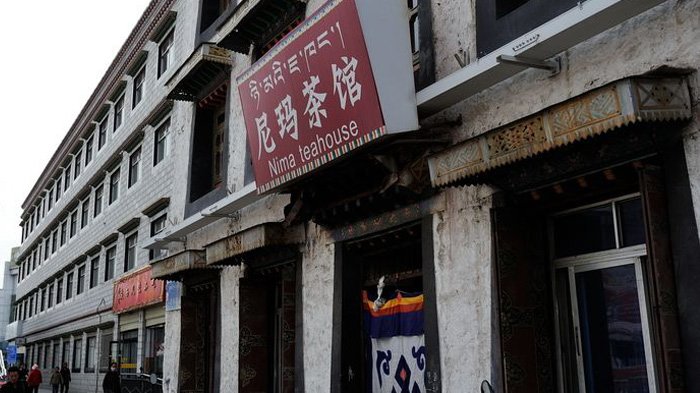 Ni Ma Tea House
Last But not the Least
One old proverb indicates: "When in Rome, do as Romans do." Sweet tea, the most popular and essential drinks for Tibetans, all tourists in Lhasa should also"drink as Tibetans do." So take one afternoon of doing nothing, but sitting beside one old table in a sweet tea house, then slowly drink your tea out, intoxicating yourself in the typical sweet Tibetan charming.