Tibetan Cuisine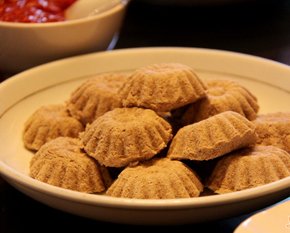 Tibetan Zanba
When traveling to Tibet, of course, you can't miss the Tibetan food and sweet tea. Tibetan food is an important part of Chinese cuisine.
Tibetan food is characterized by varied cooking of yak meat, mutton, milk product, highland barley and potato. To stew, braise, simmer, steam, fry and roast are the main ways of cooking dishes, while the staple food are made by steaming, boiling or frying.
There are many types of dishes in Tibet. While the best place to enjoy them, I believe, is Lhasa, for Lhasa is the capital city as well as the biggest city of Tibet. Some of the dishes can be very expensive, while most of them are not. You can certainly find delicious dishes at reasonable cost. The most popular dishes are Tibetan momo, stewed chicken with Chinese caterpillar fungus, a traditional herb which can also be stewed with beef. Then, there are fried mutton ribs, roast lamb leg, air-dried meat, cold yak tongue, fried beef ribs, Tibetan sausage, potato curry, stewed beef and turnip, braised beef, steamed dumplings stuffed with beef, zamba, steamed bread stuffed with potato, rice curry, ginseng sweet rice and various kinds of desserts.
As a typical Tibetan food, the zamba is made by grinding the fried highland barley flour, which boasts a good smell and taste. It's easy to carry and there are many ways to eat it. Thus it is widely considered the best food for a traveler. The Tibetans use silver or high-quality porcelain dinner wares to serve dishes, while the most common ones are wooden.
Monks are some of the most revered members of society here in Tibet. And since we are what we eat, we're digging into the details of a traditional Tibetan monks' diet in an effort to become more like these men we hold in such high esteem.
Just a Reminder
Joining in a small group tour is the very BEST way for solo travelers or traveling Tibet on a budget!
As the Pioneer of Tibet Tourism for global tourists since 1984, TIBET VISTA has been the FIRST TOUR OPERATOR of running join-in group tour business in local and with ability of organizing over 5000 visitors a year. For Tibet Vista's special contribution to Tibet Tourism especially to Mt. Everest Tour, we were the ONLY company awarded by Tibet Tourism Bureau Shigatse "THE EXCELLENT ORGANIZER OF MT. EVEREST TOUR "in 2015.
View our Tibet Small Group Tour