Yushu Horse Racing Festival in Amdo Tibetan Area
Yushu Horse Racing Festival held in Qinghai is a traditional Tibetan Festival in Amdo Tibetan Area. The festival is usually celebrated in Yushu Tibetan Autonomous Region from July 25 to August 1 each year.
Horse Racing is quite popular in Tibetan Area. Yushu Horse Racing Festival is one of the top three horse racing festivals in Tibetan area. The other two are Ngachu Horse Racing Festival and Litang Horse Racing Festival. The Yushu Horse Race Festival takes advantage of the warm weather, so the valley floor has lush green grass suitable for long-distance horse races and tent camping.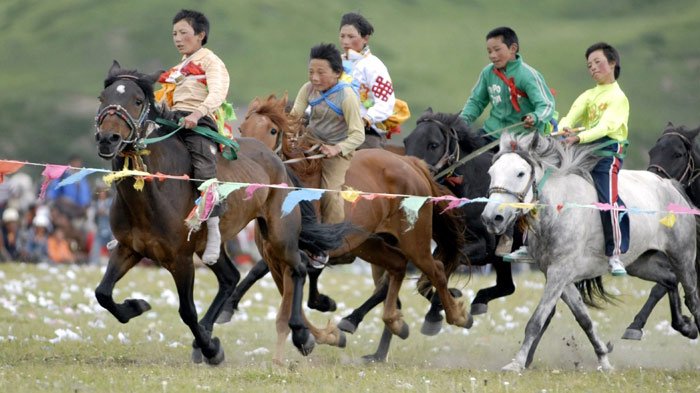 Tibetan young children are participating in Yushu Horse Racing Festival.
The Tibetan horse races and athletic competitions are becoming popular as a tourist attraction, so if the festival is held, there will probably be more commercialization and less authentic tradition. It has been a fun festival to watch, and tent camping is possible, but the more traditional races are slightly dangerous.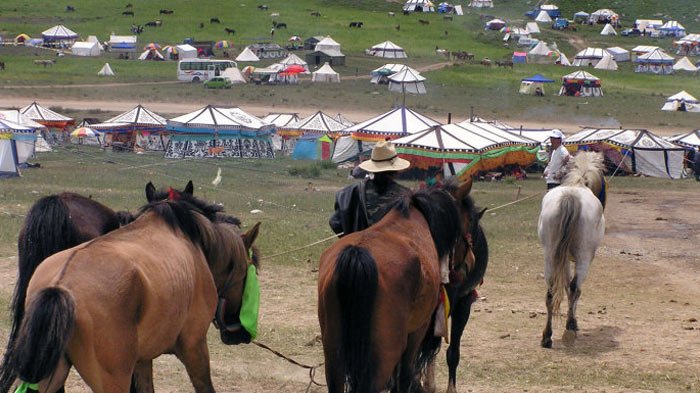 It's common to see Tibetan tents scattered around the grassland during Yushu Horse Racing Festival.
You can watch the Tibetans camping and dressing up in their costumes. There is a lot of well choreographed dancing to watch. There are Buddhist ceremonies. Tibetan food can be bought cheaply. You can buy Tibetan herbs and handicrafts and watch the Tibetans do various sports and games.
In order to help you experience the wonderful and exciting horse racing festival, Tibettravel org has designed a Yushu Horse Racing Festival Tour for your reference. It takes you around 16 days to finish this Amdo Tibet Tour.