Yak Festival in Tibet
Yak was regarded as god and became the best sacrifice for divinities. Then, the Yak Festival finally emerged. It starts from the 15th day of the 8th month in Tibetan calendar and usually lasts more than 10 days or even one month sometimes, with generally more than 1,000 people. During this festival, people will ask "heiba"(wizard) to recite scriptures, play yak horn and kill tens of yaks or over 100 sheep, drinking freely and talking noisily. Because of the high expenses, this large-sized fair was held only once in almost one century.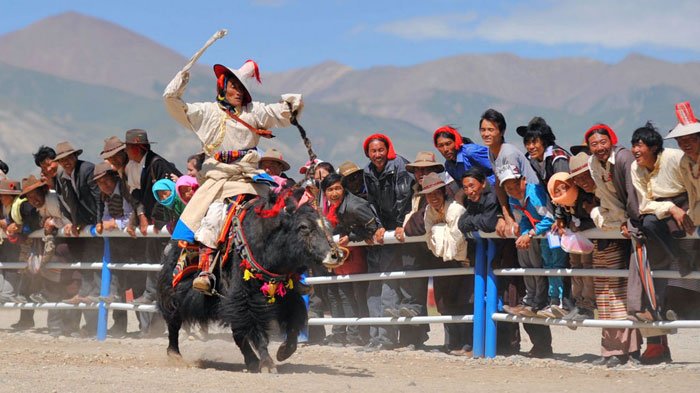 Local people are watching yak racing competition.
The Yak Festival derives from Tibetans' awareness of the importance of yak in agriculture. During their daily labor, they gradually produced strong feeling to yak, and consequently, numerous phenomena of yak culture came into being. Moreover, members who take part in Yak Festival share the same blood relationship. So, it is placed among the cultural festivals of ancestors worship.