Universal Prayer Day, World Incense Festival or Dzamling Chisang
The Tibetan Festival, Universal Prayer Day or Dzam Ling Chi Sang is a Tibetan Buddhist festival celebrated on the 15th day of the fifth month in Tibetan Calendar. It is a time for spiritual cleansing. On the Universal Prayer Day, Tibetan people go to the tops of local mountains to burn incense and hang prayer flags. Thus, it's also called as World Incense Festival, which will fall on May 15 in 2023.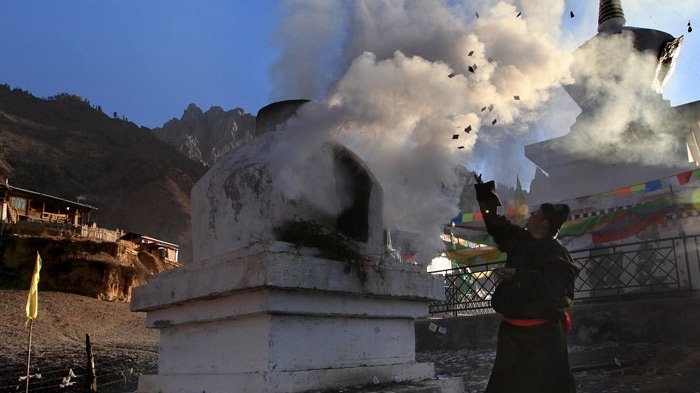 Local people is burning incense and branch on Universal Prayer Day.
Dzam Ling Chi Sang was originally meant to commemorate Guru Rinpoche's subjugation of the local deities and the founding of Samye Monastery. In Lhasa, there is the spectacle of large amounts of 'Sang' being burned up on the hills of Chakpori, Bumpari (on the southern side of the Kyi-chu) and Gephelri ( behind Drepung Monastery ), etc. 'Sang' is a Tibetan 'ritual fireworks'. There is a variety in selection of material for Weisang, like branches pine and cypress, leaves of herbs such as Artemisia argyi and heath.
Tibetans also hang prayer flags on tree tops, and build bonfires to worship the Buddha and local gods. Fire in the Tibetan culture is symbolic of cleansing. Family picnics are also common during the festival.
This is also the time of the once-a-year display of the famous giant thangkas, scroll paintings, at Tashilhunpo Monastery in Shigatse, Tibet. In Tashilunpo, three huge thangkas with images of the Buddha are displayed for three days on a nine-story wall behind the monastery.