Tsurphu Cham Dance Festival
With the altitude of 4,300m, Tsurphu Monastery lies at the upper reach of Tsurphu river, about 70 km in the west of Lhasa. It was established by Dusum Khyenpa, the 1st Karmapa, and became the patriarch temple for Karma Kargyu to pass on and carry forward Tibetan Buddhism. Tsurphu Monastery has already been 800 years of history.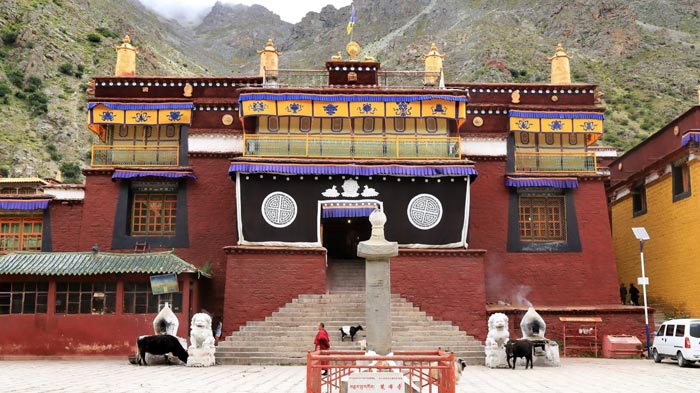 Tsurphu Monastery is the most important temple for Karma Kargyu in Tibet.
Tsurphu Cham Dance Festival falls on the 10th day of the forth month in Tibetan Calendar. This cham dance festival is celebrated to commemorate the great Indian guru Padmasambawa who came to Tibet and devoted himself in promoting Buddhism. During Tsurphu Festival, you can also observe some other religious activities, like grand dharma assembly, Buddha exhibition, etc.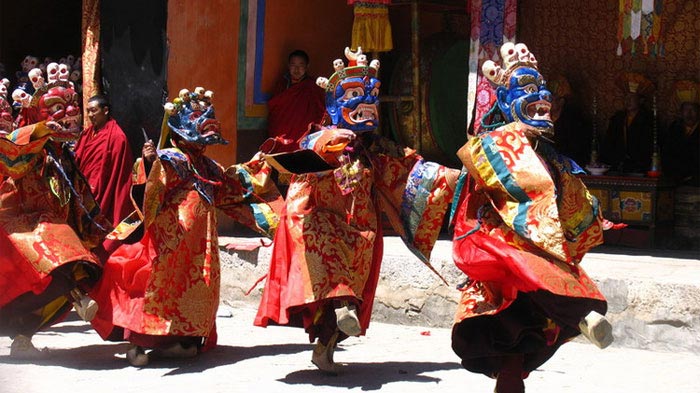 Cham dance is performed during Tsurphu Festival.
Cham dance in Tsurphu Monastery is a kind of Tibetan art and performance. It has plots, characters, music and dances. However, Cham dance is different from Tibetan Opera and has greater significance in religion. Not only can it entertain the audience but also advocate Tibetan Buddhism. It's a grand religious activity organized by the temple. As for famous Tibetan monasteries, they have their own Cham group and make uniform cham masks, dance costumes, ornamentations and musical instruments, etc. Usually those items are treasured very well in the temple. Cham dancers have to pass through several religious rituals before using them.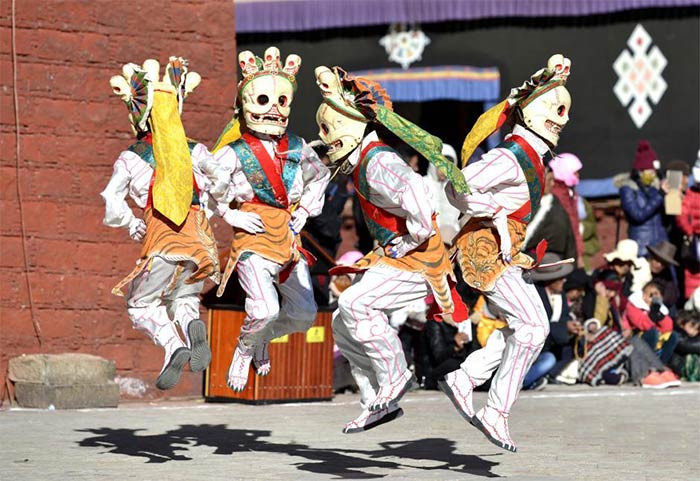 Lots of Tibetans are watching Cham dance outside Tsurphu Temple.
There are many strict rules on Cham performance. Major roles are played by monks and dancers should be flexible and alert. All of them shall be completely into the roles even before the play. Body movements, facial expressions, hand gestures and dance steps must be elegant and smooth. In other words, as long as they put on Cham costumes and masks, they need to be like the real deities. It's said that deities would get angry if they failed to meet those requirements and something bad would happen to relevant personnel. In addition to appreciating Cham dance, Tibetan people also worship Buddha and receive blessings at Tsurphu Monastery.
If you are interested in Tibetan Buddhism and Cham dance, taking part in Tsurphu Cham Dance Festival is an excellent chance to feel religious atmosphere you couldn't afford to miss. After visiting Tsurphu Monastery, you can also try to trek from Tsurphur to Yampachen and the scenery along the route will never let you down.