Guthuk Festival, Tibetan New Year's Eve
Tibetan New Year and Guthuk
Traditionally, Tibetan New year's Eve falls on Dec, 29th. To dispel ghosts, and welcome Tibetan New Year, on that particular day, all the Tibetan families will prepare a special Tibet new year food called "Guthuk", a hand-rolled noddle soup with broth. The eating of Guthuk usually is accompanied by religious activities such as set off firecracker, burn hay, religious chanting to make evil spirits leave one's house and to embrace the New Year.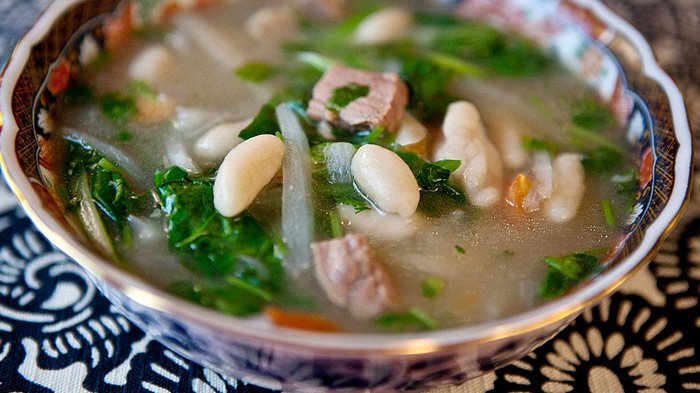 Guthuk is a must-eat food for Tibetan family on Tibetan New Year's Eve.
Tibetan Guthuk Ingredients and their Meanings
In addition to normal ingredients like garlic, beef, beef bouillon, onion, daikon, spinach, tomato, cilantro, Guthuk features nine large dough that contain items like a sugar cube, raw bean, a small piece of wood, wool string, and piece of charcoal, folded paper, pebble, hot chili pepper, or cotton ball.
Sounds weird? In fact, the tricky stuffing is essential in that each bears a special meaning and can predict the diners' New Year's fortune. Some symbolize luck while others symbolize different personalities. For instance, wool symbolizes good-heartedness; while charcoal represents meanness; chili means speak harshly; wool stands for kind-heartedness; coin will bring prosperity and fortune.
However, as time goes by and Tibetans enjoy improved standards of living, the traditional somewhat dangerous and filthy stuffing like piece of ceramics, yak dung, chill are replaced with meat, sweet , and spicy dried yak meat and brown sugar.
How to Make Guthuk
The making of Guthuk is quite similar to that of dumpling. Yet, unlike what people do to put stuffing inside the dough when making dumpling, the cook will firstly make the dough rope and next pinch off dough and press its stuffing to the pinched dough.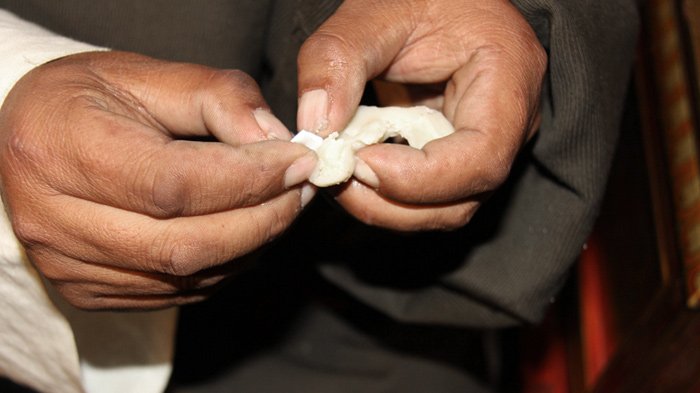 Press the stuffing into the dough rope
Funnest Part of Eating Guthuk
When it gets dark on December 29 in Tibetan calendar, every Tibetan family would sit around the table to eat the Guthuk. The moment someone eats the "special Guthuk", he or she will instantly spit it out. Then the family will discuss what they have eaten and which kind of fortune will follow. Then the entire room will be filled with laughers and hilarious jokes, which further enhance the festival atmosphere.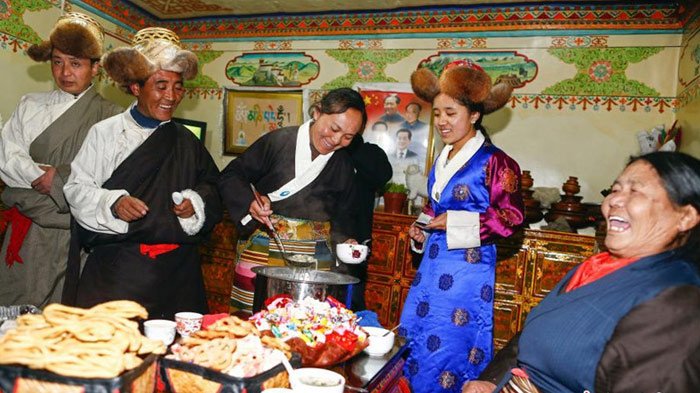 All the family members are eager to find the stuffing of each other's Guthuk.
Exorcism after Guthuk Dinner
After having Guthuk, Tibetans would hold another ceremony to dispel ghost. Every household in the village lit firecrackers and torch made of straw, and yell "come out, come out" while running out of their houses to an intersection of their village. They would throw the torch and leftover Guthuk at the intersection of their village so that all the devils in their house are dispelled and good fortune comes in the coming new year. Most importantly, when all stuffs are thrown away, they can't look back.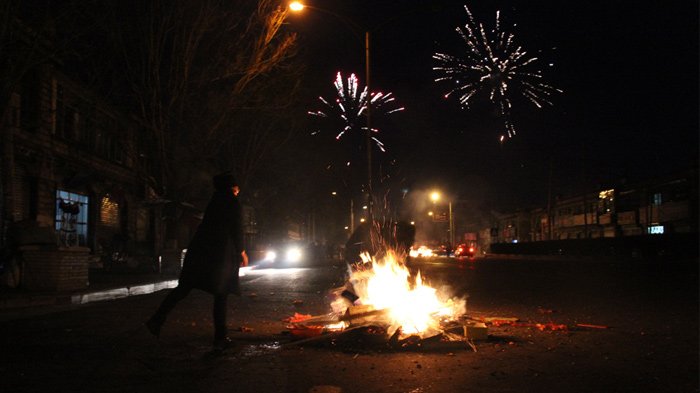 Throw torch, Tsampa, old stuff into the fire
Therefore, travelling in Tibet during its grand festivals like Tibetan New Year (also known as Losar) is a golden opportunity for international tourists to understand Tibet's unique culture and customs.