Palden Lhamo Festival or Tibetan Fairy Festival - A Festival in Tibet for Women
The Fairy Festival is a traditional Tibetan festival in Tibet believed to be a festival of women, so it is also known as the "Women's Festival" in modern Tibet. The Fairy Festival in Tibet is celebrated on Oct. 15 in the Tibetan calendar, when various kinds of religious activities are held.
On this day, girls and women are dressed up to make pilgrimages in temples, present Khadas to their respected angels, treat themselves to go shopping, have magnificent food, and particularly, ask for money from men to donate to the fairies. They can ask for money from any man they meet, who has to be very generous with their money on this day so that they can be endorsed with good luck in the coming new year. While in family, parents have to give money to children on this day as gifts to celebrate their plentiful harvest in autumn and the coming of a new year. And Tibetan People gather around at Jokhang Temple and women all dressed up with beautiful traditional clothes singing and dancing.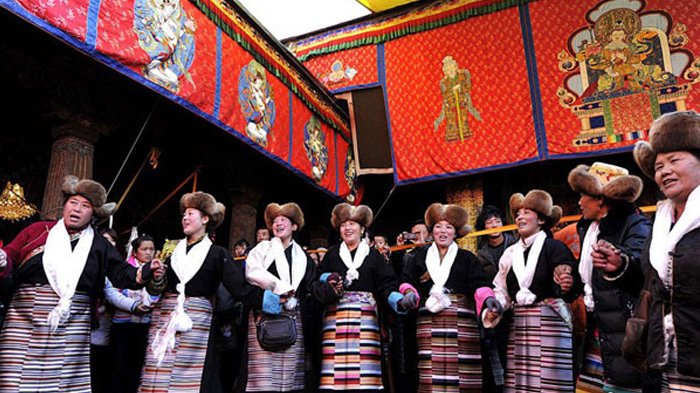 Tibetan women all dressed up with beautiful traditional clothes singing and dancing around at Jokhang temple.
Fairy Festival is also named as Palden Lhamo Festival or Tianmu Festival, being a traditional folk-custom Festival of Tibet. In Tibetan language, people also call the Festival as Bailairizhui. According to the Tibetan calendar, Oct. 15 is the day symbolizing that the plateau welcomes its chilly winter. In cities like Lhasa, the professional women always asked their male colleagues or supervisors to treat them for a huge banquet. While women in the agricultural and pastoral areas always dressed up and go to temples for pilgrimages. They also treat themselves by buying new clothes and personal ornaments and a magnificent lunch.
On the Oct, 15th of Tibetan Lunar Calendar, from 5 o'clock in the morning, thousands of believers from all sides would gather to piously worship and pay religious homage to palden lhamo and Srongtsen Gampo, with hada and Qinghao Biejia Tang in their hands, in front of the Jokhang Temple, to greet the annually Fairy Festival. In Lhasa, Fairy Festival has become the Festival of women. They would get up early to dress up, and then they go to the Barkhor Street to burn aromatic plant and pray, at last, they would go to the Jokhang Temple to offer hada respectfully and make a vow. For women, during the Fairy Festival, they own a privilege, which is to ask for presents and red packets from the men even the strange men. At the same time, the men would loosen their purse strings generously to show the respect for the Festival.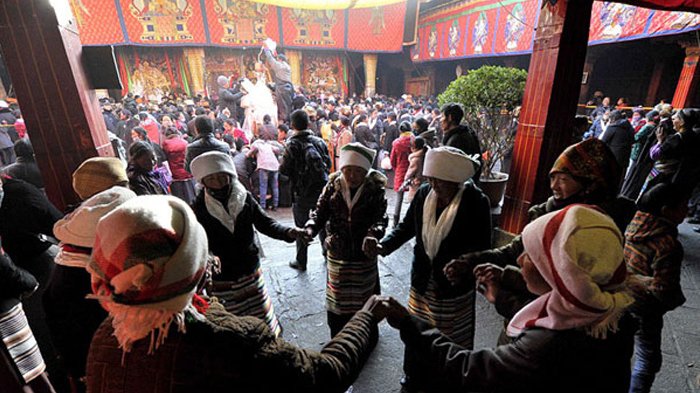 Kinds of celebrations on the Tibetan Fairy Festival will make you feel the delight of this festival.
As for the origin of the Fairy Festival in Tibet, one worth mention is the palden lhamo, Bandanlamu, who used to be a person of the Indian mythology. Later on, when Srongtsen Gampo built the Jokhang Temple at Lhasa, he made the Bandanlamu as the dharma protector of the Temple. Been affected by the original Religion and folk culture, many stories and legend of earthliness color have been derived from her.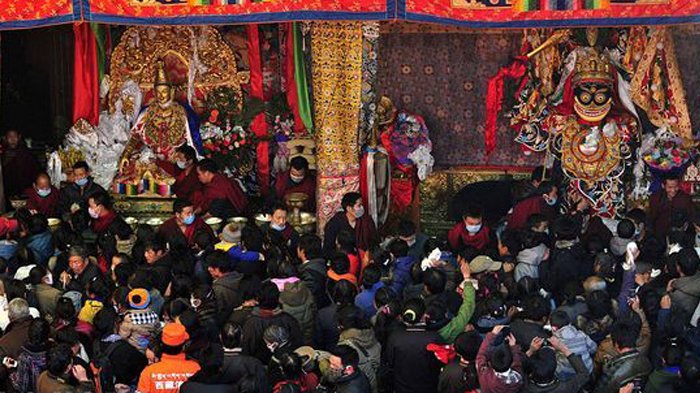 Tibetans make pilgrimages before the Auspicious Goddess Statue and the Songtsan Gambo.
In the stories, Bandanlamu became an old Tibetan woman with odd temper and three daughters. At the Fairy Festival, the Temple welcomes is the oldest daughter, Baibadongze. Though Baibadongze is not good looking, being the goddness with the face of frog, she was full of tenderness or affection and fell in love with the general, Chizunzan. When Bandanlamu knew this, she was strongly against it. In a violent rage, she drove away Chizunzan to the southern bank of Lhasa River, and made the rule that only on Oct, 15th of Tibetan Lunar Calendar can they see each other across the river. Unlucky as Baidonglaze was, she was kind and amiable to protect the women and children, so people felt sympathized over her, and they made Oct, 15th as the Fairy Festival. Nowadays, together with Srongtsen Gampo, they are set at the courtyard of Jokhang Temple, for people to worship.