Great Prayer Festival in Tibet
The Great Prayer Festival in Tibet, also known asa Monlam in Tibetan language, falls on 4th - 11th day of the 1st Tibetan month in Tibetan Buddhism. This festival was established in 1409 in honor of Sakyamuni by Tsongkhapa, the founder of Gelug Sect of Tibetan Buddhism.
As one of the greatest religious festivals in Tibet, the celebration of the Great Prayer Festival would last from January 1st to January 25th according to the Tibetan calendar. Thousands of monks (of the three main monasteries of Drepung, Sera and Ganden) would gather for chanting prayers and performing religious rituals at the Jokhang Temple in Lhasa. The lamas would debate the Buddhism scriptures in the temple, may also raise questions to the elites of Tibetan Buddhism and debate with them.
Groups of Tibetan monks are debating Buddhism vigorously inside Jokhang Monastery.
Followers of the Tibetan Buddhism from every corner of Tibet would collect in Jokhang Temple to worship Sakyamuni since they regard it as the living Buddha. Pilgrims would also offer donations to the lamas. They would crowd at the second floor of Jokhang Temple and throw their Hada to the chanting lamas.
A little Tibetan child is worshipping at Jokhang Temple.
Examinations for the highest 'Lharampa Geshe' degree (a degree in Buddhist philosophy in the Geluk tradition) were held during the week-long festival. Monks would perform traditional Tibetan Buddhist dances (cham) and huge ritual offering cakes (tormas) were made, that were adorned with very elaborate butter sculptures.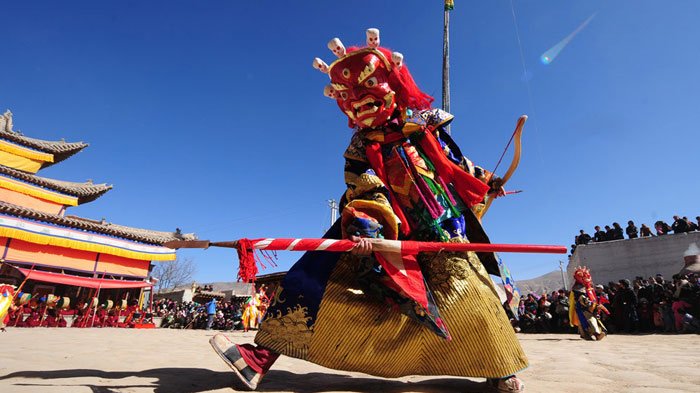 Tibetan cham dance is performed during Great Prayer Festival.
On the fifteenth day the highlight of the Great Prayer Festival in Lhasa would be the annual Butter Lamp Festival, Chunga Chopa in Tibetan. The Butter Lamp Festival would be the most boisterous night of the Great Prayer Festival. With the decoration of various colorful butter lamps, Barkhor Street became a miraculous and beautiful world. Those butter lamps with various shapes and colors make Barkhor Street bright and splendid.
Many other monasteries would hold special prayer sessions and perform religious rituals, for example some monasteries would unfold huge religious scroll-paintings (thangkas) for all to see. Check info on Tibet festival tours.