Spring Sowing Festival in Tibet
A saying says that the whole year's work depends on a good start in spring. Thus, Spring Sowing Festival in Tibet is an important traditional festival for Tibetan farmers. Tibetan Spring Sowing Festival will be held on an auspicious day in the first month of New Year for the celebration of the calf tying to plough for the first time. Spring Sowing Festival is also known as the Sowing Seed Festival and experimentally Sowing Festival. If you travel to Tibet during the Spring Sowing Festival, you will experience the traditional festive atmosphere with local Tibetans.
At the sunrise of the Spring Sowing Festival, a woman with the same animal zodiac with that year and several old farmers would be in splendid attire. Before the villagers got there, they would make full preparation for the drinks, tea, sutra streamer and censers. They would put the above items on the best land for the sowing. Then all the villagers would pray for the gnome for blessings over the crop with good harvest.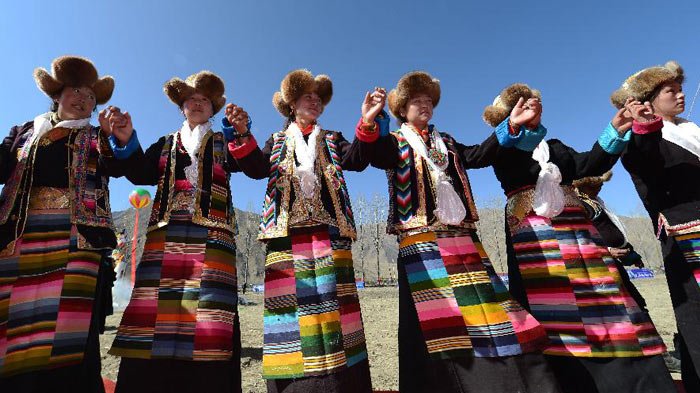 Tibetan women are dancing on Spring Sowing Festival for the blessing.
After sacrificing the God the earth, villagers will go back the village. Once reach the village, all of them will dress their most beautiful clothes and dress up their livestock. With the sound of conch which is made by leader in the village, villagers and women with the same animal sign with this year and elderly will go to the filed which will be ploughed. The young boys and girls will happily form several groups to drink tea and wine.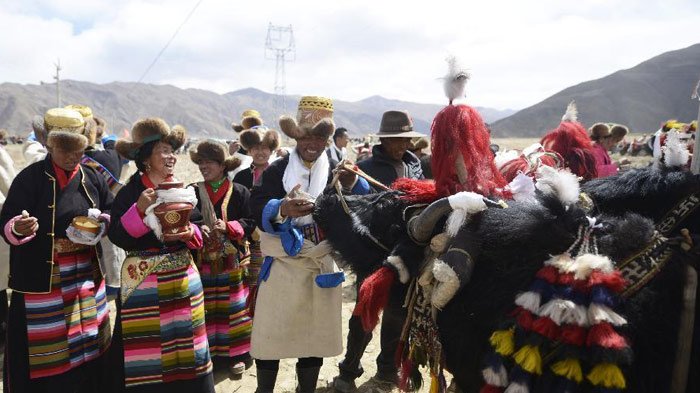 Local people are toasting for good harvest in the coming year.
After drinking tea and wine, several men will burn incense and offer up sacrifices, set upright prayer flags and sing encomium to worship gods toward the direction of plow. In the rite of sacrifice, in general, each family can only bring a pair of working cattle. Then, the hostess in the family will toast wine to heaven for three times and smear ghee on the forehead of cattle for three times to pray for luck. After that, Tibetans will stick prayer flags on the yoke of each pair of cattle. After the first plough, the women with the same animal sign with this year will sow the lucky seeds. Then, other working cattle will plough one pair by one pair. At that time, the field is the world of cattle.
After the rite of worshipping, the villagers will gather together to take a rest. Men in the village will have the competition of run, wrestle and other games, as well as some traditional activities and folk sports. At the same time, they will sing song and dance, to fully enjoy the festival. The day after the spring sowing, people handle the plough would have a feast of 5 or 6 days happily.