Sera Bengqin Festival
This February is a busy month for Tibetans, for the Tibetan New Year, Losar, also falls on February this year. Before Losar, the Tibetans have many things to do, for example, decorating the streets and their own houses. Besides, as a tradition, they also go to pray during Sera Bengqin Festival which is four days before the Tibetan New Year. Talking about the Sera Bengqin Festival, there's something you need to know:
First, it is a traditional religious event and it is annually hold four days before Losar in the Sera Monastery in the northern suburb of Lhasa (Lhasa is the capital city of southwest China's Tibet Autonomous Region). And the ritual has been held exclusively at Sera Monastery for centuries since it was first initiated in the 17th century.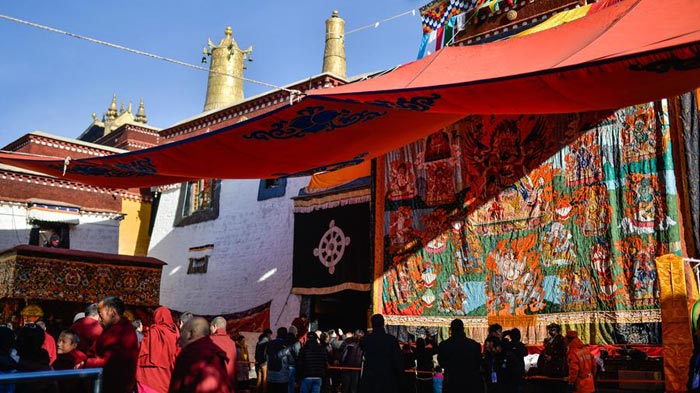 Devout worshipers went to pray on the Sera Bengqin Festival on a sunny morning.
Second, tens of thousands of Tibetan Buddhists came from across Tibet Autonomous Region, and areas predominantly inhabited by Tibetans in neighboring Sichuan, Gansu, and Qinghai provinces, for the ritual every year.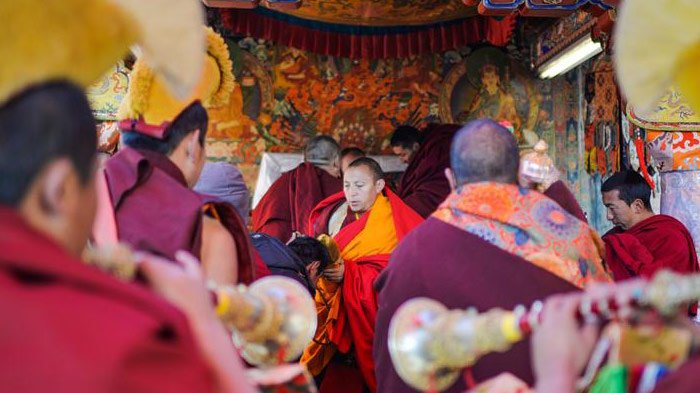 A senior monk blessed Buddhists by placing a Dorje Pestle on their heads at the Sera Monastery.
Third, as a tradition, the pilgrims held pure white hada, a traditional scarf, in hand and prayed while moving slowly in the kilometer-long line outside of the monastery. They eventually proceeded to the Vajra Pestle, a treasure of the monastery, for the blessings. The Vajra Pestle was originally a weapon from India and it was introduced as a Tibetan Buddist ritual instrument in the late 15th century.
On that day, if you happen to travel in Tibet, you may find that the Sera Monastery is crowded with devout men and women worshipers of different age and from different places praying and waiting to be touched by the Vajra Pestle to get the blessing from the Buddhas. It is believed that celebrating the festival and being touched by the Vajra Pestle can ward off disaster and hardship and bring happiness and wellbeing in the coming year.