Prayer flag trees, one necessity for Tibetan New Year
Prayer flag trees becomes one of the best sellers on Lhasa market when it comes to the Tibetan New Year and new year's shopping as the prayer flag trees is the necessity for Tibetan New Year.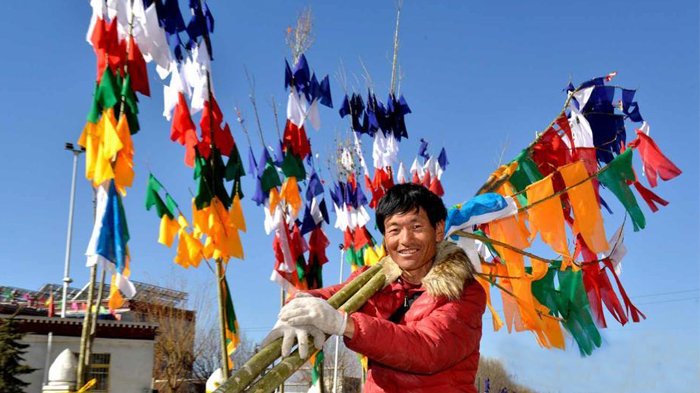 A Tibetan was carrying prayer flag trees, which symbolize auspiciousness and good luck.
Usually, we can see colorful prayer flags everywhere in Tibet, but during Tibetan New Year, prayer flag trees replace the prayer flags on hilltops. For Tibetan families, the prayer flags in five colors are believed to bring peace, compassion, wisdom, and strength.
Sewing the multicolored prayer flags onto tree branches makes a prayer flag tree. Tibetans pray for good harvests and good luck in the coming year by sticking the new prayer flag trees onto the roofs to replace the old ones as the Tibetan New Year comes every year.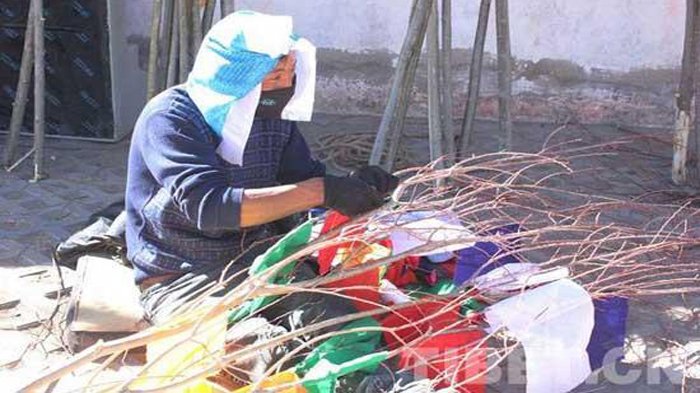 A Tibetan was making prayer flag trees carefully.
The Tibetan New Year starts on the first day of January in Tibetan calendar and lasts for half a month. All kinds of religious activities are held to celebrate the New Year. Replacing prayer flag trees at housetop is a key activity during the Tibetan New Year. A good day after the Jan. 1 is carefully selected to replace prayer flag trees. On that day, all family members dress their best clothes up and prepare some festival food and offerings, then climb up to the top of their house to replace the prayer flag trees.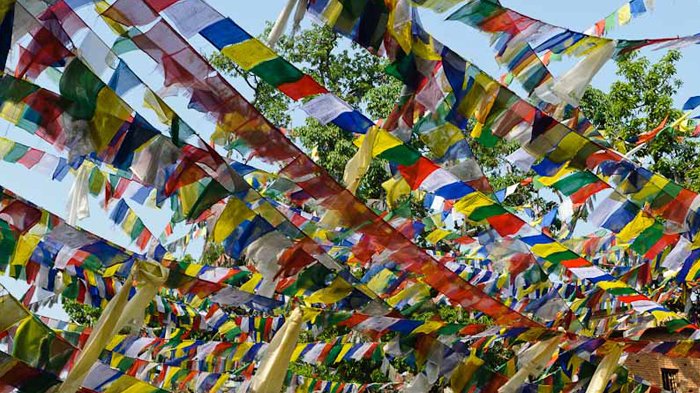 Different colors of prayer flag trees have their special meanings.
The colors of the prayer flags must be arranged in sequence of blue, white, red, green and yellow from the top down because different colors stands for different things, the blue for sky, white for clouds, red for flame, green for water and yellow for soil.
Most Recommended Tour Itineraries to Enjoy Tibet New Year Festival