Litang Horse Racing Festival in Kham Tibetan Area
Litang Horse Racing Festival in Kham Tibetan Area is a traditional Tibetan festival held on from August 1 to August 7 every year in Litang County, Sichuan province. The Litang Horse Racing Festival is the most celebrated holiday in the Eastern Tibetan Plateau. Khampas from all over the Tibetan Plateau come to trade, celebrate and ride. Khampas are nomads that are Tibetan and are usually herders.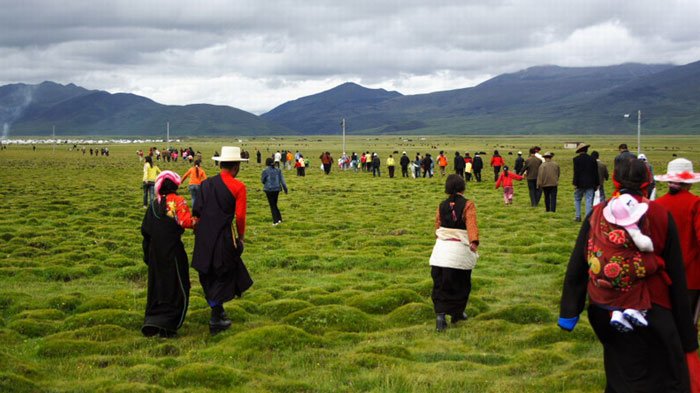 Tibetans are heading towards Litang Horse Racing Festival.
During the Litang Horse Racing festival horsemanship and horse races are held upon the Tibetan Ponies. These small and fast horses are raced and shown to see who owns the best horse. The horse festival is significant because it helps to establish socio-economic hierarchy in Khampas who participate. A lot of honor and prestige is placed on who owns the best horse. A very large tourism business has been built up on adventure trips and tours provided by companies who cater to individuals who are interested in horses and horsemanship. These companies travel around Tibet taking groups of tourists throughout the different villages hosting horse festivals. This benefits the nomads' economy as well as the rest of China's economy.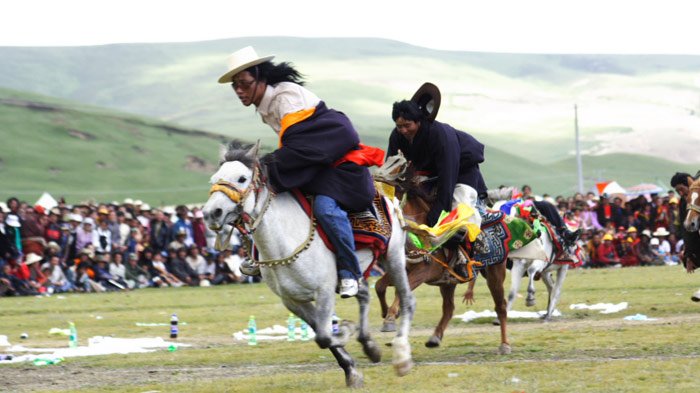 Local people are appreciating horse-racing competition on the grassland.
The Tibetans will come from far away and set tents to wait for the big days, here they will have their heart -jumping -out competition of horse riding, relax them in the ancient dancing shows, etc. In the racing festival the brave riders will show the audience their skills of horseback speed riding, shooting, picking scarlet on the fast running horseback, etc. It is a best time of fashion shows. The handsome men and the women will wear their most beautiful folk dresses with valuable Jewelry, and they will support their heroes with thunder-like applauses and cheers. And it is also a good time for trade. Various Tibetan living wares are put on the stands for sale.
Do you wanna make a Kham Tibet Tour during this interesting and exciting festival? We have designed a special Litang Horse Racing Festival Tour for your reference.