Ganden Thangka Unveiling Festival in Tibet
Unveiling Thangka of Buddha is usually an important ceremony on important traditional Tibetan festivals, such as Shoton Festival. The Ganden Thangka Unveiling Festival in Tibet is held on the 15th day of the sixth lunar month of Tibetan Calendar in memory of the enlightenment of Tsongkhapa, a well-known Tibetan religious philosopher.
Travel to Tibet during the Ganden Thangka Festival will give you an impressive travel experience unlike any other. The festival is held at Ganden Monastery, one of the three great monasteries of Gelug in Lhasa. On the festival, thousands gather at the Ganden Monastery to witness the unveiling of a gigantic hand woven Thangka, featuring a Buddha figure surrounded by symbols of religious significance. The thangka is over 200 feet wide by 150 feet tall.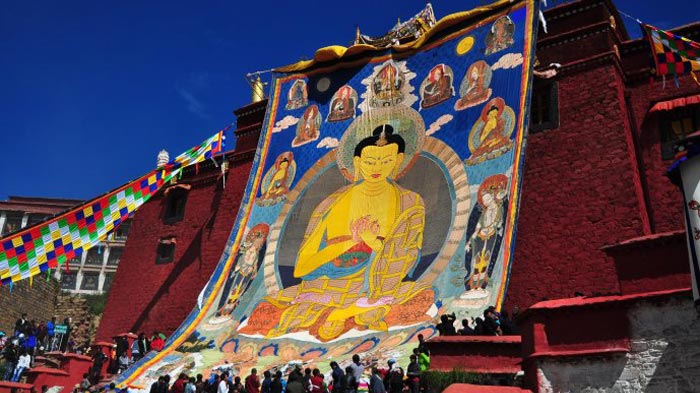 The giant Thangka is unveiled in front of Ganden Monastery.
Local Tibetan people usually begin to arrive in the early morning pre-dawn hours. They will climb to the top of a hill near the monastery to watch the sunrise as they chant prayers of personal and religious significance. As the sun rises, it paints the surrounding mountain scenery with gold and red hues. As the day wears on crowds will fill the monastery to pray and leave offerings of incense and yak butter. Excitement builds as the unveiling ceremony begins, and once the Thangka has finally been revealed the crowd rushes forward to touch their foreheads to the giant tapestry. The smell of the incense, the traditional music, and religious fervor of the crowd suspends locals and foreign visitors alike in a dream like state.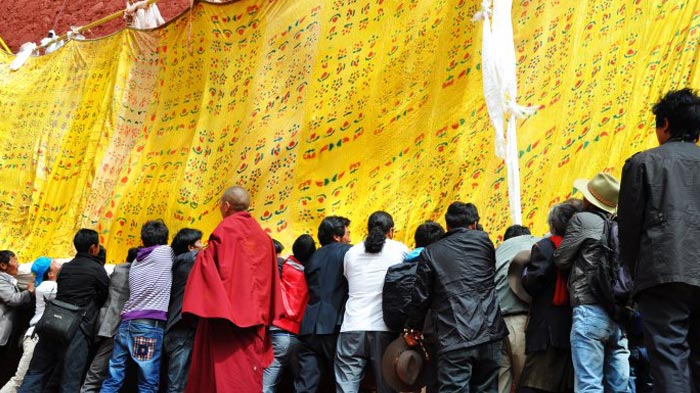 Devout Tibetans are touching their foreheads to Thangka for blessing.
Making a Tibet tour during the Ganden Thangka festival is a fantastic way to engage with locals and learn about important aspects of Tibetan culture. Witnessing the unveiling of the massive Thangka amidst the excitement of the crowd should be a life changing experience!
Actually, you can also make a Shoton Festival Tour to watch thangka unveiling ceremony held at Drepung Monastery. Shoton Festival is held in midsummer, usually on July 1st of Tibetan calendar and the date is different every year. And a giant Thangka will be unfolded on the first day of the Shoton Festival. There are also thousands of Tibetans and travelers gathering at the Drepung Monastery to watch the grand ceremony or worship the Thangka of Buddha.