Drigung Cham Dance Festival
Drigung Til Monastery, the main seat for Drikung Kagyu, is located at Maizhokunggar County, about 150 km east of Lhasa city. It already has a long history of 830 years and houses more than 200 monks.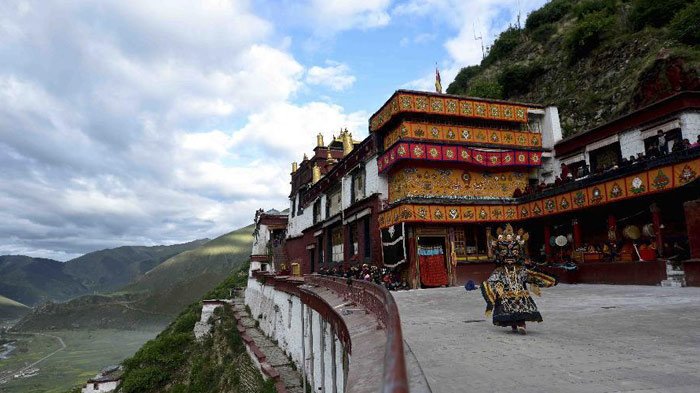 Seeing from Drigung Til Monastery, you can catch a panoramic view of Drigung Valley.
Summer Dharma Assembly in Drigung Monastery starts from the 25th day of the fourth month in Tibetan Calendar, lasting for 5 days. It is held to commemorate the parinirvana of Drikung Kyobpa Jigten Gonpo Rinpoche ( Jigten Sumgön) , the founder of Drigung Tli Monastery. And it has become a kind of Drigung tradition to perform traditional Tibetan cham dance, Buddhist music, ghost-dispelling ritual, etc.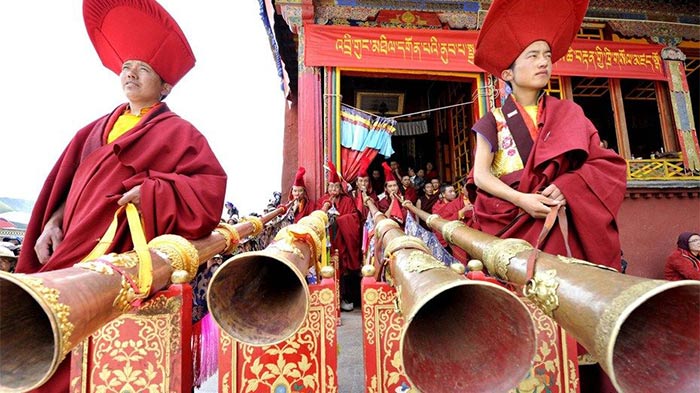 Tibetan Lamas are playing suona on the opening ceremony of Drigung Dharma Assembly.
As the most interesting part in Drigung Dharma Assembly, Cham Dance Festival will last for three days. Cham dance is a religious ritual dance performed by Tibetan Buddhist monks. It can be a solo dance, or played by pair or groups. It's usually Tibetan Lamas who would put on cham masks, dance costumes and wear ribbons and knives. Accompanied with Tibetan Buddhist music, a senior lama leads the honour guard coming out and then the black hat cham dancers, dharma protectors, ghosts follow by. Here you can see all kinds of dharma images. After circling around the spot, Drigung festival begins. Various cham dances would be shown by sections. Between dance segments, vivid Jataka stories would be also presented. You will know more about Tibetan Buddhism via watching suiciding for a hungry tiger, exchanging flesh for the pigeon's live, etc.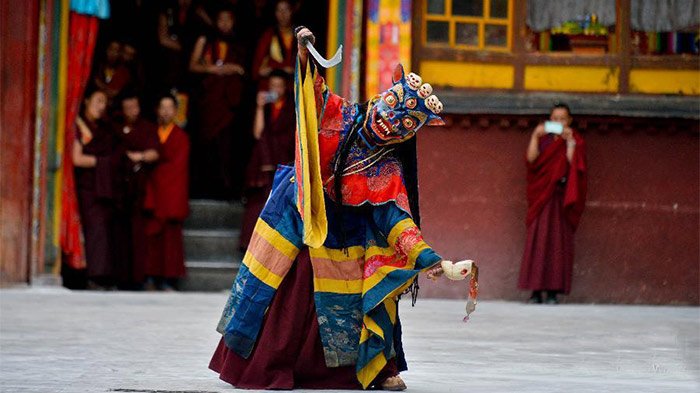 Tibetans are watching Cham dance outside of Drigung Monastery.
The last show is ghost-dispelling ritual. All the deities carry weapons and escort Gama outside of Drigung Til Monastery. As fire is set to Gama, whistles, yells and whoops sound all together so as to drive away the evils and pray for the blessings in the coming year.
Together with Drikung Kagyu music, Drigung cham dance has been listed as National Intangible Cultural Heritage for its long history, special characteristics and diverse content. After attending Drigung Cham Dance Festival, you can set aside some time to enjoy a comfortable bath at Tidrum Hot Spring and pay a visit to Tidrum Nunnery nearby. See more about 6 Days Eastern Lhasa Discovery Tour.