Butter Lantern Festival
The Butter Lantern Festival falls on the 15th day of the first Tibetan month. It is the last high tide of celebrations of the Tibetan New Year. During the daytime, people go to pray in temples and monasteries while at night there is a lantern show. The butter lanterns they made prayer themselves. Various lanterns with butter sculptures shaped in the image of deities, animals, plants, and human figures are displayed, attracting people from the neighboring areas to appreciate them. Some of the lanterns are as high as two or three-storey buildings. Often, there is puppet show held as well and the event will last for several days.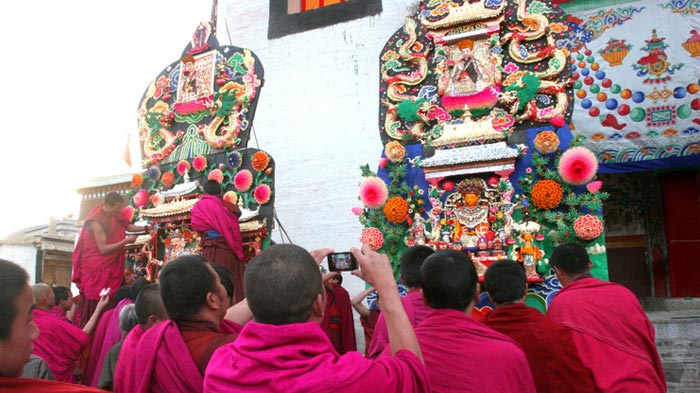 Tibetan Lamas are preparing for Butter Lantern Festival.
The Butter Lantern Festival is the happiest festival in Tibet. The busiest place in Lhasa during the Butter Lantern Festival is around Barkhor Street and in front of Jokhang Temple, where many lanterns are displayed. At night, the lights lanterns make the whole street bright as in the day. People sing and dance while enjoying the lanterns.