Yaks: The "Treasure" and "Boat" on Tibetan Plateau
Tibetan Yaks - Happy Expressions under the Sun in the Holy Land
The yak, a kind of ancient animal, is one species of the earliest animals which were domesticated by Tibetan ancestors. It has been lived with Tibetan nationality which has a long history and splendid culture for thousands of years.
The number of yaks in Tibet is larger than the population of Tibetan people. The whole Tibet has a population of more than 260 million, while, the number of yaks in the first producing area (Naqu) is more than 300 million and the number of yaks in the second producing area (Chamdo) is more than 1.2 million. There are more than 14 million yaks in the world. Most of the yaks grow in China's Qinghai-Tibet Plateau and its surrounding regions which are above 3,000 meters high. China is the country which has the largest number of yaks in the world. The yaks in China account for about 85% of the world.
The yak is a kind of mammal which lives at the highest elevation in the world. Yaks have an ability to endure the cold of-30 ℃ to-40 ℃, with a limit of climbing the glacier to 6400 meters. The yak is also good at walking on steep and dangerous roads, climbing snow-capped mountains and going across swamps and rivers. It is called as the boat of the plateau". The yak also has an ability to recognize the road. If it meets the marshes, it can make a detour to avoid the trap. Yaks are also capable of carrying heavy loads for long distances. They can carry goods up to 100-200kg and walk for about 15km a day.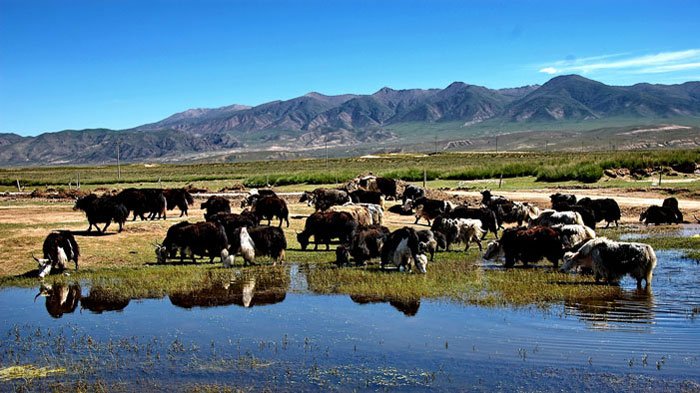 Flocks of Yaks
Wild Yaks - Gladiators on Qinghai-Tibet Plateau
The yak is divided into two categories: the wild yak and the domestic yak. The yak, which is a unique species on Qinghai-Tibet Plateau, is the First - grade State protection animal.
Wild yaks are gladiators on Qinghai - Tibet Plateau. They are strong and powerful, with a staggering speed. Their abilities to bear bitter, cold, hunger and thirst are striking. They are so brave and fierce that they always fight to the end when they meet a strong enemy.
They are gait gaudy, people have staggering speed; they bear bitter, cold, hunger, thirst-resistant ability, eye-catching. They are fierce temperament, in front of a strong enemy, always fighting in the end. In the Roof of the World", wild yaks, weighing up to more than 1,000 kilograms, like living in groups and like eating soft grass and lichens.
As a unique animal of the Qinghai-Tibet Plateau, the wild yak mainly inhabits the alpine meadow areas of 3000-6000 meters above sea level, as well as inaccessible alpine peaks, mountain basins, alpine grasslands and alpine desert-steppe type rangeland. In summer, the wild yak can even live at the altitude of 5000-6000 meters below the snow line. The hair on the wild yak's head and the back of its body is short and smooth. Its throat, neck, abdomen, body side and tail are covered with tens of centimeters long hair.
Wild yaks usually mate in September. At this time, the male yaks will fight against with each other for female yaks. Female yaks pregnant 9 months and only have one young at a birth.
The wild yak's skin is very thick and the thickest skin is up to 2 inches. Its skin has strong toughness. The bullet of the general pistol and rifle cannot penetrate it. There is a layer of meet teeth on the tongue of the wild yak. Therefore, the wild yak can easily lap those hard plants.
According to the records, a hundred years ago, the distribution of wild yaks was very wide, including the northern slope of the Himalayas, Kunlun Mountains and its adjacent mountains. Today, their distribution has been narrowed to the 1.4 million square kilometers alpine mountains and the alpine plateau surrounded by the upper reaches of the Yarlung Zangbo River at an altitude of 4000-5000 meters, Kunlun Mountains, the Altun Mountains and the Qilian Mountains. I hope the wild yak, with dignity and a fighting spirit, is able to live in the beautiful Qinghai-Tibet Plateau forever, as one of the most beautiful sceneries.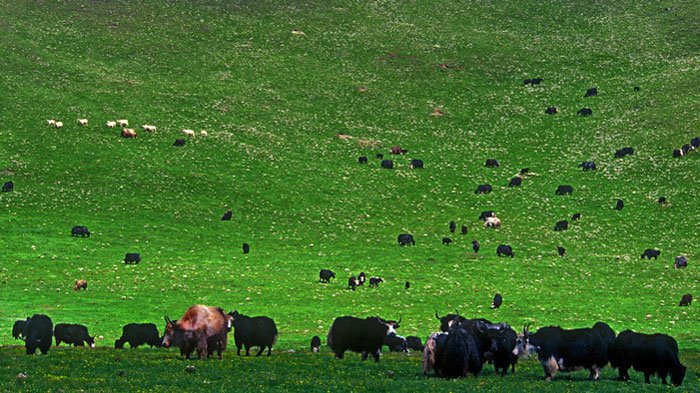 Yaks Dotted on Grassland
Yaks - "Family Heirloom" for Tibetans
The wide and endless grassland in Tibetan plateau is scattered with a group of yaks which are regarded as the "family heirloom" by Tibetan people.
Yaks live on natural grasslands. They move as season changes. Summer is the golden season for them because the grass is green and lush. They can eat fresh grass as much as they like. Therefore, yaks are plump and strong in summer. But, when winter comes, the grass will turn yellow and wither. Yaks only have limited food every day. Some strong yaks may suffer from malnutrition.
The yak's forehead is flat and wide. There are two sharp and twisted horns on his head, thick and long. Yaks are temperate and obedient. They are never wild and rage to their owners. But, if they meet their enemies, they will fight to death before they surrender. Yaks have four sturdy limbs and four hard hooves so that they are good at carrying things on muddy and stony roads. .
The Yak's cardiopulmonary function is very strong. Carrying on more than one hundred kilograms supplies, it can also climb the peak at six kilometers above sea level where the air is thin. People are hard to adapt to the high altitude, but yaks do not need to worry about the lack of oxygen, their blood pressures or their heart vessels. Yaks do not only work hard to serve their master in the plateau day by day, but also play an important role in sports event. Every year, a yak racing is held. All the yaks show their great sports spirit on the field.
What is more valuable is that Yaks benefit human with their flesh and blood.
Milk is the yak's first contribution for human. Female yaks can produce three to four jin of milk every day, which is three times as much as that the local cattle produce. Yak milk is thick and of rich nutrition. Herders drink milk every day. They drink milk after boiling it. They also make the milk into yogurt and slag refined oil and residue from the milk. Yak milk has a high fat content.5km of yellow butter can be refined from 50kg of yak mild. Tibetans rarely eat vegetables and fruits, but they eat butter tea and milk residue every day. They also use butter to light the lamp and to make Zanba.
Yak meat contains high protein. It tastes fresh and delicious. Especially in winter, it is a kind of nourishing food. If you go to Tibet, yak meat is the most delicious food that you should not miss. Flexible and smooth hair is used to make advanced textiles and Tibet wool. The yak's tail hair can be used to make wigs and false mustache for opera performance. Yak leather is used to make Tibetan high boots and senior leather shoes which are of high quality. These shoes are quite popular with customers from all cities in China. Dried yak dung is the main fuel for herdsmen. They rely on it to keep warm, cook tea and cook meal. Even the bones which are grinded into powder are also very good for fertilizing the farmland.
In a word, the yak is definitely the treasure of which make great contribution to Tibetan people and to the Qinghai - Tibet Plateau.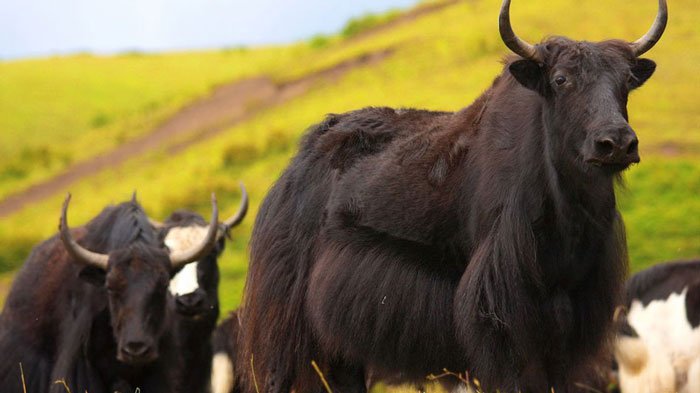 Strong Yaks