Tibetan Kora: A Distinct Way of Dialogue with Tibetan Buddhas and Deities
To many first-time travelers in Tibet, the most overwhelming impression about this spiritual realm would be the fervent Kora (also known as religious circling or pilgrimage around sacred site or object) in historic and vibrant Lhasa, the capital city of Tibet. In fact, the practice of Kora is pretty common and pervasive across Tibet. Tibetans believe that doing Kora works the same as chanting Tibetan Buddhist mantra, the best way to make confession of wrongdoings in the past, shield them from misfortune and accumulate kindness and blessings.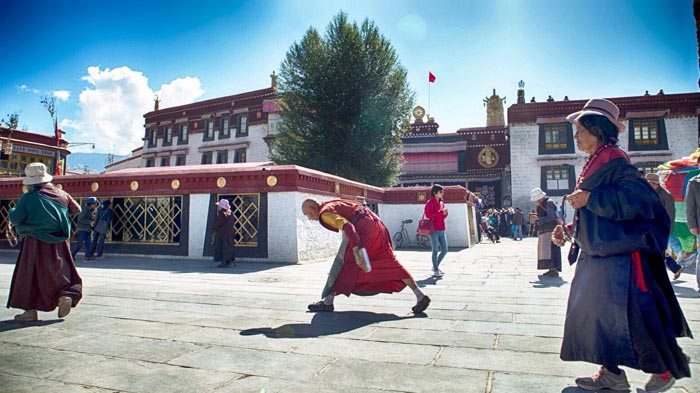 Fervent Kora around Barkhor Street, Lhasa, Tibet
Different Ways of Kora:
As a tradition for Tibetan pilgrims and local Tibetans, whenever they come across a sacred mountain/ lake , Tibetan monastery or Stupa and piles of Mani stones (stone plates or rocks on which Tibetan Buddhist mantra is written), they would circle it in clockwise order to show their respect and devotion.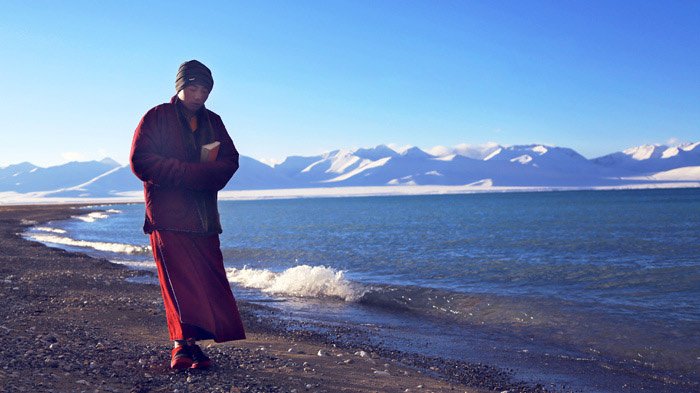 Well-known kora around Namtso Lake
The most frequently-seen Kora is by circling around Tibetan monastery or following the Kora routes in cities and villages. In this case, practitioners of Kora often walk around holy sites like Jokhang Temple and Potala Palace, while spinning the hand-held prayer wheel and chanting Buddhist scriptures. Around Barkhor Street, many pilgrims would prostrate themselves back and forth on the ground to show deepest reverence for Tibetan Buddhas and deities.
Another prevailing way of Kora is done around holy mountains and lakes even piles of Mani stones, which is a specialty and unique sight for tourists travelling in Tibet. Tibetans are deeply convinced that deities exist in all the lofty mountains and sacred lakes in Tibet. Though invisible, they keep an eye on all living creatures and the world with a commanding power of weather and beyond.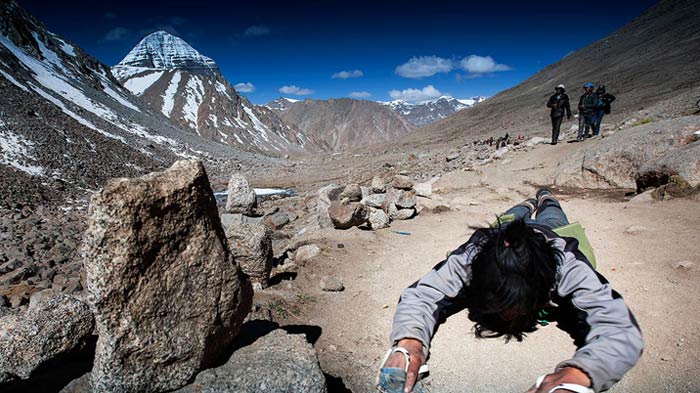 Devout Tibetan pilgrims prostrating around Mt. Kailash,Ngari,Tibet
A good case in point is the Kora around Mt. Kailash, which is deemed to be king of holy mountains and center of the universe by Tibetan pilgrims and Hindus. In the pilgrimage season, pilgrims of different religions from Tibet, India, and Nepal form endless streams along the holy mountain roads. It is said that completing one circle round the holy mountain can wash away all sin in the whole year life. Other famous destinations involve Lake Manasrovar, Heavenly Lake Namtso, etc.
Next comes a special form of Kora, i.e. hanging the prayer flags on mountain pass or other sacred places. As you travel in Tibet, you will be struck quite often by the massive colorful prayer flags fluttering on the mountaintops. All the prayer flags were written with Tibetan mantra and Tibetans believe that when these flags are blown by the wind, the Buddhist scriptures are also chanted. Therefore, the goodwill and best wishes for peace and wisdom can be spread to infinite space.
Prayer Wheel - One of the Most Iconic Religious Objects of Tibet
Prayer wheel is an indispensable object for Kora. Quite often as Tibetan pilgrims follow the Kora route, they would keep spinning the hand-held prayer wheel and mumbling Buddhist mantra.
Inside the prayer wheel is a scroll of entire set of Tibetan Buddhist mantra, whereas the six-syllabled Sanskrit mantra "Om mani padme hum", which symbolizes the spirits of enlightenment and blessings, is written on the surface of prayer wheel.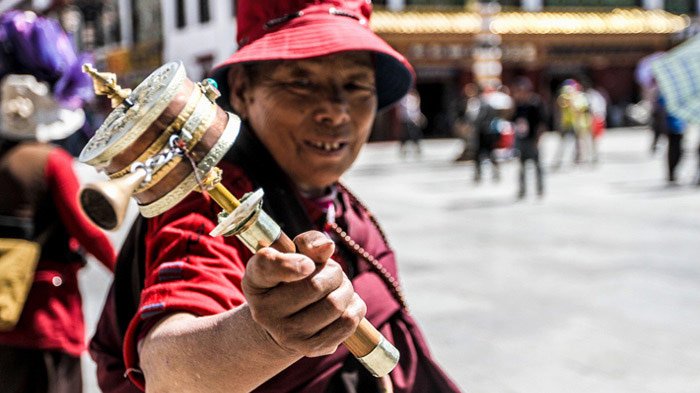 Typical hand-held prayer wheel
It's been said that spinning prayer wheel in clockwise order equals chanting Buddhist mantra. And there are two kinds of pray wheels: hand-held prayer wheel and bigger prayer wheel normally attached to the wooden shelf in Tibetan monasteries and temples.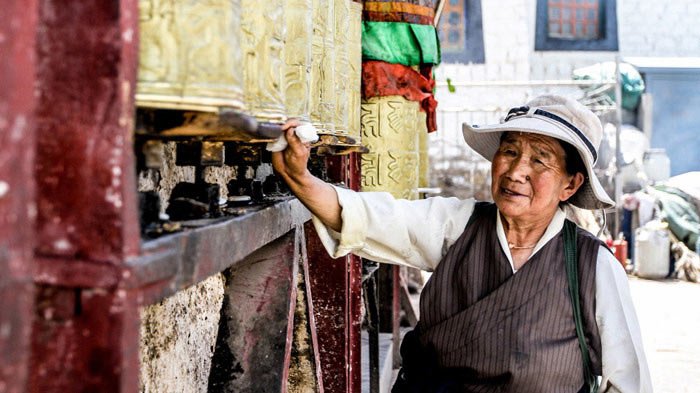 A Tibetan granny is spinning the bigger prayer wheels outside monastery.
Top 4 Kora Routes in Lhasa City
If you happen to tour Lhasa, the following Kora routes are the best places to experience the strongest Buddhist ambiance in Lhasa city.
a.Nangkhor Kora - Supreme Kora Route Closest to Shakyamuni Buddha
Jokhang Temple is universally acknowledged as the spiritual heart of Lhasa in part because it is the only Tibetan Buddhist site in the world that houses the 12-year-old statue of Sakyamuni Buddha. The most prestigious Nanghor Kora follows exactly the circuit of the Buddha hall where statue of Sakyamuni Buddha is enshrined.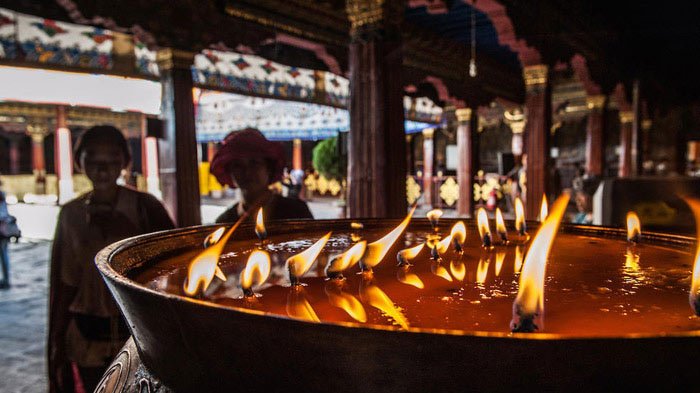 Nangkhor kora inside Jokhang Temple
All together there are 380 prayer wheels. Due to the proximity to Buddha, it is wildly believed to be the most mysterious and holiest Kora circuit to Tibetan pilgrims. Every day, ceaseless flow of Tibetans, young and old, line up to spin the prayer wheels and add oil to butter lamps inside Jokhang Temple while worshipping the mighty Buddha.
b.Barkhor Kora - Most Historical Kora Route along Vibrant Business Street
Speaking of Kora in Lhasa, most would refer to the ancient Kora circuit along the bustling Barkhor Business Street. The classic Kora route gets its name because literally, "Bark" means "middle" in Tibetan and this Kora route is right in the middle of between Nanghor Kora inside Jokhang Temple and old city district of Lhasa.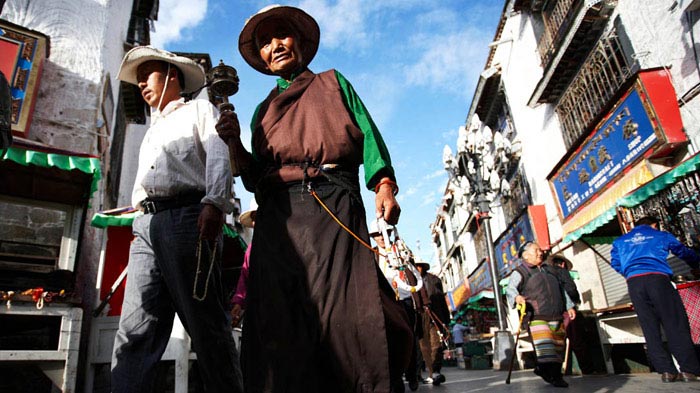 Kora around bustling Barkhor Street
The 1500m-long Kora starts from the main entrance of Jokhang Temple and ends in the same place. The entire circuit is literally done along the Barkhor Street around Jokhang Temple. With the smoke of burning juniper and incense floating in the air, the lively Barkhor Street is peppered with fervent Tibetan worshippers and worldwide tourists.
There is a palpable sense of holiness in the air when seeing a large number of Tibetan pilgrims prostrating themselves back and forth before Jokhang Temple. Many tourists would be deeply impressed with the pilgrims' devotion and holy atmosphere as they enjoy the Lhasa tour along Barkhor Street.
c.Tsekhor Kora - Holy Kora Route around Potala Palace
In addition to circling around Jokhang Temple, Potala Palace is another celebrated center of pilgrimage. In Tibetan language, Potala is often referred as "Tsek Potala ". So Tsekhor Kora is the circumambulation of holy Potala Palace.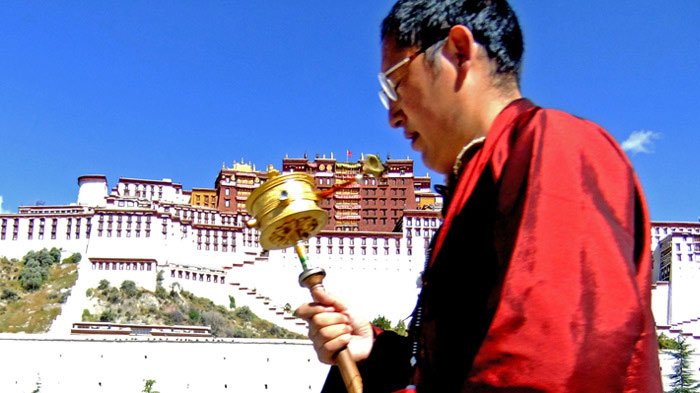 Tsekhor kora around the foot of Red Hill
It takes about more than an hour to cover the entire Tsekhor Kora ( around 2-3km). As the landmark of Tibet, Potala Palace has an irreplaceable place in Tibetans' mind, so is the Tsekhor Kora.
d.Lingkhor Kora - The Biggest and Longest Loop Kora Route in Lhasa
"Ling" means "outer" in Tibetan, and Lingkhor Kora refers to the Kora route of the outer boundary of old city district of Lhasa. It's the longest kora route in Lhasa with 8km. it takes around 3 or 4 hours to finish a circuit.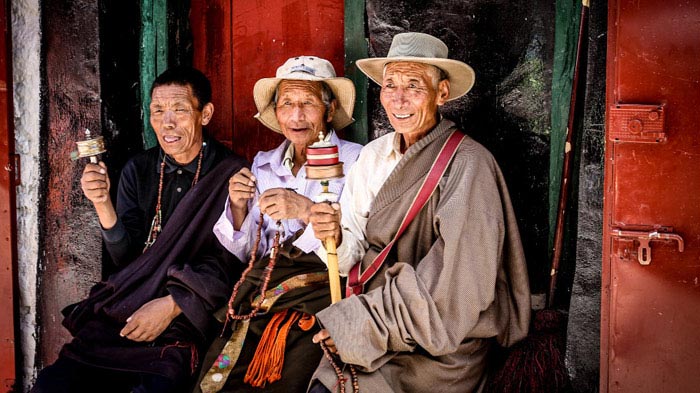 Locals having a rest duing Lingkhor kora
To many old folks of Lhasa residents, doing Lingkhor Kora is their daily routine. With left thumb gently rolling Tibetan mala, they keep chanting Buddhist mantra while spinning hand-held prayer wheel on the right hand. For years, such practice has passed down from one generation to another. They move steadily in clockwise order along Lingkhor Kora route and witness the dramatic change of historic Lhasa city.
For deeply-religious Tibetans, doing Kora is an integral part of their spiritual life and the most direct way to have an inner dialogue with Tibetan Buddha and Deities on the roof of the world. To international tourists, Kora is a fascinating cultural phenomenon to explore in Tibet.