Plots of King Gesar - Tibetan Epic
The Tibetan heroic epic, King Gesar is set in the distant past, when the common Tibetan people were suffering from many natural disasters and vicious devils and living rather a miserable life. Demons and spirits ran wild. To deliver the people from their troubles, the merciful Avalokitesvara or Bodhisattva of Compassion, asked the Amitabha, the master of the western Pure Land, to dispatch a son of a heavenly deity, Toiba Gawa, who later came to be known as Gesar, to descend to the world and help the people. Since his birth, King Gesar had begun to exterminate the evils for Tibetans.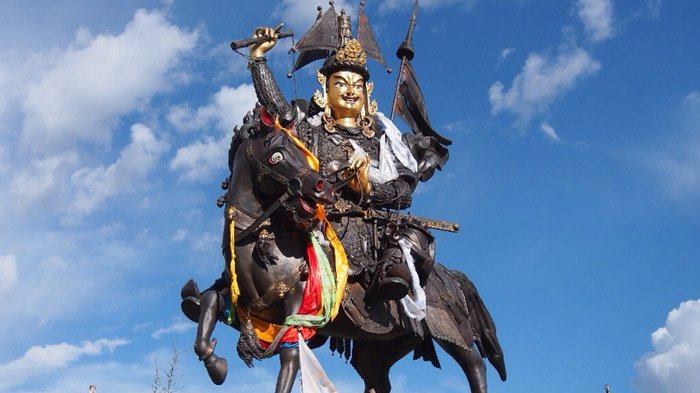 King Gesar Statue in Dege County, Sichuan
Gesar descended upon the earth and became king of the Tibetan people later. With his great abilities to defeat the demons and aid the poor and common people, Gesar was portrayed as a combination of god, dragon and a fierce spirit known as nyan in primitive Tibetan religion. He was endowed with special characteristics and marvelous powers and abilities, also suffering several trials. However, his invincible powers and protection from the God of Heaven helped him to survive and eventually defeat the demons.
Throughout his human life, Gesar labored to abolish the scourges that plagued the lives of the common people. At the age of five, he and his mother with a tribe 'Ling' moved to the banks of the Yellow River. When he was eight, they were joined by the members of the Ling tribe. At the age of 12, Gesar won a victory in a horseracing match and then became the leader of the tribe. Gesar then married Sengjam Zholmo and led expeditions against his enemies, defeating the northern demons that had invaded the Ling Kingdom.
In successive campaigns, Gesar defeated King Gurdkar of the Hor Kingdom, King Sadam of the Jiang Kingdom, King Shingkhri of Monyul, King Nor of Tangzig, King Chidan of Khachevigyu, King Toigui of the Zugu Kingdom and scores of other small tribes and minor kingdoms known as zongs in ancient Tibet. After he finished his glorious missions, King Gesar took his mother and his beautiful empress back to heaven, bringing the grand epic of his life to a dramatic close.