An Encounter with Makye Ame: the yellow landmark of Lhasa that you should never miss for a Tibet trip
Beautiful and charming, Bakuo Street is world-known and filled by countless attracting highlights and stories.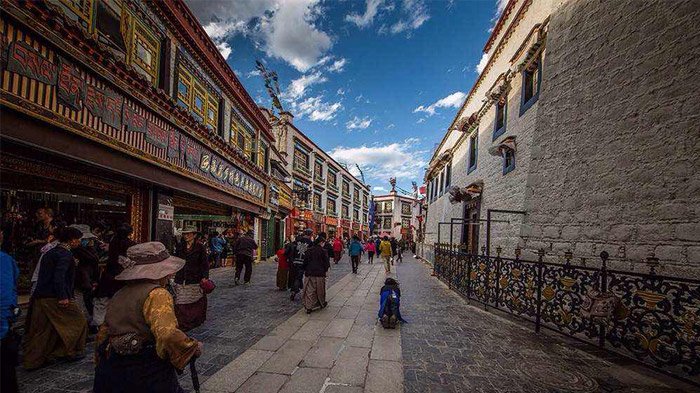 Bakuo Street
When wandering in Bakuo Street, people can't help focusing on a yellow house which is located in the southeast corner of Bakuo Street. Although this yellow house looks common, it has extraordinary history and story. It is very conspicuous because it is yellow, surrounded by other white buildings. Yellow is holy religious color in Tibet. Common houses are white except that temples or houses where eminent monks live are yellow. Is this yellow house a temple or a house where a monk live?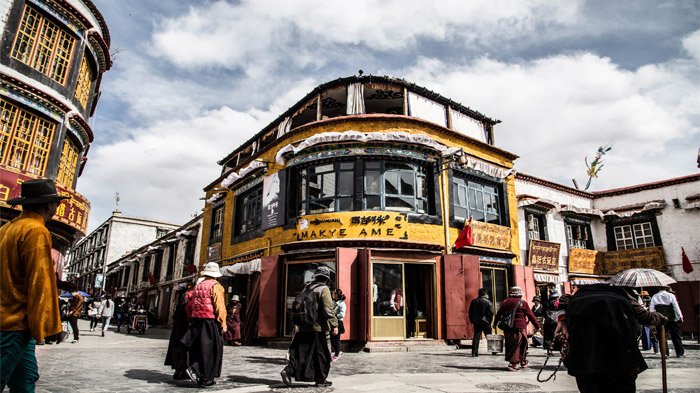 A Yellow House which is Located in the Southeast Corner of Bakuo Street
This yellow house is where Cangyangjiacuo once lived, the sixth Dalai Lama. Someone said he wrote poems here. In addition, someone said he met a beautiful lady by chance, and then he wrote a poem. The content of this poem is that he will miss that beautiful lady----Makye Ame, when moon rises from that high mountain in the east. In this poem, Makye Ame means pure mother or chaste girl or beautiful dream.
People who know well about Tibetan history and Tibetan literature definitely know Cangyangjiacuo. Cangyangjiacuo is the sixth Dalai Lama in Tibet. He is different from other Dalai Lamas in that he is not only an outstanding religious leader, but also a talented romantic poet. His poems spread in Tibet just like wind, and are also sung by Tibetan people like songs. In order to have inspiration or cultivate himself, Cangyangjiacuo often went to experience people's living condition and also their emotion, as a result, he left his footprints in many places in Tibet.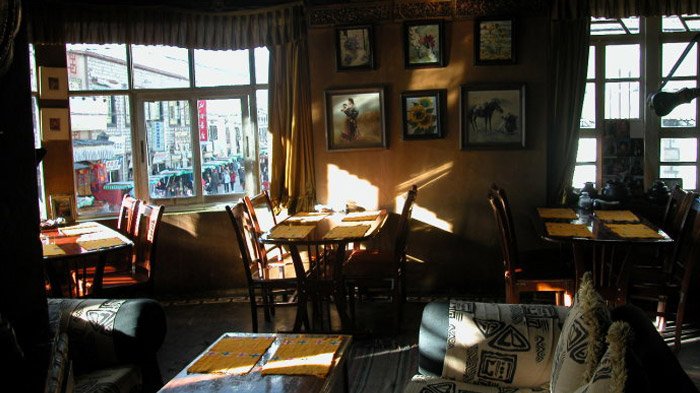 Majiami
This yellow house which had beautiful dream before now has another romantic story. With curiosity, when tourists follow the caracoleand then step into threshold of main hall in the second floor, they fell confused suddenly. They first see "Qiangba" joss, whose radiating eyes seem can see through the visitors' souls, and it makes visitors have respect. What's more, visitors see the Tibetanblack-and-white photos, hung on the crannied yellow wall. It is said that these photos were taken by Harry in 1930s in Tibet, a famous explorer in Austria. Meanwhile, there are old Tibetan Tangka pictures, oil paintings about Tibet and bronze-colored work of art, which all have vicissitudes and history. The deep-colored floor can rival with that in front of the door of Dazhao Temple. There are old Tibetan carpets which are weaved of yak hair on the floor. Especially the ancient bronze censer and copper pot used to hold holy water add eminence to the floor. They have value of art and cultural relics. Then visitors can see many tables. What is interesting is that Tibetan felted wool is served as placemat, and it plays a role of ornament and real usage. Visitors are attracted by exquisitely-carved bar counter which permeates Tibetan nobleman's luxury, elegance, and it is harmonious with primitive simplicity and dignified environment.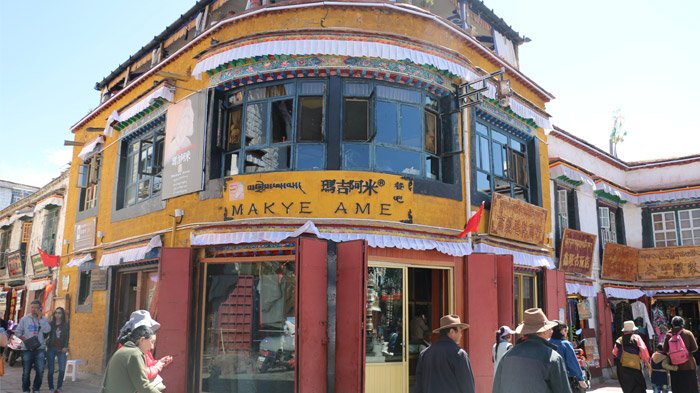 A Old Yellow House with a Romantic Love Story
The menu and droplight here are made of old handmade paper; and the vase and coffee cup are made of earthenware in Tibet. The peculiarity of everything here is Tibetan, artistic and pristine. What make contrast are several computers located in the corner of the main hall. The computers are surrounded by Tibetanold religious mural painting. Though they seem cool, they show warm welcome to every Internet user.
Is it a restaurant, bar, coffee bar or net bar? People will soon find out that it is the Tibetan cultural diet bar named as Majiami, which appears in Cangyangjiacuo's poem.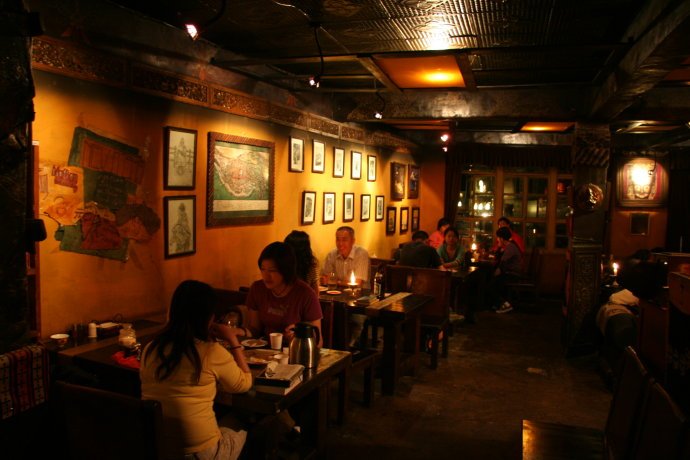 Majiami Restrauant
It is luckey to have such a scenic spot as Makye Ame in this old cultural sight in Bakuo Street. Makye Ame is like a home, not only because of its warm atmosphere formed in the warm color layout, but also the free rest room Majiami provides for people. First, you can have enjoy your meal here----Tibetan meal, Indian meal or Nepalese meal, Italian meal, American meal, and othet desserts. Second, you can taste yak yoghourt, Tibet butter tea, Indian massla tea if you want to moisten your dry mouth. Third, you can swig because there are highland barley wine, rum, gin and also vodka, and they can make you excited. When you have a tour, you can have a rest at Makye Ame, sitting around the window and listening to the music----Tianchang, Tibet, Yinggema and Mysterious Garden which are combination of Tibetan primitive music and modern music. When tasting black coffee made in India or Brzail, you can overlook different people walking in the Bakuo Street and you can gain unforgettable understanding. In addition, you can also read people's writings in different languages and forms: lyric wirting, travel writing, comment writing, bulletin writing, or even posthumous papers and marriage-seeking writing, from which you can see life. If you feel homesick or cut off contact with the outside, you can make up in the Internet bar.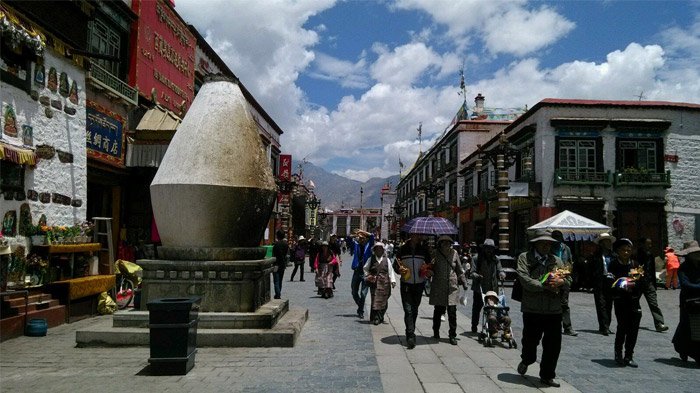 Bakuo Street
With classic beatuy and inspirational attraction, it appeals other scholars to gather here to have discussion, and there is no lack of famous people.
With Cangyangjiacuo's poems, we leave Makye Ame and we leave Tibet.
Makye Ame is a land of treasure which links heart and feeling. Two strangers can know well about each other here. Love between them will brings them here. We can't help thinking that far beautiful dream in Cangyangjiacuo's poem turns into a mental aura to let their love sprout. It seems that there is something working out. You can easily make friends at Makye Ame, because it is a place where it has no stakes and every visitor can find direct and common integrating point and also establish solid friendship. For example, Zelangwangqing, the owner of Makye Ame, make friends with people from different countries. Most of his friendship is solid and their friendship has palyed a valuable role in their life and carrer development.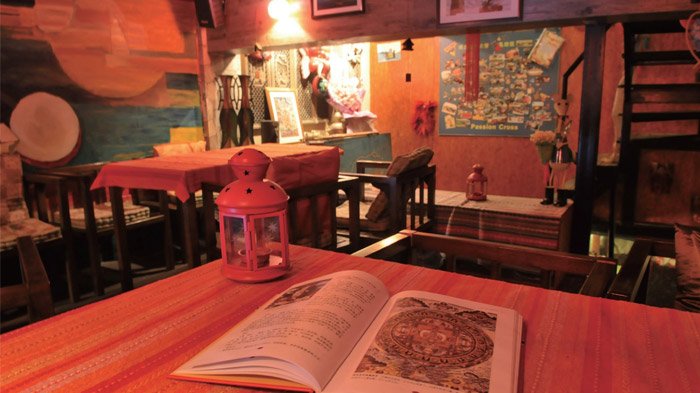 Majiami
Makye Ame is like a courier station in the desert, and it leaves beautiful dream in passers-by' hearts.
With time going by, the yellow house in Bakuo Street will continuously tell old and beautiful, romantic and modern stories. Makye Ame will always be the plot, emotion and soul of the story.
Makye Ame is the house that you should never miss out for any of a Tibet trip.