Linka Festival: Romantic Folk Culture of Tibet
Tibetan festivals have an intimate relationship with the distinctive religion and unique topography of Tibet. Of dozens of highly religious festivals, Linka festival is a special one that mirrors the harmonious life between Tibetans and plateau environment.
What is Linka?
In Tibetan, "Lin" literally means oasis and "Ka" refers to the walls built with stones and clay, which is fairly similar to garden or smaller holiday resort in parts of mainland China. "Linka outing" is a fine custom in which Tibetans go to "Linka" for picnic and relaxation. Such tradition has existed for at least 2 or 3 hundreds of years. Linka festival is not only observed in Lhasa, but also in Shannan, Shigatse, Nyingchi and Chamdo, etc.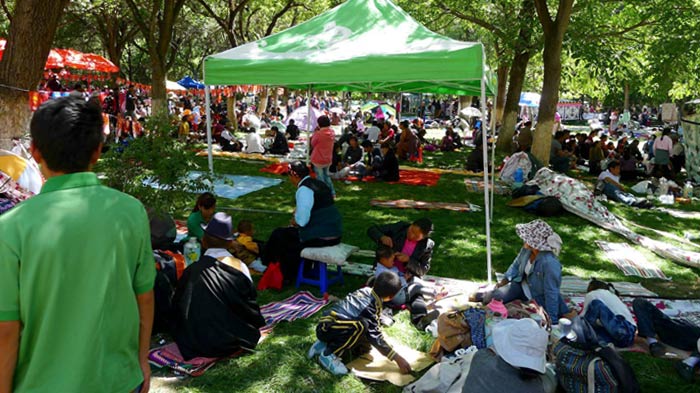 Residents of Lhasa were enjoying Linka Festival in Norbulinka.
Traditionally, Linka festival is observed on May, 15th on Tibetan calendar to commemorate Guru Rinpoche's success in defeating all demons and evil spirits in Tibet. As you tour Tibet, never miss the chance to experience such romantic custom with local Tibetans
The practice of Linka, to a large extent, has much to do with unique climate and weather of Qinghai-Tibet plateau. Since the winter is much longer than summer on the plateau, staying indoors for too long prompts Tibetans to enjoy outdoor activities. As soon as spring comes, Tibetans would travel with their friends or relatives to Linka for fun and relaxation. Therefore, spending time in Linka , which used to be an exclusive luxury to Tibetan nobles, now has been one of the favorite pastimes for Tibetans.
Early Historical Record of Linka Festival
NO one can tell the exact time when the practice of Linka starts. However, through many historical paintings, we can have a glimpse of early forms of Linka festival. A perfect example is the mural " Grand Celebration" inside Jokhang Temple.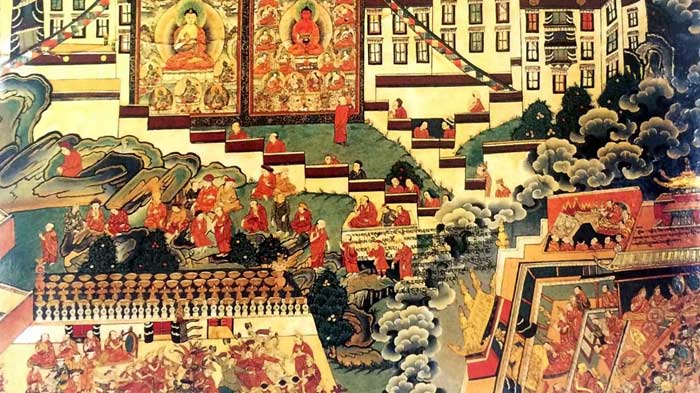 Mural inside Jokhang Temple
The mural is intended to display the grand celebration before Potala Palace. While Songtsen Gampo, the founders of Tibet empire, is vividly portrayed in the painting. Under the trees are Tibetans tasting the food, and others are either playing musical instrument or enjoy the show. What is shown in the fresco is believed to be the earliest record of Linka festival. And such scene can still be seen today.
Linka Festival in Lhasa
Traditionally, Norbulingka, the summer palace of Dalai Lama in the downtown of Lhasa, is the heart of celebration during Linka festival. And the highlight would be the performance of Tibetan drama (also known as Lhamo). Many popular plays are known as "Princess Wencheng", etc.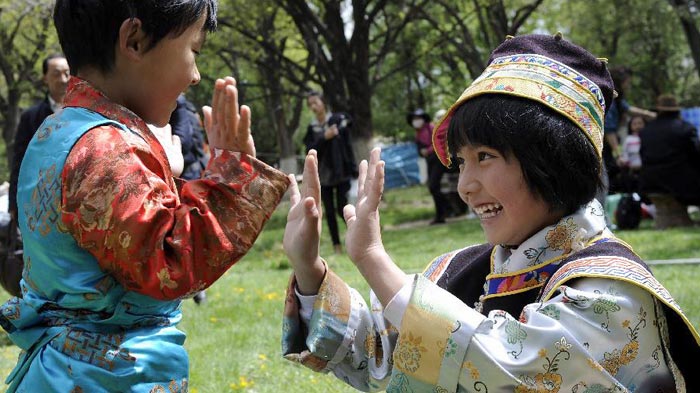 Kids were playing during Linka Festival.
The lively festivities also involve horse-racing, wresting, poker play, track and field contest, and disco dancing and other performances. Across Tibet, Linka festival has been a relaxing occasion where family members, friends can drink chang( barley wine, butter tea, and eat yak, mutton, snacks, which ultimately forms a stronger bond.
Linka Festival in Shigatse
Linka festival is celebrated in Shigatse on June, 1st. By then, a large number of local residents and Tibetan nomads nearby will travel to Gongjue Linka Palace for the gala party there. Inside the Gongjue Linka Palace, massive tents are set and locals will be dancing and having local delicacies under the big tents and trees.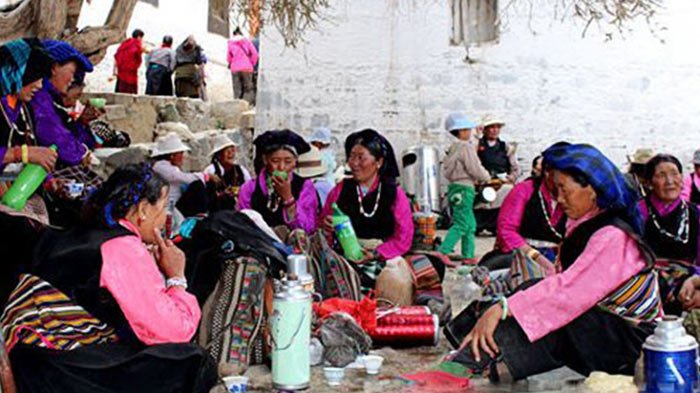 Locals had sweet and butter tea under the trees in Tashilhunpo Monastery.
It is said that the earliest Linka festival in Shigatse is not observed in Gongjue Linka Palace. Instead, men in Shigatse will ride on donkey with their wives to worship "Lotus Buddha" in a meditation cave at suburbs and later join their relatives to have picnic in Jicai Linka. As time goes by, donkey riding competition, horse-racing, and archery, etc. become part of the celebration.
Linka in Nyingchi and Chamdo
In eastern Tibet like Nyingchi and Chamdo, where there are huge resources of pristine forest, Tibetans would pack the tent and enough food and either walk or ride on horses to forest to enjoy Linka. Since the vast forest itself is a large park, they would camp there and have fun for a couple of days till they come back.
Linka in Modern Days
Nowadays, having Linka is not only limited to formal parks or garden for Tibetans. So long as there are densely-grown big trees, or even a large lawn at suburbs, local Tibetans will spread their carpet and put traditional Tibetan food, fruits and drinks and enjoy Linka there.
In many cases, the traditional Chang (barley wine) is replaced with Lhasa beer. While on boundless prairie in Tibet, Tibetan nomads would simply put up tents and spend a leisurely afternoon with their families. It's safe to say that the long tradition of Linka outing represents the Tibetans' love for nature and longing for happy life.