Top 10 Cities You Must Visit in Tibet
Tibet, a holy place perched on the Qinghai-Tibet plateau, is known by the world for its awe-inspiring alpine scenery, fervent pilgrimage and sacred monasteries and temples, and countless legends and mysteries, etc. For the first-timers to Tibet, the following 10 cities of Tibet are well worth a visit of all time.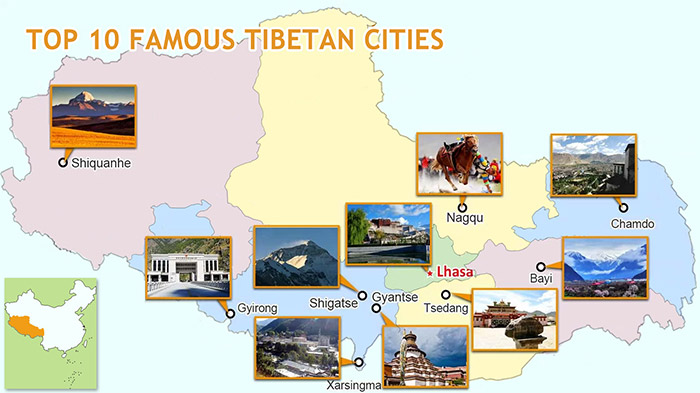 (Simple click to enlarge the map)
Map of top 10 cities in Tibet
a. Lhasa (3658m)----Spiritual Heart of Tibet
As the biggest and capital city of Tibet, Lhasa is undoubtedly the most important city to cover for your Tibet tour. Located in northern back of Kyichu River, Lhasa is an alluvial plain with enchanting scenery and pleasant weather. The total population of Lhasa is around 559,423 and almost half of them live in urban district. And 90% of Lhasa residents are Tibetan Buddhists. The focus of your visit in Lhasa shall be in the old Lhasa city, which overlaps Chengguan district.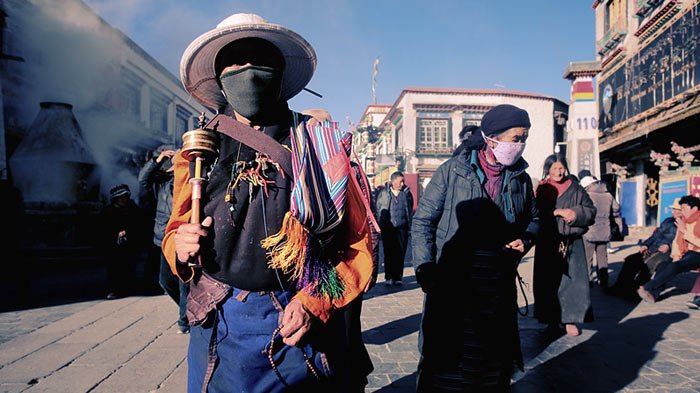 Devout Tibetan pilgrims doing kora around holy Jokhang Temple
The imposing Potala Palace on sacred Red Hill takes your breath away instantly and climbing it gives you panoramic view of this 1,300-year-old historic city. You certainly shall not miss the prostrating Tibetan pilgrims around holy Jokhang Temple, bustling Barkhor Street and lively Tibetan sweet tea house, dramatic monk debate in Sera Monastery and picturesque Ganden Monastery and huge Drepung monastery, and stunning Lhasa River. With time permitting, travelling from Lhasa to sacred Namtso is highly recommended for you.
b. Shigatse(3860m)---Home to the World's Summit
Shigatse, the second largest city in Tibet, covers an area of 182,000 sq km. And the entire Shigatse prefecture serves as the crucial hub connecting Lhasa, Neap and western Tibet. In fact, travelling from Lhasa to Shigatse is one of the most popular travel routes in Tibet. Tourists will be able to appreciate the stunning 4 highest mountains along majestic Himalayan Range at Gawu La Pass (5198m) and have close observation of world's summit Mt. Everest(8844.43m) at Everest Base Camp(5200m) as well as world's highest monastery —Rongbuk Monastery (5154m). The best time to EBC is Apr, May, Sept, Oct.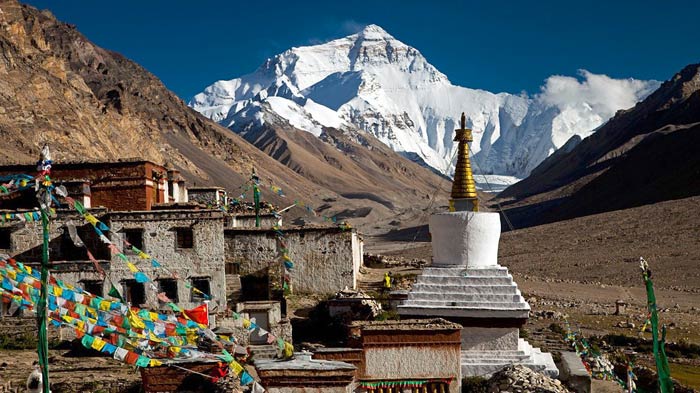 Spectacular panoramic view of Mt.Everest from Rongbuk Monastery, Shigatse, Tibet
While in Shigatse city, the biggest tourist attraction is the Tashilhunpo Monastery, built by 1st Dalai Lama in 1447. The gigantic Gelugpa monastery has world's biggest statue of "the Future Buddha", and residence of Panchen Lamas, huge Thangka Buddha unfolding platform, etc. Next comes Sakya Monastery, the center of the Sakya Sect. The treasure house of Tibetan Buddhism houses huge volumes of valuable literature of Tibetan history, religion and philosophy, astronomy, mathematics and art. Other attractions include Peikutso, Summer Palace of Panchen Lamas, and Shigatse Dzong, etc.
C. Gyantse (3977m) ---Historic and Heroic County
On the way from Lhasa to Shigatse city, tourists will pass historic Gyantse County. Located in Nyang Chu Valley, Gyantse is blessed with pleasing climate and fertile land. Therefore, since ancient times, it has been a busy business route among Tibet, India, Bhutan and Sikkim. And Gyantse County is also known throughout Tibet for its superb Tibetan wool carpets. However, nowadays, Gyantse is widely known for its heroic resistance against British aggression in 1904 and annual Gyantse Dama (horse-racing) Festival.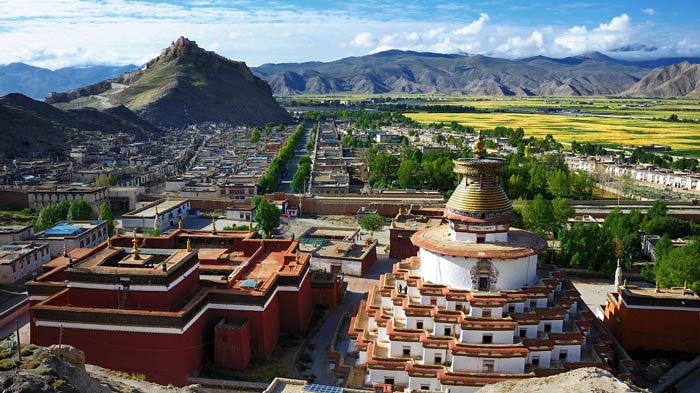 A bird's-eye view of historic city from iconic Palcho Monastery
To the majority of tourists, 4 of the attractions in Gyantse are a must-visit, i.e. Palcho Monastery, Kumbum Stupa and Dzong Fortress and old street of Gyantse. Palcho Monastery is one of the handful Tibetan religious compounds where Saya, kadampa, and Gelugpa sects coexist in one Tibetan Monastery. And Kumbum stupa, the nice-story chapels, features Han, Tibetan and Nepali architectural styles and mirrors the hierarchy of three-dimensional mandala. While the Gyantse fortess, perched on the rugged hill like a menacing dragon and peaceful old street of Gyantse are also worth for exploration.
D. Tsetang (3580m)--- Center of the Cradle of Tibetan Civilization
To the north of confluence of Yarlung River and Yarlung Tsangpo River lies the idyllic Tsetang , the capital city of Shannan prefecture. The exceedingly fertile land and mild weather make it the residence of the first Tibetan King and mark the early development of Tibetan agriculture. Travelling to Tsetang, one shall never miss the chance to visit Samye Monastery, the first Tibetan monastery built in 779CE by King Trisong Detsen. Situated 30km away Tsetang, Samye Monastery is also the very first monastery to allow tonsured monks to become real Buddhists.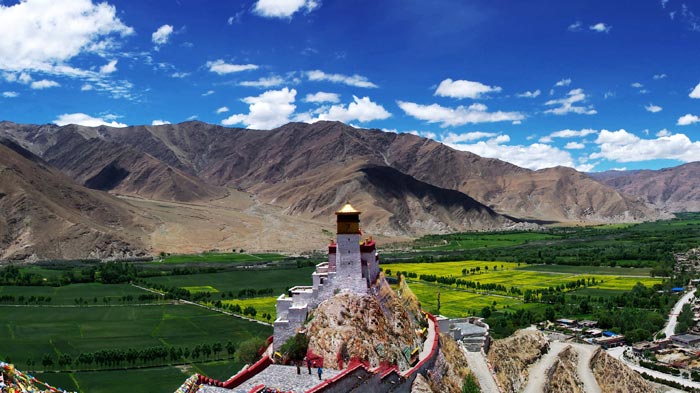 Yungbulakang Palace, the first royal residence in fertile Tsedang
Another must-see attraction in Tsedang is the Yungbulakang , the first palace for the first Tibetan king. Across the valley from Yungbulakang is an incredibly fertile and verdant crop field known as zortang, said to be the 1st cultivated field in Tibet. In addition, another hugely popular destination in Shannnan is turquoise Yamdrok Lake, Nangartse County. It only takes about 2h to reach the sacred lake from Lhasa by car.
E. Bayi(2900m)---Hub of "Eastern Swiss-Alps"
Bayi, the capital city of picturesque Nyingchi Prefecture, is situated on the northern bank of the Nyang River, a tributary of the Yarlung Zangbo River. Bayi is marked by flat terrain, humid climate and ample rainfall and evergreen pristine forest surrounding the valley. As Nyingchi is the only prefecture with the lowest altitude (3000m) and dense forest in Tibet, there is no need to worry about altitude sickness at all.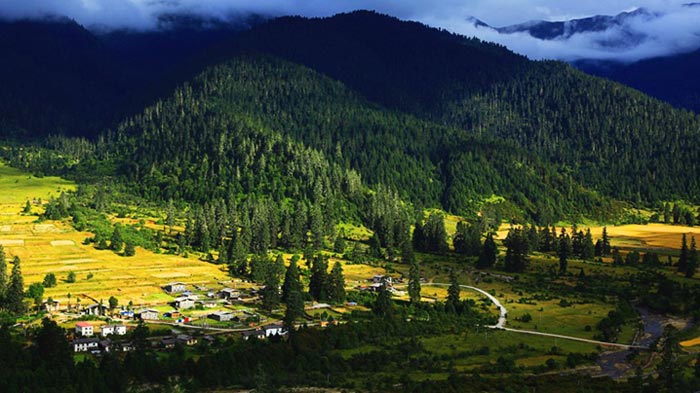 Massive vibrant pristine forest in Lulang
Around 6km away from Bayi town lies the "the King of Cypress", a nature reserve filled with thousand-year-old cypresses. Next comes the Lulang Forest. The vast and vibrant forest are known for its multiple flora and fauna, resembling the charming scenery of Switzerland. On the way to and back to Bayi, you can enjoy the side view of breathtaking Mount Namche Barwa and enchanting Niyang River. If you love greenery and prefer travelling in places with comparatively lower places, Bayi and entire Nyingchi Prefecture are a great option for you.
F. Chamdo (3240m)--- Core of Khampa Culture
Chamdo is the center of Kham with a population of 586,100, mostly local Tibetans. It is the home of Khampa culture as well as the very place where earliest Tibetan presence appears. Some of the highlights of Chamdo involve Galden Jampaling Monastery, the biggest Gelugpa monastery in Kham area, and Rawok Lake awe-inspiring snow-capped mountain. And to the north of Rawok Lake stands magnificent Lhegu Glacier, the source of Parlung Tsangpo. Rawok Lake, together with Lhegu Glacier makes a perfect combination of Alps of Swiss and Jiuzaigou.

Incredible view of Rawok Lake in Autumn
G. Nagqu(4500m)--- Horse-racing and Qiangtang Prairie
With an altitude of 4500m, Nagqu, the biggest prefecture (450,537 square km) in northern Tibet, is well-known for exuberant Qiangtang prairie where finest Tibetan horses, yaks and other livestock are produced. It's also the biggest supplier of the high-quality herb medicine: Caterpillar fungus. In addition, Nagqu is also one of the places in Tibet with the fewest human presence. What draws global tourists to this boundless grassland is the annual grand Nagqu Horse-racing festival, intriguing life of indigenous Tibetan nomads and alpine wildlife, such as Tibetan antelope, Tibetan wild ass, Tibetan gazelle, black-necked cranes, etc.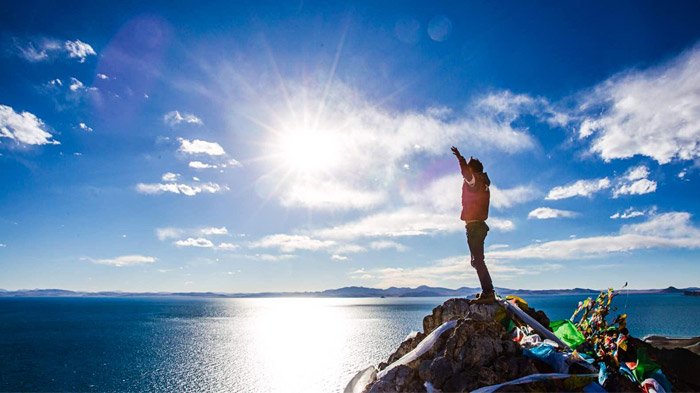 The surrealistic beauty of sacred Namtso Lake easily takes your breath away.
However, the biggest draw to Nagqu is undoubtedly the heavenly Namtso Lake, located on border between the Lhasa and Nagqu prefecture. The world's highest (4718m) and China's second-biggest saline lake is one of the top three sacred lakes in Tibet. with miles of snow-capped Nyenchen Tanglha Mountains as the background, the dazzling sapphire lake makes you wonder if you are travelling in a wonderland. It's also one of the most popular destination for pilgrimage to Tibetan pilgrims.
H. Shiquanhe(4279m)--- Indian River Upstream and Legendary Town
Shiquanhe is situated in the wild gobi desert of Ngari Prefecture, which is characterized by vast wilderness and barren land and plenty of wildlife. Shiquanhe town comes to people's attention as the upper reaches of Indian River and major tourists center for people travelling to different attractions in Ngari. Before you reach Shiquanhe, tourists can visit sacred Manasarovar lake and stay overnight in Darchen and begin the ultimate 3-day kora around holy Mountain Kailash as well as incredible Tsada Clay Forest.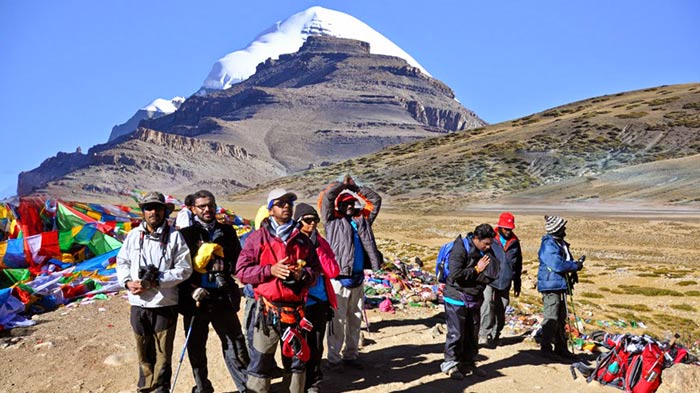 Divine experience during 3-day kora around holy Mt.Kailash in Nagri
After that, you may have a rest in Shiquanhe town and get ready to visit lost ancient civilization of western Tibet, i.e. ruins of Guge Kingdom and Tholing Monastery, the oldest monastery in Ngari. Pangong Lake, situated to the north of Shiquanhe town, is also worth a visit for it being the natural habitat of long-necked crane. If you have enjoy time and budget, having the big loop tour of Ngari to Lhasa will reveal the true beauty of entire western and northern Tibet to you.
I. Gyirong(2600m)--- New Overland Gateway to Kathmandu
Gyirong, which literally means "village of comfort and happiness", is situated in the southwest of Shigatse Prefecture, Tibet. The scenic county involves broad alpine valleys in the north and stung canyon in the south, divided by majestic Himalayan range and sublime Shishapangma Mountains. Historic monasteries, mixture of Tibetan and Nepali culture and awe-inspiring scenery keep attracting ceaseless flow of world-wide tourists to stop over in this enchanting town as they travel from Tibet to Nepal and vice versa.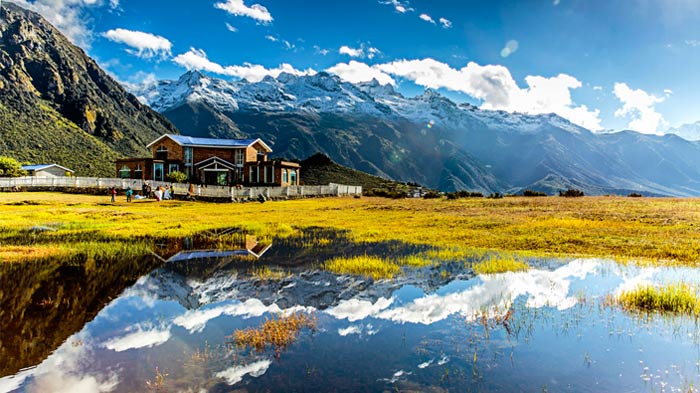 Enchanting view of Gyirong Valley
Some of the highlighted tourist attractions in Gyirong include Gyirong Valley, the westernmost valley in Shigatse, as well as an ancient route from China to India. You will be thrilled to see the charming pastoral scene, and crystal clear lake under the foot of snow-capped mountains, etc. Another must-see attraction is Paba Monastery. Though the monastery is not that big, it has the same history with Jokhang Temple in Lhasa. The legend has it that when Nepali Princess Bhrikuti traveled from Nepal to marry Songtsän Gampo. She brought three statues of Shakyamuni Buddha, one of which was left and enshrined in Paba Monastery. Besides, Gyirong Gtsang Po Canyon is also worth a visit.
J.Xarsingma(around 2000m)--- Trade Hub between Tibet and Other South Asian Countries
Xarsingma is the major town of Yadong county, Shigatse, Tibet. Due to the proximity to Sikkim, Bhutan, and India, Nepal and Bangladesh, Xarsingma, for centuries, has been a vital trade hub between Tibet and other South Asian countries. The climate here is humid for dense forest in the region, and virtually all the houses in Xarsingma are made of high-quality pine trees and typical Tibetan patterns, a sharp contrast from the scene you've seen elsewhere in Tibet. Dongga monastery, the largest Gelugpa monastery with over 500 years' history, is highly recommended for visit.