Maps of Tibetan Cities and Towns
Covering a total area of 1.22 million square km, Tibet Autonomous Region is the second largest province in China. There are 6 prefectures, i.e. Shannan, Nagqu, Shigatse, Ngari, and Chamdo. Meanwhile, Lhasa stands out as the capital city and the largest city of Tibet. The second largest city is Shigatse City. All together there are 73 counties across Tibet.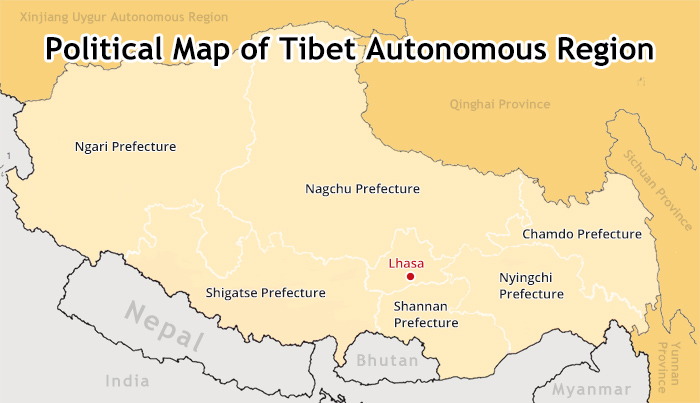 (Simple click to enlarge the map)7 administrative regions of Tibet
Lhasa, Capital City of Tibet
With a history of 1,300 year, Lhasa is the heart of Tibetan Buddhism, culture and history and economy in Tibet. Roughly Located to the north of the middle reaches of Lhasa River, Lhasa city is a peaceful alluvial plain with pleasant climate. It is widely known as the "Holy City of Sunshine", largely due to its long hours of daylight (over3, 000 hours annually) on the Qinghai-Tibet Plateau. For years, the sacred city has remained the most popular destination of pilgrimage and sightseeing for Tibetan pilgrims and global tourists.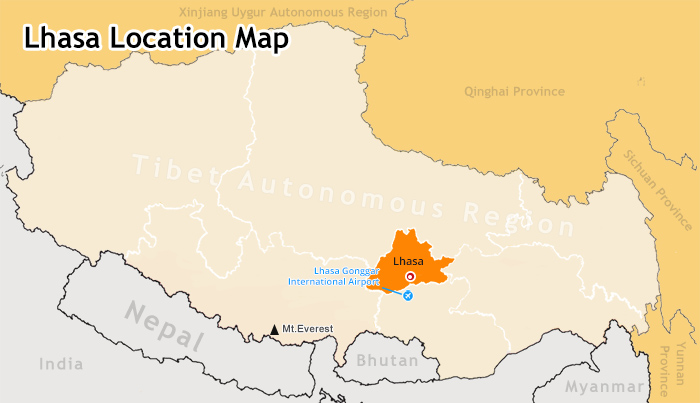 (Simple click to enlarge the map)Map of Lhasa location
Altitude: with an average altitude of 3658m
Status: capital city of Tibet
Lhasa Area: 31,662 square km (urban area 62.8 square km)
Climate: Semi-arid monsoon climate; long hours of daylight, dramatic temperature change between day and night, and strong solar radiation, annual average temperatue 7.4℃
Population: 559,423 (more than half of them live in Lhasa city), mainly Tibetan, Han and Hui
District and County: There are 7 counties and 1 district, i.e. Chengguan district. Chengguan district overlaps the urban area of Lhasa. It is where highlighted attractions of Lhasa lie.
Religion: Tibetan Buddhism (99% of Tibetans), Bon, Christianity (immigrants) and Islam (immigrants)
Language: Tibetan, Mandarin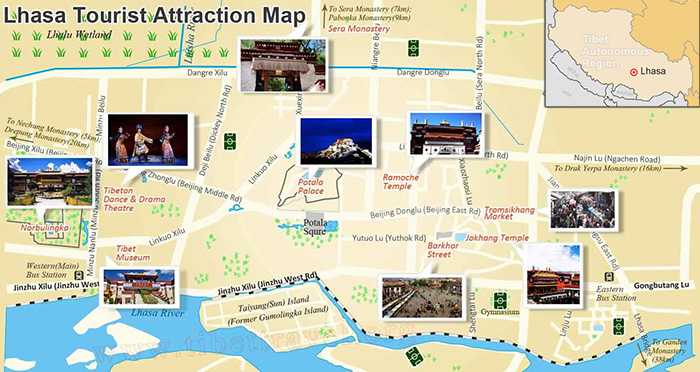 (Simple click to enlarge the map)Map of Lhasa tourist attractions
Must-see attractions in Lhasa are as follows:
Potala Palace: the most iconic religious site of Tibet; winter palace for Dalai Lama with superb panoramic view of Lhasa city
Jokhang Temple: the spiritual heart of Lhasa; perfect place to explore history of Tibetan Buddhism and experience Tibetan Pilgrims' prostration and worship
Barkhor Street: Watch and join Tibetan pilgrims' kora (religious circling) around Jokhang Temple; brilliant place to shop for exotic souvenirs
Ramoche Temple: Second most important temple in Lhasa only next to Jokhang Temple
Sera Monastery: highly recommended place to enjoy dramatic Monk Debate ;one of the three renowned Tibetan Buddhist monasteries with Gelug sect
Norbulinka: known as the summer palace of Dalai Lama; place of relaxation and picnic for Lhasa residents
Chagpori: best place to photograph Potala Palace; also known for Medicine Buddha and stone carving of Buddhas
Tibet Museum: collectively display of Tibetan cultural relics, rare Thangkas, religious ornaments, and musical instruments, etc.
Other options:
Lhasa River: picturesque scenery with perfect habitat for wild birds (such as black-necked cranes, wild ducks, etc.) and lush vegetation; another preferred place for picnic for Lhasa residents
Tromsikhang Market: historical bazaar where fresh Tibetan farm produce are sold; unusual place to learn the folk life of Lhasa residents
Attractions around Lhasa Cities:
A number of attractions around Lhasa, both historical Tibetan Monasteries and sacred alpine lake, are also something you couldn't afford to miss as you tour Lhasa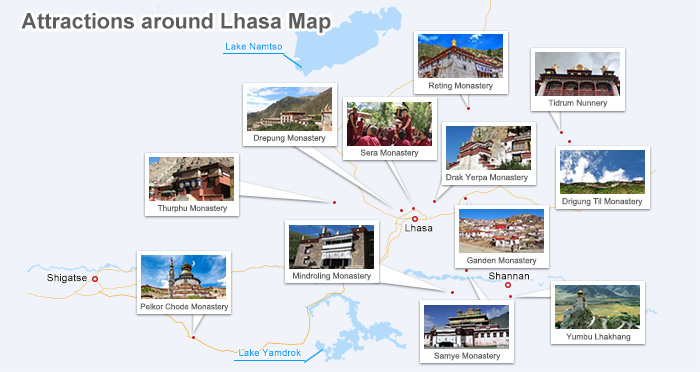 (Simple click to enlarge the map)Attractions around Lhasa
Cycling and Sightseeing:
Namtso Lake: the biggest saline alpine lake in Tibet; one of the three most sacred lakes in Tibet; you may enjoy the 8 Days Lhasa to Namtso Lake Bike Tour
Yangpachen Hotspring: abundant geothermal resource for bathing and relaxation
For Trekking and Sightseeing:
Trek from Ganden Monastery to Samye Monastery
Ganden Monastery is one of the most famous monasteries of Gelug sect around Lhasa. You can enjoy the stunning view of Lhasa Valley. While Samye Monastery is the first Tibetan monastery built in Tibet and its unique architecture mirrors Buddhist cosmology and philosophy. To outdoor enthusiasts, you can enjoy idyllic trekking route from Ganden Monastery to Samye Monastery.
Trek from Thurphu Monastery to Yangpachen Monastery
Tsurphu Monastery is the seat of the Karmapa branch of the Kagyupa order of Tibetan Buddhism. The monastery houses cultural relics of 16th Karmapa and vivid Buddhist fresco. Tourists can trek from Thurphu Monastery to Yangpachen Monastery, which is only 80 km away from Lhasa. You can see the alpine pasture and lofty mountains in the distance and herdsmen and countless wild flowers, etc.
Other Popular Monasteries around Lhasa:
Drepung Monastery: one of the towering monasteries with Gelug sect around Lhasa; the best monastery to see gigantic Buddha thangka unfolding during Shoton Festival ( around July, 1st on Tibetan Calendar); brilliant view of Lhasa skyline
Drak Yerpa Monastery: quiet and serene, the monastery is built on the cliff. There are many medication caves to explore with brilliant view of mountains and valleys from above.
Drigung Til Monastery: a monastery impossibly grafted onto a sheer cliff face; solemn place for sky burial (to respect the dead and their family, it is often forbidden to tourists.)
Mindroling Monastery: the largest and most important Nyingmapa monastery; cham dancing is staged on the 10th day of the 5th Tibetan lunar month.
Reting Monastery: It was the first major monastery of the Sarma revival. It was Reting Rinpoches who successfully searched and discovered the 14th Dalai Lama.
Tidrum Nunnery: The nunnery, though small, is home to hundreds of nuns and countless hermitages. Pilgrims and visitors come to Tidrum for the sulphur hot springs, also frequented by the nuns.
Note: In addition, Lhasa is also the only city in Tibet with the most diverse hotels and restaurants. Even the tourists with the most particular taste can find a hotel or restaurant that satisfies your need. Check here for more detailed information about Lhasa's hotels and where to dine in Lhasa.
Shigatse City, G
ateway to the World's Summit
Situated at the juncture of Yarlung Tsangpo River and Nyang River, Shigatse is the second largest city in Shigatse Prefecture. Crowned as the "Most beautiful and Fertile Manor" of Tsang, Shigatse has been the residence of generations of Panchen Lamas, highest ranking only after Dalai Lama in Tibet. The imposing Himalayan Mountains, most notably the close observation of world's summit, i.e. Mt. Everest makes Lhasa to Shigatse tour the most popular travel route in Tibet.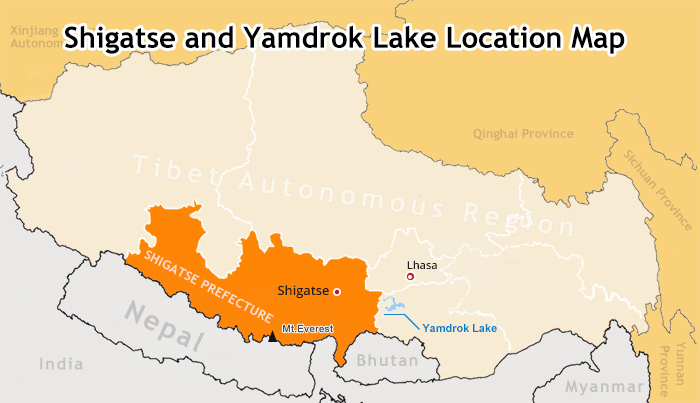 (Simple click to enlarge the map)Map of Shigatse city
Altitude: with an average altitude of 3860m
Status: gateway to the world's summit
Shigatse Area: 182,000 square km (urban area 18.2 square km)
Climate: thin air, low air pressure, long hours of daylight ( 3300hours annually), annual average temperatue 6.3℃
Population: 773,000(entire Shigatse Prefecture); over 90% of them are Tibetans
District and County: Shigatse City and other 17 counties
Religion: Tibetan Buddhism (99% of Tibetans), Bon
Language: Tibetan, Mandarin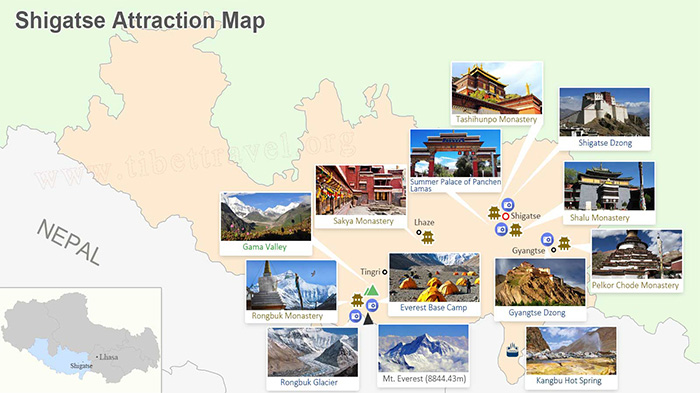 (Simple click to enlarge the map)Attractions around Shigatse City
Tashilhunpo Monastery: treasuring the world's largest glided Qamba Buddha bronze and many precious cultural relics; the largest monastery of the Gelug Sect in Rear Tibet
Mount Everest (Mount Qomolangma): has an altitude of 8,848.13 m; the main peak of the Himalayas on the border of China and Nepal
Everest Base Camp: offer the chance to gaze on the magnificent north face of Mt.Everest; one of the most popular trekking destinations in Tibet
Rongbuk Monastery: the highest monastery in the world; tourists choose to overnight here before trekking Everest Base Camp
Rongbuk Glacier: the largest glacier inside the Mt. Everest State Natural Reserve (ABC trekking)
Gyantse Dzong (Gyantse Fortress): one of the best preserved dzongs (one kind of fortress) in Tibet
Summer Palace of Panchen Lamas:about 1 km south of Tashilhunpo Monastery; entering many rooms to see the local artists working
Sakya Monastery : known as the 2nd Dunhuang; holding the world's largest treasure of Buddhist scriptures written on pattra leaves
Shalu Monastery (Xialu Temple) : famous for its perfect combination of Han and Tibet architectural styles
Pelkor Chode Monastery : the landmark of Tibetan art and history in Gyantse; the most famous items are the murals
Kangbu Hot Spring : famous among local people; has very special treatment effect
For Trekking and Sightseeing:
Tingri to Everest Base Camp Trekking (4-5 days, highly recommended)
The trekking trail from Tingri to Everest Base Camp is in a high-elevation region with altitudes ranging between 4400m and 5200m, but it provides a heady mix of solitude, wildlife sighting and physical challenge. You will enjoy the top 5 highest mountains along majestic Himalayas, esp. the close observation of Mt. Everest at Everest Base Camp.
Everest Trek: Trekking Routes along the Gama Valley (14 days)
Gama Valley is reputed as the one of the most beautiful valleys in the world. The entire Gama Valley trekking route is within Mt. Everest Nature Reserve. The Gama Valley is loaded with rare plants, wildlife and breathtaking wetlands, waterfalls, lakes, etc. On top of that, the born mountaineers Sherpas also live there and you may find it interesting to chat with them against the backdrop of Mt. Everest, Mt. Lhotse, and Mt. Makalu.
Everest Trek in Tibet: Base Camp (5200m) to Advanced Base Camp (6340m) (5 days, ultimate challenge)
Trek from EBC to ABC is undoubtedly the ultimate challenge to ordinary tourists. The 28km trekking route starts with Everest Base Camp (5200m) and trekkers move upwards along undulating moraine hills beside the Rongphu Glacier. Tourists are able to appreciate the peculiar shape of glaciers and then reach the Intermediate Camp(5800m) and keep heading upwards by passing the East Rongphu Glacier till the final destination---Advanced Base Camp (6340m), located alongside the East Rongphu Glacier.
Note: Compared with accommodation in Lhasa, most of the hotels in Shigatse are limited to three or four star ones. If you want to travel to Everest Base Camp, the accommodation is even worse, mostly home-run tents by locals and guesthouse in monastery such as Rongbuk Monastery. Meanwhile, the food is also very basic. Check here for more detailed information about Shigatse's hotels and where to dine in Shigatse.
Tsetang,
Granary of Tibet
Tsedang is located to the south of middle reaches of Yarlung Tsangpo River. As the capital city of Shannan Prefecture, Tsetang is 191km away from Lhasa city and 97km from Gonggar International Airport. Because of the mild climate, fertile land and highly developed agriculture, Tsetang and entire Shannan Prefecture are believed to be the cradle of Tibetan civilization. And the Yarlung River that flows through the Tsetang town is known as the "River of Mother" to Tibetans.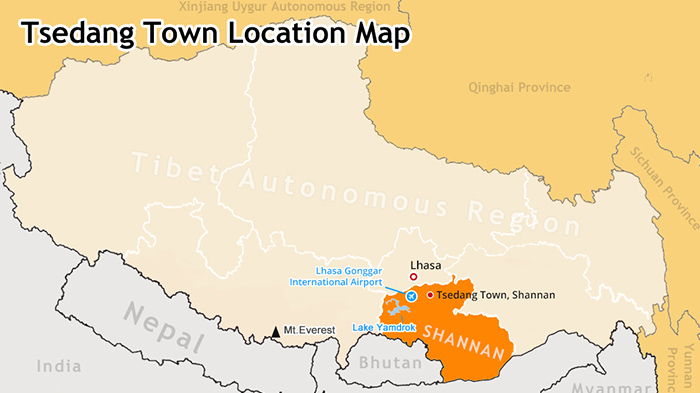 (Simple click to enlarge the map)Map of Tsedang Town
Altitude: 3580m
Status: capital city of Shannan Prefecture; Granary of Tibet
Tsetang Area: 21,988.87 acres
Climate: Temperate semi-arid, semi-humid plateau monsoon climate; annual average temperatue 5-8℃; one of the warmest regions in Tibet
Population: 55,800
District and County: Tsetang town and other 11 counties in Shannan Prefecture
Religion: Tibetan Buddhism
Language: Tibetan, Mandarin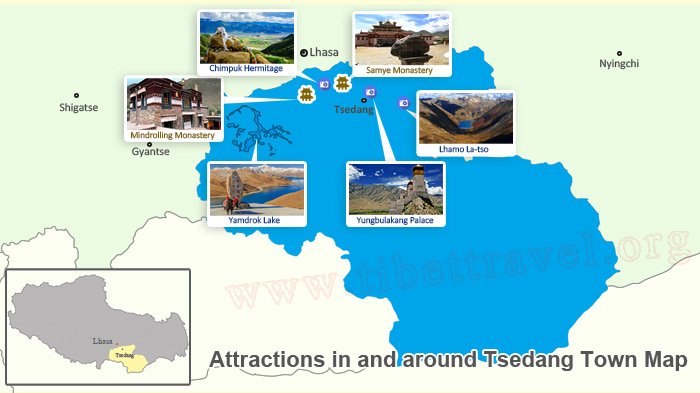 (Simple click to enlarge the map)Attractions around Tsedang Town
Yungbulakang Palace: the first royal palace in Tibet built by Nyatri Tsanpo, the first Tibetan king
Samye Monastery: the first Tibetan monastery built in 779 AD and first Buddhist academy in Tibet
Lhamo La-tso: miraculously sacred lake where senior Tibetan monks would find a visions to discovery of reincarnations of the Dalai Lamas
Chimpuk Hermitage: one of the most famous meditation places of Tibetan Buddhism
Yamdrok Lake: one of the top three sacred lakes in Tibet; turquoise lake is the largest habit for migration birds in southern Tibet
For Trekking and Sightseeing:
Trek from Ganden Monastery (4180m) to Samye Monastery (3540m)
The 80km trekking from Ganden to Samye is regarded as one of the best hikes in the world. It is a fulfilling and pleasant pilgrimage trip with much to offer, an overview of Tibetan Buddhism and religious culture, blue holy lakes, high snowy passes and mountains, lush alpine meadows, sporadic herders' camp, tranquil Tibetan villages, time-honored sacred sites, finally culminating at the barren, desert-like surroundings near the Samye Monastery.
Note: Mostly, the 3 star hotels and hostels can be found in Tsedang on the Naidong Road. Different from the rest of Tibet, food in Tsedang is dominated by Sichuan cuisine. The Sichuan cuisine restaurants can be seen everywhere, with inexpensive dishes up to you taste. Check here for more detailed information about Tsedang's hotels and where to dine in Tsedang.
Shiquanhe Town,
Commercial Hub in Ngari
Shiquanhe town is the administrative center of Ngari Prefecture. It is often to be referred to Gar by locals, which literally means "Tent or Barracks". The Shiquanhe town is also an important commercial hub in Ngari where Xinjiang Tibet Highway and Shiquanhe River meet. Besides, it is also the major tourist center for Ngari tour, esp. the Mt. Kailash Kora and Manasarovar tour.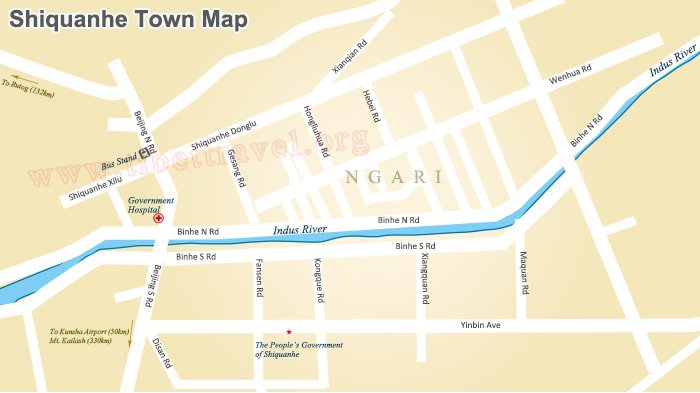 (Simple click to enlarge the map)Map of Shiquanhe Town
Altitude: with an average altitude of 4270m
Status: capital town and commercial hub in Ngari
Shiquanhe town area in Gar : 5.2 square km
Climate: cold arid climate; it's the only region in Tibet with the least rainfall, with annual precipitation of 50-80 mm. Shiquanhe River is the important source of water supply, and swamp and spring can be found around. The annual temperature is around 0.4℃.
Population: around 20,000
District and County: Shiquanhe town in Gar counties and other 6 counties
Religion: Tibetan Buddhism, Bon
Language: Tibetan, Mandarin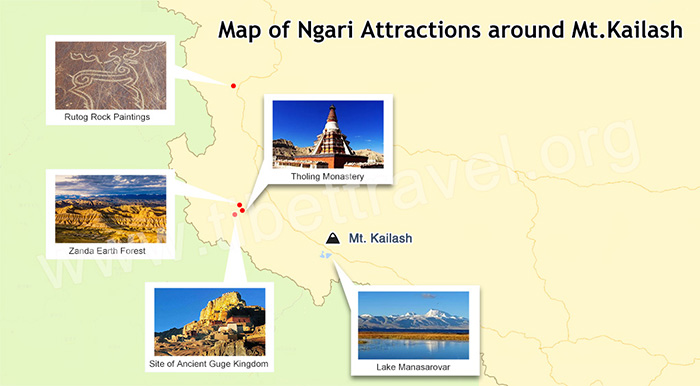 (Simple click to enlarge the map)Attractions around Shiquanhe Town
Mount Kailash : the most famous holy mountain in Asian history; Kailash kora is very popular, especially for pilgrims
Lake Manasarovar : one of the world's highest fresh-water lakes; you can see through dozens of meters into the lake
Lake Rakshastal (Lhanag-tso) : one of the twin lakes to its neighbor Lake Manasarova
Ruins of the Guge Kingdom : one of the first important cultural relic sites under protection; exploring lost civilization of Guge Kindom is a totally fresh experience for you.
Tsada Clay Forest (Zanda Earth Forest ) : the most typical and largest tertiary strata earth forest in the world; classified as National Geological Park in 2007
Piyang and Dungkar Grottoes : praised as the most impressive grottoes, only next to Dunhuang Caves
Tholing Monastery : the oldest monastery in the Nagri Prefecture; you can see many ancient precious and well preserved frescoes
Shiquan River : the river was named after Shiquan River because of the mountain beside the river that resembles a lion.
Ancient Ruins in Rutog County : the most impressive scene is the monastery atop the whole complex and well-designed stupas below the mountains.
Gurla Mandhata (Mt. Nemo Nanyi) : at the opposite of Mt. Kailash; the glaciers surrounding the mountain area consist of three crystallized serac forests, which look like palaces in fairy tales.
Korjak Monastery : the most famous monastery in Ali Prefecture; an important monastery of the Sakya order
Chagcam Caka Salt Lake : the largest salt lake in northern Tibet, with abundant mineral resource of Ascharite
Nagri Dark Sky Park : it is first dark sky park of its kind in Asia, featuring sky observation, photography and study. It is a paradise for star gazers.
Pangong Lake: means "Long-Necked Crane Lake" in Tibetan language; a destination for photographers and experiential travelers to appreciate exceptional natural beauty
For Trekking and Sightseeing:
Mt. Kailash Kora (3 day, most prestigious kora route in Tibet)
The 52km trekking at an altitude from 4675m to 5630 is a true test of one's heart and soul, a divine experience for all. The Mt. Kailash kora starts at the charm-free village of Darchen, opens up unending stretches of barren land, lush green valleys, snow-capped peaks and pristine blue lakes, winding past mani walls and skirting the base of the Kailash massif.
Kora around Holy Manasarovar Lake
Located 20 km southeast to the sacred Mout Kailash, Manasarovar Lake is one of the top three holy lakes in Tibet. (the other two are Yamdrok Lake and Namtso Lake). The incredible lake represents the female or wisdom aspect of enlightenment and symbolizes fortune and fertility in Tibetan Buddhism. Thus, Tibetan Buddhists are always eager to circumambulate the lake.
Note: Given the inhospitable environment in Ngari, hardly can you find hotels with high rank. Mostly are small hotels or hostels, guesthouses with basic accommodation in Shiquanhe and Darchen. So are the food there, basic Tibetan and Sichuan dishes. You can only have baths in Shiquanhe Town. Check here for more detailed information about Ngari's hotels and where to dine in Ngari.
Bayi Town,
Eastern "Swiss-Alps" in Tibet
Situated in the middle reaches of Yarlung Tsangpo River, Bayi district is the administrative capital of Nyingchi Prefecture. The most prosperous town in Nyingchi is an important stop for road trip tourists to have a good rest and replenish new supply. At the first glance, there is no big difference Bayi town and other cities of China. However, the lofty Mt. Bonri and ubiquitous Tibetan sweet tea houses and enchanting Nyang River and superb air quality and lush pristine forest instantly remind you that it is a different kettle of fish.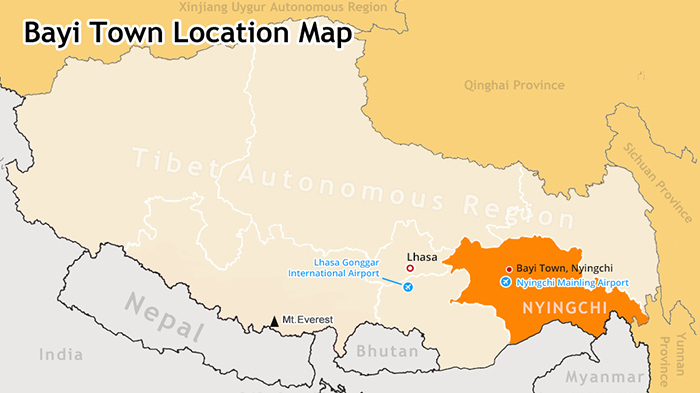 (Simple click to enlarge the map)Map of Bayi Town
Altitude: with an average altitude of 2900m (the lowest altitude in entire Tibet)
Status: Eastern "Swiss-Alps" in Tibet
Bayi town area in Nyingchi: 5 sq km
Climate: Continental sub-humid climate; Affected by the warm and humid airflow in the Bay of Bengal, the climate in Nyingchi area is warm and humid. The annual precipitation is more than 85% while the annual temperature on average is 8℃
Population: 35,000
District and County: Bayi district of Nyingchi Prefectue, and other 6 counties
Religion: Tibetan Buddhism, Bon
Language: Tibetan, Mandarin

(Simple click to enlarge the map)Attractions around Bayi Town
Draksum-tso: Sacred lake of Nyingma Sect; its picturesque scenery gives its name as " Geneva of the east"
Mount Namjagbarwa(7,782m) : highest mountain in Nyingchi Prefecture is the holy mountain of Bon religion and also known as the " father of mountains"
World King Cypress: the gigantic cypresses here have history of over 2,000 years. Legend has it that the World King Cypress gives birth to one of the world's oldest religion- Bon.
Lulang Forest: Vibrant pristine forests are real natural museum of plants, hosting the genes of numerous plant species in Asia.
Nyang River Tourism Area: known as "tears of fairy", Nyang River is the most beautiful river in eastern Tibet and longest tributary of the Yarlung Tsangpo Valley.
Midui Glacier: 1 of the 6 most beautiful glaciers in China by China National Geography Magazine
Note: The accommodation facilities in Bayi and entire Nyingchi Prefecture are fairly ideal. Most favorable hotels in Nyingchi are based in Bayi Town. The hotels in Nyingtri are surely comfortable and up to your taste and standard. Three and four star hotels are readily available. Check here for more detailed information about Bayi's hotels and where to dine in Bayi.
Nagqu Town,Home to Tibetan Nomads
Nagqu literally means "Black River" in Tibetan. Due to the high altitude, it is known as "the place closest to the sky". The entire Nagqu prefecture is surrounded by imposing mountain ranges such as Tanggula Mountains, Nyenchen Tanglha Mountains and Gangdisê Mountains. The boundless Changtang prairie and large number of Tibetan nomads and massive uninhabited wilderness are the best features of Nagqu Prefecture in northern Tibet. Nagqu Town(4500m) of Nagqu County is the administrative center of Nagqu Prefecture. It's the highest town in Tibet, an important gateway to Lhasa.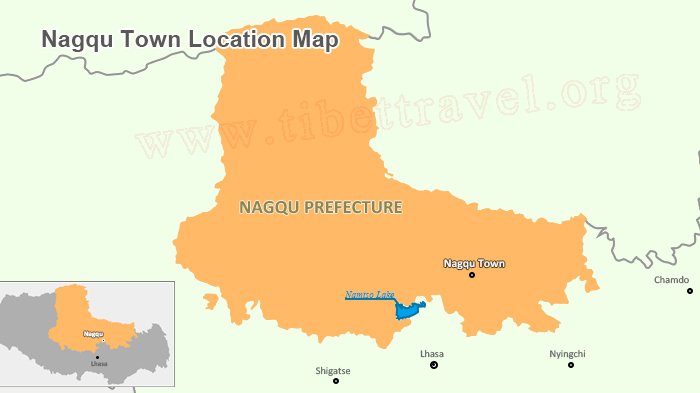 (Simple click to enlarge the map)Map of Nagqu Town
Altitude: 4500m
Status: largest grassland for Tibetan nomads
Nagqu town area in Nagqu: 720 sq km
Climate: Sub-arctic climate; only half of the oxygen content on the sea level; annual temperature on average is between minus 0.9℃ and minus 3.3℃; Annual precipitation averages between 100—200mm with strong wind; overall, it is one of the most inhospitable places in Tibet but a heaven for wildlife such as wild yak, Tibetan antelopes and wild ass, etc.
Population: 13,000
District and County: Nagqu town of Nagqu County and other 10 counties
Religion: Tibetan Buddhism
Language: Tibetan, Mandarin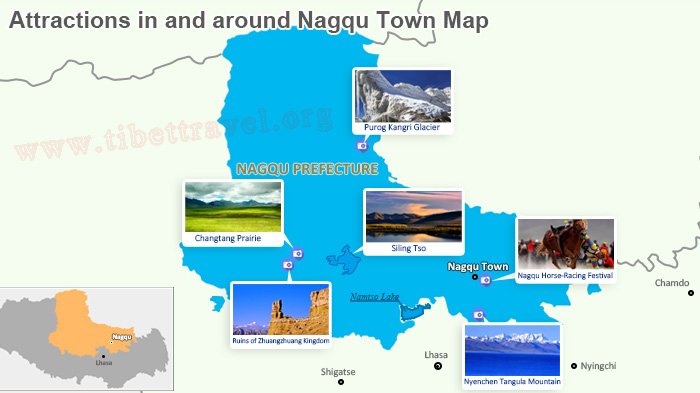 (Simple click to enlarge the map)Attractions around Nagqu Town
Changtang Prairie: wildlife paradise in northern Tibet; Most of Changtang Plateau is now protected nature reserves consisting of the Changtang Nature Reserve, the 2nd-largest nature reserve in the world.
Nyenchen Tangula Mountain: one of the major natural wonders in Nagqu Prefecture; It is situated close to Lhasa and the Qinghai-Tibet railway, bounded by grassy plains of Damshung and holy lake Namtso to the south.
Nagqu Horse-Racing Festival: Horse-racing, horsemanship competition and archery and other contests are the highlights of Nagqu Horse-racing festival on August 10th in Nagqu Prefecture.
Siling Tso: second largest saline lake (4530m) in Tibet; a perfect sanctuary for black-necked cranes and other 119 species of wild birds in total
Ruins of Zhuangzhuang Kingdom: In addition to Nagari, Nagqu is another place where ruins of the Xiangxiong Kingdom of the Bon can be found. It is the earliest Tibetan civilization on the Tibetan plateau.
Purog Kangri Glacier: world's third largest glaciers in the world; it's the core of Changtang Nature Reserve.
For Trekking and Sightseeing:
Nyenchen Tanglha Trekking (from trek Damxung to Namtso Lake, 4 days):
It starts from Damxung, passes through, beautiful meadows, craggy valleys and mountains of the Nyenchen Thanguha range to the pebbled shores of the lake. Fantastic views of sparkling Namtso are visible from many vantage points on the trail.
Note: Only very basic hotels can be found with poor hygiene. Whereas the cuisines in Nagqu are diverse and you can enjoy the best Tibetan yaks in Tibet and have other local delicacies there. Of course, Sichuan dishes are also available. Check for more detailed information about Nagqu's hotels and restaurants in Nagqu town
Chengguan Town, Center of Kham Culture
Chamdo Prefecture is located in eastern Tibet. Though its reputation is no compare to Nyingchi and Lhasa, Chamdo is third largest city in Tibet and the center of Kham culture. While Chengguan town of Karub District is the administrative center of Chamdo Prefecture. Besides, Karub is the eastern gate of Tibet where the Sichuan-Tibet and the Yunnan- Tibet highways meet here.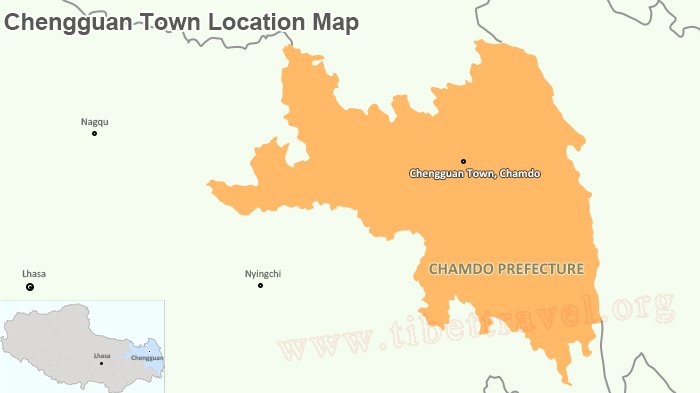 (Simple click to enlarge the map)Map of Chengguan Town
Altitude: 3800m
Status: center of Kham culture
Chengguan town area in Karub District: 195.39 sq km (urban area 4.8 sq km)
Climate: overall , cold temperate monsoon climate; the average annual temperature of 7.5 ℃, the average daily temperature of 5 ℃, the average annual rainfall of 477.7 mm. There are year-round snow-capped mountains, lush forests, and vegetation at the foot of the mountain. The valley features subtropical climate; in Summer it's mild and rainy with adequate sunshine in winter.
Population: 12.4354 in Karub District
District and County: 3 towns and other 12 villages
Religion: Tibetan Buddhism (94.5%), Han, Hui, Mongolian and Menba ethnic groups, etc.
Language: Tibetan, Mandarin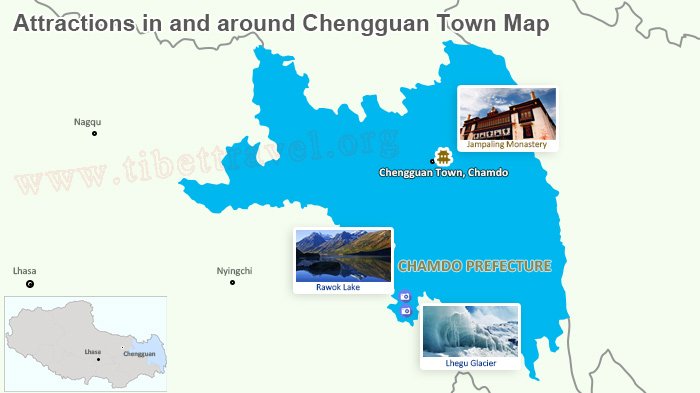 (Simple click to enlarge the map)Attractions around Chengguan Town
Jampaling Monastery: most prestigious and Biggest monastery of Gelug Sect in Kham area
Rawok Lake: Ranwok is one of the most stunning lakes in eastern Tibet. It is surrounded by magnificent snow-capped mountains and forests, is just by the Sichuan-Tibet road.
Lhegu Glacier: Actually to the opposite of Rawok Lake lies Lhegu Glacier. The charm of the Lhegu Glacier lies in its black-and-white medial moraines.
Note: In Chengguan town you can enjoy the mixture of Tibetan and Sichuan cuisines; multiple choices for accommodation in Chengguan town of Karub District can be found. Check for more detailed information about hotels in Chengguan town and where to dine in Chengguan as well.