Guaranteed Tibet Permit for 2020
Benefiting from the favorable policy, Tibet Vista can guarantee you a Tibet Permit. In the past years, we've organized over 80,000 individual travelers and more than 30,000 tour groups with assured permits to Tibet, even during the very difficult period of time in early 2012. Now, we're taking reservations for 2020 Tibet tours. Do not hesitate to contact us if you are planning a trip to Tibet. Click the best of Tibet tours here.
How to Get Tibet Permit and Visa for Hong Kong Tourists Successfully?
Traveling from Hong Kong to Tibet is one of the easiest ways to get to the plateau region for both local and international travelers. Hong Kong is one of the world's major transport hubs in Asia, and is a popular location for travelers heading for the Tibet Autonomous Region (TAR) to depart from or transit through. Lying on the edge of mainland China, this former British colony, now known as the Hong Kong Special Administrative Region (HKSAR), gives easy access to mainland China and is a great place to visit prior to departing for China and Tibet. For both Hong Kong residents and international travelers, we have the definitive guide to getting to Tibet from Hong Kong.
Do I Need Tibet Permit for Hong Kong Residents?
While there is a need to have a Tibet Travel Permit for all international travelers, no matter what part of the world they come from. However, for Hong Kong residents that want to travel to Tibet, a Tibet Travel permit is not required, as long as they have the HKSAR passport, as well as the required Home Return Permit (HRP). Officially known as the Mainland Travel Permit for Hong Kong and Macao Residents, the HRP can be issued to Chinese nationals that are permanent residents of Hong Kong in order to enter mainland China.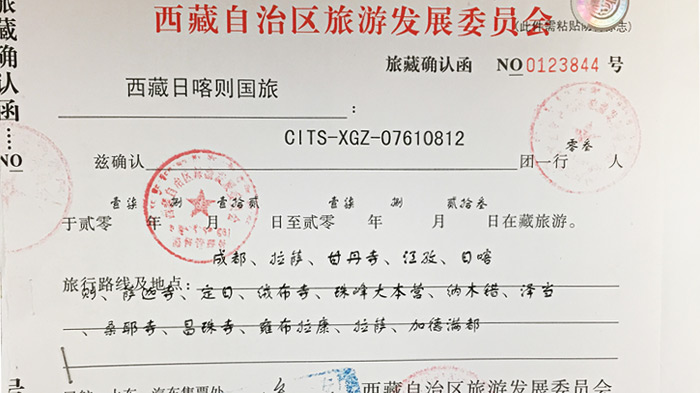 A sample of Tibet Travel Permit
Issued by the Bureau of Exit and Entry Administration of the Ministry of Public Security branches in Hong Kong, this unique permit allows residents to travel to and from the mainland freely to visit families or to take holidays on the mainland, including in Tibet.
The permit must be applied for through the licensed a Tibet Travel Agency like us, and as long as all documents are correct at the time of processing, it can take as little as one day to completely process and receive your HRP. The cost of the HRP can vary, with a single-visit permit costing around HK$55 and a multiple-visit permit costing HK$170.
Tibet Permit for Other International Travelers in HK
For international tourists that are heading from Hong Kong to Tibet, there is a need for you to have a Tibet Travel Permit (TTP); even if to overseas Chinese without Chinese passport.
Getting the permit is relatively simple, and can be done easily by booking a tour of the region with a registered Tibet travel agency. Independent travel in Tibet is not permitted for international travelers, and all tourists must be on a pre-booked tour of the region.
Travel into China and Tibet requires you to have a valid Chinese Entry Visa, which can be obtained from the Embassy of the People's Republic of China in your home or resident country. Processing of the visa normally takes around three days, and for some nationalities, applications must be made through the Chinese Visa Application Service Center (CVASC).
Once you have booked your tour, we will use scanned copies of your passport and Chinese Entry Visa to obtain the permit on your behalf from the Tibet Tourism Bureau in Lhasa. Though the processing of Tibet Permit takes from 8-9 days, you'd better get your Chinese visa yourself first and email it along with your passport photo for Tibet Permit application. Once it has been approved and received by us; we will forward it to your hotel in China, ready for your trip to Tibet. Since there is no direct flight or train to Tibet from Hong Kong, you will need to transit through a city in China to get to the TAR.
Best Ways to Travel from HK to Tibet
For getting to Tibet from Hong Kong, there is no direct flight, so you will need to enter mainland China first, and then travel to Tibet from one of the seven gateway cities for trains or from one of the two dozen airports that have regular flights to Lhasa's Gonggar International Airport
If You Love Traveling by Train, You Have Two Options:
Enjoy High-Speed Train and Tibet Train to Lhasa
With no direct trains to Lhasa from Hong Kong, the simplest way to get there is to take the bullet train from Hong Kong's West Kowloon Railway Station in Kowloon District, which runs directly to Guangzhou South Railway Station. The bullet trains from Hong Kong to Guangzhou can take as little as 50 minutes up to 1 hour 10 minutes to cross the 142 kilometers of tracks, and there are around 34 trains from Hong Kong to Guangzhou daily, costing from 33 US dollars per person.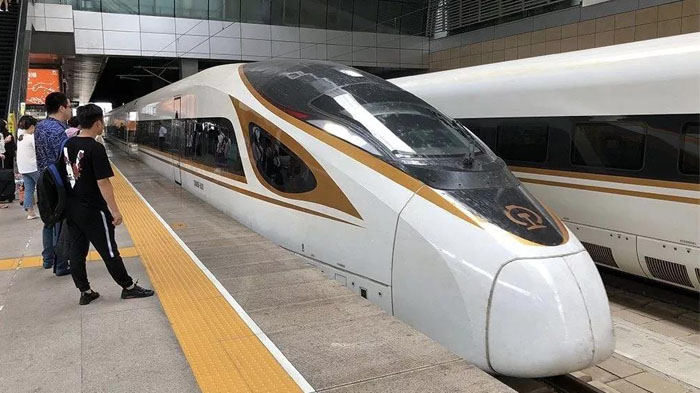 Taking HK to Guangzhou High Speed Rail offers a convenient way to reach mainland China.
From Guangzhou, you can then take a high-speed train to Chengdu, for the connecting train to Lhasa. 15 pairs of trains run between Guangzhou and Chengdu daily, and around ten are high-speed trains, which can cut the travel time down to around 9 hours. The trains run from Guangzhou South Station, and arrive in Chengdu at Chengdu East Station, costing from around 86 US dollars per person for a second class ticket. From there, you will need to transfer along the Metro to Chengdu North for the trains to Tibet.
The trains from Chengdu to Tibet are one of the most popular trains to Tibet, and depart every other day, taking around 36 hours to travel the 3,360 kilometers to the Tibetan capital. One of the best routes to take for Tibet, you have the opportunity to explore a little of Chengdu if you have time before your train departs, including the amazing Panda Base in Chengdu's outskirts, where giant pandas are bred and kept. The tickets to Tibet from Chengdu cost from around 94 US dollars for the cheapest sleeper berth, up to around 155 US dollars for the most expensive.
Fly from HK to Chengdu and Later Take Tibet Train to Lhasa
For those that do not want to take the trains from Hong Kong to Chengdu, via Guangzhou, you can always take a direct flight from Hong Kong to Chengdu, which cuts down the travel time between Hong Kong and Chengdu to just 2 hours 50 minutes. Flights depart four times a day from Hong Kong to Chengdu, and cost from as little as US$ 225 per person.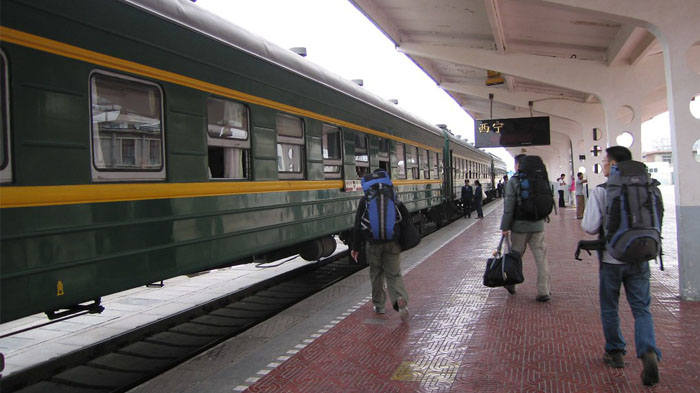 Switch to Chengdu-Lhasa train to Tibet
The train leaves Chengdu Railway Station every other day, so you may find that you have a day to wait for your train before leaving. The trains to Tibet depart from the Chengdu North Railway Station, on Renmin North Road, and are a great way to explore the parts of Tibet that you will not normally see. As the train leaves the lower altitudes at Golmud, it climbs up to the high Tibetan plateau, crossing two high mountain ranges and two vast prairies before heading south through Nagqu Prefecture to reach Lhasa. The views of the mountains as you cross the Tanggula Mountains over the world's highest railway pass, Tanggula Pass, is outstanding, and you also get to see the wildlife that lives on the vast Changtang Grasslands of northern Tibet.
Travel from HK to Tibet by Flight
There are no direct flights to Lhasa from Hong Kong, so you will need to take an indirect flight, with travel via Chengdu being the most popular option. Flights from Hong Kong to Chengdu take around 2 hours 50 minutes, and as long as you can get a connecting flight with little wait time, you can be in Lhasa in less than 6 hours.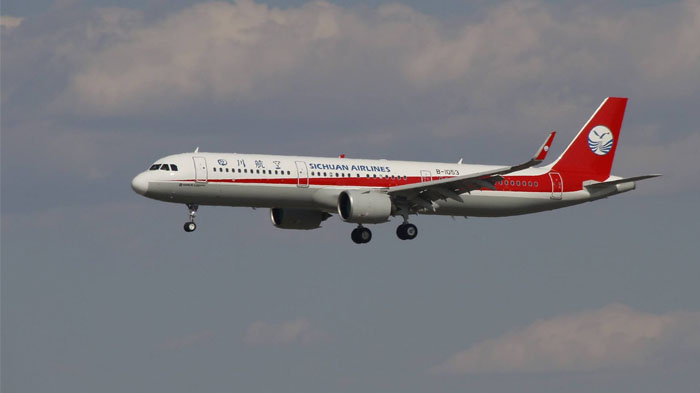 Sichuan airline, one of the major air lines to Tibet.
Flights from Chengdu to Lhasa depart several times a day, so you should be able to get a flight without having to wait too long. The flights to Lhasa take around 2 hours 25 minutes, and cost from around 358 US dollars for the entire trip from Hong Kong to Lhasa. Despite there being no direct flights, you can book the flights online through the various booking sites, and just pay for the whole trip in one go, which is often cheaper than paying for the two flights separately.
Conclusion
Traveling to Lhasa from Hong Kong is relatively easy for almost everyone, especially for those with all the relevant documents already, the HKSAR Passport and HRP can take some time to obtain if you do not already have them, so it is important to make sure that you process these documents well in advance of booking your travel to Tibet. For those traveling as international tourists, there are few problems with traveling to Lhasa from Hong Kong, as this major transport hub of Asia is one of the best ways to get to the Tibetan capital. And with us to help you plan and execute your trip, and obtain all your permits for you without any hassles, there is no better time to travel to Tibet than now.