Yangpachen Hot Spring
Hot spring on the foot of a glacier
About Yangpachen Hot Spring
The famous Yangpachen Hot Spring lies on the southern slope of the Nyenchen Tangula Mountains some 90 km to the northwest of Lhasa. It is close by the Qinghai-Tibet Highway in the Damxung County.

Yangpachen is famous with its geothermal scenery. Every year, Yangpachen Hot Spring emits heat every equal to that 4.7 million tons of standard coal. Lying in a plateau basin, Yangpachen Hot Spring's geothermal field covers 40 square km. Throughout the year, hot water at 70℃ boils and bubbles amid a thick fog. The grandest sight appears when the throttle valve is turned on, boiling water and steam will burst straight into the sky. On the background of the great Nyenchen Tangula Mountains and the vast green pasture, the white steam dragon is clearly visible several kilometers away.

The area is the 1st geothermal spot developed in Tibet. It is the country's largest high-temperature steam geothermal ground and one of the world's major geothermal grounds already developed. Since preliminary experiments carried out in the 1970s, great achievements have been made at the geothermal power station here. For many year before the Yamdroktso Hydropower Station was completed, he electricity generated from Yangpachen Hot Spring had been the major power source for Lhasa and nearby regions.

By the end of 2000, the Yangpachen Geothermal Station had been equipped with 8 generators, each with 3,000 kilowatts of capacity, totaling 25,000 kilometers of power. The station has supplied nearly 1.4 billion kilowatt-hours of electricity to the Lhasa power network, taking up 30 per cent of the network's total volume. The steam turbo engines are entirely driven by geothermal energy with great advantages.

In 1998, the regional Geology and Mineral Bureau and other governmental agencies in Tibet invested in a resort featuring hot spring baths that can cure diseases or strengthen the body. The Holy Medical Spring Resort now has 2 indoor warm pools and 1 outdoor swimming pool. Tourists all love to take a bath or swim in the hot springs here, for around the world, this is about the only place where people can play in the warm water at 4,200 meters above the sea level, at the foot of grand snow mountains.
Tips of Yangpachen Hot Spring
1. You need to bring your own swimming suits, or you can just buy beside Yangpachen Hot Spring.
2. Yangpachen is very near to Namtso Lake. You can pay a vist by the way.
3. Remember not to soak in within 1 hour before or after meals. Do not soak when you are hungry or drunk.
4. Remember to take off all your metal jewelry or accessories before bathing, preventing them from being eroded by certain minerals.
5. It is not advisable to soak for a long time. You can soak for 15 to 20 minutes at one time and rest for a while before take another bath.
6. Avoid doing active exercises when bathing, especially in highland.

Attractions nearby Yangpachen Hot Spring
Recommended Tour Itineraries Including Yangpachen Hot Spring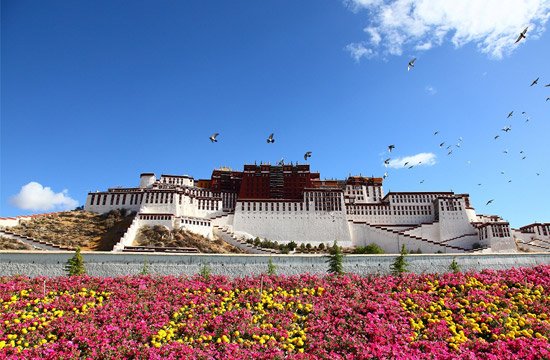 Hot Tibet Tour Packages
It couldn't be better to tour Lhasa famous tourist attractions when travelling in Tibet. Tibet Vista provides more than 10 Lhasa tour packages including these tourist attractions at the best price.
Popular Lhasa Tour Deals
Lhasa Tour Packages
How to get there
Address: Daxung County, Lhasa City
Transportation:
1. Long Distance Bus-- There are long distance buses bounding for Yangpachen Hot Spring at Lhasa Station.
2. Hitchhike
3. Trek

Best time to visit it
You can actually visit Yangpachen Hot Spring all year round.
Opening Hours: All day long

Admission Fee
Entrance fee CNY 40
Spa CNY 180
Read more
Get A Quotation of this Tour