Yamdrok Lake or Namtso Lake: which one is better for different travelers?
Basic Things We Need to Know about Namtso Lake and Yamdrok Lake
Yamdrok Lake and Namtso Lake, together with Lake Manasarovar are believed by most of the locals as the three most sacred lakes in Tibet. Regardless of their religious and spiritual aspects, merely a glimpse at any view of them is enough to trigger the recognizable tremble in your heart. So, which one is better to choose for different travelers is seemingly become a tough question that baffles most of the visitors in Tibet. Before you make the decision, just follow us to get acquainted with the top things you need to know about Namtso Lake and Yamdrok Lake and make the optimal and well-suited plan for your trip.
Namtso Lake
Namtso Lake is widely accepted as the largest lake in Tibet and the second-largest saline lake in China. Located at 4718m above the sea-level on the snowcapped Nyainqentanglha Range, it covers an area of 1920 square meters and worshiped by Tibetans as one of the most sacred lakes for its birthplace of Bonism as well as the high altitude being next to heaven. Namtso Lake also enjoys a reputation for being the must-do lake kora pilgrimage for most of the devout prayers.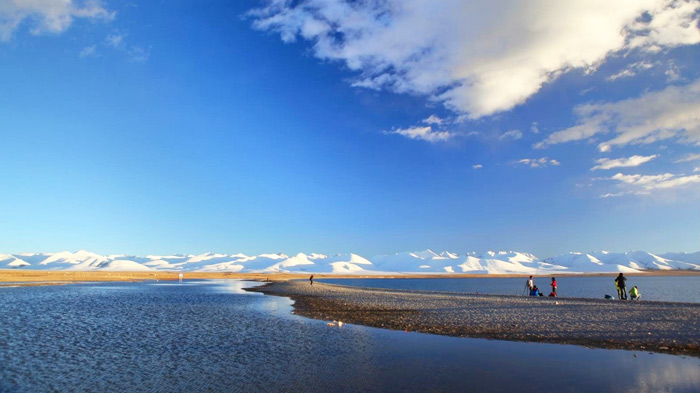 Strolling by the Namtso Lake
Duration: 2 days
Distance: 250 km
Departure time: 6:30 a.m.
Start: Lhasa City
Finish: Namtso Lake Check-in Office
Nearest large town: Damxung
Accommodation: camping or living in guesthouses
Highlights:
1. Stunning lakeshore lines and turquoise lake water
2. Tashi Byland with flock-perched birds, mysterious grottoes and giant stones with prayer flags, marnyi stones and yak skull
3. Come across local Tibetan doing the Lake Kora
4. The grand sight of sunrise and sunset on Tashi Byland
5. Shengxiangtianmen attraction (sightseeing attraction with a holy elephant-shaped landform), best viewing point to appreciate and shoot the breathtaking Namtso Lake and its sunset. (On north side of the lake)
Yamdrok Lake
At the south of Yarlong Tsangpo River in Shannan Region of Tibet, Yamdrok Lake covers an area of 675 sq. km. with the elevation of 4,441m. The sparkling Yamdrok Lake is usually first seen from the summit of the Kamba la mountain (4700m, the mountain we need to cross to arrive at Yamdrok). Yamdrok Lake lies winningly several hundred meters below the road and coils like a scorpion. In clear weather, the crystal clean water turns into turquoise and the islands scattering in the lake show emerald green. Far in the distance is the huge massif of Mt. Nojin Kangtsang (7191m).
Duration: 1 days
Distance: 100km
Start: Lhasa City
Finish: Yamdrok Lake
Nearest large City: Gyantse Town
Highlights:
1. Stunning sceneries along the way from Lhasa to Yamdrok Lake. The twisting mountain road enables you to experience a totally different and nostalgic views in Tibet.
2. Look from an upper height, you can appreciate the looming views and unveil its eardrop-shaped sight lying on the mountain side.
3. The changing water color from different angle of view at different time.
4. Kinds of animals including sheep herds, antelope flocks, spawning fishes, docile yaks, fierce Tibetan mastiffs, singing birds can be easily found by the side of the Lake or on the road to it. Intimate contact with them definitely makes the journey much more interesting and blissfully happy.
Namtso Lake vs. Yamdrok Lake: Travel Distance
We notice that the start places of both the routes are Lhasa City, but the mileages of the two destinations differ a lot from each other. The differences directly determine the Lake we choose to visit, the money we spend, and all things that matter.
Namtso Lake and Yamdrok Lake Tour Map
Travelers with at least two days planning a trip -- Namtso Lake
If you have at least two days, Namtso Lake should always be the first recommendation. Despite the long journey on the way to Namtso, the magnificence of the wide Namtso Lake and solemn Nyenchen Tonglha Mountains is definitely the classic view of Tibet worth experiencing and recording.
Taking off early in the morning from Lhasa and heading directly to Namtso Lake, you should be fully prepared in spending at least 5-6 hours on the journey with no breathtaking sceneries but yak and sheep dotting in the pastures until your arrival at Negenta Pass (which is located on the only road to Namtso Lake from Lhasa and has a high altitude of 5190m). Tourist bus usually makes a short-time stop here for travelers to take photos. After you reach Namtso Lake, take a stroll by it and appreciate the stunning beautiful reviews of the Lake as well as a fantastic sunset by it on Tashi Byland. Take some Tibetan food served on the peninsula and stay overnight in the guest house.
Getting up early to enjoy the sunrise of the Lake would be another heart-trembling memory in perpetuity. Visit the karst land featured caves and try doing the lake kora for a short distance. Shoot at the giant Yinbin Stones and worship the temple. During your return trip to Lhasa, it's a good choice to stop by and enjoy a geothermal spa in Yangpachen hot spring. Can't imagine such arrangements can be compressed into one single day. So if your time is not that tight and want to experience a comfortable and pleasurable lake travel, then, Namtso Lake is no doubt the most suitable for you.
With comparison to the distance between the start place and the final destination -- Yamdrok Lake
Namtso Lake apparently shows no advantage over Yamdrok Lake, for the distance from Lhasa to Yamdrok is only 100 km. With particularly favorable geographical location, Yamdrok Lake increasingly becomes the favorable place for those who has tight schedules and do not have much time traveling in Tibet. It takes only one and a half hours from Lhasa to Yamdrok Lake, which leaves much time for traveler to explore the Lake rather than wasting it on the way.
Besides, if you have other places or attractions to visit in Yamdrok Lake direction, despite of the distance, you are recommended to choose the Yamdrok Lake to visit. After visiting Yamdrok, try heading to Shigate which is 90 km away from the Lake by following the road swerving to the northwest, and the eminent Mount Everest is just standing on the southwest of the Shigate City (about 344 km). Furthermore, it couldn't be better to choose this route if you plan to make an in-depth tour to Mount Kailash, or transnational travel to Kathmandu, Nepal from Lhasa.
Namtso Lake vs. Yamdrok Lake: Altitude Difference
Due to individual differences, the adaptive capability of different travelers may not be identical. So, it simply comes to the result that travelers including elderly people, little kids or physically weak tourists may not acclimatize the place with a comparatively high altitude in a short time. Besides, crossing high mountains (Nagenla Pass with the height of 5190 m to Namtso Lake and Kamba la Mountain with the height of 4700 m to Yamdrok Lake ) is inevitable for travelers to reach both of the two lakes. Therefore, choose Yamdrok Lake (4441m) if you just want to keep the risk at a controllable level while if you are alive and kicking or have already been to places at the same height or even higher, then grasp the chance to ascend. Namtso Lake (4718m) is the best choice you can't miss.
Insider Tips:
Namtso Lake: wide space but strong wind, easy to suffer altitude sickness if your physical condition is poor
Yamdrok Lake: comparatively low altitude with breeze, comfortable for sightseeing
Namtso Lake vs. Yamdrok Lake: Completely Different Highlights for the Visit
If Namtso Lake is renowned by its magnificence then Yamdrok Lake is crowned for its gracefulness and elegance. So Plan your itinerary properly by the identification of completely different highlights. Namtso Lake is popular by its broad vision, the fascinating sunrise & sunset and the integration of the Lake and the solemn mountains (Find other attractions of Namtso Lake listed above). The Yamdrok Lake shows totally different views no matter on the way or by the Lake side. One and a half hours' drive may not be a long tour, but memories of the sight last forever.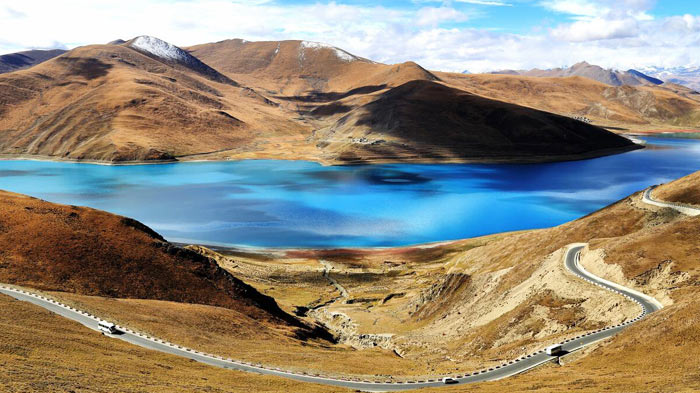 Yamdrok Lake in its splendor
The color of Yamdrok Lake varies every moment to the changes of the sunlight, with plenty of water and lush grasses grown luxuriantly by lake side. Teeming with planktons, the lake gradually become the most comfortable place for fish stocks to find food and breed in summer. Flocks and herds are everywhere on the upland pasture, some grazing grasses while some resting on the lake island. If you are lucky, you may find Himalayan marmot jumping around on the surrounding mountains or encounter a flock of wild goats passing by. With stunning background of the winding road, Tibetan mastiffs and yaks are tamed for photographing. Try riding a yak and freeze-frame the special moment. The Yamdrok Lake trip is fantastic indeed. With many rarely-seen animals, exotic local tents and instantly changing waters integrating so harmoniously into the scenery, you are definitely reluctant to head back. Which lake you plan to visit depends also on which sceneries and views you are into.
Other Insider Tips for Yamdrok or Namtso Lake
1. With biological diversity, Yamdrok Lake is more suitable for family trip.
2. Namtso Lake is favored by devout prayers for its sacred pilgrimage kora. It is widely believed that doing Namtso Lake kora is much effective than just circumambulating Yamdrok Lake. So if you are a pilgrim, try the Namtso Lake first.
3. Crossing high mountains is inevitable for travelers to reach both of the two lakes. Tourist buses usually makes a short-time stop at Nagenla Pass and Kamba la Mountain for travelers to take photos. Due to the rapid rise of height and the lack of oxygen content, you are potentially at the risk of suffering the altitude sickness. So, do not exert yourself like chasing around or jumping when arriving at Nagenla Pass or taking photos on Kamba la Mountain. Do not make grand or exaggerated gestures. Relax your body and breathe smoothly.
4. No accommodation is served on Tashi Byland of Namtso Lake but the tent guest houses with limited living resources (including hot running water, bed with thick quilt). If you mind the accommodation conditions, it is not the content place for you to stay over.