Top Things to Do in Shigatse: how to travel Shigatse like locals do
Shigatse, located in the southwest of Tibet, is at the confluence of Yarlung Tsangpo and Nyainchu River. Hence it owes this name which means "the fertile land"in Tibetan. As the second largest city with 600 years of history, it's political, religious and cultural center in Tsang, also the seat of historical Panchen Lamas.
In Shigatse, from vast plateau pasture to grand snow-covered mountains to sacred monasteries, you can obtain colorful experience as like in Lhasa. Except for the well-known Tashilhunpo Monastery, you can explore more charm of Shigatse like locals, enjoy the authentic Tibetan hotpot, spend Linka Festival leisurely, hang around in backstreets to experience the true local life, and marvel at the holy snow mountain. Sounds great? Follow us to check this Shigatse tour bucket list.
Visit Monastery in Shigatse: Tashilhunpo Monastery vs. Shalu Monastery
Tashilhunpo Monastery
As the spiritual center of Shigatse, Tashilhunpo Monastery is a must-see for every tourist to Shigatse. With history of more than 500 years, it's the biggest monastery in Shigatse and the most important one in Tsang. The monastery is built on the hills. Chapels tier upon tier; lanes are deep and winding. Walk through it, you will be feeling like shuttling through a giant maze.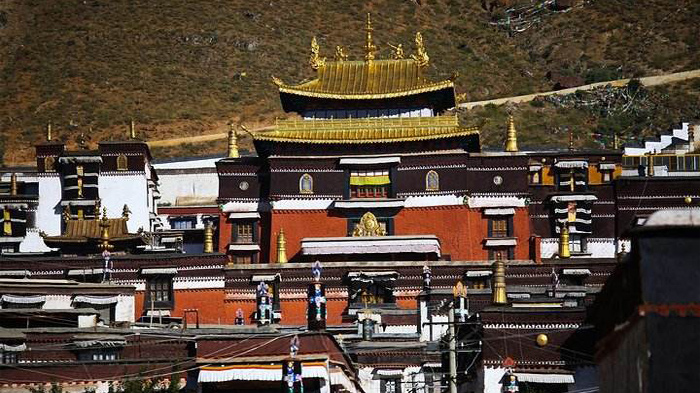 Tashilunpo Monastery is the landmark of Shigatse
The biggest highlight of Tashilunpo Monastery is the world's largest gilded Qamba Buddha bronze statue located in the Qamba Buddha hall. This Buddha statue was built by 110 artisans for 4 years. Totally 335kg of gold are used to build the statue. Its nostril is so big that it can hold an adult. More amazingly, more than 30 big diamonds are decorated as the white hairs among its eyebrows, and over 2,000 pearls, corals, and chrysophorons are inlaid on the body. Visiting this Buddha statue, you will experience a visual shock. When you walk eastward, you will come across the Stupa Halls of past Panchan Lamas. Among them, the stupa of 4th Panchen is the oldest and most ornate one, with over 7,000 diamonds are inlaid on it.
Besides the splendid halls and statues, there are also so many precious cultural relics that can rival Potala Palace. Every year in April 15th in Tibetan calendar, Buddha of the past, lamp burning Buddha; Buddha of the present, also Sakyamuni; and the Buddha of the future, Qamba Buddha will be displayed on Buddha sunning platform. Walking in this monastery, you will be touched by the endless stream of pilgrims coming for prayer every day. - Check the detailed itinerary of 8 Days Tashilhunpo Festival Tour
Travel Tips:
1, Parts of the chapels in the monastery are closed between 12:00 am-2:00 pm. If you want to visit all the chapels, you'd better to come earlier.
2, If time permits, you can go forth for a kora around the monastery with pilgrims. On the high ground, you can have a bird's eye view of the whole Tashilunpo Monastery. The kora will spend 1-2 hours.
3, The monastery takes a large area. In order not to retrace your steps, you can going clockwise.
4, Extra fees should be paid for photo taking inside some chapels.
Shalu Monastery
Except Tashilunpo Monastery, some tourists also choose to visit Shalu Monastery in the southeast of Shigatse. This old monastery built in 1087 is distinctive in its combination of Chinese and Tibetan architectural styles. Even if you have had aesthetic fatigue of similar Tibetan monasteries, it still worth visiting.
Home to a large collection of murals, Buddha statues, scriptures, Thangka, musical instruments and other cultural relics, this low-key monastery is highly valuable for appreciation. Murals in it represent the highest level of mural painting of Tibetan Buddhism in Yuan Dynasty and generate great influence on the mural art of Tibet in the late Yuan and early Ming Dynasty.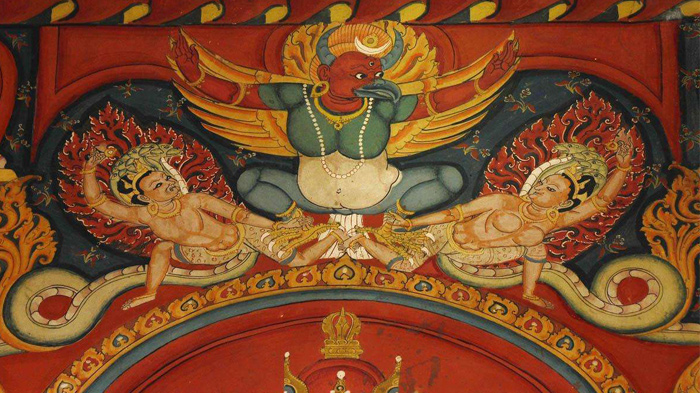 Murals in Shalu Monastery represent the highest level of mural painting of Tibetan Buddhism in Yuan Dynasty
In addition to murals, Shalu Monastery is also famous for four religious treasures. The first one is a sutra board, which is 700 years old. When the monastery was built, the board was joint by 108 pieces of small wooden boards into a big square. Every small board is inscribed with a word. Assemble 108 pieces together, a passage of scripture will appear.
The 2nd one is a holy jar made of brass. It's said that water in the jar is changed every 12 years. When changing the water, the original volume neither increase nor decrease. People will be blessed for a lifetime if he or she can obtain the "holy water" in it. What's more, it can also remove 10 kinds of filth.
The 3rd is a stone tablet inscribed with six characters. It's said that when it's carved out of the ground, It was inscribed with six characters and there were four delicate small pagodas engraved on each edge. Nowadays, it's placed under the foot of the monastery wall as the cornerstone.
The last one is a stone washbasin, which was used by Jigzun Xerab Qoinnyai, the Living Buddha who built the Shalu Monastery. It is said the basin would not overflow even if filled on the rainiest day. It's now put in front of the main hall. During visiting, don't miss the four magical treasures.
>> Shigatse Temples: what are the must-see monasteries in Shigatse
Enjoy Tibetan Food in Shigatse: Tibetan Family Restaurant vs. Woo Do Kitchen
Tibetan Family Restaurant
Tibetan Family Restaurant is very popular in Shigatse. Close to Tashilunpo Monastery, it's usually crowded with guests. The restaurant is decorated with Tibetan style and waitress are very friendly and thoughtful. The main dish is Tibetan style hot pot (¥150) with some fried vegetables as the side dish. Besides, there are also mutton and yak meat favoured by Tibetans, all of which are authentic Tibetan flavor. Except from Tibetan food, other types of Chinese food are also available. Out of the door, there are open-air seats in which you can sit down, chat with friends and enjoy Tibetan sweet tea leisurely.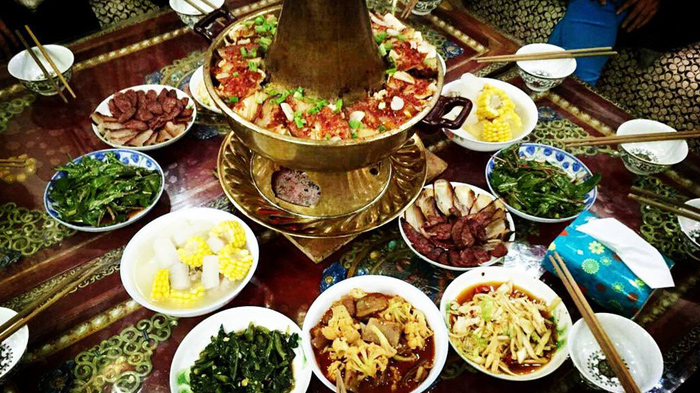 You can enjoy authentic Tibetan hot pot in Tibetan Family Restaurant
Woo Do Kitchen
Woo Do Kitchen is a very famous and ancient Tibetan restaurant in Shigatse. Spacious and bright, it has very enjoyable environment for dining. The decoration of Woo Do Kitchen is very luxurious. Downstairs is a large area of the restaurant, and upstairs is a museum collection of many Tibet folk heritage.
In the restaurant, Tibetan steamed stuffed bun, yogurt, boiled mutton, Tibetan flavor pork chop, and self-brewed barley wine are all welcomed dishes. You can also try other Shigatse special snack like tomato dumpling, ginseng fruit fried rice, Yadong salmon and black fungus, Gangba mutton and Pali yak, etc. In the evening, you can revel with Tibetan music bands and enjoy various traditional Tibetan songs and ebullient dances.
>> Shigatse Food and Restaurant: the best guide to dining in Shigatse
Experience Tibetan Lifestyle in Shigatse: Gongjue Linka vs. Nianchu River
Gongjue Linka
Linka Festival is celebrated in Shigatse on June, 1st. It's one of the most popular festivals in Shigatse when families picnic at a park, enjoying perfect natural sightseeing, soft breeze and warm sunshine. "Linka" in Tibetan means the park. Gongjue Linka Palace is located on the river bank of Nianchu River in Shigatse. It was built by the 7th Panchen Lama in the Qing Dynasty (1825) and has been the summer residence of the 7th to the 10th Panchen Lama. Now, it's one of the most important tourist attractions and a great place for people to spend their holidays.
When Linka Festival approaches, a large number of local residents and Tibetan nomads nearby will travel to Gongjue Linka Palace for the gala party there. Inside the Gongjue Linka Palace, massive tents are set and locals will be dancing and having local delicacies under the big tents and trees. During the festival, donkey riding competition, horse-racing, and archery, etc. are also parts of the celebration that are passed down by ages. It's really a great time for Tibetans to relax themselves for a whole week.
Nianchu River
Nian Chu River is the largest tributary of the middle reaches of the Yarlung Zangbo River. It is located in the Sangzhuzi District of Shigatse City and is regarded as the mother river of Shigatse. With abundant water volume, it's nourishing the vast land in the basin, making Shigatse, which has an average elevation of more than 3,000 meters, the main source of green barley.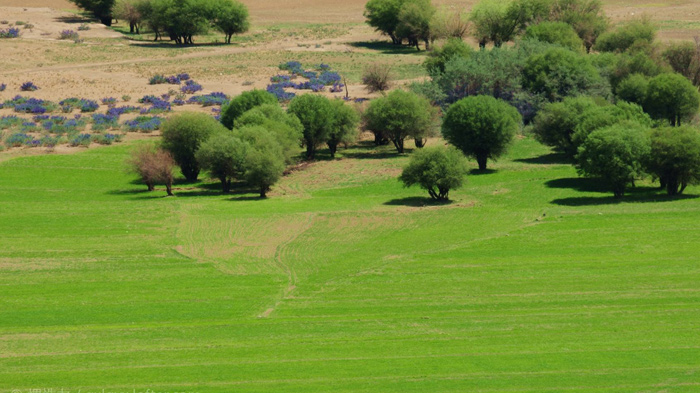 Flourishing trees and abundant vitality in Nianchu River valley
From July to September, Nianchu River welcomes its peak tourism season during which you can see vast pink buckwheat flowers blossoming at the river bank. The river of Nianchu is so pure and blue, mingled with some green color, making it resembling a piece of jade. It flows quietly, showing tourists distinctive charm from different angles. Along the river bank, there are many cultural and natural landscapes, so the best way to get around is to stroll through the river valley. At dusk, you can enjoy some peaceful time watching sunset along the river.
Even in the winter, you can come across beautiful scenery around Nianchu River. Driving on the mountain roads on both sides of the river, you can often see Buddha statues and the flocks of waterfowl. But be careful not to travel when it snows.
>> Festivals in Shigatse: top nine festivals to experience in Shigatse tour
Appreciate Snow Mountain in Shigatse: Mount Everest vs. Mount Jomolhari
Mount Everest
When you come to Tibet, how can you going without watching the snowy mountains? To see snow mountains, it must be the Mount Everest in Shigatse. At an altitude of 8844.43 meters, it is the height that countless of mountain climbers want to challenge for lifetime. Even if not able to climb, ordinary tourists to Tibet will definitely gaze on the magnificent north face of the world's tallest peak at Everest Base Camp (5200m).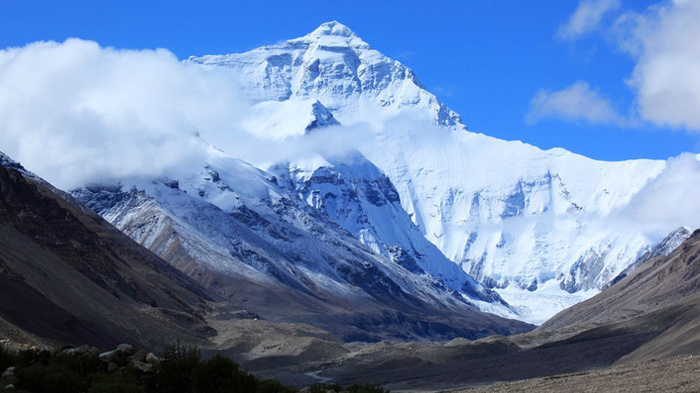 You can gaze on the magnificent north face of the world's tallest peak at Everest Base Camp
At the top of Mt. Everest, there always hangs a wisp of cloud. It flies eastward in the fast western wind just like a flapping flag. This is the unique phenomenon of the area-- the "Cloud Flag of Mt. Everest". At night, you can live in the tented house in EBC, watching stars twinkling in the sky like dense diamonds. If you come to Mt. Everest in the afternoon and fail to see the peak because of the thick fog, don't worry, try it again in the next day morning, you'll likely to see the full picture of Mt. Everest. Gazing at it, one will immerse in a solemn ethereal mood.
Surrounding Mt. Everest, there are more than 40 mountains above 7,000 meters and 5 over 8,000 meters. Together they form one of the world's most grandiose landscapes.
Travel Tips:
1, Everest Base Camp tent guesthouses are only open from April to October. In the rest of time, tourists can not stay here because of the bad weather;
2, To stay overnight in Everest Base Camp, you need to prepare warm clothes, enough food and sleeping bags. It's really cold;
3, Be careful of the altitude sickness. Try not to do extremely intense exercises and sports;
4, Limited by the natural condition, be prepared for the poor living condition. And no hot water is available for bath in EBC tented house.
Mount Jomolhari
Mount Jomolhari, located in Yadong County, is said to be one of the seven fairy mountains along with Mt. Everest. Its name means the mount of fairy in Tibetan. It's steep with 7326 meters high. As the seventh peak of the Himalayas, it has a huge natural mountain pass, making it a unique sightseeing and adventure tourist attraction in Shigatse.
The mountain top is covered with white snow all year round. At the foot of mountain lies a tranquil lake. In the ancient mythology of Tibet, the snow mountain and the lake are together called holy mountain and sacred lake. When Tibetans are passing by them, they will consecrate white Hada and barley wine to pray for blessing. Looking afar, the mirror-like lake and the towering mountain compose a harmonious picture. It's one of the most beautiful snow mountain in Tibet.
Travel Tip:
Since Yadong County in Shigatse is located in the China India border, at present, foreign travelers are not allowed to travel here. You can only visit Everest Base Camp.
>> Top 8 Famous Himalayan Mountains in Shigatse
Explore Backstreets in Shigatse: Xigezi Pedestrian Street vs. Jiaowuchang Market
Xigezi Pedestrian Street
Xigezi Pedestrian Street is located under the foot of Tashilunpo Monastery. It's 900 meters long in full length. Shops along the two sides are built with Tibetan style. At the foot of Tashilunpo Monastery are lines of stalls selling various beads and ornaments. The vendors are all local Tibetans.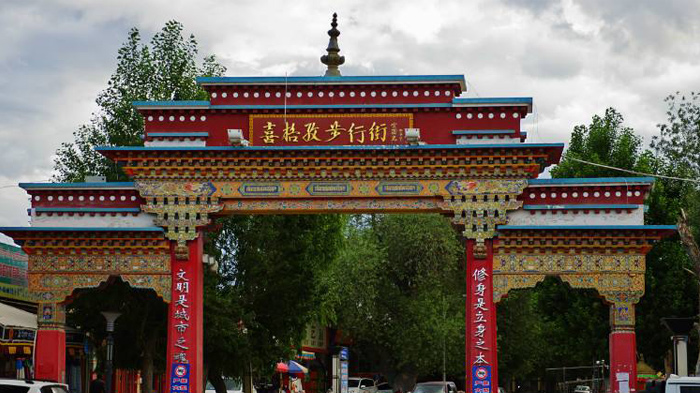 As the most popular pedestrian street, you can buy nearly everything you want in Xigezi
When you continue to go ahead, you'll see all kinds of shops, restaurants, hotels and pharmacies in which you can enjoy authentic Tibetan food, buy local Tibetan medicines, ethnic handicrafts, traditional clothes and religious articles and so on. In addition, many Nepal shops also can be found here. It's really a shopping paradise to buy all kinds of Tibetan specialties.
The recommended Tibetan restaurant in this street are "Ox- head" and "Srongtsen". As to the hotel, "Xizi" and " Dengba Inn" are distinctive. Walking in the crowds composed of monks, local Tibetans, Chinese and foreigners, you'll experience strong exotic atmosphere.
Jiaowuchang Market
Jiaowuchang Market is an open-air market next to Xigezi Pedestrian Street. If we can say Xigezi Pedestrian Street is a bustling shopping paradise for travelers, Jiaowuchang Market, however, would be a down-to-earth market for local residence. Here, although not prosperous at all, you can touch the real life of local Tibetans.
Every weekend, the market is full of busy crowds. You can see Tibetan women holding their children or carrying a back basket, shuttling through the crowds, picking up the living goods they need. Everything is sold here: daily necessities, a variety of snacks, clothes, shoes and hats, as well as hand-made Tibetan clothes. Although there are no high-end luxury goods, it shows the most primitive life and the simplest pursuit. It is a real show of local life.
>> Shopping in Shigatse: where and what to buy in Shigatse
Conclusion
To tour Shigatse, Tashilunpo Monastery, the landmark of Shigatse city is a must-see in which you will marvel at the world's largest gilded Qamba Buddha bronze statue. In Shalu Monastery, you can see the combination of Chinese and Tibetan architectural styles as well as the four precious treasures.
Tibetan Family Restaurant and Woo Do Kitchen are both very popular restaurants in Shigatse. They have both favourable dinning environment and delicious Tibetan food. Try some special dishes of them.
You can see how local people are spending their leisure time in the park of Gongjue Linka or appreciate the fascinating natural scenery along Nianchu River.
Everest Base Camp is the best place for ordinary tourists to marvel at the majestic Mt. Everest. You can take a lifetime picture at the monument of EBC. But please make sure you carry with warm clothes before departure.
Xigezi Pedestrian Street is bustling shopping street where you can buy almost everything you want as souvenirs to Tibet. But is you want explore the real life of local Tibetans, Jiaowuchang Market is a top choice where represents you the true and simple life of local people.
If you are ready for a Shigatse exploration tour, please feel free contact us. We are ready to offer you an unforgettable tailor-made Shigatse tour for you.