Top 6 Wild Birds in Tibet
When you think about birdwatching, the Tibetan Plateau probably isn't the first place which comes to mind. However, Tibet is home to a huge and diverse range of bird species, all of which hold their own unique attributes and looks. On top of that, there are a huge number of habitats which are just perfect for these birds to live in!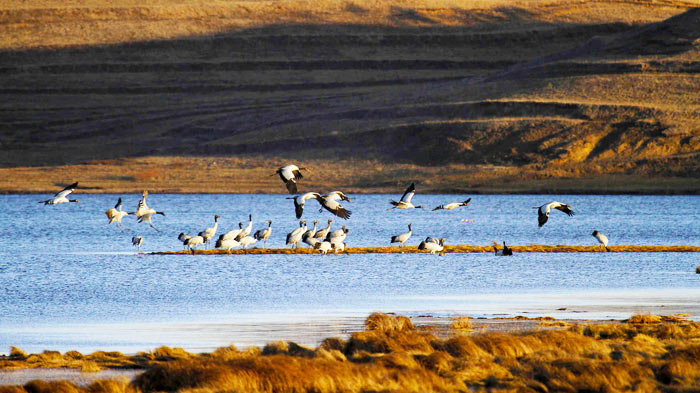 Tibetan Birdwatching is just that bit more spectacular.
The Perfect Land for Birds and Birdwatching
The Tibetan Plateau is (generally) located at a high altitude. The result of tectonic plate movement (all those years ago!) which resulted in the Himalayas, has meant that more than half of Tibet is located 13,500 feet above sea level. Besides Tibet's beautiful lakes and rivers, which offer luxurious avian accommodation options, Tibet isn't always as cold as you might otherwise have thought.
In fact, some areas of Tibet stay incredibly warm throughout the year. There are cases of areas being as warm as 29 degrees C during winter. This is probably due to a combination of the altitude, mostly cloudless skies, and the sun's rays. As a visitor, you'll still probably want to make sure you pack warm during Tibet winter tour (it still can reach -15 at night), but for the avian wildlife, don't be too surprised by how much they love it here. So, come and be a pro wildlife traveler with Tibetan Birdwatching.
Tibetan Birdwatching's Top 6
Tibetan culture is uniquely intertwined with that of the plateau's avian species, with some monks devoting their lives to them. This might be due to Tibet's high altitude, local Buddhist beliefs prohibiting hunting, or a mix of both. Many species which might otherwise end up on a dinner plate have been protected and left to wander freely. This means that Tibetan Birdwatching is just that bit more spectacular. So, without further ado, here are the top 6 birds for birdwatching in Tibet.
Ruddy Shell Duck (or Tadorna Ferruginea)
The Ruddy Shell Duck is unique in its orange and brown looking feathers, along with its white and green wings. The male and female only have a small (you'll need to look very closely) difference. If you manage to get close enough, then look for signs of a black ring at the bottom of the neck. If you find one, it's probably a male. In Tibet, the Ruddy Shell Duck is considered a sacred bird, yet you'll still find them in almost every Tibetan lake or river. They do this, because they consider it to be a warm place to stay!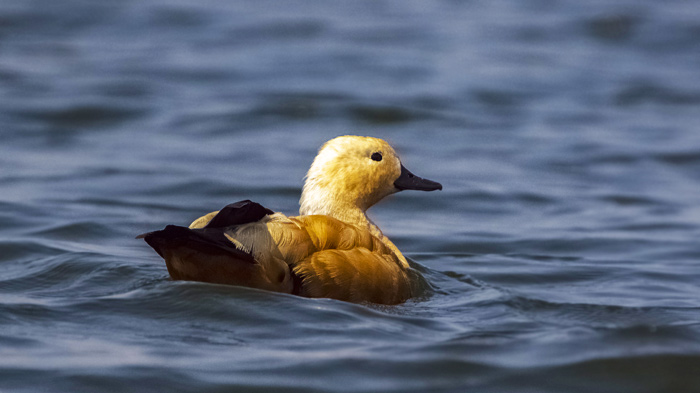 Ruddy Shell Duck
If you want to go Tibetan birdwatching and see the Ruddy Shell Duck, head to either Lalu, Lhasa River, or Damxung. Whilst the Lhasa River is easily reached in a tour group, Damxung (with the Namtso Lake), might just be a little more unique for first time travelers. You'll usually find them travelling in pairs. If you come along a lake or river and hear loud (very loud) honking, then you've probably reached the place where the Rudd Shell Duck is. The best time to see this orange-looking bird is during the winter, as they tend to migrate to Tibet during this time period.
Most Recommended Tour Itinerary: 6 Days Lhasa and Lake Namtso Small Group Tour
Tibetan Eared Pheasant
The Tibetan Eared Pheasant is an avian species worth adding to your Tibetan birdwatching list. The red feathers around the eyes give it a serious look, yet its otherwise blue feathers turn this into a rather regal looking pheasant. Its short ears can be said to resemble a small crown, and its droopy tail is similar to a cloak. Maybe it's because of this look, that the Tibetan Eared Pheasant is treated like a king in parts Tibet!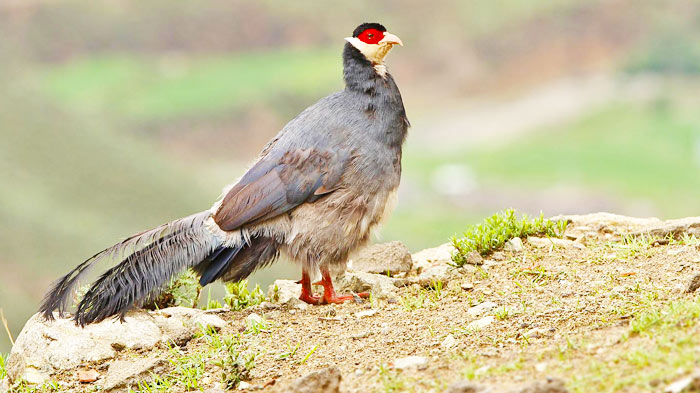 Tibetan Eared Pheasant
Birdwatching aficionados will find the Tibetan Eared Pheasants handing out around the countries many monasteries and temples. The reason for this is that hunting has been forbidden around these areas due to the Buddhist religion. Without any worries in life, the Tibetan Eared Pheasant tends to stay in these areas waiting for food. But that's great for us birdwatchers out there, and means that it's actually very easy to get up and close to one of these regal pheasants. Just make sure you've got a little extra food, and they'll come running right up to you before you can stop them. Recommended Monasteries to visit are the Densatil monastery, and the Shugsep nunnery.
Most Recommended Tour Itinerary: 5 Days Lhasa Small Group Tour with Three Major Monasteries
Tibetan Snowcock
The Tibetan Snowcock is a magnificent bird, and almost exclusive to high altitude regions of the world. With a greyish head with a white patch just behind the eye, and dashes of white throughout its otherwise brown body, the Tibetan Snowcock looks as though it's run a marathon through snow, and some of the snow ended up stuck to its body. If you want to get up close with the Tibetan snowcock, it's usually very tame. This is especially true in Tibet, as they tend to be found near to Temples and Monasteries. This is for the same reason as the Tibetan Eared Pheasant – because hunting is forbidden in these areas.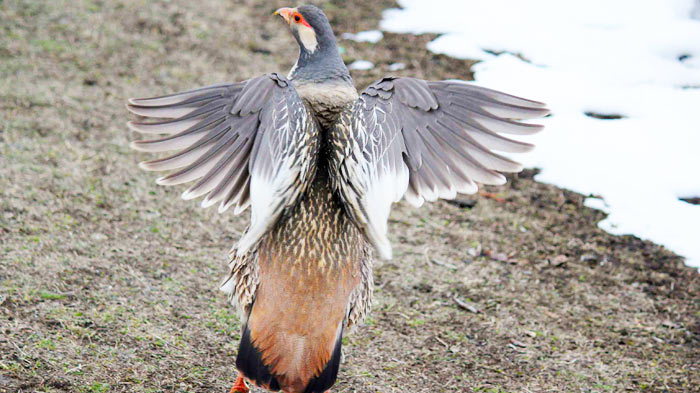 Tibetan Snowcock
The best place to go Tibetan birdwatching and see the Tibetan Snowcock is near to the Shugsep nunnery. Many travelers have said that the Snowcocks here are tame and easy to interact with (and some of them are somewhat fat due to the food they have access to). However, you'll likely find them all over the place, there have even been reports of seeing them on Mount Everest.
>> Join-in Everest Base Camp Tour to watch Tibetan snowcock on the world summit
Himalayan Vulture
Vultures. They're known for picking up the scraps after larger animals have already had their fill. In Tibet, however, the Himalayan Vulture has a rather special role. One which related to Tibetan Buddhism's burial beliefs and practices. That belief is the Tibetan Sky Burial. Because of this, the Himalayan Vulture has incredible cultural and religious significance.
Himalayan Vulture
The Humalayan Culture is actually very tame, and most of the time, they will not mind if you walk amongst them whilst Tibetan birdwatching. Breeding season for this bird begins in January, so you'll be able to find them easily during this time. The best places to catch these birds are near to Tibetan Sky Burial sites. Drigung Monastery is recommended. You'll also find these birds in Damxung county near to Lhasa – they are the most common bird of prey in Tibet.
Most Recommended Tour Itinerary: 6 Days Eastern Lhasa Discovery Tour
Black-necked Crane
The Black neck crane is also revered throughout Buddhist traditions as a harbinger of good fortune. So in Tibet, it has thrived as a species. Its black tail is what makes it so unique when compared to other cranes. You'll find the Black necked crane in the Lalu Wetland National Nature Preserve, where winter birds tend to migrate. This means that the best time to see one is during winter. The wetland is 3,646 meters above sea level and home to many other species of birds as well.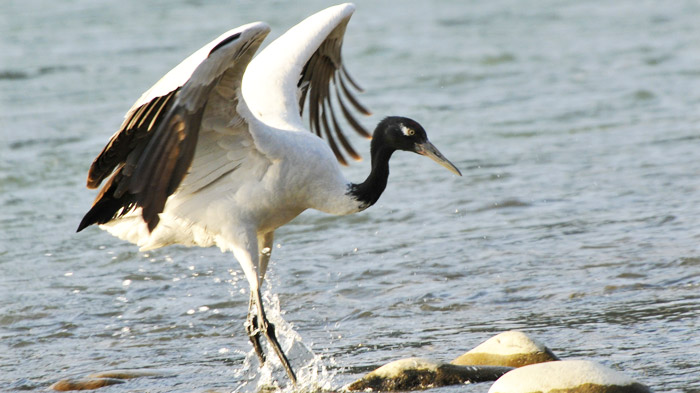 Black-necked crane
They have also been known to roost in many different places throughout Tibet. Including Nyanga, the Lhasa valleys, and the Yarlung Tsangpo. The Hutoushan Reservoir in the Pengbo valley, however, is an important location to the Black-necked crane during winter, and is home to a 96 km2 conservation zone for this species. Make sure to head here during winter, and you'll be bound to find them lounging around the lake in big groups.
Brown Headed Gull
The Brown headed gull is markedly distinct due to its (surprisingly?) brown head. The Brown headed gull tends to scavenge food from towns and population points, yet will almost always return to a lake or river afterwards. The birds can easily be heard squawking at each other, especially when together in large groups. They're almost as loud as the Ruddy Shell Duck!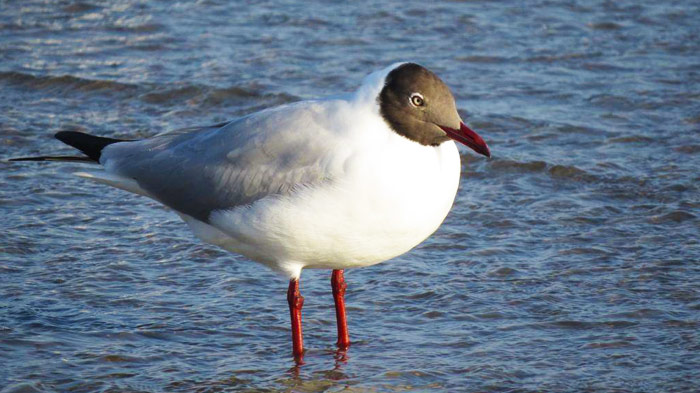 Brown Headed Gull
The Lalu wetland park is a great location for Tibetan birdwatching and catching a glimpse of this common bird, because it's so close to a population center. However, you could also visit Pangong Lake. As another migratory bird, your best bet for seeing this species is to head to the Lake during winter. Winter gives you the chance to also see many of the other incredible Tibet bird species for Tibetan birdwatching.