Tidrum Nunnery
Hot Spring
About Tidrum Nunnery
About 110 km from Lhasa, lies Tidrum Nunnery, which is set in a beautiful valley with numerous hermitages and caves in the surrounding hills. Miraculously, there's hardly a Chinese building in sight, although the nunnery has a huge satellite dish mounted on its traditional rooftop. The nunnery, though small, is home to hundred nuns. Pilgrims and visitors come to Tidrum for the sulphur hot springs, also frequented by the nuns.

The Tidrum Hot Spring is said to have magic healing powers-- or at very least, to be good for the treatment of arthritis, gastritis and other aliments. It's a detox for the soul, anyway, to be in such a purely Tibetan atmosphere.

A charming aspect of Tidrum Nunnery is that is it a walking zone: no vehicles can enter the village. Landcruisers and other vehicles stop at a parking lot at the edge of Tidrum Nunnery, a short walk from the hot springs. The nunnery offers a few rooms, with clean toilets outside.

There is also accommodation in tents. Rooms at the guesthouse directly overlooking the hot springs are overpriced and dingy, with rank pit-toilets: beds go for CNY 40 each. Offering of food in Tidrum Nunnery are meagre, so best to bring some back-up supplies. The nunnery runs a small restaurant serving potato curry soup or thukpa, and there are a few teahouses.
Tips of Tidrum Nunnery
1. Offering of food in Tidrum Nunnery are meagre, so best to bring some back-up supplies.
2. There is a guesthouse in Tidrum Nunnery, but it's not well infrastructured.

Attractions nearby Tidrum Nunnery
Recommended Tour Itineraries Including Tidrum Nunnery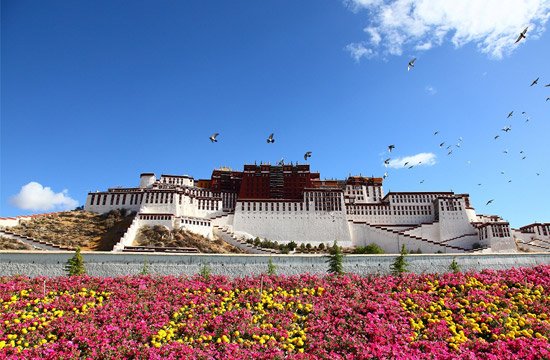 Hot Tibet Tour Packages
It couldn't be better to tour Lhasa famous tourist attractions when travelling in Tibet. Tibet Vista provides more than 10 Lhasa tour packages including these tourist attractions at the best price.
Popular Lhasa Tour Deals
Lhasa Tour Packages
How to get there
Address: Mozugongka County, Lhasa City
Transportation:
1. Car
2. Trek

Best time to visit it
You can actually visit here all year round.
Opening Hours: All day long

Admission Fee
None

Read more
Get A Quotation of this Tour