Shopping in Shigatse: where and what to buy in Shigatse
Even you have explored all the scenic spots in Shigatse, your trip could not be completed without a fantastic shopping experience here. Therefore, it is wise to give yourself at least half a day to explore the local market or the other places of Shigatse freely after you finish your sightseeing.
Top Things to Buy in Shigatse
Shigatse is a place where traditional handcrafts are well preserved. The traditional handicrafts bearing highlights of the Tibetan culture are favorite souvenirs for travelers. In Shigatse, tourists can find many traditional and delicate handicrafts such as Tibet Lhatse knives, Tibetan Thangka Paintings, and Tibetan Gyantse Carpets, Tibetan Shoes, Tibetan Incenses, Tibetan Medicine, and so on. These unique souvenirs can be found easily in markets, shops, and even street stalls. As a professional Tibet travel agency, today we will introduce some exquisite handicrafts in Shigatse for you.
Tibet Lhatse Knife
Tibetan knife is a traditional famous artwork with a long history and a longstanding good reputation in Tibet. Moreover, Tibetan knife is an indispensable tool in Tibetan people's daily life. To buy Tibetan knives, travelers are highly recommended to go to Lhatse County of Shigatse. The knives made in Lhatse County are always admired by both Tibetans and travelers. Because the knives are meticulously made and decorated with delicate silver handles. The scabbards are made of silver or copper and, decorated with images of dragons, phoenixes, tigers, lions, flowers, and so on. The knives are elegant and beautiful but very sharp. Unfortunately, you are not allowed to take knives on a plane or as consigned goods. If you like to buy some, you can send them via the post office.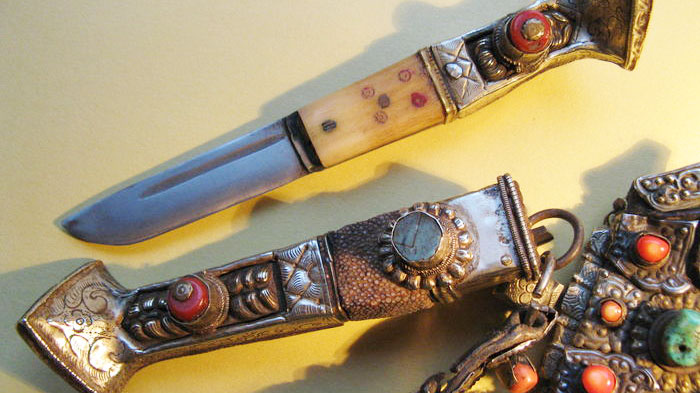 Exquisite Tibetan knife could be a good souvenir for travelers.
Tibet Gyantse Carpet
Another well-known handicraft is Tibetan carpet with diverse styles in Shigatse. The traditional Tsang Rug in Gyangtse County is of the highest repute. The carpets made in Gyangtse have over 600 years of history and they are as good as those made in Iran and Turkey. With a unique weaving style, Tibetan carpet has bright, glaring and harmonious colors, just as the decorative style of Tibetan architectural paintings. Moreover, it plays a significant role for the people who live in the highland area and the pasturing area to against the humid and cold weather. It becomes an elegant artwork with unique Tibetan style. Now, more and more visitors prefer to purchase these unique and traditional carpets as keepsakes.
Tibetan Shoes
Tibetan shoes have a long history of more than 600 years in Tibet, which characterized by its variety in styles and sizes. Tibetan people, no matter male or female of all ages can wear this kind of shoes. The tweed shoes with oxhide soles are embroidered with all kinds of patterns, such as dragon, snake and so on. The Shoe sole is made of cowhide, and the surface of the shoe is decorated with red and green woolen cloth. It is colorful and delicate, most of them are made by hands. At present, even though fewer people choose to wear Tibetan shoes, but as a form of ethnic handcraft, it also has high art value with a longstanding good reputation at home and abroad. For travelers, Tibetan Shoe is a really good tourism souvenir during your Tibet tour.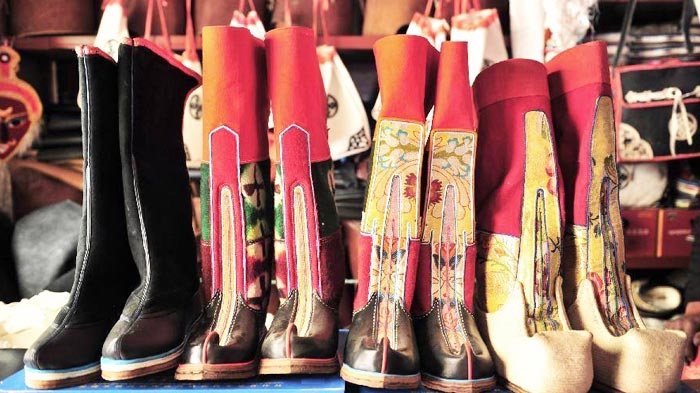 There are some beautiful embroidered shoes available in some Shigatse market.
Tibetan Thangka Painting
Thangka is a beautiful and spiritual part of Buddhism and a huge part of the rich Tibetan culture. Tibetan Thangka Painting is a type of scroll painted by hand on cloths of silk or cotton, these bright, colorful paintings usually depict Buddhist deity or other religious scenes. It generally falls into several categories according to the techniques involved; namely painted Thangka, weaving Thangka, embroidery and paster Thangka, etc. Among them, painted Thangkas are most commonly seen. Usually, Thangka is used as decoration, however, they are collector's items as well. For those who wish to have a Thangka of their own, they only need to pay a visit to Shigatse Market. You can bargain with the sellers, and you can get your souvenirs for a very good price.
Tibetan Jewelry and Silver Ornament
When you take a stroll along the street of Shigatse, your eyes will be drawn to a variety of delicate Tibetan jewelry and silver ornaments, such as bracelets, rings, necklaces, made of red and yellow Tibetan coral, Tibetan carnelian, yak bones, Tibetan silver, Tibetan copper, turquoise, and other natural elements. Compared with ornaments from other regions, Tibetan jewelry and ornaments feature irregular shapes, splendid colors and rough, but unique hand craftsmanship. The designs of it mostly derive from religious beliefs and the lifestyle of the Tibetans, the symbols convey special meaning. The Tibetan jewelry and silver previously are only seen adorning Tibetan women. But nowadays, it prevails in many travelers from home and abroad.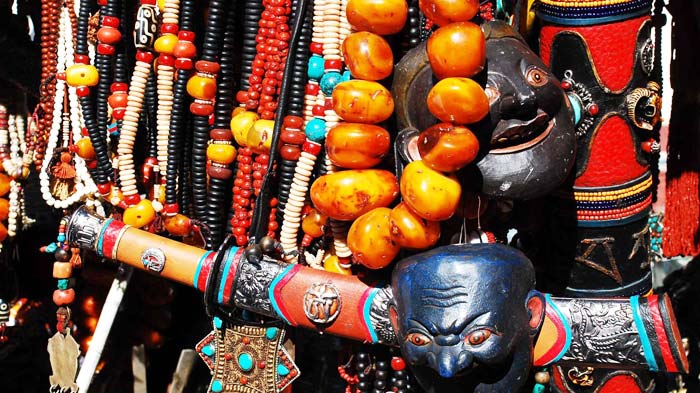 Tibetan Jewelry, Silver Ornament and other traditional handicrafts can be found in every corner of Shigatse.
Tibetan Incense
Tibetan Incense has been a part of local daily life for many centuries in Tibet. It is widely used for meditation, relaxation, and cleansing one's environment. Tibetan incense is made by hand and contains more than 30 ingredients, such as pure herbs, spices, flowers, and minerals from centuries' old recipes. It delivers an aroma which can help to soothe and calm a restless mind. Generally speaking, there are no glues, dyes or bamboo sticks that would be harmful to inhale. Also, it is widely used in temples and monasteries, and people will burn incense in the temples while worshiping Buddha. The incense is also recognized as a way of treatment for sickness in the Tibetan medical field. This information can be found in Tibetan medical books. In Shigatse Market, many varieties of Tibetan Incense can be found, with a huge range of ingredients giving of different scents.
Tibetan Medicine
Tibetan medicine, known as Sowa Rigpa in the Tibetan language, is one of the world's oldest known traditional medicines with a history of 2,500 years. Tibetan medicine has a long history as well as the complete theoretical system and abundant clinical practices. Owing to the high altitude and vast area, Shigatse is abundant in many prominent and valuable alpine plants and medicinal herbs, such as Cordyceps Sinensis, Polygonum Multiflorum, Snow lotus herb and Angelica Sinensis, reaching up to more than 300 species. There are more than 2,000 kinds of plants, 159 species of animals and 80 sorts of minerals in Tibet available for pharmaceutical production, making Tibetan medicine superior to any other ethnic medicines in the world. Tibetan medicine caters to peoples' pursuit of health to a large extent. However, it is not a good idea to buy medicine from the shops in the streets. You'd better go to Shigatse hospitals and get a full idea about the effect of the medicines.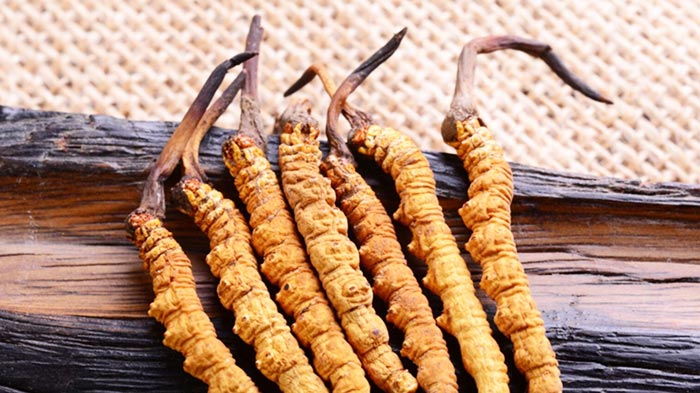 Cordyceps Sinensis is one of Tibetan Medicines.
Tibetan Mask
Tibetan Mask, named "Ba" in Tibetan, is a kind of handcraft article evolved from the Tibetan opera and the religious art. Tibetan masks often embody the wrathful deities of Tibetan Buddhism and are meant to drive fear and terror into the hearts of the forces of evil. It also means to provide tranquility and calm through prayer and meditation. The masks, which are traditionally used for Buddhist festivals can date back to the 6th century. In the ancient Tubo Kingdom, Bonpo dances were already taking place, with the dancers wearing animal masks. In the time of Songtsen Gampo, around the 7th century, grand ceremonies featured dances with masks depicting lions, tigers, yaks, and leopards. In later years, these masks became the faces of the players of Tibetan opera, which was popular in the period in Lhasa. Now, Tibetan Mask is also favored by tourists for its high value of the collection.
Best Places to Shop in Shigatse
In Shigatse, visitors can buy most things that are sold elsewhere in Tibet. Shops and vendor stalls for souvenirs are easy to find in all major sites in Shigatse, but the following places provide you with more choices for local specialties and a great insight into local life.
Shigatse Market
Located in Shigatse's old town, Shigatse Market is an open-air market just on the outskirts of Tashilhunpo Monastery, brimming with all kinds of traditional Tibetan handicrafts, such as Tibet Lhatse Knives, Tibetan Thangka Paintings, and Tibetan Gyantse carpets as well as jewelry and so on. This is a great spot to stop to appreciate traditional handicrafts, and also to buy some souvenirs to take back home with you. If you walk further up the street past the market, you may encounter small shops where prayer flags are being made.
Zhaxijicai Bazaar
There is a famous Zhaxijicai Bazaar in the south of Shigatse, where all kinds of daily necessities are available. This bazaar is a beautiful small village surrounded by lots of green trees, and has a good reputation – "Handicrafts Hometown of Tibet" for its Tibetan handicrafts. Of course, visitors can feast their eyes on numerous local specialties such as bracelets, Thangka, Buddha figures, butter-oil lamps, a variety of jades, wooden and silver bowls, Tibetan knife, costume, stone pillar inscribed with Buddhist scripture and a wide range of carpets. Therefore, you can get the handicraft you want without difficulty here. But please do remember to bargain with the vendors.
Shigatse Carpet Factories (Tibet Gang-Gyen Carpet Factory & Gyangtse Carpet Factory)
Nowadays, Tibetan carpets are always a hot seller both at home and abroad. A Tibetan carpet is an ideal purchase as a wonderful reminder of the trip to Tibet. With its excellent practicality and magnificent appearance, Tibetan carpet has become a world-class brand together with Persian and Turkish carpets as the three most famous carpets in the world. There are two famous carpet factories in Shigatse, the Tibet Gang-Gyen Carpet Factory and Gyangtse Carpet Factory.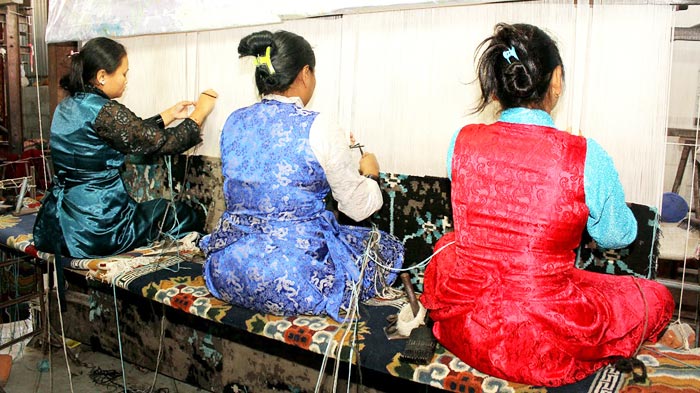 Tibetan women are weaving the carpet.
Gyangtse Carpet Factory is located in the Shigatse Region of Tibet, and wins the highest reputation as the "Hometown of Rugs". It was built in 1973 and has produced more than 100 different kinds of rugs used for different uses, including cushions, mattresses, tapestries, and backrests. Gang-Gyen Carpet factory is another carpet factory which makes rugs displaying traditional Tibetan designs. It was established in 1988 and was the initiative of Tibet's 10th Panchen Lama. Currently, the factory exports these rugs to the US, Europe as well as to big cities throughout China.
These carpets are made from the pure Tibetan wool that are thick and strong, heat-preserving, durable and waterproof. Also, these carpets are also very soft to touch. Many of the carpets use traditional Tibetan designs in the weaving and are very unique to the region. The patterns and flowers are especially beautiful. The traditional designs mainly replicate the murals in temples, including dragons, phoenixes, flowers, grasses, animals and landscape pictures. In addition, travelers have a chance to see how Tibetan carpets are made here. You also can buy the Tibetan carpets right away.
Shigatse Shopping Tips
1. It is recommended to visit shopping places in the morning. According to Tibetan tradition, the first customer of the day will bring good fortune. Hence, vendors will offer discounts to the first customer of the day.
2. It is important to bargain with vendors. The given price is often many times more than the price the vendors will accept. It is best to shop around. Many shops will sell similar items, and it is the best way to ensure you get the cheapest price.
3. If you need to buy jewelry, go to certificated stores. Do not forget to carefully examine jewelry for quality. And do not believe any jewelry selling at a very high price on the outdoor booth. They are usually made of fake materials.
4. For buying Tibet medicine, it is assured that you can go to the Tibet hospital. And you feel free to ask our local tour guide for the certified medical stores. But do not buy medicines from street sides.