Shigatse Travel: ultimate guide to your Shigatse tour planning
Known in Tibetan as Shigatse and in Chinese as Xigazê, the name means "fertile land", and this prefecture-level city that is the second city of Tibet lies on the plain at the confluence of the Nyainchu and Yarlung Zangbo Rivers. One of the highest cities in the world, Shigatse reaches altitudes of up to 4,464 meters above sea level at the highest point. Surrounded by stunning mountain landscapes and beautiful scenery, Shigatse is known as one of the major agricultural areas in Tibet, with cultivated fields covering huge areas of land nearby.
Popular with tourists as the home of the Tashi Lhunpo Monastery, the seat of the Panchen Lama, Tibet's second highest religious incarnation, Shigatse is also famous for being the gateway to the Mt. Qomolangma National Park area, also known as Mount Everest, the world's highest mountain. With a rich history dating back over 600 years to the beginning of the Dalai Lama rule of Tibet, this popular city is one of the most visited cities in Tibet, after Lhasa.
Best Time to Visit Shigatse
The climate in Shigatse is a little different than that of Lhasa, as it is higher in altitude and further west into the colder regions of Tibet. Air is thinner, UV rays are stronger, and with lower air pressure, the oxygen content of the air is less than in the Tibetan capital. Shigatse has very defined wet and dry seasons, with the dry season running from October until the end of April and the wet season from May until September. May to October is the normal popular period for travel in Shigatse, as the weather is not cold and the sun is strong yet comfortable. While the rainy season runs from May to September, July and August are the wettest months of the year, and it can sometimes rain nightly throughout July and August.
Summer, from June to September, is the busy season in Shigatse, though it is also the rainy season. However, while it does rain a lot, it is normally at night or in the evenings, so it leaves the days warm and bright for touring. Temperatures are also warmer, with night time temperatures only getting down to around 2-3 degrees. Day times can get as warm as around 29 degrees, and have even been seen as high as 35 degrees in the hottest summers.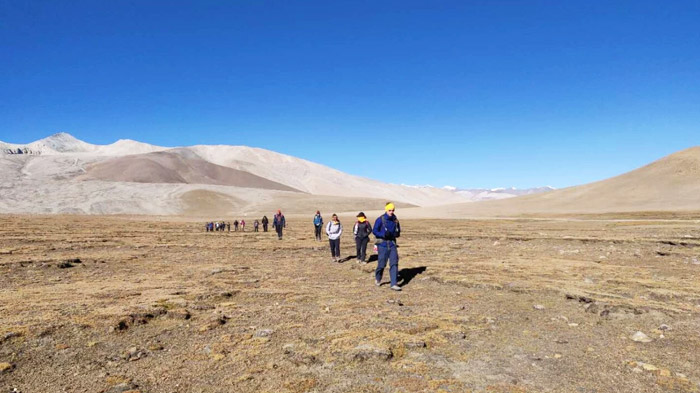 Under the brilliant sunshine, our clients have successfully trekked from Old Tingri to Everest Base Camp.
Spring and autumn are the shoulder seasons, and the best times for trekking, especially from Tingri to Mount Everest Base Camp. The weather in spring and autumn is warm enough to be comfortable, but drier than summer, with very little rain at all. Skies are clear and bright, and it is the best time to get good views of the high Himalayan mountains. - Check Old Tingri to Everest Base Camp Trekking Guide
If winter travel is your thing, then you can also find Shigatse a great place to visit from November to January. Winter is the low season in Tibet, and is a great time to travel to Shigatse if you are traveling on a budget or you do not like the summer crowds of tourists that fill the attractions and monasteries to overflowing. Temperatures in winter can get a little colder than in Lhasa, sometimes dropping as low as minus fifteen degrees in the depths of winter. Day times are warmer, but still not much above freezing, so warm clothes are a necessity. However, even Mount Everest Base Camp can be visited in the winter months from November to January. - Check Ultimate Guide to Everest Base Camp Tour in Winter
Travel Documents Needed for Visiting Shigatse
If you are traveling out to Shigatse, then you will need certain permits on top of your Chinese Entry Visa. The main permit you will need is the Tibet Travel Permit, which is required for all international tourists traveling to Tibet. This can only be obtained with a pre-booked tour through a Tibetan tour operator, and once you have booked your tour with us, we can then make the application for your Tibet Travel Permit. Processing takes around 15 to 20 days, and is obtained from the Tibet Tourism Bureau in Lhasa. The Tibet Travel Permit is also required in order to board the flight or train to Tibet.
You will also need the Alien's Travel Permit if you are traveling outside Lhasa to Shigatse. This is obtained by your guide once you are in Lhasa, using your original passport and Tibet Travel Permit. The Alien's Travel Permit is obtained from the office of the Public Security Bureau in Lhasa, and can be processed normally in around 1-2 hours, while you are touring around Lhasa before leaving for Shigatse. The permit is required for all travel outside Lhasa to the opened areas of Tibet, including Shigatse and Mount Everest.
If you are planning to travel to Mount Everest during your time in Shigatse, then there is an additional pass that you need to obtain. Issued by the Armed Police Tibet Frontier Corps office in Lhasa, the Frontier Pass, or Border Permit as it is sometimes known, is required for all travelers heading to any of the areas close to China's borders with India, Nepal, and Bhutan. Since Mount Everest lies right on the Sino-Nepal border, the Frontier Pass is necessary, even if you are not crossing the border into Nepal.
How to Get to Shigatse
There are two directions from which you can get to Shigatse, from either Kathmandu across the border or from Lhasa. If you are traveling from Lhasa, you have a variety of options for getting to Shigatse, including bus, train, and car. Most international traveler take their tour to Shigatse using the tour car provided as part of the tour package.
However, travel by train is also possible, and if you are not really into driving along the long road to Tibet's second city, then there is always the Lhasa to Shigatse train. Connecting Shigatse to Lhasa, the railway line opened in 2014 as an extension of the Qinghai Tibet Railway, and will soon also be an extension of the Sichuan Tibet Railway, which is currently under construction. Trains run three times a day each way, and are a great way of traveling the distance from Lhasa to Shigatse, taking half of the time of a car.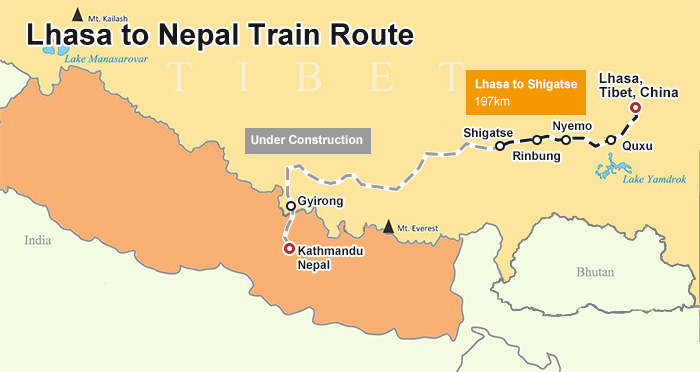 Lhasa - Shigatse - Gyirong - Kathmandu Railway Route Map
If you are traveling from Kathmandu in Nepal, then aside from needing a lot more permits to cross the border, you will also only have the option of driving (or being driven!) from the border at Gyirong Port to Shigatse. There are no public buses from Gyirong Town to Shigatse, although international tourists cannot use public transport. There is also no railway link from Shigatse to Kathmandu, yet. This is planned for the future, but for now, a long drive along the G318 Friendship Highway is the only option. - Shigatse Transportation: How to Travel Easily in Shigatse and Beyond
Join-in Everest Base Camp Tour from Lhasa and Kathmandu
How to Arrange Your Shigatse Tour If You Have…(Days) for Travel (tour experience)
If you are limited for travel times, then you can easily arrange to tour only in the Shigatse area, traveling there direct from Chengdu or by train from Lhasa, though you will need to acclimatize once you arrive in Tibet. This can be done in Shigatse, although you will miss out on the amazing attractions of the Jokhang temple and Potala Palace in Lhasa.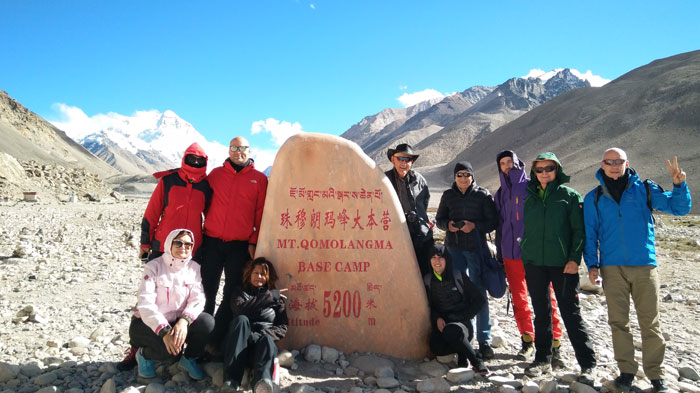 Just join our Tibet Everest tour, and then let us take care of permit application and hotel booking.
Shigatse has plenty of things to see and do in the city and the surrounding areas, and if you want to visit EBC, then this can be arranged as part of a private tour with us. We can arrange your permits and travel details from Lhasa to Shigatse, as well as your hotel accommodation if you wish, to ensure that your limited time in Tibet is spent as you want it to be, getting the most out of your trip.
How to Choose Your Hotel for Shigatse Trip
While there may not be any five-star hotels in Shigatse Tibet's second city has a wealth of hotels that you can stay in, from four-star hotels to the tent guesthouses of Everest Base Camp. One of the hottest tourist destinations in Tibet, if you are traveling in the summer months, which are the peak season for tourism in Tibet, then it is advisable to book well in advance, as hotel rooms can quickly fill up.
Hotels in Shigatse can offer clean and comfortable rooms, and many have private bathrooms and Wi-Fi. In the cheaper hotels and guesthouses in the city, you can expect shared rooms and dormitories with shared bathrooms, although all are still clean and comfortable. In the more remote areas, such as Everest Base Camp Tenthouse or Rongbuk Monastery Guesthouse, the facilities are much more basic, and often there is no running water and outside toilets.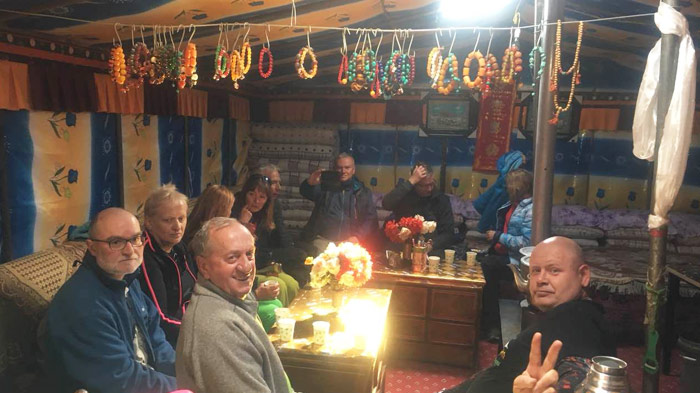 Everest Base Camp Tenthouse can offer you a sense of home during your Shigatse tour.
Choosing your hotel is really up to you, and often depends on your budget and/or preferences. Luxury hotels may not be available, but you can still be very comfortable in the hotels that are there. If you want a more authentic Tibetan experience, there are plenty of locally-owned Tibetan hotels and guesthouses to choose from, with typical Tibetan architecture and styling.
Packing List for Shigatse Tour
Shigatse can be a little colder than Lhasa, but not as cold as the Ngari in the northwest of Tibet. You packing list really depends on what time of year you are traveling, and the summer does not require as much warm clothing as the winter months. However, even in the summer it can be cold at night, so warm jackets and gloves, as well as a hat, are a necessity.
While Shigatse can be colder than Lhasa, the summer months can still be hot and bright, and sun cream, hat, and sunglasses should be included in your luggage. And, as it can sometimes rain, bringing a waterproof jacket would be a good idea.
Other Dos and Don'ts for Shigatse Travel
Try to remember when in Shigatse that Tibet is a hugely Buddhist region, and here are certain taboos that are frowned upon. Women should refrain from wearing short skirts and shorts or revealing tops with narrow straps and low-cut necks, as this is found to be offensive in Tibet. Long sleeves and long pants should be worn when entering temples and monasteries, out of respect for the monks and the religion of the people.
There are not many ATMs in Tibet, and even less in Shigatse than in Lhasa. It is a good idea to make sure that you have enough money on you to cater for your needs when traveling to Shigatse, as you may not be able to get any cash whilst outside Lhasa.
Shigatse is not like Lhasa, and the rules of travel in Lhasa do not apply in Shigatse. While you can look around the area near your hotel on your own, it is not advisable to travel too far in the city without your guide, and there is no ability to use any of the public transport available. Shigatse is considered as one of the "opened" areas of Tibet, but there are still certain rules that apply to travelers whilst outside Lhasa.