Shigatse to Kathmandu Distance: distance from Shigatse to Nepal by train, overland, biking, and flight
One of the most popular and largest cities in Tibet, Shigatse is a hugely popular tourist attraction on the plateau, seeing millions of visitors every year passing through its crowded streets. Home to the stunning TashiLhunpo Monastery, the seat of the Panchen Lama and a major monastery for the Nyingma School of Tibetan Buddhism, Shigatse is Tibet's second city, and is widely known as the "Gateway to Mount Everest". As the crow flies, it is only around 388 kilometers from Shigatse to Kathmandu, though in reality, traveling overland, it is much farther.
In Nepal, lying in the center of the rich and fertile Kathmandu Valley, the Nepali capital of Kathmandu is one of the most exotic cities in Asia. Home to dozens of Buddhist and Hindu temples, it is often said that there is a temple on every street corner. Kathmandu embodies the multi-cultural aspect of Nepal, with a huge range of different religions present and accepted in the city. While most of Nepal is Hindu, there are also populations of Buddhists, Jains, Bon, Moslem, Christian, and many other smaller religions present in the valley.
Shigatse to Nepal by Train Distance: 680km and How to Travel
Traveling to Kathmandu by train is a dream of many a tourist that has taken the long road from Lhasa to Kathmandu, crossing the border at Gyirong Port. However, while this dream may become a reality in the future, at this time the planned railway link between Nepal and China has not even been started.
Plans have been underway since the completion of the Qinghai Tibet Railway to extend the line as far as Kathmandu and beyond. In fact, talks and planning are well under way to complete this dream, and the Chinese government is preparing to begin the construction of the railway, which is expected to be completed sometime in the mid-2020s, although no clear date has yet been given.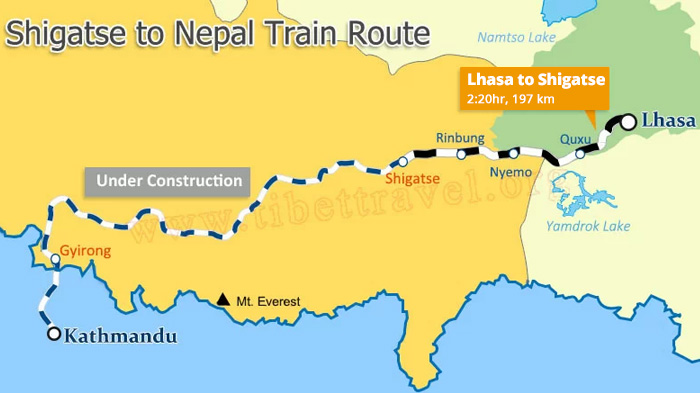 Map of Shigatse to Nepal Train via Gyirong Port
The planned railway link from Shigatse to Kathmandu is expected to continue the railway from Lhasa to Shigatse along the same route, which roughly follows the G318 Friendship Highway. However, since the 2015 earthquake permanently closed the border crossing at Zhangmu and Kodari, plans have been changed to send the tracks across the border at the new crossing point at Gyirong Port and Rasuwa Gadhi.
According to recent reports, the line is expected to stretch for another 540 kilometers to Gyirong Port, and then drop down from the Himalayas to Kathmandu, another 140 kilometers into Nepal. The construction is expected to be done in stages, with the section from Lhasa to Shigatse already complete. The next section is expected to be from Shigatse to Gyirong, and then from there to Kathmandu would be the final section. A line from Kathmandu to Lhasa would not only improve the trade relations between China and Nepal, opening up more trade between the countries, but would make tourism to Lhasa from Kathmandu in Nepal much faster and easier.
The line would be a complete link from both Qinghai Province, in northern China and from Sichuan Province, in southwest China, which line is currently already under construction and expected to be completed within the next two years.
Shigatse to Kathmandu by Bus Distance: 710km and How to Travel
Traveling to Kathmandu from Shigatse by bus is possible, although it is not very convenient. There are buses from Shigatse daily that connect most places in the prefecture, although the closest you would be able to travel by bus would be to Old Tingri. From there, you would need to find local transports that could get you to Gyirong Port.
However, for international travelers in Tibet, there is no available public bus service that can be used, as international travelers are prohibited from using public transport outside Lhasa, and are required to have a private vehicle and driver at all times. Sounds troublesome? No worries! As a professional Tibet tour operator, We, Tibet Vista team, can take care of all the cumbersome matters. According to your preference, our Tibet travel gurus can help you arrange private vehicle ranging from 7 seats Van to 29 seats tourist bus with seasoned driver and local tour guide.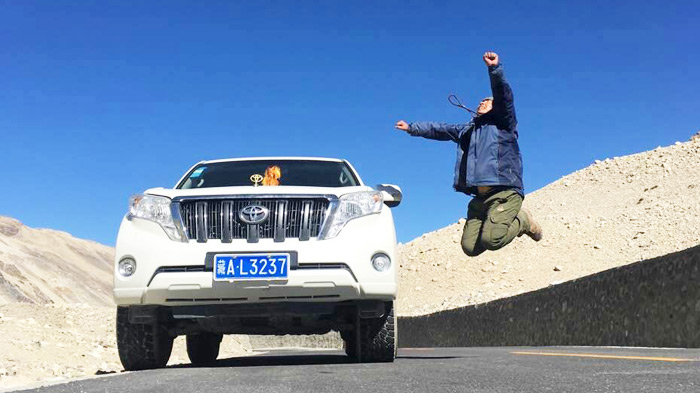 We can provide you with a friendly car service so that you can have an exciting and excellent trip experience.
Once you cross the border into Nepal, however, it is a different matter. International travelers to Nepal can use any of the forms of public transport available, and in Nepal travel by public bus is the cheapest way to get around. Across the border from Gyirong Port is the Nepali border checkpoint of Rasuwa Gadhi, or Rasuwa Fort. Public buses run from the checkpoint at Rasuwa Gadhi daily, usually in the morning, which can take you direct to Kathmandu.
The route to Kathmandu from Rasuwa Gadhi is around 140 kilometers, and the public buses take around six hours to complete the trip, not including stops for breaks and food stops. Costing around 2,000 rupees for the trip, it is the most cost-effective way of getting to Kathmandu from the border.
Join-in Most Popular Tibet Nepal Overland Tour
Shigatse to Kathmandu by Cycling Distance: 710km and How to Travel
If you are planning on an overland journey to Kathmandu by bicycle, then you are in for one of the most amazing adventures on the Tibetan plateau. Cycling from Shigatse to Kathmandu is a distance of around 710 kilometers, most of which is on the plateau. From Shigatse to the Sino-Nepal border is a ride of around 570 kilometers, over some of the most stunning terrain in the world.
(Simple click to enlarge the map)
Lhasa Shigatse Gyirong Kathmandu Biking Map
A journey that takes around ten days to complete, the route follows the Friendship Highway through Lhatse and Old Tingri, often with a side trip to Mount Everest Base Camp. Then you will continue along the old Friendship Highway as far as the junction with the S214 County Road, which takes you to Gyirong Town, in Gyirong County. From Gyirong Town, it is a ride of around 24 kilometers to the border with Nepal, at Gyirong Port.
Once across the border, the road drops sharply down from the Himalayas, heading south to Bidur, a small town to the west of Kathmandu. The ride down from the border to Bidur takes around eight hours, and covers a distance of 90 kilometers, mostly downhill so the ride is easier. With a distance of around 140 kilometers to Kathmandu from Rasuwa Gadhi, on the Sino-Nepal border, it is a route that cannot be done in just one day.
The final leg of the ride takes you from Bidur to Kathmandu, and covers a distance of around 50 kilometers. A good four-hour ride, the road is winding and not as easy as the previous day, with hills and valleys along the route all the way to the Nepali capital.
Shigatse to Kathmandu by Flight Distance: 609km and How to Travel
There is no direct flight to Kathmandu from Shigatse, as the only direct flights into Tibet from outside China are from Kathmandu to Lhasa. In order to get a flight from Shigatse to Kathmandu, you will need to get from Shigatse to Lhasa first.
Flights from Shigatse Peace Airport do not actually run to Lhasa, only to Chengdu, and are non-stop flights. In order to get to Lhasa, you will need to take a car or the train to the Tibetan capital. Once there, you can get the flight to Kathmandu from Lhasa Gonggar International Airport.
There are several flights from Lhasa to Kathmandu in the peak months of Summer, though in the low season, this can sometimes drop to just one flight a day. The flights are run by Sichuan Airlines, Tibetan Airlines, and China Air, and take around one hour and thirty minutes to cover the 609 kilometers straight line distance to the Tribhuvan International Airport in the Nepali capital.
What Travel Documents Do I Need for Shigatse Kathmandu Tour?
If you are traveling over the border to Kathmandu from Shigatse, you are going to need most of the permits and passes for a trip in Tibet. The main document you will need, after your Chinese Entry Visa, is the Tibet Travel Permit, which is obtained by us once you have booked your tour.
Tibet Travel Permit is the most important permit for traveling in and around Tibet. You will also need the Tibet Travel permit in order to board the flight or train to Tibet, and we will make sure the original or a photocopy is ready for your trip and delivered to your hotel in China before you leave for Lhasa. While the Tibet Train can use a photocopy of the permit, for all flights to Lhasa, you will need the original document in order to board.
To travel outside Lhasa to Shigatse, Tibet's second city, you will require the Alien's Travel Permit, required for all travel to the opened areas of Tibet outside Lhasa. The Alien's Travel Permit is obtained from the Office of the Public Security Bureau in Lhasa. Also known as the PSB Permit, it is not possible to travel outside Lhasa without it, and usually only takes an hour or so to process. Your guide or driver will make the application and process the permit with the Public Security Bureau while you are touring in Lhasa and getting used to the higher altitude. Your original passport and Tibet Travel Permit are required for the application.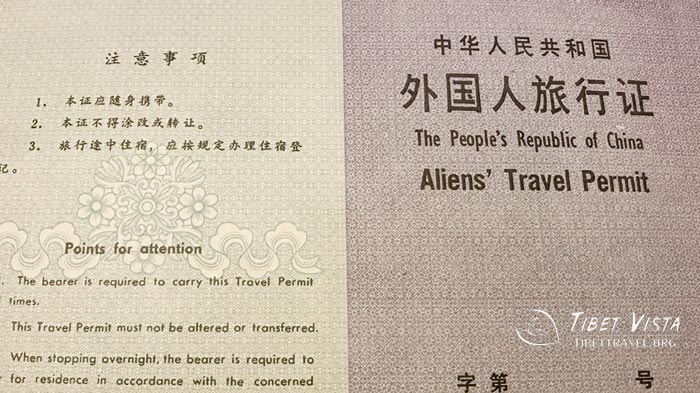 Alien's Travel Permit is required for all travel to the opened areas of Tibet outside Lhasa.
As you will be traveling across the border into Nepal, you will also need the Frontier Pass, which is required by all tourists - including domestic - traveling in the area of the Chinese border with Bhutan, India, And Nepal. The Frontier Pass, sometimes known as the Border Permit, is only available from the Armed Police Tibet Frontier Corps office in Lhasa, and can only be applied for by the tour guide or driver, using your Tibet Travel Permit and your original passport, as well as your tour itinerary and other tour agency documents to prove the statement of liability.
The Frontier Pass is also required for those not crossing the border, but just going to visit Mount Everest, as well as for people flying from Lhasa to Kathmandu and vice versa. In order to board the flight to Kathmandu from Lhasa Gonggar International Airport, you will need to show the Frontier Pass, Tibet Travel Permit, Alien's Travel Permit, and Original Passport with Chinese Entry Visa, even if you are not going to touch land in Shigatse or Mount Everest.