Map of Shigatse City, the second largest city in Tibet
As the second largest city in Tibet, Shigatse is located on the northern bank of the Himalayas and on the southern bank of the Yarlung Tsangpo River. Traditionally, as the resident of the generations of the Panchen Lamas, Shigatse has been a cultural and political center of Tsang (or Rear Tibet) for centuries. Now, it is also an important transportation hub for trips from Lhasa to Everest Base Camp, Mount Kailash and Nepal. So long as you have time, do budget your time for the visit right after Lhasa.
Shigatse Location Map
Shigatse is located in the southern part of Tibetan Autonomous Region, and at the intersection of the Yarlung Tsangpo (also known as Brahmaputra) and the Nianchu River. It borders Ngari on the west, Nagqu on the north, Lhasa and Shannan on the east, Bhutan, India and Nepal on the south.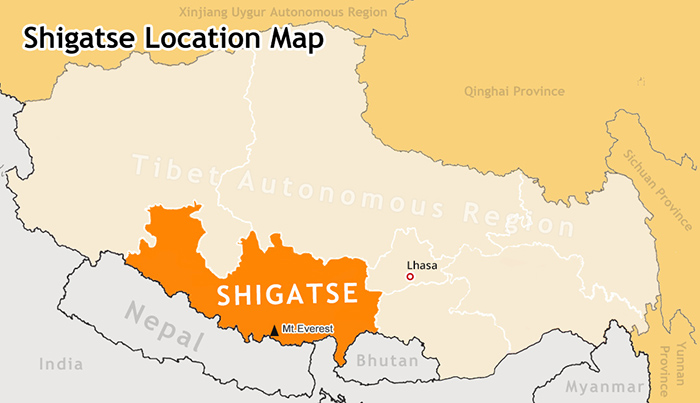 (Simple click to enlarge the map)
Shigatse Prefecture Location Map
Located in the central Tibet, Shigatse is an important stopover for the classic Lhasa Kathmandu overland tour and the popular Everest Base Camp. It is 268km west to Lhasa city, the capital of Tibet Autonomous Region (TAR); 343km east to Everest Base Camp (5200m), the closest place to enjoy Mount Everest(8844.43m); 490km east to Gyirong, the border between Tibet (China) and Nepal; 710km east to Kathmandu, the capital city of Nepal.
Shigatse City and Surrounding Districts and Counties
Shigatse city, covering an area of over 182,000 square kilometers, is the second largest city in Tibet and one of the world's highest cities. Basing in the plain at the confluence of the Yarlong Tsangpo and Nyang River, Shigatse city owns vast fertile land and has a population of 845,300, most of which are Tibetan.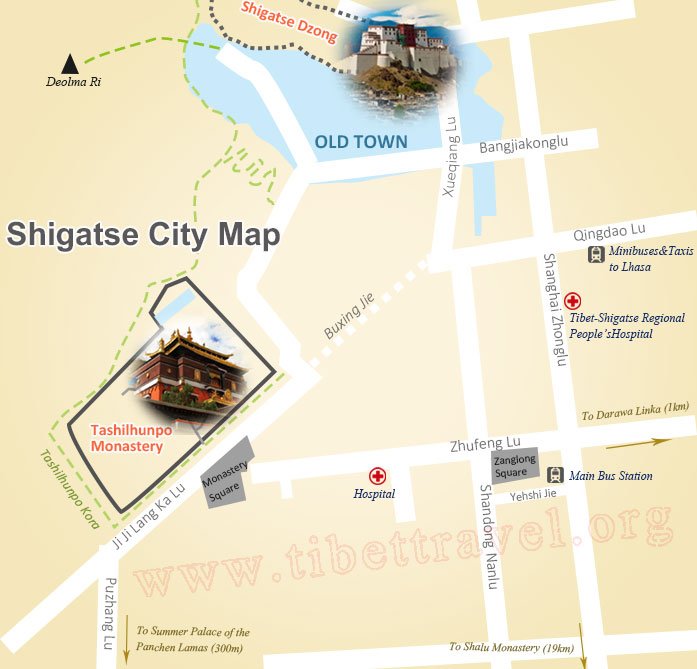 (Simple click to enlarge the map)
Shigatse City Map
The administrative divisions of Shigatse City include Sangzhuzi municipal district, Tingri County, Nyalam County, Saga County and other 14 counties. See the full list as below:
Shigatse City Proper: Samzhubze District
Major Tourist Counties: Tingri County, Gyangtze County, Sakya County, Lhatse County, Saga County, and Gyirong County
More Counties in Shigatse: Namling County, Ngamring County, Xaitongmoin County, Bainang County, Rinbung County, Kangmar County, Dinggye County, Zhongba County, Yadong County, Nyalam County, and Kamba County.
Shigatse Attraction Map
Situated at an average elevation in range of 3,840 meters to 4,464 meters, Shigatse has the most comprehensive natural landscapes in Tibet, from vast plateau pasture and beautiful cultivated fields to turquoise lakes and grand snow-covered mountains. With a long history tracing back to more than 600 years ago, Shigatse is also rich in historical sites and Tibetan religious monasteries.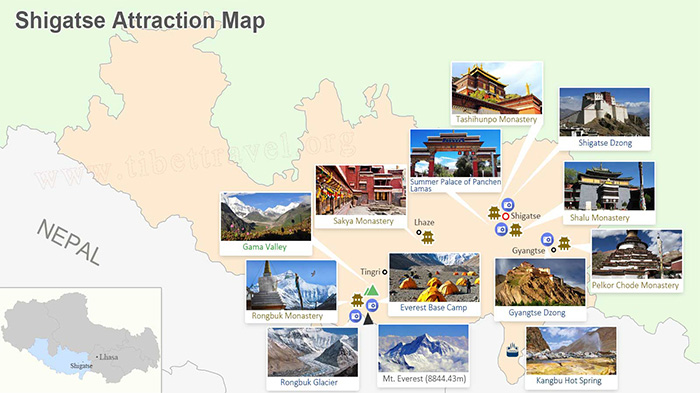 (Simple click to enlarge the map)
Shigatse Attraction Map
Shigatse Monastery
Tashilhunpo Monastery(3950m): treasuring the world's largest glided Qamba Buddha bronze and many precious cultural relics; the largest monastery of the Gelug Sect in Rear Tibet.
Rongbuk Monastery(5154m): the highest monastery in the world; tourists choose to overnight here before trekking Everest Base Camp; a good place to view the peak of Mount Everest inside the Everest Natural Reserve.
Sakya Monastery (4310m): the principal monastery of Sakyapa sect of Tibetan Buddhism; known as the 2nd Dunhuang; holding the world's largest treasure of Buddhist scriptures written on pattra leaves.
Shalu Monastery (4000m): the most important monastery of Gagyu sect of Tibetan Buddhism; famous for its perfect combination of Han and Tibet architectural styles; owns 4 religious treasures including a sutra board, a holy jar made of brass, a stone tablet and a huge basin-like stone.
Natang Monastery: 400 years older than the famous Tashilhunpo Monastery; the workshops for printing Buddhist sutras in Tibet.
Pelkor Chode Monastery (3900m): the landmark of Tibetan art and history; the most famous items are the murals; a typical Tibetan Buddhist building that combined with pagodas and temples, a monastery where you can see the treasures of the Sakya, Gagyu and Gelug sects of Tibetan Buddhism.
Yungdrungling Monastery: the second most influential Bon monastric institution in Tibet; tourists should pay attention to the swastikas swirling anticlockwise on the grounds.
Phuntsoling Monastery: the only Jonangpa monastery in Tibet; a rare chance to see numbers of ruined dzongs on a cliff across Yarlung Tsangpo River.
Paba Monastery (2850m): a Nepali-style monastery in Gyirong; famous for the well-preserved murals that have great historical and artistic value.
>> See all Shigatse Temples: what are the must-see monasteries in Shigatse
Shigatse Lake
Manla Reservoir(4330m): visit the first dam in Tibet and hang Tibetan prayer flags; offers a harmonious picture of the man-made water conservancy construction project with the natural landscape.
Peikutso Lake(4580m): the largest lake in Shigtse on the way to Kathmandu;see Mt.Shishapangma, the world's 14th highest mountain together with wild animals, such as antelopes, wild donkeys, ducks.
Yongzelutso Lake (5300m): the practice place of Padmasambhava (also known as Guru Rinpoche); according to the local legend, this holy lake can show the blessings of this life.
Qudengnima Lake (5100m): located 160 km south to downtown Shigatse in the Himalayas; a glacier lake surrounded by silver glaciers, colorful praying flags and mani stones at the lake side.
Langtso Lake (4300m): at the north shore of the Yarlung Zangbo River; the color of the lake is sometimes like the color of a peacock's tail which is a great mixture of various kinds of green and blue colors.
Xiaowutso Lake (4650m): hides in the Gama Valley at the northern side of Mount Everest in Tibet; a highlight of the Gama Valley trekking tour.
Duoqing Lake (4472m): located 300 km to downtown Shigatse in Yadong county; a wonderful place to take photos of the lake, the snow-capped Qomo Lhari Mountain, as well as birds and flowers in warm seasons
>> See all Shigatse Lake: the most stunning lakes in Shigatse
Shigatse Mountain
Shigatse is generally located between the middle section of Himalayas and the middle section of the Gangdis-Nyainqin Tanggula Mountains. The Himalayas in the southern part of Shigatse are the youngest and the tallest mountain ranges in the world with an average elevation of over 6000 meters.
In total, there are 17 mountain peaks above 7000 meters in Shigatse, including the Mount Everest and other 4 peaks over 8000 meters. When you drive from Shigatse to the Mount Everest National Nature Reserve , you can enjoy a panorama view of highest mountain peaks of the Himalaya from the Kyawula Pass, namely Makalu (8463m), Lhotse (8516m), Everest (8848m), and Cho Oyu (8516m).
>> Top 8 Famous Himalayan Mountains in Shigatse
Attraction around Shigatse City on Map
Shigatse is surrounded by other famous tourist spots, ranging from natural beauty to religious sites. It's highly recommended to set aside some days to touring around Shigatse.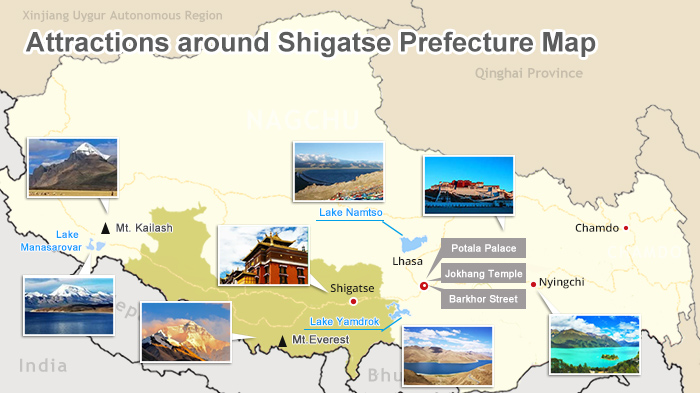 (Simple click to enlarge the map)
Attraction around Shigatse Map
Mount Kailash: the main peak of the Gandise Mountains; the most scared mountain in Asian; Kailash kora is very popular,especially for pilgrims
Lake Manasarovar: purer than a sapphire; it is believed that circling Manasarovar will drive off past sins and bring boundless beneficence
Siling Tso: the highest lake in the world, second largest lake in Tibet
Lake Namtso: the largest lake in Tibet; sunrise and sunset here are really spectacular
Potala Palace: a landmark of Lhasa and Tibet; open to public all year around
Johkang Temple: the religious center of Tibet; watch pilgrims performing the full-body prostration
Barkhor Street: a good place to shop some Tibetan specialties for family and friends; it's interesting to bargain with local vender
Yamdrok Lake: one of the three holy lakes in Tibet (together with Lake Manasarovar and Lake Namtso)
>> See all tourist attractions in and around Shigatse
Shigatse Weather and Climate
Located at the northern side of the Himalayas, Shigatse has a monsoon climate with an annual average temperature around 7C in winter daytime and 21C in summer daytime. It is suitable to travel the city all year round. - Check details on Shigatse Weather: When to Visit Shigatse at the Right Time?
However, for an Everest Base Camp tour in Shigatse, the best time to see the peak of Mt. Everest is from April to May and from September to October, when it seldom rains during these months. The typical rainy season of Shigatse is from June to July. But it always rains at night. So you can also enjoy a pleasant journey in the daytime (just too much cloud in Mount Everest Area).
If you want to take an in-depth trekking from Old Tingri to the Everest Base Camp, the best time to is from mid-April to May and Sept to mid-Oct. During these months, it is usually warm in days, which is quite comfortable for trekking. Since it is cold at night, you need to bring a warm sleeping bag with you (suggested a -20C rated sleeping bag). - Check details on Best Time to Travel to Everest Base Camp
Hotel and Accommodation Map of Shigatse City
Although hotels in Shigatse are a kind of limit, they still provide a wide choice for travelers, from starred hotels to simple tent guest houses. Currently, there is no 5-star hotels in the whole Shigatse area. However, reasonably good accommodations and facilities can be found in Shigatse City, the second largest city of Tibet. The hotels in Shigatse offer clean, spacious rooms with private bathrooms as well as a variety of budget hotels with both dorm-style rooms. If you are going to remote areas such as Zhangmu and Tingri, especially Mt. Everest Base Camp, make good preparations for the tough conditions they offer.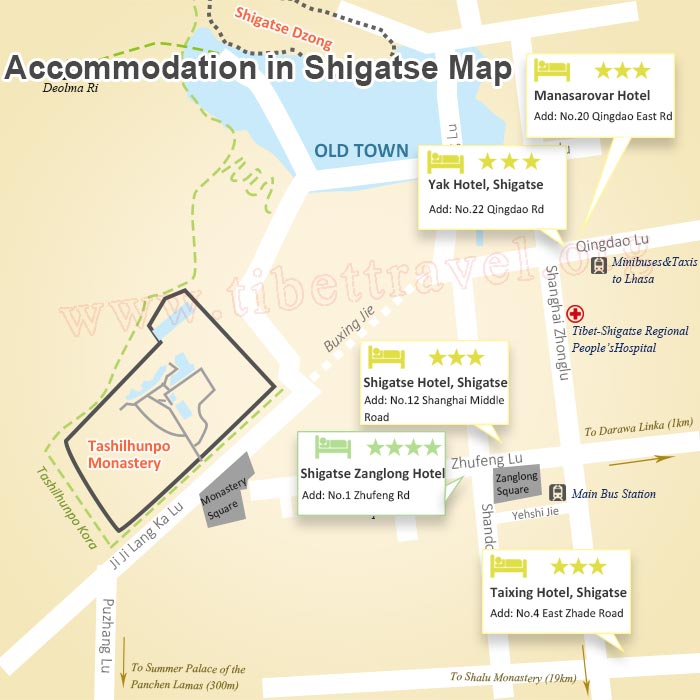 (Simple click to enlarge the map)
Shigatse Accommodation on Map
Taixing Hotel (3 star)
Taixing Hotel is a common 3 star hotel in Shigatse. It has clean spacious rooms with modern facilities, such as air-condition, modern bathroom and so on. This hotel provides normal standard breakfast. Our clients are generally satisfied with this hotel because it is just a stop over on the way to Mt. Everest.
Address : No.4 East Zhade Road, Shigatse
Shigatse Hotel ( 3 star )
With a good location in the center of town and near the Thashilunpo Monastery as well as the bus stations. It is convenient go shopping and enjoying the view. It is a typical Tibetan style hotel with great views of the Tashilhunpo Monastery. Room is not big but comfortable. Hot water is supplied 24 hours a day and there is room heater.
Address : No.12 Shanghai Middle Road, Shigatse
Shigatse Yak Hotel ( 3 star )
Yak Hotel is located in quiet area of Shigatse town. It is convenient for shopping for numerous shops nearby. Rooms are clean and so are the toilet and bathroom. Hot water shower is often available but does not work well in freezing winter. It is just a budget hotel in Shigatse for stay a night on the way to Mt. Everest so the condition is still acceptable though it may not be so satisfying as those in Lhasa.
Address : No.22 Qingdao Road, Shigatse
Shigatse Manasarovar Hotel (4 star )
Manasarovar Hotel is located in the city center of Shigatse, a convenient location to the ancient local Tibetan village with its trade market and the Tashilumpo monastery. Hotel restaurant provides you selection of Sichuan, Cantonese and local cuisine.
Address : No.20 Qingdao East Road, Shigatse
Shigatse Zanglong Hotel ( 4 star )
Shigatse Zanglong Grand Hotel is located in the bustling downtown center in Shigatse and near by Shanghai Square, China Post, China Customs, supermarkets, city bus terminal and the Bank of China. The hotel has 118 Tibetan-style rooms, 8 Tibetan-style viewing suites, 8 viewing rooms and a floor of non-smoking rooms. Shigatse Zanglong Grand hotel has been built to the international four-star standard.In a word and full of Tibet Culture elements.
Address : No.1 Zhufeng Road, Shigatse
Tips:
For tourists visiting Mount Everest, there are only Everest Tent Hotels and the Rongbuk Monastery Guesthouse in the base camp for you to choose. The living standard is quite basic in the remote areas of Shigatse, such as dorm-style rooms without private bathrooms.
Shigatse Food and Restaurants
Shigatse food is the typical Tibetan food, just similar to that in any area of Tibet. Except Tibetan food, Sichuan cuisine and western style dishes are also popular in Shigatse. Honestly, what to eat in Shigatse does not belong to the matter you should worry about. You can find various restaurants offering delicious and special food. You can even purchase tasty food from the street vendors.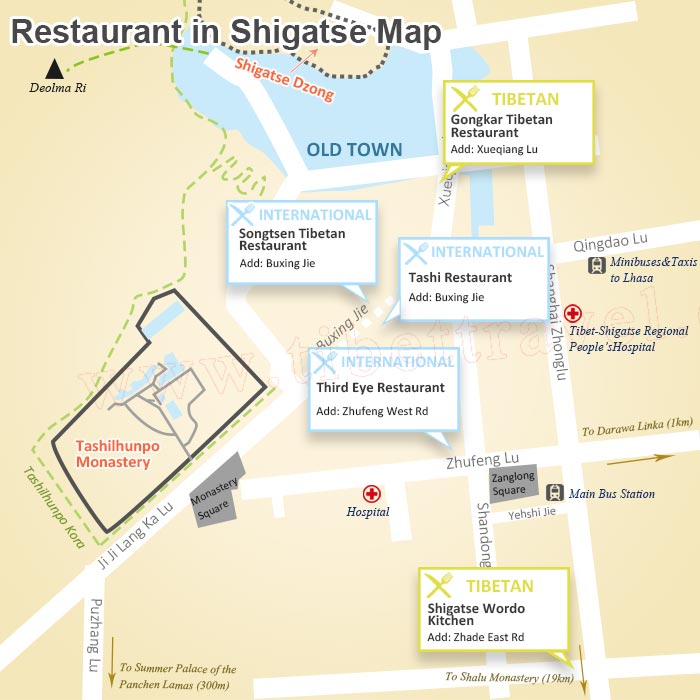 (Simple click to enlarge the map)
Restaurant in Shigatse on Map
Songtsen Tibetan Restaurant
It's just a 20 minutes' walk from Tashilhunpo Monastery to Songtsen Tibetan Restaurant. It's easy to be found and here you can enjoy a wide selection of Tibetan, Nepalese, Indian and western food with excellent service. A good western breakfast give a nice beginning of the whole day.
Address : Buxingjie, Shigatse
Shigatse Wordo Kitchen
The decoration of Wordo Kitchen is very luxurious, downstairs is a large area of the Tibetan restaurant, upstairs is a museum collection of many of Tibet folk heritage. Here you can try some top-quality TIbetan cuisine at a reasonable price. It's so amazing to relax yourself at such a nice atmosphere.
Address : Zhade East Road, Shigatse
Third Eye Restaurant
Third Eye is a cozy restaurant operated by English speaking Nepalis. Here you can treat yourself with wonderful Nepalese curry dishes. Tibetan dumplings like momos are also a good try. You can encounter many monks and local people, which give you a chance to know them better.
Address : Zhufeng West Road, Shigatse
Gongkar Tibetan Restaurant
Besides the standard momos and noodle dishes, there are the unique dishes such as yak-tongue soup.
Address : Xueqiang Lu, Shigatse
Tashi Restaurant
It has a wide range of decent food from yoghurt muesli to pizza and Nepalese curries. There is the English menu.
Address : Buxingjie, Shigatse
Tips:
It is easy to find local restaurants in downtown Shigatse. But if you are going to visit some remote areas outside the downtown city, you can prepare some snacks before you go, in case you are hungry en route. And hidden in the modern section of the downtown city, there are some bars, where you can have some drinks and enjoy the nightlife in Shigatse.
Shigatse Hospital
There are around 10 hospitals in downtown Shigatse and several hospitals in remote counties in Shigatse. If you feel uncomfortable, especially when you get the symptoms of altitude sickness, please tell your travel guide immediately. All of our local Tibetan guides are well-trained to offer first-aid help. There is also one shared big oxygen tank in every car offered by us. And for tours to the Everest Base Camp, there is bottle oxygen supplied for each tourist. There is no need to worry about the altitude sickness when travel Tibet with us.
Moreover, we have 24/7 call service, which means not only your travel guide, but all of our staff, your 1-on-1 travel consultant, our local manager, the whole Tibet Vista team is be with you. Whenever you meet a problem during your trip in Tibet, just contact us, and we will do our best to solve the problem for you as soon as possible.
Roads to Shigatse Map
Shigatse is also a significant communication hub in Tibet, which is connected with the outside world by Sino-Nepal Friendship Highway, Xinjiang-Tibet Highway and No. 318 National Highway. As the improvement in transportation, the traditional handcrafts have greatly been encouraged and expanded throughout China and abroad.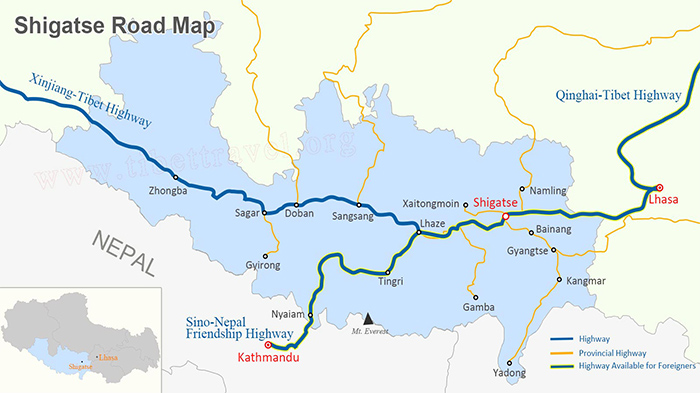 (Simple click to enlarge the map)
Shigatse Road Map
Shigatse Railway Station and Tibet Train to Shigatse
Recently, there is only one train station in Shigatse, named Shigatse Railway Station. It is located in Jiacuoxiong Township, which is 8 km away from the famous Tashilhunpo Monastery. Every day, there are two trains running from Shigatse Railway Station to Lhasa Railway Station, and another two trains back to Shigatse from Lhasa. And in peak season, during the summer holiday, there is one more pair of trains running between Lhasa and Shigatse. Once the Shigatse-Gyirong-Kathmandu railway and the Shigatse-Yadong railway completed, there will be more trains to Nepal and India from Shigatse in the central Tibet. - See more about Shigatse Railway
Schedule of Trains to Shigatse
| | | | | | | | | |
| --- | --- | --- | --- | --- | --- | --- | --- | --- |
| Train No. | Departure | Arrival | Duration | Distance | Frequency | Soft Sleeper | Hard Sleeper | Hard Seat |
| Z8801(Lhasa-Shigatse Train) | 11:07 | 14:00 | 2:53hours | 248km | daily | ¥169.5 | ¥111.5 | ¥40.5 |
| Z8803 (Lhasa-Shigatse seasonal train) | 15:05 | 17:52 | 2:47hours | 248km | daily | ¥169.5 | ¥111.5 | ¥40.5 |
| Z6811 (Xining-Shigatse Train) | 20:30 | 20:58 | 24:28hours | 2220km | daily | ¥876 | ¥553 | ¥243 |
| Z6811(Lhasa-Shigatse Train) | 18:10 | 20:58 | 2:48hours | 248km | daily | ¥169.5 | ¥111.5 | ¥40.5 |
Why Take the Train to Shigatse?
For most travelers, the common choice is to get to Shigatse by car from Lhasa. It is a part of the epic overland journey from Lhasa to Kathmandu. However, for those who are short in time and just want to visit the Everest Base Camp or central Tibet, the most convenient and effective way is to travel to Shigatse from Lhasa by train, since the train journey just takes about 3 hours and the train tickets is much cheaper than the cost of renting a private vehicle.
But for those who are the first-time travelers to Tibet, it is still suggested to take an overland journey from Lhasa to Shigatse via the famous Yamdrok Lake and Gyantse Pelkor Monastery, so that you can experience the all the highlights of central Tibet in just one go.
Shigatse Airport and Flights to Shigatse
Shigatse Peace Airport, opened in October 2010, is the only airport in Shigatse. Located 3782 meters above the sea level, Shigatse airport is one of the highest airports in the world and the second highest airport in Tibet. The distance between Shigatse Peace Airport and downtown area is 43 km. It takes about 1-hour ride to get to downtown Shigatse from the airport.
As the fifth airport in Tibet, Shigatse Peace Airport serves domestic flights to/from Chengdu, Shanghai and Xi'an. It offers more choices for tourists getting to the central Tibet, especially to the Everest Base Camp, from mainland China by air.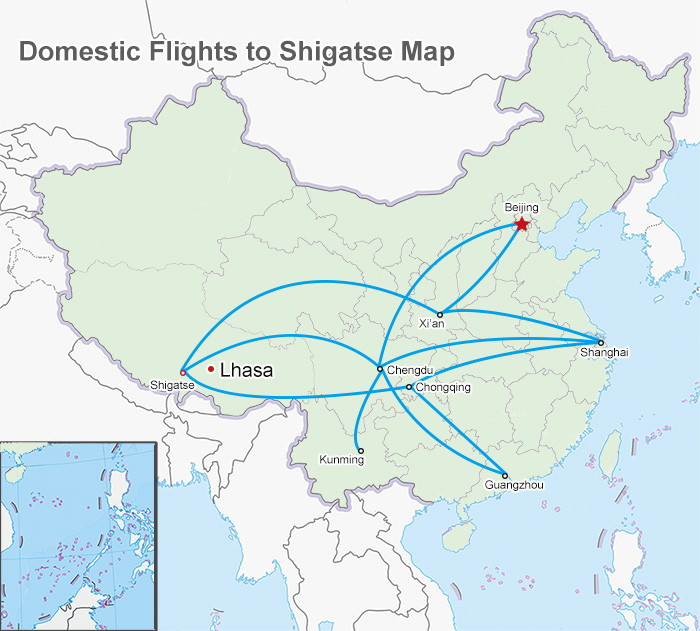 (Simple click to enlarge the map)
Domestic Flights to Shigatse on Map
However, for the huge altitude difference between these cities and Shigatse (over 3000 meters), it is quite easy for tourists to get the high altitude sickness by taking a flight to Shigatse directly. Also, you will miss the stunning landscape from Lhasa to Shigatse, such as the most popular Potala Palace, the great Jokhang Temple, the beautiful Yamdrok Lake, and the featured Pelkor Monastery. Besides, if you are on a budget, taking Lhasa-Shigatse train seems to be a better choice than the flight. In one world, it is not recommended for tourist to take the flight to Shigatse directly from mainland China.
But for those who want to get back to mainland China in a short time after their trips in Tibet, especially for those who get need to be transferred to a lower place to relieve the discomfort caused by high altitude, it is a good way to take a flight from Shigatse to mainland China.
Due to the limited flight routes, there are few flight tickets to/from Shigatse on sale. If you plan to take a flight to/from Shigatse, please contact us to check the exact flight schedule on your preferred date.